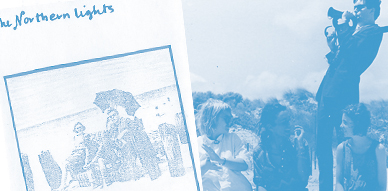 There are so many new releases out this summer. More than usual. Way more. There are reissues for East Village. Also for McCarthy, Monochrome Set, Flatmates and The Charlottes. There's retrospective albums for Reserve and The Bridge. There's a new Ocean Blue, Legendary Jim Ruiz Group and The Proctors albums. And last but not least there's the Scared to Get Happy boxset which I ordered yesterday. Arriving tomorrow at home thanks to Amazon Prime. Yes, next week I should review that.
There's also the new Pastels album. And plenty of new singles. There's some new bands releasing cool stuff, one of them, Homecomings from Japan, who even though I'm in touch with, I haven't been able to secure a copy of their album or their split 7″. Seems like a lost battle sometimes to order from Japan as many there feel shy about their English. It's a shame. I would be the last one to judge someone's English.
I'm probably forgetting some new stuff that's coming out soon. Ok, most probably a lot. It's hard to keep up and I live under a rock. Though my point is, that the amount of new releases this summer is much bigger than the last year. You'd think we are living a new indiepop renaissance, similar to the one in 2007 and 2008, but is that the case?
I doubt it. Sure, the positive fans would see that their CD shelves are getting crammed with all these new albums, and so, the answer will be yes. There's a lot of new music to listen. But as I said, I have my doubts. Mostly because these all are well established bands, well known, that have been playing for a long time. I just remembered that there's a new double CD by 14 Iced Bears. And another by The Woodentops. So yes, it's the old guns who are coming up with indispensable releases. But what about the young guns? That's why, even though I'm terribly happy to see and buy all these releases, I worry a bit.
Perhaps it's very risky to release new bands. I have a couple of ideas why that is. One is that the record collectors grew up in the 80s and 90s, so they still support and listen bands from that period. New bands are often seen with disdain, like copycats of what they listened back in their heyday of pop-fandom. It's a possibility, an indicator being the amount of bands from that time reforming these days. Something I salute, of course, I want to see these bands play too!
The other reason is money. New bands seem not to play too often. They are mostly bedroom projects. Bands that don't play don't get exposure, thus no one gets to know about them.  Also, as they are new their reputation has yet to be built. Of course there are exceptions to these rules, but in general I find that new bands have a hard time to have a break. Playing at Indietracks or Popfests are perhaps their best bets. It's not surprising that MOST (if not all) indiepop labels are NOT releasing new bands. And when I say "new" bands, I mean bands that have no releases out or just an EP or a single out there. It seems they are only picked up after a successful album or string of singles.
It's not that I'm blaming labels for not supporting blindly in the rough talent of an up and coming band. There's money involved and being in debt is never a good idea. So who can complain if a label doesn't want to get into trouble. It's a risk. Mind you, I find it worth taking, but it's obvious the majority doesn't.
The question again, is there an indiepop renaissance? I want to believe there's something new coming up, new winds. But this explosion has to have young blood. I hope, all these unknown band names that are playing Indietracks, are going to make me believe there's something else aside from all the well known bands that are stirring the scene with all these new releases. But like I said before, there MIGHT be a brightside. My favourite songs at the moment come from a soundcloud of a new band.  I'm in love with them. They are  called Don't Cry Shopgirl and are from Stockholm. I think they started a month or so ago. If there are more of this kind of indiepop bands out there maybe a new indiepop era is blooming. Keeping my eyes peeled.
———————————————————-
 Northern Lights is a common name for the Aurora Borealis (Polar Aurorae) in the Northern Hemisphere.
Would you consider strange that this Northern Lights band came actually from the Southern Hemisphere and not the Northern one then? All the way from Australia?
I don't know much about Northern Lights to be honest. They are pretty obscure. I've only ever heard this song called "Waves" and I find it beautiful. Fragile and sensitive. I believe it was part of a tape compilation. But it's been so long since I got this as an MP3 that I don't think I can recall who even sent it to me.
So the story overlaps a bit with that of the more known Charlotte's Web who formed in 1986. There was a brief period when they were called Catherine Wheels (not to be confused by the Australian Catherine Wheel from some years later). And here's where Wikipedia sheds some light about Northern Lights:
Catherine Wheels was originally formed by Jeff Lowe (vocals, guitar) and Tim Underwood (guitar) in 1986 in Perth, Western Australia. Lowe and Underwood had played in The Russians (1984–1986), with Darryl Edwards (drums) and Richard Galli (bass guitar, keyboards). Catherine Wheels performed as a drummerless two piece,[2] before adding Greta Little and Chad Hedley as their rhythm section (bass guitar and drums respectively), under the name Catherine Wheels, in 1986.[1][4] The band performed infrequently around Perth for about a year, releasing a single, "Big Letdown" in February 1987, before they relocated to Sydney where Underwood, Little and Hedley left to form a new band, Northern Lights.
Also Wikipedia mentions in their Post Charlotte-Webs sub-head:
After the Northern Lights, Underwood went on to form The Rosemary Beads, with Little (bass) and Cam Munachen (drums).
As far as I know Northern Lights only put out a tape. The name was "Trouble Understanding", and it's indeed a trouble understanding why they didn't release anything else. I have never seen this tape and I don't know the track listing. If anyone out there can help with that, it would be much appreciated! Also a rip, Mp3s at least, of the songs, would make a popfan (me) very happy! This tape was released in 1988.
The only other mention to them on the web comes from the website of the Charisma Brothers. William Bannister is part of this band and in his bio he tells a bit of the story of Northern Lights.
I started performing music in the vibrant indi scene of Perth circa 1986/7. I was inspired by the likes of Just Add Water and Sydney band The Lighthouse Keepers who used trumpet. Local legends The Triffids, had used trumpet on their classic single Beautiful Waste. That was it for me. I dreamed of playing in a band. My first band was The Northern Lights, a jangly guitar, lilting harmony band fronted by Lucy Brooks-Kenworthy and Tim Underwood with Gretta Little on bass and Chad Hedley [local DJ] sometimes on drums. Great musicians, I was privileged to join them.
 Tim and Gretta would later go on to make a name for themselves with The Rosemary Beads in the 90s. The Northern Lights performed at venues like the Fitzgerald Hotel, The Shenton Park and the Beaufort Hotel – now a supermarket. We put out a cassette – Trouble Understanding…
The guitar, lyrics and harmonies still sound great when I listen to it. It seemed that within weeks of me mentioning I could play the trumpet a bit, I was at Shelter recording studio in Wanneroo.  We were featured on The Hometown Farewell Kiss album released by 6UVSFM [RTR] that came out after the band had folded. The photo above was taken at a video shoot we did at Swanbourne Beach. I remember nudists casually walking along the beach disrupting the shoot. We were on their patch after all and I felt overdressed in a suit twirling an umbrella while blowing a bugle.
Then on the fanzine Party Fears #12, there's an interview to Charlotte Web. There's also a mention to Northern Lights:
And then you went off and did the  first Charlotte's Web, which also played drummerless as the Catherine Wheels.
Jeff: "That's right- once or twice, I'm not sure. I continued with Tim Underwood. I said, 'look, I want to do this,' and it was along the lines of what he wanted to do. "For me, at the time, it was a reaction to all the heavier guitar bands that were around; I wanted to do something that was incredibly fragile, and I probably suffered for it. But I still stuck with it, because at the time it was what I wanted to do. "That was Tim Underwood, Gretta Little, Chad Hedley and me. It played here infrequently for about a year, then went to Sydney and broke up as such in Sydney. 'Personality clashes.' Just the usual."
Then they went off to become the Northern Lights, and you got together another Charlotte's Web.
Jeff: "Mmm. I had no intention of letting go of the name. I think too many bands lack a sense of identity, because they start a band, and if the band doesn't work straight away they break it up and start another band, and all you get is a group of people who've been in so many different bands it becomes totally confusing. There's no history. I think it's important to try to keep a name, even if your membership changes, because then people can look back … there's something there, you can actually grow. "I just know so many musicians who've been in twenty hands and they still haven't finished. There's not much point."
And that's about all I've managed to gather about this short lived Sydney project that has remained in obscurity for so long. I of course would love to hear more about them. Especially that tape. I'm very curious! Does anyone remember them?
::::::::::::::::::::::::::::::::::::::::::::::::::::::::::::::::::::::::::::::::::::::::::::::
Listen
Northern Lights – Waves