30
Apr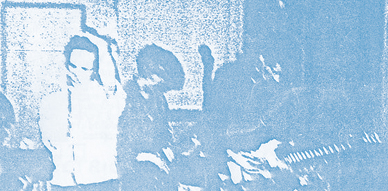 Thanks so much to Sandy Fyfe for the interview and support!
++ Greenheart formed after two early incarnations, the first one being The Electric Sugar Children. Tell me a bit about this band, when was it formed, who were the members and if you had any releases? maybe demo tapes that one day will pop up on ebay?
I had been in a band called The Firemouths which had played a few gigs, and little brother Edd started writing some tunes. The Firemouths came to an end as people moved away and so Edd and I formed The Electric Sugar Children (named after a Biff Bang Pow! Song).
We borrowed drummer Kenny McEwan from another brotherly Perth band, The Seaniks, and encouraged Gogs to buy a bass guitar, and hey, we had a new band. We then added Paul Sutherland to sit cross-legged at front of stage and peel off mis-spelt cards of each and every lyric, a la Subterranean Homesick Blues. Our first gig was in Biancos in Perth.
We never recorded under this name. At this stage, we were very much a Jesus & Mary Chain influenced band (we covered You Trip Me Up), and it was not long before we wanted to develop the sound………
++ The second incarnation was called Pure. Why did you started a new band? What were the main differences between The Electric Sugar Children? Tell me about those "purezines" you released!
….which led to the recruitment of David Barnett as a second guitarist, and Paul Sutherland disappearing from card-peeling duties, and a name change. We had a song called Impure and I liked the idea of the band name Pure….we were trying to become less gimmicky and concentrate on the music a bit more. David added backing vocals and the addition of the second guitar added much to the sound.
This was a real busy period for us gigging much more, recording a couple of demos, publishing Purezines, being interviewed on radio, and printing badges. The demos were recorded in Seagate Studios in Dundee, and were as follows :
Demo 1, summer 1990 –
1. Panama City – an upbeat wah-wahed guitar tune about sunshine and Demerara sugar (don't ask!)
2. Stephanie – a twee little pop song
3. Velvet – a slow moody burner about rock n roll, and fame
Demo 2, March 1991 –
1. Underfoot – a jangly pop song about prejudices over the Irish struggle in Scottish society
2. Summer Heat-Wave Heat – you can hear this on our myspage page so I won't attempt to describe it!
3. Velvet – we re-recorded velvet, with the guitars more distorted and dreamy
There was a huge development between our first and second visits to the studio.
Things were going well, playing regularly (at the time I was also running The Oblivion Club in Perth which brought many indiepop bands to town including Jesse Garon & the Desperadoes, The Driscolls, Mousefolk, Remember Fun, The Wildhouse and many more) so we were well connected to get gigs.
We were then asked to contribute to a compilation LP on Ambition Records, Bobby Stokes Salutes the Fall of Manchester, indie bands covering Manchester bands songs, and we recorded Joy Divisions/New Orders' Ceremony, using a different studio and we were not too happy with the result, though it did have its moments!!
The Purezines were A5 fanzines of what we had been up to, set lists, family tree, etc. We charged 20 pence for a purezine and a badge!
++ After these two bands you change your name to Greenheart. What year was it? Who were Greenheart and why the name? Also any releases to look for? Information is quite scarce on the web!
Pure were going along great but I made a huge error of judgement about this time. A few of the band members were wanting to do other things as well as Pure, and I said people had to be committed to it, and make a decision, and so everything fell apart.
However we had been offered a single release by German label, Bilberry, and to contribute tracks to a compilation being put together by Snowy Pete and so Edd and I, started again, adding Mal on bass and guitars, and my then girlfriend Lisa on piano/organ, retaining Kenny, myself and Edd.
We wanted to denote the change in personnel and so altered the name. I was a huge fan of the poetry of Alan Jenkins, and my favourite individual poem was called Greenheart, and so that was agreed as a good name. Everyone should track that poem down and read it!
++ What is this Fuzzy Peach compilation about that you talk on your brief bio on myspace?
We returned to Seagate and recorded Transatlantic, Hey Sure Shakespeare and Lucky Always and sent them off to Pete to choose two tracks – and he chose Lucky Always to open side 1 of the comp and Hey Sure Shakespeare to open side 2 (it was a 10 track compilation).
According to Pete who I saw recently, people were actually dancing to Hey Sure Shakespeare when he played it at an indie club night!!!
++ How was the Perth scene those days? One of my favourite bands was from there: This Poison! Any other bands that you'd recommend?
The scene was great. All of the bands drunk in the same pubs. No two bands were filling a similar space in terms of style. This Poison! were the pick, but Aspidistra also did very well, I shared a flat with the singer in our big rivals, The Ralf, and it was right opposite the main gathering place for musicians at the time, The Grill pub. Every weekend the party was at ours, and all the bands at that time partied in our flat from time to time. The Relations had gone baggy and were in the lower reaches of the UK singles chart, and Greenland Haze gigged extensively with their REM style. The aforementioned Seaniks continued to gig, and there was an ambitious band Best Care Anywhere who we gigged with too. And of course Luke Sutherland's Long Fin Killie. Happy days indeed.
++ Also you say that you were called the enfants terrible from the Perth scene! what did you do?
I am so embarrassed when I look back!
We had a great rivalry with the Ralf, and at one time started a chant 'I'd rather be a Sugar Child than a Ralfette' and that became a thing every indie kid in town was one or the other – a Sugar Child or a Ralfette. Despite Graeme and I being flatmates and friends our bands were arch rivals. Our bass player, Gogs, was quite infatuated with Graemes girlfriend at the time, and that did not exactly make things any easier!!
In addition, we showed no respect to the older guys still peddling their music, we strutted around in our leather trousers with attitude and swagger to match! I remember playing a gig supporting The Relations, who had been on television that week playing their baggy stuff. They were in the crowd as we played. I was introducing the fact that they would be playing after us, someone in the audience shouted something not too complimentary about them, and I retorted 'clearly someone has seen them before' and we launched into our next song. There was a wee bit of hassle after that between us, and recently I was discussing the Go-Betweens with Gerry, singer of The Relations, and he said to me, 'it's a shame we have spent 20 years disliking eachother as we actually love the same music' We are now good buddies. That's what is great about music – the friends you make.
We also sprayed homebrew beer all over Dek Moir of This Poison! on one occasion – it's a long story!
So we were always up to some mischief or other and when we were the large figure of our bass player Gogs would never be far from the action!!
++ I read you gigged all around Scotland, did you ever went south to England maybe? Which particular gigs do you remember the most and why?
We never unfortunately ventured south as a band, although most members have subsequently played gigs in England.
The three most memorable gigs for me would be :
1. The Red House, Coupar Angus – we were supporting Best Care Anywhere in this rural village. There was a good crowd in to see the Tom Petty/REM-inspired Best Care Anywhere. They had not expected nor ever before encountered feedback drenched indie pop and sneering attitude. I think to say we left them speechless would be true. That was the most drunk we had ever been when playing, consuming more vodka jellies than I care to remember before the gig.
2. The Halt Bar, Glasgow – supporting The Driscolls. The excitement of playing in Glasgow for the first time was great, and it was fantastic to be playing to an audience who actually all were through and through indie pop kids.
3. The West Port Bar, Dundee – a day for unsigned acts put on by the local radio station. Perth and Dundee have a fierce rivalry as cities, being just 20 miles apart. All the bands were Dundee bands except us. We always closed with a track called What She Said in '67, verse, chorus, verse, chorus, verse, chorus, followed by several minutes of a wall of noise with vocalist writhing front of stage and yelping the odd spontaneous lyric into the mic. We played it at the end of the gig as usual, and it was just our greatest ever version of that song, and that song was I suppose our trademark at the time.
++ What was the biggest highlight of Greenheart? How easy or difficult was to have a band with your brother?
The best thing is undoubtedly that 20 years on we are all still friends, we all still have passion for music, and a mutual respect for one another.
I think our recording of Lucky Always was our finest moment (to date!); it was certainly at the time the best lyric I had written in my opinion. And the feedback from those that got Fuzzy Peach was excellent.
Also getting back in the studio last year to record She is Forever for the Doing it for the Kids 08 compilation was fantastic – it was a day full of emotion, and fun though a departure from our usual style.
Edd and I get on great, so being in a band together was not too tough – Gogs the bass player is my best friend in the world but he is much more difficult to handle than little brother!!!! Edd and I are two brothers who will always to some extent make music together I think.
++ Do you still follow indiepop? If so, what differences or similarities do you find between the early nineties and today?
Oh yes! Indiepop is forever in our hearts.
I am as likely to be listening to The Pains of Being Pure at Heart or Ballboy, as I am The Chesterfields or Mighty Mighty. All of us have broadened our tastes since then but still appreciate indiepop, and I like a lot of the new bands and thanks to labels like Cloudberry they get a medium to release some good stuff. When I put together charity CD Doing it for the Kids 08, after my daughter had been seriously ill in hospital, it was great to find so many good young indiepop bands willing to contribute to the project.
I think there are clear influences today – early Orange Juice and early Aztec Camera, Subway bands, Sarah Bands – are all influencing output. I think right now indiepop is probably stronger than it has been at any point since the late 80s and early 90s. Its great to see some of the old bands coming back and playing again. I think the key difference is that the current crop of indiepop bands have more diversity to their sound than the older generation.
Two of my 5 year old daughters favourite songs are Goodbye Goodbye by The Chesterfields and In the Rain by The June Brides – I am bringing her up well!!
++ Why did you call it a day? What are Greenheart members doing nowadays?
We stopped playing because life got in the way a bit. Edd went to university in Wales. I had the misfortune to be good at my job and so started building a career (its like that Razorcuts song, Mile High Towers!) And everyone drifted apart for a bit. We are all now back in touch though, and practising again, and recorded last year and Edd and I have written some new songs. [I have emailed a very rough demo of one of them called Counting (Up Not Down)]
Sandy (jaf) – still in Perth, huge music enthusiast, back writing songs with Edd
Edd – lives in London, back writing songs and practising and playing some small solo gigs
Kenny – also lives in London; toured the world with Long Fin Killie for a bit – back in touch with us all just very recently
Gogs – lives in London – joined Aspidistra who were NME ones to watch at one time, and who released a few singles – still very good friends with Edd and I, and we regularly go and see bands together
David – worked with the Suede fanclub and management, and wrote the authorised biography of Suede. Still playing music with a few bands including the New Royal Family, and also lives in London.
Mal – moved to Norway, played bass on a no 1 hit single, now back living in Perth.
++ Anything else you'd like to add?
We want to record our legacy – a few days in the studio and one final blast of indiepop. We have learned much over the years and think we can still have the raw energy and sound, the meaningful lyrics, the passion, the DIY ethos, but with a bit of a broader sound. So if anyone reading this wants to put out a single or an EP, get in touch as we will be recording real soon!!
We adored playing live and want to try to do that again too.
Finally, thanks to you Roque, for asking us to participate and having an interest in what we do but most of all, for keeping the homefires of indiepop burning. Indiepop is an old friend, and some nights its great to come home to. Giving so many good bands some exposure, as you have done, has been fantastic and its good to see some of those bands beginning to gain wider exposure – I hope they all remember you!
::::::::::::::::::::::::::::::::::::::::::::::::::::::::::::::::::::::::::::::::::::::::::::::
Listen
Greenheart – Transatlantic
Pure – Summer Heat-Wave Heat