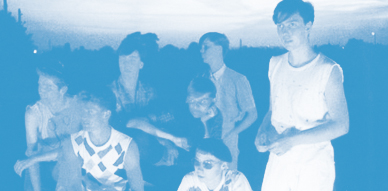 Thanks so much to Paul Dackombe and Peter Higgins for the interview. Check out their retrospective album "The Ones That Got Away" on Fastcut Records!
++ I've done a search on the internet, on google, and most, if not all, the results came from Japan! Have you ever been there? Do you get many fan mail from there?
No we have not been there, although we hopefully will at some point. We seem to have developed a decent size and loyal fan base across several cities in Japan where they like English music from the 80's. We do admire their taste!
++ Not surprisingly the album "The Ones That Got Away" was released in the great Fastcut Records from Japan. Why the title of the album? What would you like the listener to get from it?
These songs were written and recorded over a relatively short period of time while we were listening to some great 40's and 50's Be Bop stuff from the likes of Charlie Parker, Dizzie Gillespie, Miles Davis etc. The jazz influenced material was nothing like the songs were were writing before or since, so in a sense they were of their time and to some extent forgotten. You could argue a bit like 40's Be Bop is today. Yet we still think there are some great tunes and well crafted songs there with interesting arrangements. The title of the album seems to sum that up nicely.
++ You said, on your myspace bio, that you stopped playing live in the late 80s and concentrated in writing. Why was that? Are these songs the ones that appear in the album?

We had a large band, of around 7 or 8 players including a 3 or 4 piece brass section and simply the logistics of trying to keep all that together when live music in the UK was on the decline (and boy band pop was coming into the mainstream….eeuugghhh) was very tough. So Pete and I decided to go into a period of concentrating on writing and recording. Most of these songs did get a decent amount of live play towards the end of our live appearances, but a few, notably never Gonna say and Come Into My World, got very little, if any.
++ So let's go back in time… how did the band start? what were those things that made you want to be in a pop outfit?
Pete started the band and went through a few players before he and I met. I was brought into the band by the bass player, with whom I'd played in another outfit with. Pete and I instantly hit it off and quite soon after he and I were writing all the material and running the band, changing personnel where we though right for the sound and image. That's the way it has been ever since about 1980 / 81..ish!
I would say the things that made us want to be in a band are the same. A need and desire to write and play music coupled with growing up in the same part of the world and being influenced by the same sorts of music:
60's British pop / rock (Kinks, Beatles, Faces)
70's rock (Who, Bowie, Roxy)
Punk / New wave
Then throw in some Northern soul and you have the sounds that influence our writing and production.
++ Why did you decided to move from Warrington to London?
The North West of England was not the liveliest of places at that time, the Manchester scene would emerge a few years later. We had just won the north west battle of the Band competition (beating Rick Astleys outfit – International rescue who went on to win it the year after and from which Rick got signed to SAW) and despite that were very disappointed to find there was not much live work around in the area. Pete's brother Tim (our sleeve designer) was at art college in London and we though, let's just go. So we piled everything we all had (6 band members) into the back of a transit van and moved home…never to look back.
++ Why did Explained Emma wore 50s style suits? How many pairs of them you had?!
We had so much 50's clothing it was not true. We were professionals in the art of Saturday morning jumble sales which is where we got most of them. There were some import shops in London like Flip and Covent garden market that also sold 50's American clothing, but our brand of de-mob style suits were best found in local church hall jumble sales, so that's where we would go most Saturday mornings. We always believed you have to look different to your audience, you just can't get up in jeans and T shorts, so we always made an effort on the image side and that was style we liked. It was different to what everyone else was doing at the time (80's shoulder pads and luminous shirts!).
++ One of my best friends is called Emma, so I have to ask, why did you choose the name Explained Emma?
It's from a line in a book…we think Emma by Jane Austen…. Pete just liked the alliterative sound of it. He came up with the name.
++ You played in bars, clubs and even warehouse parties, you even played at The Hacienda. Which gigs do you remember the most and why?
We remember most, if not all for different reasons. Sometimes the emptiest where you have 5 people show up are memorable, but the Hacienda was a great couple of nights. We played on the same night that Madonna was on the dance floor doing Holiday on roller skates (at the time we though, what the hell is that all about!) that was memorable and we played a great show. There are many other shows that stick in the memory, mostly when we played really well and had a great crowd or some unforeseen event occurred. A few include the Rock garden in Covent Garden, London. Warwick University, Edinburgh and Oxford Universities. All memorable for different reasons.
++ Your music is quite varied, from be-bop jazz to indiepop. from swing to post punk. Did all these styles happen at the same time or they happened in specific time frames of Explained Emma's career? What were your favourite bands at the time, those that influenced you?
Influences were as I mentioned above. Our writing style did evolve over time, we were not writing Jazz and indie / new wave all at the same time, but there was some overlap. I guess we tried to bring a different way of playing to all the styles we write in. We try and treat each song as a stand alone thing, rather than copy a formula. It's not easy though, try as hard as you can and similar themes will come out based on your influences.
++ When was the original "Unnecessary Strain" single released? What label was it on? Any anecdotes you remember from those recording sessions?
It was released in 1985. There is so much we can remember anecdotally about the release of that single, from the way in which we financed it, through to it being released on the BBC Oxford Road Show (a major music Friday night programme at the time). To do it on our own label at the time with very little money and then to have it played on prime time radio and TV was a huge buzz.
++ Did you release anything else prior the "When My Heart Rings" on Fastcut?
No Naoki approached us asking to release some material. We sent him a few songs that we though might work and he chose When My Heart Rings.
++ How was your appearance at the BBC Oxford's Road Show?
Great fun. The entire filming process was memorable. They were doing a small 3 minute documentary on what bands do to promote themselves and liked our approach, so they cam and filmed us for 3 or 4 days to recreate the making and pressing of the single, from rehearsal, through recording, mixing, mastering and production. The we went up to the TV studio on the night the show went out and got some great press and radio as a result.

++ What was the best thing of being part of Explained Emma? What is that that you miss the most?
The best thing is clearly the songs we have written and the guys we played with. Some great musicians and great guys. I won't say too much about how great the songs are! Pete and I remain close friends today and we still see a few of the others, most notably Dave Molyneux the bass player (with whom we are working on a new album). We both miss playing live the most, but let's see how things go in Japan and who knows.

++ When and why did the band call it a day?
We haven't and I guess we never will. As I mentioned in the last question, Pete and I together with Dave Molyneux the bass player are working on a new album which we will release in late summer this year. Dave Formula of Magazine is producing and playing keyboards and we have brought in a couple of new guys on vocal and lead guitar. We are very pleased with how the songs sound. More on that in due course.
++ Thanks so much for doing this interview, anything else you'd like to add?
Our pleasure. We would just like to add a big thank you to Naoki and all the people in Japan who continue to show an appreciation of our songs. That is truly fantastic and has been the springboard for several things.
Paul and Peter.
::::::::::::::::::::::::::::::::::::::::::::::::::::::::::::::::::::::::::::::::::::::::::::::