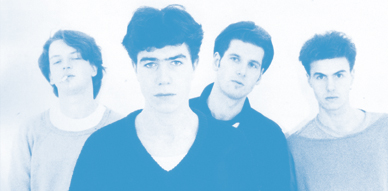 Thanks so much to Jörn Wuttke for this interview! Last year Blue Records released the fabulous compilation by this German band including all songs that were recorded on LP and CD! It was definitely one of my favourite releases then and listening to it again today it feels so fresh still! Wow! It's so strange that only some of these songs were properly released on a 7″ back in the day. But happily, if you haven't yet, you can still get this record! I interviewed their label some time ago, and since then we've had this interview waiting to be published. Now at last we get to know the story behind one of the best indiepop German bands ever!
++ Hallo Jörn! Thanks a lot for the interview. First things first, how long has The Sheets album been waiting to be released? Why did it have to wait this long?
Well, I think we were a bit depressed that nothing really happened, after recording the stuff.
We recorded at Hotline Studios in Frankfurt. To mix the material in a way to sell it to a major label would cost a fortune. So we just did this rough mixes and sent the tracks to all our favourite record companies. CBS and Warner-Germany were interested but they forced us to remix the songs in a more " UK"- Rave style. They was some interest by smaller Labels , they wanted a rougher "alternative rockfeeling". Also we needed someone, to buy us out of the contract with Hotline as our publisher.
At that time, maybe because of the frustration, maybe cause we listened to the songs to often, we were not happy with the situation at all. At the end of that period, Frank Röder my songwriting partner and co-founder of The Sheets, left the band to become an actor in Switzerland. I started 1990/91, inspired by listening to Bands like The Primal Scream and early Techno at Sven Väths club The Omen, a more electronic based sound, as you can hear in "Candyman".
But at the point when Frank left the band, for me the real "Sheetsvibe", based on our two guitars and vocal harmonies, was gone. I didn't wanted to recreate it with some studio guitar players.
At the same time I started my techno project "Acid Jesus" on my own label "Klang Elektronik" with Roman Flügel. The first single "Move My Body" was becoming a worldwide club hit. We toured with our first album all over Europe. We did everything as a duo really independent. I didn't had the nerve to discuss with big , slow and arrogant Record companies anymore and thought about bringing out The Sheets by myself one day.
++ The album is truly amazing, I've been listening to it a lot since I go it. A couple of things to those who don't know about it yet. Where can one buy it? Is there any difference between the vinyl version and the digipak version? And are there any plans for some sort of reunion gig perhaps?
I think the easiest way is to buy it is over discogs or directly at Michael Wille's label address, formosapunk@hotmail.com
The CD- Version included two more songs.
"Such A Pain" a very early track, recorded around 1987 at the legendary Hansa Studios, directly at the Berlin Wall and "No Thing To Say" a Hotline Studio-rehearsal live version. Taken from our last demo sessions 1989/90 as a classic five piece band. I'm sorry, but there is no reunion gig possible…
++ As I said, I've been loving the album. I wonder though for you, what are your favourite songs in it? And if you can tell me a bit of the story behind the recording of this record?
My favourite songs are the short three minute pieces like "Candy Mountain Blue", "Peter Pan" and "Crashing". But I also love that laid back summer bongo grooves of "Jamboree" or "Walking In The Rain". After listening to bands like The Drums, two years ago I thought it would be maybe important to remaster our old stuff. That it worked out that good is for me still unbelievable! When we started our sessions at Hotline, we really had to fight for our sound. We plaid a lot of records to the recording producer. Before us he mixed Milli Vanilly and a swedish number one metal band. He was a major Aerosmith and Metallica fan. He really hated me when I said that my "Feelies" or "TV Personalities" records are sounding better than his mixes. To please him a little bit and to bring him on a different way, I said to him : "Listen to Tom Petty, he had a number one hit and is sounding like an updated version of the" Byrds". After that, he left us working and we engineered the tracks more or less by ourselves…
++ Also, what's the story behind the cover photo of the band? You don't see many people with a cigarette on these days album sleeves!
Beside me all members of The Sheets are chain-smokers. We always had problems with our wimpy look, so maybe Thomas wanted to make a statement. Always give a hand to the addicts…
++ Let's rewind a bit. I know your first release was in 1991, but when did the band start as such? Who were The Sheets and how did you all met?
I think we started end of 1986.
I knew Lolo and Frank from the very famous club "Die Goldene Krone" in Darmstadt. This was the first discotheque, beside the "Batschkapp" in Frankfurt, having a real new wave and punk following. I saw some of my first rock live concerts there. The program was very diverse. One day Eric Burden, strange krautrock from Germany or Ian Dury And The Blockhearts, The other day Nina Hagen and Johnny Winter.
I really wanted to found a band after listening to very minimalistic German avant-garde pop like Palais Schaumburg, Der Plan, DAF, Die Zimmermänner and Andreas Dorau. I realised that they couldn't really play their instruments properly but they had style and attitude.
At that time fantastic new wave – pop came from Düsseldorf (Ata Tak) and Hamburg (Zick Zack!, What's So Funny About).
++ And who came up with the name The Sheets? And what's the meaning behind it?
I started writing Songs with Frank Röder as an acoustic guitar duo under the name "The Silken Sheets". The name is from an early Jacobites (Nikki Sudden and Dave Kusworth) song. We really did street music at that time, played in parks and parties all over the place at the Darmstadt / Frankfurt area. We played Bob Dylan, Van Morrison, Velvet Underground, Johnny Thunders, Green On Red and Long Ryders songs. Also the complete Nikki Sudden, Jonathan Richman and Jazz Butcher catalogue. Than I wrote "Poppyfield Smile" and decided to search a rehearsal room. I knew Thomas from recordshopping. He had a very good taste in music, was a bass player and had a bunker room in Offenbach. He was my man. After the first session we were happy, Lolo joined on drums and The Sheets were born.
++ Tell me, whereabouts in Germany were you based? How was the scene there? Were there any other like-minded bands in town or in Germany?
We were really lucky having such a fantastic scene between Darmstadt and Frankfurt when we started out.
We met every Friday at the record shop when the news from "Rough Trade" and all the other distributions came in. I could listen to all the great new stuff from all over the world. Our meetings there were very inspiring. We learned a lot from older music freaks at that time. I read "Sounds" and later "Spex" magazine. I was amazed that they promoted exactly my style of music. I knew from 1987 on, that this kind of music will be the next big thing.
++ Your sound seems to have the influence of the C86, indiepop, bands from the late 80s UK. What bands were you listening at the time, and do you still listen to them?
Beside record shopping and songwriting we went every week to the Frankfurt "Batschkapp" listening to new live bands.
The sound system was very good and i saw loads of legendary shows out there. We saw nearly every cool band at the time. The Feelies. The Go Betweens, R.E.M, Jesus And Mary Chain, The Cramps, The Flaming Groovies, The Triffids, all the American Paisley Underground bands, the C-86 bands, New Zealand bands, Postcard Records-bands like "Orange Juice" or the early Lloyd Cole. On other nights, legendary artists like Screaming Jay Hawkings, Psychic TV and Johnny Thunders. Every Monday were night concerts at the "Cookys" club. It was more like a pub and much smaller than the "Batschkapp". It holds around threehundert people. Nikki Sudden solo, The Jazz Butcher or The Fleshtones were playing there. There was also a very popular radios how every monday at 10 PM, promoting all those happenings. Klaus Walter, also a well known music journalist, did interviews and played records of all the bands performing later at night at the "Cookies". The networking between labels, tour promoters, press, record shops and artists was very tight at that time and created a big following till the end of the nineties. I still listening to guitar pop a lot. I love the last "Pastels" album with "To Rococo Rot". I still love all my "Felt" records. Martin Duffy , the "Felt" and "Primal Scream" keyboard player recorded an interesting solo album !
++ Your 1991 release, the "Candyman" 7″ came out in Blue Records. I heard Michael's (Blue Records) story of how he approached you to release the record. Now I'd love to hear your side! How did this record came about?
I think I met Michael on all good concerts around Frankfurt. He saw us playing at the "Batschkapp", so I thought the man has to have an incredible good taste! There were also some friends of him, "Die Blinzelbeeren" recording a single, at my first eighttrack recordingstudio.
That was at my grandparents garage in maybe 1989. We had a nice chat here and there, so the idea came up to remaster some Sheets material and cut this record.
++ You wrote a song called "Manchester". I assume you've been there, right? Would you say that's your favourite city or which is it? And this might be silly, but I wonder if you were to do a top 5 Manchester bands, which ones would they be?
I had a girlfriend from Manchester. She was living in Berlin, but we were several times in Manchester, visiting her parents. Maybe the song is based on the mixed feelings I had at that time. Later on we played some wild gigs with Alter Ego at a club called "Sankeys".
Acid House started there in the U.K. and Alan McGee moved with Creation Records to Manchester because he fell in love with that new sound directly.
The Happy Mondays, Primal Scream and My Bloody Valentine changed their sound completely after partying with MC Gee and recorded, after that experience, some of my most favourite albums. Even The Pastels, The Jesus And Mary Chain or The Loft were selling more records during that Creation / madchester-hype. Sad that the success of Oasis ended up this very experimental and inspiring time.
Funny that a band from Manchester ended up the Manchester sound…
++ And then there's "Candyman" and "Candy Mountain Blue". Is the "candy" just a coincidence or? Also, I have to say that my favourite song of the album is the latter, "Candy Mountain Blue", would you mind telling me the story behind this song?
In "Candyman" Candy is a coincidence for drugs.
The title is inspired by a very funny Bob Dylan song, about a famous New York cocaine dealer, called "The Mighty Quinn". "Candy Mountain Blue" plays around the same area, but the name was inspired by a "Hüsker Dü" title called "Candy Apple Grey".
++ And just to make sure, there are no more unreleased songs by The Sheets? Everything is in the album?
They are all on the CD…
++ Tell me about gigs, did you play many? What were your best gigs? Any anecdotes to share?
"Hammerconcerts", the "Batschkapp"- booking agency, managed us at this time. So we could open as a support band some very cool nights at the club. My personal highlight was a German package tour with "The Wedding Present". We plaid in all the great venues all over the country, following The Wedding Presents tour van, in our old Volvo station wagon. They paid for our gas and gave us their backstage food, while they went to a restaurant. We slept in the car or on the floor at some friends places but The Wedding Present were real gentlemen and helped us wherever something strange was happening. For the last gig at the "Loft" in Berlin we had to cross the East German border, which was quite an adventure during that time. For the first time I realised what the work of a touring musician is meant to be.
++ I know you were involved with 'Alter Ego', 'Acid Jesus', 'Sensorama' or' 'Warp 69', and some more. What about these projects of yours? Care telling me a bit about each of them? How different where they from The Sheets?
With Alter Ego we plaid worldwide in over seventy countries over the last twenty years. So that was becoming my touring " band" over the last twenty years. It's real techno for real dance clubs. Producing and performance is absolutely different to the work as a rock band. We do jam sessions with our instruments live on stage.
With our" Krautrockproject", Sensorama we are first writing real songs and deconstructing them with the computer to abstract pieces. Thats why Sensorama is a pure studio project. We worked with loads of interesting loops. We sampled everything, from "Yo La Tengo" to the "American Music Club". Than we playing over it with our own Instruments and giving it the special, Sensorama style. We used the vocals of Robert Owens (Fingers Inc.) , Jochen Distelmeier (Blumfeld) and Robert Forster(Go Betweens).
++ You collaborated with Robert Forster of Go-Betweens for the 2000 album of Sensorama. How was that experience and how did it happen?
First we wanted to work with Peter Hein from the legendary German band "Fehlfarben" but he hated our tracks. Than we asked Robert. He was living with his family, close to Augsburg in Germany, so our label was ringing him up. He liked the music so he came, just with his guitar, by train to Frankfurt. He looked like a French poet, when he stepped through the railway station. Very impressive!
Than we drove to the studio. He plugged his guitar in my amp, listened to our basic idea and wrote the lyrics in half an hour. Than he plaid his fantastic jingle-jangle guitar in one take. Pure magic, or maybe a real proffessional? After finishing the song he said "Now you have to invite me to an expensive Italian restaurant". We were all laughing and went with him to dinner.
++ You are such a music person, but I wonder if aside from music you have any other hobbies?
I like all kinds of pop culture. I love art. I collect pieces by young German artists from Berlin and Frankfurt.
I love to restore old cars especially from the sixties and seventies. I'm a big soccer fan. I follow all the games of Eintracht Frankfurt, my favourite club. To refresh my ears, I run everyday six to ten miles, at a forest close to my apartment.
Since three years I'm into cooking. Sometimes it feels a bit like meditation to me.
I like hardboiled detective and crime novels. Jim Thompson, James Ellroy, Iceberg Slim, Dashiel Hammet and Raymond Chandler.
++ And do tell, music-wise, what are you up to these days?
At the moment I'm into pure acoustic music. Just a good microphone, western guitar and my voice. My record faves (this month…) : Caribou – "Our Love" , Robyn Hitchcock – "The Man Upstairs" , Aphex Twin – "Syro", The Jazzateers – "Don't Let Your Son Grow Up To Be A Cowboy" , J-Mascis – "Tied To A Star", The Pastels – "Slow Summits", Toy Love – "Toy Love (1980)", Roddy Frame – "The North Star",
The June Brides – "There Are Eight Million Stories" , Trümmer – "Wo Ist Die Euphorie", Schlammpeitziger – "What Fruit ?"
++ One final question. How do you see the chances for Germany in the next World Cup?
I'm far too late for this one, but I have to say it was a thrilling Worldcup! It really surprised me how big soccer became in the states.
The US-Team did very well ! I like Jermaine Jones. He played over ten years for Frankfurt. He's a real dirty fighter. The Eintrachtfans called him "Bad Boy".
::::::::::::::::::::::::::::::::::::::::::::::::::::::::::::::::::::::::::::::::::::::::::::::
Listen
The Sheets – Crashing