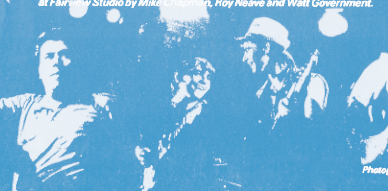 After Tim Headman told me a bit more about the Watt Government not so long ago, Steve Nash, who played acoustic guitar and vocals, was very nice to give me an interview about their band! Thanks so much to both for getting in touch and sharing all these stories! Again, please check videos from their diverse projects here!
++ Hi again! Thanks so much for doing the interview! I was very curious about your band and you got in touch, out of the blue!

How are all you doing today?
Right now it's Halloween and I have just been out with my nine year old son been really busy with my job (I work freelance in health and social care) Curtis and his friend Owen, trick or treating. This is still a fairly low key thing in the UK, compared to how I think it is in the states. I have but I am excited about the new band I am getting together called 'Arthur 2 Stroke, WM7 and Big Black Bomb'
++ I know some of you were already playing together in Arthur 2 Stroke and the Chart Commandos before joining the Watt Government. Care telling me a bit more about this band? What is the discography of this band? And how did you all meet in the first place
In 1978 in Newcastle it seemed like everybody was in a band. As a result spending the summer acting in a Walt Disney film shot in Alnwick Castle (Where they later did Robin Hood Prince of Thieves with Kevin Costner) I got to know a few people who had started a regular scene playing in a pub every week, promoting events, and gathering like-minded souls around a concept called Anti Pop. Arthur 2 Stroke was initially the main creative force behind this scene and he also fronted one of the bands that played every week, but never with the same musicians. I liked his humour and style of music and so I approached him and we started playing together regularly, two electric guitars and a drummer, and he christened me WM7. Over the next few months the band grew – I knew Tim from college and he joined on bass initially, but moved on to guitar. The Chart Commandos had evolved into a proper seven piece backing band for Arthur by 79/80, as a result of
recruiting different people in different ways as we went along. We were influenced by Geno Washington and the Ram Jam Band, Ian Dury and the Blockheads, Dexie's Midnight Runners, Madness and a love for TV theme tunes and Northern Soul. By this time, I had moved on to trumpet…
A2S and the CCs sort of fizzled out in 1983. We had played hundreds of gigs and had an amazing following in the North East of England BUT we never managed to match our live success with any really decent recording, and eventually we all needed to move on.
++ What happened in the time between Arthur 2 Stroke and the Chart Commandos and the Watt Government?
As I remember it when the Chart Commandos split up, we all went our separate ways for a while. Tim continued writing and recording some songs, using us lot in the studio, Pat (keyboards) rejoined Archie Brown and the Young Bucks and released a great album called 'Bring me the head of Jerry Garcia'; Davey, Ian and Grahame and Ross (Drums and Bass and Sax and trumpet) joined our ex roadie to form a new band whose very 80s name escapes me…and Stevie our percussionist I were recruited on trumpet to another new Newcastle band called 'The Pressgang'
This was quite a diverse but ultimately doomed outfit, with a Jamaican drummer and a Malaysian keyboard player, a brilliant but mentally troubled guy on sax, and two black British female singers, one who was an 'exotic dancer' in the clubs around Tyneside, and the other was Debbie – who became my girlfriend and subsequently my wife. The Pressgang had self imploded after a few short months, a year tops, when one day I took a phone call for my flatmate Andy Pop, who had been the other half of the driving force behind Anti Pop (the business side)
Andy still promoted various gigs and events in Newcastle at that time (1983/84) and on the other end of the phone was an agent who needed a 'jazz duo' to support Alexi Sayle at his gig in Middlesbrough in a few night's time. I suddenly got this idea that Tim and Debbie and I could put something together so I told the agent that I knew this band, and luckily Tim and Debbie were up for it! Tim had already thought of the name Watt Government, so we threw a bizarre mix of country and western and home-made topical reggae tunes together, and went down so well were offered three more dates. We played as a three piece for a while, then as the five piece you see on the The Tube video, and then finally poached back the rest of the Chart Commandos – the rest is history!
++ You also said to me that you were influenced by a lot of African music. Was it easy to have access to it? What about UK music, was there anything you enjoyed at the time?
Now we are moving into the early 80s, and the birth of Watt Government out of the ashes of the Chart Commandos in 83/84. Here and there in Newcastle and the rest of the UK people were picking up on 'World Music' especially (in my case) African musicians like King Sunny Ade, Fela Kuti, Hugh Masekela, The Bhundu Boys (although perhaps they came later!). As I remember it was not so hard to access, but I guess there was nowhere near the variety and choice that is available now.
In terms of other bands, I seem to remember that we had quite lot of time for all kinds of music – we were big fans of Gil Scott Heron and Curtis Mayfield who were overtly political in their lyrics, and in the UK at the
time people like Elvis Costello, Billy Bragg, The Style Council, The Clash, (and many more I can't remember!) were all doing political/social commentary but we were into all sorts of other things, Stax, Tamla, Talking Heads, Grace Jones, early rap like Grandmaster Flash and Run DMC, lots of reggae, contemporary and old style Trojan…and good pop music, we were all always partial to good pop music
++ What do you think about being categorized as neo-aco?
Sounds good! One of the problems we had at the time was that we played lots of different styles live and this made us hard to categorise, so it's interesting to finally be located in a genre – albeit on the basis of one
single!
++ From what you told me, your songs were quite political. But how involved were you in politics?
Tim and I were working in the 'public sector' health and education respectively, and all of us were very aware of the way Margaret Thatcher's policies (she was the prime minister of quite a right wing government) were
adversely affecting the most vulnerable people in our society at that time. In the North East the miner's strike was very significant, due to the importance of coal mining to the history and economy and culture of the area, and there was a lot of anger and hardship about the decimation of the coal industry by Thatcher's government. We played a number of benefit gigs, and some people in the band knew activists and people who were undergoing real hardship, but at a personal level I have never really been much of a political activist. To me, Tim and Davey (the drummer) always seemed much better informed and aware. Tim tended to write most of the words and most of the time they were about the things in the news, and the way government decisions and actions affected ordinary people
++ How do you feel about Gordon Brown then?
Hey now Roque, far too many column inches have been spent on this subject already. I guess I see him as a nearly man, I don't think he is particularly a bad prime minister, but having to follow Tony Blair, who was much more charismatic, and then being hit by the global recession, and domestic twaddle like expenses scandals, meant that he never really stood much of a chance. I also think these things go in cycles, and the same party that was welcomed into office by dancing in the streets 10 years ago has now become tired and ineffective and full of infighting. What depresses me most is that the whole game has shifted to the right in this country, the amount of people we lock up, the way we treat asylum seekers, the pressure on single mums and other 'unemployed' groups, negative images of young people, it's all a very depressing if you let it get to you
++ What are your memories of recording the single? Any anecdotes you could share?
We seemed to record so many versions of it! In fact there were only two proper gos at it – the one with the Kane Gang, which I still have somewhere, and then the one we did ourselves when that got lost – Tim has told you about this already. The Kane Gang experience was very interesting to me because it was the one time we actually worked with producers. Mostly we just depended on the engineer and our own judgement. One thing I do remember is that one time we went into the studio (called Lynx, it's just been demolished to make way for a 'student village') and Hugh Masekela was in there finishing off recording a session for the Tube. I was in awe, and wanted to speak to him but came over all clumsy. The amazing thing was he
just said hello and set about moving his stuff so that we could sit down. He was so humble warm and friendly. But I still didn't know what to say to the man!
++ Why didn't Kitchenware want to release the single anymore? Ok, the master tapes were stolen, but that's not a good reason at all, especially for such a nice single! How come Volume Records came to rescue you and release the 7″?
I guess it all comes down to money in the end – there was only so much money they were prepared to invest, and when that was spent, that was it. Also I don't think they were really committed to the idea that we could be successful. I can't remember how Volume got involved, but Tim can tell you more about that, he was always the mover and the shaker!
++ What happened to the song "Watt Government"? Why didn't it get released as a single as you expected?
Technically it was never did get very far as a single. We all loved the song (and I still do, I do an acoustic version with some friends of mine currently, although we have yet to perform it publicly). As I recall, we got
some studio time booked up one time after Tim had left and gone to Vancouver, we timed this to coincide with when he was back in the UK on a visit. Maybe 87 or 88? It was never properly mixed or finished off, and the band had split by then so there was no real focus to do anything with it. These days it's all a bit easier I think – I mean it doesn't matter if you don't have a band as such, but in those days the the band was the thing. The version that exists has a certain magic though, and I can send it to you sometime to see what you think if you like
++ You also appeared in a couple of TV shows doing live performances. How was that experience? Is it much different than playing live at a club? How did you get into the TV shows by the way? Today guitar pop bands don't get invited that often to TV shows!
TV was always fascinating – everything gets focused on a few minutes performance, and it can be much more intense and difficult than playing a whole set for an hour or more, when you can work with the crowd and build up some excitement. It's a bit like recording in that I think it requires its own set of skills and just because you can play in a band and write good songs doesn't mean you can come over well on tv. I can't comment on what it's like for bands these days
++ How was the scene in Newcastle back then? Any good bands from the time that deserve to be remembered?
Crikey that's a hard one. Like I said above, there were loads of bands, but to be honest I can't remember too many of them now. Some friends of ours were in The Hostages, and they did ok for a while, got a deal and released a single 'Pretend you're American' but it didn't go far. Maybe Tim can remember some of the others….
++ What about gigs? Did you gig a lot? Any in particular that you remember fondly?
Gigs were always hard work – often we had to promote them ourselves and do all of the organising. Personally my favourite was our second gig at The Crucible in Sheffield. We were supporting Alexi Sayle who was at that time a stand up comedian, one of the then new breed of 'alternative' comics. At that point it was me and Tim on guitar and backing vocals and Debbie singing. We were in danger of becoming a musical comedy act perhaps but I quite liked it and we went down very well with the crowd that had come to see Alexi Sayle. We had worked out a whole little routine in no time at all and it felt edgy and fresh. That would be a personal favourite!
++ When and why did the Watt Government called it a day? Were you all involved with music after?
Now then, I think I am going to have to cite the usual 'musical differences' here. There was some personal relationship stuff in the band but mainly my take on it would be that Tim had worked very hard to try and make something happen with Working My Fingers and when that didn't happen he wanted to withdraw and reflect for a while. Then he decided to move to Canada and I didn't have anyone else to write songs with!
Tim went on to do a lot of music in Vancouver, which he can tell you about. Ian our bass player went to California to work with Sid Griffin and the Coal Porters. Stevie our percussionist has never stopped playing the working men's clubs in the North East. For a few years I didn't do much at all but now I am musician for a theatre company, I play in a community band of horns and steel pans that gigs in Newcastle, and I have just started to get a new band together with Arthur 2 Stroke which is huge fun
++ Why do you think the Watt Government didn't get more popular? What was for you the highlight of the band?
Hard to say. I think success as a band is partly about luck but also partly about simply sticking with it, year after year, and we didn't really have either of these things. Plus there was probably too many of us, and inevitably different people want different things. And then important things like children came along!
++ Are you still all in touch? What are the Watt Government members doing nowadays?
I still see Ian (bass) and Graham (sax) and Davey (drums) from time to time as we all still live in the area. Debbie is the mother of my children and so we are still very connected even though we split up amicably two years ago. Tim is in Vancouver but email and the occasional trip home mean that he never feels too far away really. Sort of fallen out of contact with Ross (Trumpet) and Stevie (percussion)
As far as I know we are all working but not so much involved with music these days. Just proper grown up jobs to pay the bills! I do play for Archie Brown and the Young Bucks (they are on You Tube), along with Ian and Grahame every Christmas, and Davey is the manager of the music venue at Newcastle University, but Tim has probably tried hardest to keep connected with the spirit of rock and roll…or should I say neo acoustic?
++ Thanks so much! anything you'd like to add?
No, I think I have gone on long enough, I just hope there is something here that is of interest to you. I am confident that Tim will have stuff to add, especially now I have prompted him!
::::::::::::::::::::::::::::::::::::::::::::::::::::::::::::::::::::::::::::::::::::::::::::::