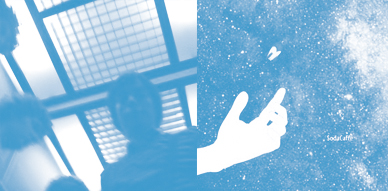 I keep writing posts way ahead. I'm a bit surprised of how organized I've become when it comes to keeping a tab on any new find that comes my way. I wasn't that meticulous months before. I wonder what has changed.
Alvvays album is not out yet but they are making a fuzz. We know that. The promotion for their sophomore effort continues and now the whole album is available for streaming on NPR. I didn't doubt about buying it, I'm sure you had no doubts either, but if you needed a little push, well you can listen to "Antisocialites" completely now. My verdict?  It is really good and they even dedicate a song to Jim Reid of the Jesus and Mary Chain. 10 songs that will make any indiepop lover happy (and probably thousands of hipsters too).
Saint Etienne's "Home Counties" album is already out and on September 26th I will see them in New York. What else is there? A new video of course for the song "Dive". The song will also be released on a couple of different singles, it is like we are back in the 90s. It will appear on a four track CD EP (with 3 brand new songs), a three track remix CD and a 4 track 12" single. Wow. The video was filmed in Scarborough. One day I'll visit I hope!
The Stammer is a Philadelphia band I really like. At one point I think they were going to play NYC and I was going to go, but then they cancelled that show. Or am I dreaming this? At least I remember it that way. The band formed by Brian Brotman on guitar and vocals, Gavin Landesberg on bass, Ted Quann on guitar and Zachary Zimmerman on drums have a bunch of very fine songs! Right now I'm listening to "Over and Over" that wasn't included in their album that was released earlier this month. Why? I don't know, it is a fantastic song. The album, "Face in Peril", still has many good songs,  so don't worry! It is available in CD format.
It has been a while since I hear some jangly pop from Germany. I found The Catherines randomly on Bandcamp. The one-man band from Hamburg makes sweet simple jangly songs.  His latest is "How Could This Get Any More Complicated?" and before he has uploaded a bunch, one even with a very funny title, "Is Your BigMouth Girlfriend Really So Charming?", if you get the joke.
Did I ever mention Dayflower on the blog? If I hadn't I'm very sorry. Please do listen to their latest song, "Sweet Georgia Gazes", it is hit of swirling jangly guitars, upbeat melodies and catchy chorus! The Leicester band has bene a favourite band of mine for some time, and still is a mystery why they have never played Indietracks and why they haven't released a proper record!
And lastly, as it seems even though I'm very organized and all I still miss the important news, I found out about Novelle. And this is very important. Novelle is the new project by Paul Stewart and Martin Rose from Feverfew and Blueboy. That means, that even without listening the songs, you know they are going to be good. And of course, you listen to "Boy Oh Boy" and you feel the reward of confirmation. The songs are great. The band is completed with Noelle Vaughn who sings beautiful. On the songs the trio get the help of cellist Hilary Insall and pianist/violinist Andrew Lim. Wow. Really. And then you can listen to "Back to Brighton" their only other song so far on the web. I look forward for more by them! And hopefully it is soon!
Hopefully more indiepop news this week!
—————————————–
On this pilgrimage through the countries that have produced indiepop in the past decades I had to make a stop in Brazil. Most specifically in the city of Blumenau.
Blumenau is a city in Vale do Itajaí, state of Santa Catarina, in the South Region of Brazil. It is 130 km (81 mi) away from the state capital of Florianópolis. The city was founded on September 2, 1850, by Dr. Hermann Bruno Otto Blumenau along with seventeen German immigrants. Later arrivals include biologist and early proponent of Darwinian Evolution, Fritz Müller.
There was a band there that I loved in the early 2000s called Soda Caffé. I wanted to sign them to a label I was running with a friend in Peru, Plastilina Records. I believe I discovered the band through Myspace and was immediately in love with one of their songs, "A Grande Fuga E Os Monstos Em Blumenau".  I had never heard a Brazilian band playing this sort of pop, playful and honest. Maybe no other band in South America sounded like this at the time. It must have been around 2004 or so.
Eventually I convinced my partner, Jalito, to get in touch with the band and offer them an EP. At that time we wanted to be important within Latin America, support bands that were making indiepop, maybe that way, if people saw the support, that there was a label championing indiepop, more bands were going to appear.
As far as I remember the band agreed to do this EP. We had the band listed as one of our artists on the label website. I don't know what happened, why this EP was never released. I can't even remember the tracklist, which songs were going to be included. I suppose the song I loved was to be included, it only made sense. I even believe that the artwork was designed.
In 2006 we decided, in Plastilina, to release a CDR to promote our releases and future releases. It was titled "Nice Try, Sunshine!" (PLAST000), a nod to Second-Hand Furniture who we put out a retrospective album. I love this compilation, I think the artwork is one of my favourite of the Plastilina label. It is true that this CD is very rare, that it was only released in Peru. It was just a sampler and came along a music magazine called Freak Out. Here we did include the Soda Caffé and their song. I notice we wrote the band name altogether, Sodacaffé. What was the correct spelling?
I lost touch with the band. But Jalito continued in contact and in 2009 he included the song again on yet another compilation. "Has My Heart Gone to Sleep?" (PLAST014) was released that year and most of the songs were from records we had already released.There were two exceptions to the rule, Soda Caffé and Kawaii. Jalito compiled the songs through many months and I did the artwork. I remember this compilation was dedicated to Jalito's aunt, who was a big supporter of the label, even letting Jalito to borrow her offices (a medical export/import business) for Plastilina.
Maybe still in 2009 we were hoping to release Soda Caffé? I would like to think so.
Now I'm trying to back track, trying to remember the band, who were they, what songs did they record. I hope the internet helps me.
The band was born in 2003 and was formed by Marcelo Luz on guitars and vocals, Bruno Beckmann on keyboards, Leandro Pimentel on bass and Diogo Micheluzzi on drums. They listed Yo La Tengo, Club 8 and Harper Lee as their influences.
A good find was that the band put together a Soundcloud page 4 years ago. On it I could find many more songs by the band. Were these the ones that were going to be on the EP? I can't remember. I listen one by one, "Guerra de Botões", "O Astronauta Em – O Reencontro", "Batlha Entre Herois", "O Robo e a Rainha", "A Grande Fuga e os Monstros de Blumenau" and "Bomba Colorida".
I find on the blog Mofo Novo that the band disbanded in 2009. Then I see that the band played a festival called Tschumistock in 2007.
Also on September 8th of 2007 they played a mini-festival at the Curupira Rock Club and a gig at the Old Music Bar in Joinville.
I could see many hits on Fotolog. Remember that? Sadly I can't open those addresses. Maybe there were some gig photos?
I can't recall much more. I don't know what happened to the band members. Did they continue making music under another name? Maybe with other bands? Were the songs on Soundcloud all their recordings? And how come there were no physical releases in the end? They were pretty good, much better than many Brazilian bands at the time who did release some CDs. Maybe our Brazilian readers have a clue? Whatever happened to Soda Caffé?
::::::::::::::::::::::::::::::::::::::::::::::::::::::::::::::::::::::::::::::::::::::::::::::