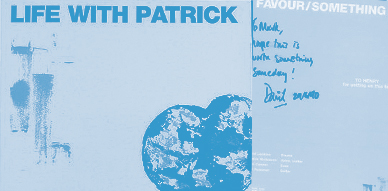 Before leaving to UK last month I bought many records on eBay and sent them to my friend Jennifer's place. You know, to save some postage. Among those records was the "Nothing in Your Heart" 12″ by Life With Patrick. I believe I paid 1.99 pounds and funny enough I would later find it, some days after arriving in UK,  in 'Love Music' in Glasgow for around the same price . Upon picking it up from the box, I told Krister to buy it for himself  but he didn't trust me. "I haven't heard this band yet" he told me. So Krister, have a listen now, and feel a bit of remorse for letting this one go 🙂
Before continuing this important investigation, let me have a little break here to see what I've been listening on CD this week:
1. Vitesse – You Win Again Gravity (Hidden Agenda)
2. Lovejoy – Who Wants to Be a Millionaire (Matinee)
3. Lovejoy – Songs in the Key of… (Matinee)
My favourite Patrick song is Kirsty Maccoll's "Patrick" of course. I wonder where the name of this band comes from? Patrick Swayze? Who knows.
Today while listening to the record on the turntable I remembered how Patrik Lindgren saved the day. It was Indietracks time, Saturday, and I arrived around 1pm to catch the 1:15 acoustic set by Remi on the train. First things first, I headed to the bar where I met Cristóbal. He couldn't handle the heat inside the carriage of the steam train and said he would pass watching Remi and would stay at the Indietracks grounds. Understandable. I grabbed a Newcastle can and head to the platform.
You could see some people already waiting but no sign of Remi. Ian and Emma seemed worried. The steam train just arrived and I saw Patrik coming down the carriage with his guitar (he was playing later with The Garlands), and his amazing green backpack-chair. It was nice to see him again because I knew he would like to see Remi play too. I asked him if he had seen him at the station, but he hadn't. Thing was that on this same steam train the gig was going to happen. We were just waiting and I was joking with him, asking him to play a Hormones in Abundance impromptu gig. Ian finally got in touch with Remi on the mobile and he found out that Monsieur Parson was in Butterley station. So we all thought that by riding the train we would go back to Butterley, pick him up and start the gig. That was the plan. The train driver had a totally different idea. He went the other way.
So the train headed the other way. And finally stopped. I guess the driver thought someone was performing. Patrik, Gustaf and me, were chatting close to the bar on the second carriage, not because we were thirsty, but because there was a big window right there, in between carriages. The heat inside these wooden wagons was unbearable. You could see the people chit-chatting, and wondering what was going on. Suddenly Patrik grabbed his guitar and headed to the front carriage. We thought he was going to try to find a better space, maybe a place to sit down. To my surprise, he went all the way to the front, opened  the guitar case, and started tuning his guitar. "I'm going to play some of my songs" he said. And there he was, Pata Lindgren, with his short sleeve shirt, bleached jeans and basketball shoes, playing some Ring Snuten for all of us. And it was really good! Patrik catches me cold, "Roque, do you have any requests?". I shouted "Only Fun in Town!". And that was just way too brilliant.
Patrik played around 7 songs before arriving back to Indietracks. The people were really appreciative, he had played for us just for the sake of it. I asked him later why did he do it, if he was nervous. He said a bit at first, but he said that it seemed the right thing to do at the moment. And I agree with him, there was a crowd there waiting for some great pop tuns. And Patrik delivered that to them. And everyone left the wagon later with a big smile on their face. I feel, that what happened right there, that camaraderie, that love and respect for the community, is what indiepop 'means'. There is A LOT in your heart Patrik. You were our hero that day.
Back to Life with Patrick. This 12″ wasn't their first release. There was another 12″ on the Tiger Lily label. Sadly I haven't been able to get my hands on this one. Not sure which tracks are on this one. Could it be the "Swing on Revival" listed on Last.fm? In any case there is also another release on Tiger Lily. It's a split 7″ shared with the Asphalt Ribbons. The track by Life With Patrick is "Wrong". Just for the curious, these Asphalt Ribbons would later become the Tindersticks. Haven't heard this one.
Now to what I have had the chance to hear. First I suggest checking the downloadable demos available on Last.fm. There you can download the tracks "Madonna", Wrecking Crew", "So Far Gone" and "About Time". I can only wonder who uploaded these. Must have been someone from the band. How I wish this same person would have added some biography of the band or even some photos. Because honestly, there's nothing online about them!
Now onto the blueish, greenish, 12″ I know. On the cover it reads big, "Nothing in Your Heart" (which probably is about one of those girls we sensible guys like falling in love with), and there's a painted black heart. This artwork was done by Karen Sherridan and the record was released on Manchester's In Tape Label. The catalog number is IT 070. Some of their labelmates were The June Brides, Rote Kapelle and Yeah Yeah Noh. The record includes three songs, the aforementioned "Nothing in Your Heart" on the A side, "Favour" and the instrumental "Something From Nothing" on the B Side.
I love and enjoy lots the B-side "Favour". It has that galloping C-86-ish guitar I always die for. Great vocals, catchy lyrics, and upbeat drumming. Just exactly what I like on a pop song! For that song this record is worth buying. Have a listen and judge yourself. Anyhow…
The only other important information on the sleeve are the band members. David Jenkins on drums, Patrick Nicholson on vocals, guitars, John Conner on bass and Paul Foreman on guitar. That led me to a small paragraph on the Benny Profane's biography page on LTM Records:
In February 1989 we did a one-month tour of Poland and The Soviet Union, including gigs in Warsaw, Vilnius, Riga and Leningrad. We just took guitars and travelled by coach and sleeper train – snow, forests, vodka and more vodka. Totally Glasnosted. Our good friends Patrick Nicholson (Life with Patrick, ROC) and Sue Digby organised the whole thing and it was a marvellous experience. We even appeared on Soviet TV for 60 seconds on a programme called 60 Seconds. The Leningrad promoter, a former circus ringmaster, stopped us mid-gig so we could watch ourselves before continuing.
So, Patrick Nicholson was also on a band called ROC. A little bit of googling takes me to this myspace where no one has logged in since mid-2010. It must be the same Patrick Nicholson because on this same band it lists Karen Sherridan, who was the one who did the artwork for the Life of Patrick 12″!
And that's about it what I've gathered about this great lost band. If you happen to have the tracks of the first 12″, or a spare copy, if you know anything else about this band, want to share memories, please do. Would love to hear more about this great band!
::::::::::::::::::::::::::::::::::::::::::::::::::::::::::::::::::::::::::::::::::::::::::::::
Listen
Life With Patrick – Favour