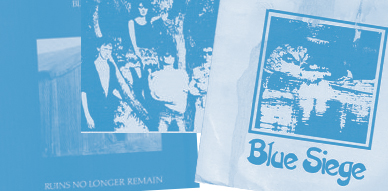 Blue: The word itself was loaned into Middle English from the Old French word bleu, blo " "pale, pallid, discoloured; blue, blue-gray", itself from an Old Frankish blao.
Siege: is a military blockade of a city or fortress with the intent of conquering by attrition or assault. The term derives from sedere, Latin for "to sit". Generally speaking, siege warfare is a form of constant, low intensity conflict characterized by one party holding a strong, static defensive position. Consequently, an opportunity for negotiation between combatants is not uncommon, as proximity and fluctuating advantage can encourage diplomacy.
It kind of feels as if I'm under siege here. So much work to do. I have managed to get into three freelance deals this past week and I have worked non-stop at home after the daily 8 hours at the office. One of them is the usual freelance I do for an art dealer: add, delete, change, some art pieces in his web catalog. Then I'm doing a sexual health poster for a London organization and last, I'm working on a site for some physician here that works with penile implants for erectile dysfunction. I know, very very odd. But it pays the bills. Anyhow, I still haven't finished all of it, I'm almost there though. I should be done in a couple of hours, but I needed a break. Introspect a bit, write, blog. I have finished sending orders of the newly released Youngfuck 7″ though. That's quite an achievement as there were plenty of pre-orders and orders. There are some things still due at Cloudberry HQ like finishing the Feverfew artwork (which is at a 99% stage), and then setting up the website with information for this new release. I will work hastily today to try to get that done. If not, there will be news during the week definitely.
You'll forgive my short post today, I hope. I also have my mum visiting so you can imagine time is really something luxurious at the moment. I do have some interviews coming up for this week, so worry not, the blog won't be left on a side.
The CDs that have been on rotation this week were:
1. The Jordans – Hallelujah Mine! (Constant)
2. The Jordans – Early & Not So (self-released CDR)
3. The Sundays – Reading, Writing and Arithmetic (Geffen)
4. The Rileys – The World And His Wife (A Turntable Friend)
5. Skansros – Vårsol (Luxury)
The obscure band for this week is Blue Siege. Blue being my favorite color.
Ed at Shelflife had already recommended them some time ago, but I didn't pay them any attention then. The track he posted, "Into the Swing", which according to him is better than the A side of their first 7″ (which I have never heard, so I trust him). The title track is called "Waiting River" and this 7″ was released by Pride Communications. Catalog number was 001. The cool part about this record is that it was produced by Chris Layhe from The Icicle Works at The Park in Liverpool. The photography of the sleeve was taken by Nick Kemp. Also four last names are credited on this record: Cumming, Gibbons, Rylance, Hall. Because of a comment on Youtube, we know the bass player was a girl. Which of the last names belonged to her? Not sure. And do you think it would be a safe guess to think they were all from Liverpool?
It was 1986 when that first 7″ was released. It was the same year when their second release came to life, a 12″ record. And this is the one I enjoy, especially because of the first track: "Ruins No Longer Remain". I don't have the record yet, but I have managed to secure a copy earlier today, hopefully arriving in a week or two from the UK. It doesn't look difficult to track down as I found many offers in different pages. The cheapest, the one I got, was from a seller on Musicstack. So if interested, have a look there. You can find copies of this great record for 5 dollars or so plus postage.
Anyways, a nice tint of purple for the sleeve. Shouldn't it be blue? That's what I wonder. It was released again by Pride Communications, with catalog number LP001. Sounds as if the label was their own, right? Why Pride though? anything to do with gay pride? Who knows. Perhaps in 1986 it wasn't like that, but these days, when I think of the word pride, I think of gay pride. Moving on. This is not an album, but a mini-album. It includes 6 songs, being the first 2 the best of the bunch. The tracklist is:
A1 Ruins No Longer Remain
A2 Stolen Daylight
A3 Like Red Rags To The Bull (Soweto)
B1 Hollow Man
B2 River Has Gone
B3 Drifting Apart
The sound of the 12″ is in between post-punk and indiepop. A bit like This Final Frame I'd say. Keyboards, great melodic jangle, but a bit darker and less luminous than your standard Bodines-like C86 indiepop. In any case it's great, it's not dreary and depressive post-punk, but catchy. Just give a try to the song. I've been enjoying it a lot today, a rainy autumn Sunday.
And after putting Google under a siege, that's all the information I've been able to gather online. If you know anything else about this band, please share. Would be great to know a bit more about them!
::::::::::::::::::::::::::::::::::::::::::::::::::::::::::::::::::::::::::::::::::::::::::::::