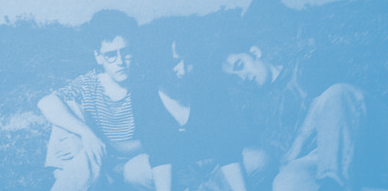 Remember I told you there were a lot of news as of late that I needed to share with you all? I think I have found some time to prepare yet another post, with obscure band research and all.
But first I wanted to tell you something that kept annoying me with my last post. Well, not with it exactly, but with the way I share it. I used to post the link on the Cloudberry Facebook page and from there I could edit the accompanying image as well as the headline and the description. That made it cleaner. For example I could just write "Esta Noche Tampoco" and not Cloudberry Cake Proselytism Archive – Esta Noche Tampoco. Longer and not convenient. Well, I can't do that anymore. I first thought it was a bug but then I found out that Facebook has removed these options. They say it is because they want to stop people editing the news, this way they hope to stop "fake news". I was shocked when I saw this. Seriously? This is the way to stop them? Anyhow… now I'll be posting a photo post and will share it with the link to the post. Sadly there won't be a small description available, so you'll have to just click and read the whole post.
Now onto the news:
38 songs by The Orchids will appear on a 2CD compilation titled "Who Needs Tomorrow" this August. It will be released by Cherry Red (a label I don't agree with, but I LOVE The Orchids), and will include liner notes by Orchids' producer Ian Carmichael. Something that is very exciting about it is that one of the CDs is dedicated to rare and unreleased tracks. The whole thing includes demos, alternative acoustic versions, radio performances, flexi disc singles, a cover version, and an old EP favourite – Underneath The Window, Underneath The Sink – specially re-recorded just for this release. It does sound like something I want!
It seems there are news about Alvvays every week. Maybe that's true. Maybe that's their master plan to promote their new album that's coming out soon. This week they uploaded to Youtube not a video, but the audio for the song "Dreams Tonite" and it sounds great! I hope/wish that in this new record they include the cover they do of "Alimony" by The Hummingbirds when they play live. Last week we saw the sad news that Simon Holmes of The Hummingbirds passed away, and I think, this would be a very nice gesture. I'm forever sad about this news of course, I hoped so much to see The Hummingbirds live, especially as I saw they were playing some gigs the past few years. That won't happen of course. I love The Hummingbirds, their records, their music, their videos. What a band.
Our friend André Brorsson from Stars in Coma will be releasing a new album on August 25th and it will be titled "Escapist Partisans". At the moment you can stream the first  and second singles of the album. "Chalet Saudade" is the first single and  André tells a bit of the story of the song, "The track starts out as a modern DIY disco song, with resentful lyrical lines about Trump, endless news flow and modern life. By the time we get to the chorus, the song transforms into a schlager-like anthem with chants about simpler times. As we all know, pure nostalgia offers no solution, prompting the character of the song to 'drink myself to sleep'. However, by the end of the song, he decides it's better to stay alive and 'take it all in,' even if the time he lives in only provide terror and gloominess." If you have a listen, you'll notice that is a very fine song! The second single is titled "Ten Years" and is also very nice, and André tells us about it as well,"A song in the genre I dubbed '80's sitcom pop', mainly due to the heavy use of very direct and uplifting saxophone melodies. Also a homage to Bowie and his weird chord progressions. A song about looking forward and looking back but mostly staying the same personally." Now, looking forward to listening to the rest of the songs on the album.
I have to say I was doubtful of Patience, the new project by Roxanne from Veronica Falls. It seems the same thing that happened to me with Veronica Falls has happened with Patience, meaning that at first I'm not convinced and then I start liking it very much. This means I already missed her first two singles because of that, and even though I don't think they are as good as her last, "White of an Eye", the completist in me will try to track them down. And that is going to be hard. Everything, even the new single which is slated to be released in September is already sold out! Tough luck! Hopefully I will be able to get a copy of "White of an Eye", I think a store in the UK will be able to help me. The 7″ single is being released by Night School records and has on the B side the song "Blue Sparks" which isn't available to listen. Right now I think the best place to preview this gem of a single is on Youtube as there's a very cool video to promoting this brilliant 3rd single.
Some time ago I sent interview questions to Raintree County. They said they wanted to wait until some news were announced before sending me the answers. I don't think it has been announced widely, but I saw on their Facebook page that a 3CD box set will be released soon by their old label, Native Records!
Lastly I want to recommend the new 4-song EP by Lima, Peru, band Submarino. "Transatlántico" is their newest release and I feel it is their best to date. The four songs, "Bicentenario", "Política de Tierra Quemada", "¿Qué Voy a Hacer Si Todo Arde?" and "Dominique Crenn", are proper guitar pop songs, clearly influenced by Spanish pop bands like Los Planetas or even Los Punsetes. The band, which I think I haven't recommended before, is Esteban Bertarelli's vehicle to create popsongs with the help of many friends. I remember meeting Esteban more than a decade ago on Soulseek, when he was very young and making music in the vein of La Casa Azul in his native Piura, in the north of Peru. It is very interesting for me to see how his music and skills have evolved in this time, and I feel this is a very worthy release!
It seems more news were left out again! Well, well, they will need to wait until next week!
———————————————-
Gijón, Asturias. Probably the first time I will dig deep into the history of a band from that city in the north of Spain. I have mentioned Los Bonsáis in the blog many times, but even they are from Asturias, they are from Llanes, a smaller town. Gijón is the big city in Asturias, the main cultural hub of the region. But it is not a contemporary story this one, it is one that has to go back to the 80s.
I discovered Esta Noche Tampoco not so long ago. I thought I knew all the worthy guitar pop bands from Spain by now. Seems I don't. I actually discovered another one this week thanks to my friend Joel. This is exciting for sure, there is more and more music to discover. I feel that I saw someone post the song "Ingemar" on Facebook. I can't recall who. Might have been Joel as well? Maybe. But it could have been any of my Spanish friends. I would love to give credit, but there's a blank in my memory.
Esta Noche Tampoco, which roughly translates to Neither this Night, formed in 1985. The band lineup then was Eduardo Lamela on vocals and guitars, Ana Lamela, his sister, on vocals and keyboards, Quique on bass and Antonio "Toño" Peña on drums. Other musicians that were part of the band in these early years were the bassists Tino Acebal, José Andreu and Ruben Figaredo, the guitarists Jon Egurrola and Paco Martínez and the keyboardist Mento Hevia.
Much of the biographical information I'm going to share with you come from two sources. The first is the blog "80 Nuevaola" and the second is Wikipedia. On the blog it says that the band was born from the ashes of the band Kurins, a hard-rock band, that saw the light in 1985 when they discovered The Smiths. Because of this new style, Quique was to leave the band.
In May 1988 two songs (which songs??) were included in a tape compilation titled "¿Qué Hago Yo Aquí?" that was released by Fusión de Producciones. That same year the band release the tape "Saben como a Sal" also on the same label. This tape had Mento Hevia as the producer and José Andreu, who was now playing with the band Amateurs, as bassist. I couldn't find a tracklist for this tape on the web.
The next year, 1989, the band was to release their first vinyl record, "Las Manos en el Agua" with Fusión de Producciones. I do wonder though about this, as on Discogs another label is listed, Mocambo (catalog 4M-009). Actually for all their releases appearing on Discogs it is Mocambo. On these biographical sites it is Fusión de Producciones. Was it a co-release? Was it the same label? I don't know. I actually just ordered this 12″ and hopefully when the record arrives I could solve a mystery or two. Always tough to order records from Spain, shipping costs are very unfriendly, same as the ones we have here in the US I guess.
On the record three songs appear on the A side, "Ingemar", "Nosotros y los Charcos" and "Ese Extraño Pez". On the B side just two, "La Piel Igual de Canela" and "Un Gélido Juego". To promote this 12″ the band released a 7″ (which is not listed on Discogs) that had "Ingemar" and on the flipside a cover of the House of Love's "Hope". That same year the band played in Niort, France, at the "L'Europe d'Art" festival, they were representing Gijón.
In 1990 the band released their first LP, "Bésame Mucho" (Mocambo 2M-015). The album has a bunch of very "indiepop-looking" photos that were taken by Ruben Figaredo (previously bassist of Raíl Real). The tracks on the album were, on the A side, "Baltasar", "Deshazme", "Algodones", "Dos Secretos" and "Flores Rojas", whereas on the B side we have "Carmen Esmeralda", "Ese Extraño Pez", "La Mentira y su Eco", "You Were My Skin" and "Johny, Mi Rey".
To promote the album the band releases "Johny, Mi Rey" as a single (Mocambo 3M-014). On the B side we find a cover of "Leaves Me Cold" by Lush.
The next year, 1991, they were to perform at the legendary TV show "El Salero". There is actually footage of them playing the song "Algodones" on the TV show on Youtube. The Youtube user victorblancoarcas mentions that in 1988 he played a show with his band, opening for Esta Noche Tampoco, at the venue "Casa de los Patos" in Oviedo.
Thanks to all this the band wins the best demo category prize on the El Kastillo de las Lágrimas radio show from Madrid in 1992.
On Rateyourmusic I find a self-titled demo tape from 1992. There were 6 songs included, "Esos Ojos", "Labios Son Labios", "Como Decir Que No", "Escuchandote", "Enseñame un Juego" and "Clarisse".
Their last release was to appear in 1993, "Ya No Eres Mágica" EP. This time the record came out on Noche Records (also unlisted on Discogs). It seems it didn't do well and the band decided to split because of that.
In 2003 a double CD-R compilation was released by Sausalito. It was an anthology of the band's music and it was titled "Nosotros y los Charcos 1989-1992". I haven't seen this record ever. I wish I could find myself a copy!
On Wikipedia it mentions that after the demise of the band they started a new one called "Corazón Loco" were the band fused latin and British sounds but they didn't get much of a following.
Ana Lamela these days is actually a well-regarded writer of erotic poetry and young adult fiction.
So time to keep digging. I then find an article dating from not so long ago, May 10th of 2017 on the La Nueva España newspaper. The article is about Eduardo Lamela. He was going to play some shows in the venues Trisquel and Savoy and so there was some promotion here. On the article I learn that his sister and himself weren't born in Asturias, but in Lugo, in Galicia. Also that he has played in the US, Mexico, Sweden, Canada, Chile and Germany. That he has lived in Cuba and Barcelona.
About Ana I also found that she has a cultural project called Musa Cafeína. It is a multidisciplinary project where they promote music, reading, performance and more.
What else can we find? Well there's Soundcloud, and Eduardo has an account there. Uploaded are "Esos Ojos" and "Labios son Labios". Eduardo says these songs are from their last release, I suppose the "Ya No Eres Mágica" EP. An interesting fact is that Eduardo lists this record as grunge, and that it was recorded at Paco Loco's studios. There are also a bunch of songs by a band called Versus, I suppose another project of his.
There are also 7 songs to stream from their sole album. But more surprisingly I find on another Souncloud account a song from their 1992 demo that won them the prize at El Kastillo de las Lágrimas, "Más Que el Futuro". It sounds great!!
I'm sure my Spanish friends might remember them, or might know what happened to the members afterwards. It seems Ana is the one that you might know best, but I wonder what happened to Antonio Peña? I couldn't find any information about him. And what about that double CDR? I would love to find a copy as it includes a bunch of then-unreleased tracks. Whereabouts in Spain did they gig? Why aren't they as famous as say Aventuras de Kirlian or other bands from the time? Why didn't they release records in bigger labels? So many questions. The fact is that they left some fantastic songs, you might just fall in love immediately with the brilliant "Ingemar" now, just as I did some months ago. And yeah? Who is this "Ingemar"? Maybe Ingemar Johansson the Swedish boxer?
::::::::::::::::::::::::::::::::::::::::::::::::::::::::::::::::::::::::::::::::::::::::::::::
Listen
Esta Noche Tampoco – Ingemar