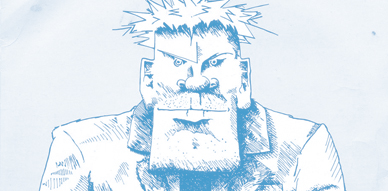 Yet another very busy week for me thanks to my daytime job and friends/family visiting town. So I'll share this week an interview I did back in 2011 for a Japanese fanzine called "Weekend Never Dies"  that was beautifully and lovely written and put together by Sayuri.
1. Many bands who have released from your label played at NYC Popfest 2011. What did you think about this year's NYC Popfest?
Yeah, that's really cool isn't it? Must be that NYC Popfest people have good taste when booking bands! 🙂
Jokes aside, I think NYC Popfest was great. The lineup was really good, with strong headliners and treats from overseas. Compared to other years this one had the best dance parties for sure. I haven't danced as much in previous years. So that's definitely a plus. Also having the acoustic sets during the evening shows was a smart idea. My only complains would be about some bands canceling at last minute or some disorganized band where only one member showed up, but that is nothing to blame to NYC Popfest organizers. They did a FANTASTIC job, and I'll definitely be there again next year.
2. Any favorite act?
I was very much impressed by Caucus live set, such a strong performance! From the bands I have never seen before I  liked Go Sailor, Persian Rugs, Tiny Fireflies, The Motifs and Days. And I always enjoy seeing Gold-Bears, Felt Tips and The Sunny Street, even though I've seen them a couple of times already!!
3. What was the most impressive thing at NYC Popfest 2011?
The most impressive thing? The 8 dollar beer at Santo's Party House? That was crazy expensive for a beer!
Also the amount of international fans! It was really cool to see so many Japanese fans this year! There were French people, Spanish, Scottish, English, Canadian, Swedish, even from Singapore! That happens often in European Popfests, but not here in America. So that really impressed me.
About Cloudberry Records
1. Could you tell us the story about how you started the label?
Must have been January 2007 when I came across a little 3″CD for the first time. It was from a Spanish band called Bicicross. Immediately I got the idea that this format would be fantastic for single releases. After some weeks figuring out the packaging, I got in touch with my friend Andreas from the band Celestial and asked him if he wanted to be part of this new idea/project I had. And he said yes! And that was it, Cloudberry was born.
2. Releases of Cloudberry records are consistent in a way. How do you find and choose a band to release? Do you have any kind of criterion for selecting bands?
To be honest my only criteria is liking the band and that it fits in the style of music I release. That's where the consistency comes from. Also for me bands are also friends, and not just some sort of business colleagues. So it's very important the relationship we have. I don't like working with complicated or demanding people. Oh! and a plus will always be if they are indiepop fans. Of course.
3. Do you have any ideal label or labels that you can emphasize with?
I'd say Fabulous Friend Records from Sweden, Heaven Records from UK and YAY! Records from the US. The reasons go from their aesthetics, their taste, and most importantly the passion behind them.
4. Did you have any hardships in running the label?
Sure, but nothing that hurts. Haters are going to hate, you know. People will always have something to criticise.  Though there was one time that I didn't get to release a single because the band and me didn't agree about the artwork. As of now, this band is one of the biggest bands in indie, not just indiepop, but indie in general!!
5. When and how did you first get into indiepop music? Did you have any friend who you could talk with about your favorite music when you were a student?
Interesting that you ask about it. After a year I moved to the US, when I was 18, I met my friend José. We both attended the same college. He was much more into music than me then I'd say, and my competitiveness kind of sparked a flame in me, so tried to know more about music. We had a very similar in music taste, even though he loved some tropical music. We started a band and stuff too, but that's another story. During that time we started working too for the first time in our lives, and had money at last! We started ordering records from Spanish labels as that was the music we knew. Elefant, Subterfuge, Siesta. That stuff. I think it was the connection of Alaska y Dinarama with Elefant and Subterfuge that made us discover indiepop. Alaska is huge in the Spanish speaking world. So from there, ordering Berlanga CDs, or Pegamoides reissues on Subterfuge, made us discover a whole world of indiepop thru the catalog of these labels. Eventually I found out about Twee.net, the indiepop-list, and the Twee Folks group on Soulseek. The rest is history.
Sadly my friend had to move back to Peru many years ago. He was once part of a label called Plastilina. We talk often about music but not as much as before of course. Now he has a really cool indiepop band called "Eva y John" that I look forward to their first release!
6. What bands did you listen to when you were younger?
Before listening to indiepop? As you know I grew up in Peru and the influence of Spanish pop was big during the late 80s, early 90s. I tell you that my first concert was by a Spanish band called Christina y los Subterráneos. Really nice band. One of my favourite Peruvian bands when growing up was called Mar de Copas, they had some great jangly tunes. During those years I loved Duncan Dhu, Hombres G, El Ultimo de la Fila and Aerolineas Federales. Later I got into lots of  80s italo disco. But that it's kind of cheesy isn't it? But I love it still.
7. You also make a fanzine which looks so beautiful in terms of single color printing, a font of typewriting manner and authentic layout. When did you start making a fanzine?
Thanks Sayuri. I started my first fanzine back in October 2007 and released it in December that year. I was still in university then, I was a graphic design student, and saw the opportunity to do something Cloudberry-related as a project in one of my classes. Something that I could use both for school and the label. Then I got in touch with some bands I had released, I put together the 5-track CD compilation that came with it, designed it, print it, got some plastic sleeves for them, took orders and started posting them. So that's how the first fanzine started. I got an A if you were wondering. 🙂
8. Do you think your fanzine plays a role of complementing or promoting the releases of the label?
Definitely, but more like complimenting. I say that because I usually do one-offs by bands, just one single and that's it. So on the fanzine I believe we can further explore the bands, with an interview, and perhaps including a song on the 3″CD that comes with it. It would be fantastic if it was more of a promotion tool, but I find that many of the people that order the fanzine don't really order the records or vice versa. It's like a totally different crowd. It's very strange but interesting at the same time.
9. Do you have any favorite fanzines?
Definitely yours and the Twee Grrls fanzine. So far this year they are the best I've read. From the past I've loved This Almighty Pop! and Woosh fanzines.
10. I was also impressed with a large amount of information of your blog. How do you separate things to put on a fanzine or on a blog? Do you think it's important to manage both a fanzine and a blog?
Well on my fanzine I exclusively feature bands associated to Cloudberry whereas on the blog my I don't give myself any restrictions, I just write about anything that comes up to mind. And that's usually some obscure 80s band and sometimes about some personal experience concerning indiepop. So it's quite different what you read on the fanzine and on the blog. And I don't plan publishing online any of the stuff that appeared fanzine, I want it to be special for those who bought it.
If it is important to manage both a fanzine and a blog? I would say yes, at least personally it is. It's really great to have a space to speak up and later find people that are interested in the same things as me. That exchange of information between readers, bands and me, is just fantastic. That's why I think it's worth to do both, or even one!
11. Could you give your recent favorite bands?
New up and coming bands? I really enjoy Evans the Death, Seapony, Tiny Fireflies, Cassolette and Pastel Blue.
12. Could you give us 5 best albums in your life?
1- McCarthy – The Enraged Will Inherit the Earth
2- Wedding Present – George Best
3-  Heavenly – Heavenly vs. Satan
4- Blueboy – Unisex
5- TCR- Paro, Siesta, Días de Fiesta
13. Any future plans?
Sure thing, more releases! Very soon I'll release my 6th fanzine and I have many 7″s lined up. After Very Truly Yours 7″ I should be releasing Youngfuck and Nixon 7″s. There are also some cool Cloudberry Classics 3″CDs on their way! And hopefully I get to go to Japan to DJ someday in the future! That'd be a plan!
Thanks so much Sayuri for the interview.
————————————————————–
Chaps are sturdy coverings for the legs consisting of leggings and a belt. They are buckled on over trousers with the chaps' integrated belt, but unlike trousers they have no seat and are not joined at the crotch. They are designed to provide protection for the legs and are usually made of leather or a leather-like material. They are most commonly associated with the cowboy culture of the American west as a protective garment to be used when riding a horse through brushy terrain. In the modern world, they are worn for both practical work purposes and for exhibition or show use.
Batwing chaps are cut wide with a flare at the bottom. Generally made of smooth leather, they have only two or three fasteners around the thigh, thus allowing great freedom of movement for the lower leg. This is helpful when riding very actively, and makes it easier to mount the horse. This design also provides more air circulation and is thus somewhat cooler for hot-weather wear. Batwing chaps are often seen on rodeo contestants, particularly those who ride bucking stock.
Hanley, Stoke On Trent. 1985. Let's transport us in time. That's where we'll find The Batwing Chaps.
The information online is very small. I know a bit about them thanks to an old compilation done by Brucey on his Sideroom blog, and also thanks to a Japanese review somewhere online that likens them to Decoy Avenue.
There was a 7″ released in 1985 with the songs "I Won't Change" and "Crave". I've only heard the first one, and you can listen to this pre-C86 neo-acoustic gem on the MP3 linked here.
I don't have the record but there's a Facebook page created by fans for the band, looking also for more information about the band. On it, someone has uploaded the sleeve. From that we can learn a couple of things about this obscure band:
The record was produced by The Batwing Chaps
It was engineered by Stuart Pickering of Factory Records fame.
There are some names that I would assume are from the band members: Hanky P, Lamumba R, Phillips R., Rogers M. and Wagg R.
There are thanks to Karn and Bullet Records (this one is a metal label from Stoke I believe).The cover was designed by Robin.
The record came out on Pinnacle Records (catalog FM01). Safe to say it was a self-release?
Most interesting of all in this group is that someone posted a tape from 1982 that includes 4 other songs not included in the single. Sadly I can't figure out the full names of the songs, though I guess the first one is "Imagination". These were recorded in 1982 and they are copyrighted to Batmusic (!).
And that's all I could find about them. Do anyone know anything else? Were there more recordings or releases? What happened to the members? Were they involved in other bands? Does anyone have "Crave" or a spare copy of their single? Would love to hear more!
::::::::::::::::::::::::::::::::::::::::::::::::::::::::::::::::::::::::::::::::::::::::::::::
Listen
Batwing Chaps – Crave