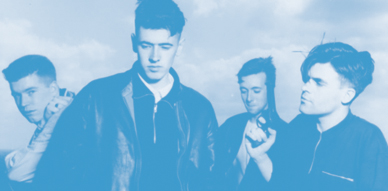 Happy  2015!!
Back to blogging today, first post of the year and all that. I think everyone should start the year voting on the classic and annual Twee.net poll for the best of 2014. You can do so here: http://www.twee.net/list/polls/poll.html
After you are done with that my next suggestion is to listen the first great record released this year. Rémi Parson, our French friend that recorded that beautiful song "Rome Eternelle" for our "You Should Keep in Touch With your Friends" 3″CD compilation some years back, has just released a very classy 9 track album called "Précipitations". You can buy it on the label Objet Disque's bandcamp for 16 euro plus postage. It's a 12″ LP and there's only 200 copies. Elegant and timeless, the brain behind The Sunny Street, has nailed it again.
Next up on this bandcamp review I'm doing this week, first week of the year you can't expect many news or bright ideas after so much partying, is AGGI from Bekasi in Indonesia. They have a new 3-song single on their bandcamp full of distortion and pop melodies, closer to Black Tambourine than to The Pastels. You can also order this single as a CD-R if you write to the email provided in their page. Rough on the edges but definitely charming. My favourite song is their closing one, "Television Personalities."
Another 7″ from the quarter of the 2014 that flew under my radar was that of No Fucks from Gijón, Spain. The band that has Stephen from my Indietracks-favourite Axolotes Mexicanos in their ranks, released a three track single with High Five Discos. You can buy and stream the three songs in the label bandcamp here. It's the first ever release from this small label and there are only 250 hand-numbered copies. My favourite song is the immediate and direct, no frills, "En la Cama". Straight punky-fuzzy-pop. Fun fun fun.
Then if you haven't been aware of Expert Alterations from Baltimore I recommend you to check them out. They are really good!! I so hope they get invited to NYC Popfest. I saw them live not so long ago, opening for My Favorite, and they were pretty good too. The most surprising thing is that they know their stuff. It's clear they have good taste and listen to good music. The song sound like they could have been recorded in 1987 or 88 or 89. Definitely reminds me to many of those small bands that used to appear only on compilation tapes in the 80s. St James Infirmary, Honeytrap, The Hipflasks, you know, those small but BIG bands for me. I think you can still get a tape with their latest recordings too. I look forward to their next release!
And well, as I have said many times, I'm no fan at all of tapes, so I'm having an issue with the latest wave of DIY releases. I think to myself, please bring back the CDR! Oh yeah, give me a CD-R anyday over a tape. They are so annoying. And they are cheaper too. Come on! Anyhow, the next band also has a tape out and they hail from Detroit. I will actually be playing one of their songs on my podcast (which Toni says we might have it ready for Sunday!! yay!). Their tape is just called Demo 2014, and the band name is Failed Flowers. I find this a very interesting mix of straight American indiepop a la Bunnygrunt mixed with Veronica Falls kinda vocals. And it works pretty well for me! Punchy and bubbly at the same time. Hopefully they also get invited to NYC Popfest!
Now my latest crush is a song I have on repeat forever. The song is called "Bluff" and comes all the way from Australia, from Brisbane. The song even has a great video. Who made this beautiful song? Well, the band is called Babaganouj, named after a Smudge song, and as I said, I can't stop loving this. What do you do when you like a song this much? Ok, yes, I would love to put this out, it would make my year 2015 a successful one for Cloudberry. But aside from that, you can only cherish a band that could pen such perfection. Noisy, melancholic, cheerful at times, I don't know, it has everything in it. Great guitars, pounding drums a la Shop Assistants if you want. I'm head over heels okay? haha. On top of it, as I was a big fan of Go Violets, to learn two of their members are part now of the "Nouj" made me very happy as well. I look very much forward to what this band has in store for this year.
And last but not least, another crush band: Luntgatan Girls. I was only tipped about them this week by Eric from Belgium who always has this top taste. He said to me, a bit of Don't Be Kate and a bit of De Montevert, that's how he described them. And I think he is right on the money. I don't know much about the three-piece from Norrköping who have two videos out, one for "Tråkig" and another for "Synd Om". Both are really nice tunes, but for me the winner is "Synd Om", what a song!! So catchy and dreamy! I want to have them on my zine, you think they'll be up for it? I'll send them a message in a bit. We'll see. These video uploads date from January! And now a year later I end up discovering them, how come? Why any of my Swedish friends told me about them?! Damn! Top stuff.
———————————————————–
I know, it's very me doing these reviews of new and newish bands. But I feel at this point in time it is becoming a bit more necessary as there are not even a handful of indiepop blogs out there and I think a lot of festivals are struggling to find new bands too. Maybe if I point them in the right direction it may work? I'll see if this helps, I'll try to do some of these sort of posts every now and then, when I have 5 or 6 worthy bands to recommend. Anyhow, time to go on to the obscure band of the week! Catapult!
It's 1987 and the band releases their first 7″. Two vaguely named songs, "Summary" on the A side, and "Subtle" on the B side. The label is STS Records. Seems like a self-release. There's really no catalog number unless you consider the number 45 written before STS on the label as Discogs does. I'm pretty sure that 45 just means 45rpm. I do own this 7″ and I say buy it if you see it. "Summary" is a spell-binding song. It will give you goosebumps because it's so good. It has this jangly guitars that chime and chime no stop. They are luminous I tell you. And the vocals just float perfectly on top. It's brilliant. Whereas "Subtle" is a bit more classic indiepop, it actually reminds me a bit of some of the Shine! songs I'm releasing pretty soon!
The next year they released a 12″ which sadly I haven't listened to yet. See, it's not that expensive on Discogs but the sellers are Dutch and their postage prices are very steep. I'll wait for a better offer. The 12″ includes three songs, "Sink Me", "RAF", and "Undemocratic". It was released in the September label (catalog SEPT6T) and this is good to know, as you might know my favourite band ever, McCarthy, used to release with September. The Wolfhounds also did. So this is good stuff definitely. I want to listen to these songs! There is actually a dub version of "Undemocractic" on Youtube, but I'm not sure if this is the 12″ version. It's a bit sparse, and doesn't sound much like the 7″ tracks.
A curious fact is that some of the sellers on Discogs say that the 12″ comes with a flexi. What was on this flexi?!
We do know that they recorded a Peel Session on 27 September 1987. The engineers for this session were Dale Griffin and Mike Engles. The songs recorded for this session were "Sink Me", "Hope", "Subtle and Tip" and "Undemocratic." So, definitely I have to ask, does anyone has recordings of this session?
From this Peel Session we get to know the band members:
Stephen Butler (Guitar/Vocals)
Martin Stebbing (Bass)
Graham Clarke (Guitar)
Richard Knight (Drums)
On the Unpopular blog by Alistair Fitchett it says that Catapult were from East London and part of The Wolfhounds crew.
And then as like many times with these obscure bands I hit a wall. Does anyone know anything else about them? I would love to listen to the rest of their songs, the 12″ and the Peel Session. Perhaps there were even unreleased songs. Did anyone remember any live gigs? Anything at all?
EDIT 01/05/15 8:10pm: Our friend Jörg just pointed out some things to us: The track on the Catapult flexi was "Last Night I Dreamt Louise Brooks Loved Me". And if you look at the pictures on Discogs the 7″ has a sticker on the back sleeve that says "Cat. No. 45 S.T.S.", so that's really supposed to be the catalogue number.
::::::::::::::::::::::::::::::::::::::::::::::::::::::::::::::::::::::::::::::::::::::::::::::
Listen
Catapult – Summary