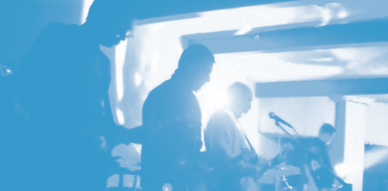 Let's start a new week with what we like. indiepop music! I'll go back to the old format, I'll write down the new music discoveries as a list.
New Tigers: the band finally has released, through their label Soliti's Soundcloud, their new single that will be part of their forthcoming third album. And it is a goodie!!
Big Red Bus: this is very cool news, the classic band that released some fantastic records in the 80s will get a retrospective on Firestation Records. The CD titled "Youth and Other Hiccups: 1989 – 1992" is one not to be missed. You can preview a couple of tracks on the label's Soundclod. Do check "Valleys & Peaks" and "All I Need" and you'll understand why I'm looking forward to this album. The album was released just a few days ago, on the 27th!
Rosedal: I only could find one song by this Argentinean band that hails from the city of Rosario. The song is titled "Cuatro Letras" (Four Letters) and it seems it is just a preview of what it is coming up next. Yes, from what I read this song will be part of an album the band is working on. There is not much more information on their Bandcamp or their Facebook.
Softsurf: the Japanese dreampop band will release their first EP, "Into the Dream", on November 8th on all digital outlets. Will there be a physical release? I don't know. It doesn't look like it. Their website has no information. I have to rely on their Facebook and will keep looking if there's anything announced. For the time being we can listen to one of the songs on their SoundCloud and it is a very fine slice of shoegaze titled "Blue Swirl". There is also some sort of sampler for the EP there where you can listen small clips for all the songs on it. The band is formed by Nobuaki Kitamura on guitar and vocals, Yuki Udono on vocals and tambourine, Yohei Maruyama on guitar, Yutaka Mukoda on bass and Mitsuko Ito on drums.
Cookie Romance Nonsugar: another very fine Japanese band I discover. As I said on one of my last posts, there are so many great bands appearing in Japan these days, like a sort of golden age for guitar pop, especially when it comes to shoegazey bands, dreampop bands. The band has just released their second EP, "Shell EP", which is a self-released CD and it includes four songs all written and sung in Japanese. This is their second effort after the "Dawn EP" CDR that was released early this year. The band is formed by Kawai on vocals and guitar, Atsuko on backing vocals and guitar and Takeshi on bass. You can listen to three of their songs on the linked SoundCloud.
Twelve Fluffy Chair: even more Japanese pop for all of you. Hailing from Kyoto and with a very twee name, this quartet formed by Saki Muranobu on vocals, guitar and keys, Ryo Katayama on guitar and backing vocals, Nozomi Kamihama on bass and Manato Yasui on drums, have released so far two EPs on the label Rhinestone Records. The first in 2012 and the second in 2016. Both of the EPs had 3 songs. The first one, "Airless", had the songs "Vega", "Plain" and "Torso". The second, "B A R", had "Wednesday", "A/Part" and "Estoppel". Sadly the SoundCloud has mostly clips for the songs, no complete ones. It is a shame, I don't understand why they don't have instead of 5 or so clips, one or two complete songs. But well, it is the band's decision. In any case they are very promising songs and would love to track down their records!
The Waterafalls: And lastly, another Japanese band. This Tokyo band didn't release anything this year but I only got to hear them for the first time now. They did release their debut EP last year. It was self-titled and self-released on a CDR and it had 4 songs, "Ride", "Somewhere", "Fall" and "Open". I especially like the second one, with some blissful and whimsical girl vocals. You can listen to the four songs and two demos on their SoundCloud. I wish I knew more about them and also wish I could find a copy of their sold out EP. Another very nice Japanese band. Definitely there's something great going on in the land of the rising sun. I must visit soon!
—————————————
An obscure band and country when it comes to guitar pop. Right, that's what I'll do for the 32nd featured band in the "indiepop world tour".
It is for sure that only lately we've heard of Russian bands. I feel like Motorama was the band that spearheaded the new Russian indie music. Then we've heard many more bands like Verbludes or Малыш Камю who are truly terrific. But what happened before all of that? Was there any interesting music being done in Russia? I had to do some research, out of curiosity, and just for these special features I'm doing for the blog, trying to find bands from all around the world, showing what different countries produced in the field of guitar pop. In the end I was lucky and I found the shoegaze/dreampop band Futbol!
These days it feels pretty damn right the name Futbol for a Russian band. Next year there will be the football World Cup in that country. Even better, the city were Futbol were from, Rostov-on-Don, will be a host city in the world cup. The Rostov Arena will host many of the group stage matches.
Rostov-on-Don: known from the time of Herodotus as a land of warlike Scythians, the endless steppes of the Don river basin eventually became home to the freedom-loving Cossacks.
Founded in: 1749
Population: 1.1 million
Distance to Moscow: 1109 km
The flamboyant Cossack culture is still prevalent in Rostov-on-Don, a modern city of one million inhabitants overlooking the beautiful Don river. The village of "Starocherkasskaya", located 27 kilometres from Rostov-on-Don, is the former capital of the Don Cossacks. Today it is a museum city and one of the area's main tourist attractions. Despite its profound history, Rostov-on-Don resembles a young and fresh city. The streets are romantically named Harmonious, Creative and Lucky streets. Here one can find the most unusual monuments: to a water pipe or to a newspaper reader. River Don provides the city with the serene and picturesque sand beaches and unique cuisine, featuring fish and crayfish dishes. Rostov-on-Don is situated about 1,000 kilometres southeast of Moscow and is a key transport and cultural hub of southern Russia.
I first stumbled with the band on Youtube when I heard the song "Звезда". This translates to star. I thought that it was a pretty good song and wondered why no one has ever recommended me their music or why no one talks about them? Maybe they are really that obscure? I admit not knowing a thing about them so to be fair to them and you I will start doing some indiepop archaeology, see what I can find on the web!
It is not going to be an easy task, Russian is a language I don't understand at all. Even worse, the Cyrillic alphabet is also something I don't understand. But with patience and some luck I'm sure I'll find the details I need. And I'm not mistaken, I found the website Lo-Fi Life which covers Rostov's indie music. There I find a pretty good biography of the band which I try to read with Google Translate.
First things first, the band members:
Sergei Hevelev on vocals and guitar
Sergey Cherevkov on drums
Valery Kalkutin on bass
Alexey Hevelev on keyboards
Vladimir Karpov on guitar
Alexander Levchenko on guitar
On the biography it says the band was heavily influenced by the 80s sound of Manchester. It mentions other bands that were around the time too which now I'm curious to listen like Helen (Элен), Sputnik East (Спутник Восток), Matrosskaya Tishina (Матросская Тишина) or Infantil e Cans. Actually it is from the ashes of the latter that Futbol was to be born. Valery, Sergei and Alexei were in Infantil e Cans. Is there any music available by Infantil e Cans?
The band was formed in 2001 in Bataysk and they rehearsed in the premises of a local cafe that was owned by Vadim Dmitrienko who used to be the bass player on Sputnik East. This town lies 15 kilometers southwest of Rostov. For some reason the band decided to move, and established finally in Rostov. It is when they were in this city that Alexander and Vladimir joined the band. Alexander had been in bands like Man Cho, Nyk Antares and Urblud Dramader. Also we get to know that Sergey Cherevkov had been involved with Helen and Sputnik East. Seems it was a very incestuous scene, everyone having been part of many of the Rostov bands.
It is said that they chose the name Futbol because they loved going to see matches at the stadium. Were they followers of Rostov FC? Will they attend the world cup matches? I would. Maybe if my country qualifies next month I will see them there.
During their lifetime the band played only a few concerts, either four or five, and seems their sound differed to that in studio. In studio the band got the help of Sasha Cho who helped created a wall of guitar noise and keyboards whereas when they played live that wall of sound wasn't present.
Their discography only has one record, the compilation "2003-2005". All of their recordings were included in this record I think. I am guessing here a bit as the band doesn't appear on Discogs. I don't even know in what sort of format was released. I will guess on a CD. There were 10 songs on it: "Звезда", "Мне пора", "Война", "Время", "Закрой глаза", "Самолет", "Сумасшедший", "Северный ангел", "Жигули (alt. mix)" and "Закрой глаза (alt. mix)". It also mentions a compilation "Jeronimo!" but there is no tracklist for it.
Then I find the website VK which looks kind of like Facebook. Not sure what it is to be honest. But here I find that you can stream 8 songs by the band. That's really good news. There is even a video Alexander Levchenko posted for The X-Brothers. I am assuming this is the band members of Futbol are involved in now. And yes, that is the case. I was to find a Bandcamp for XBrothers where a 4 song EP titled "XBRobots" is available to stream. I notice Sergei Hevelev and Sergey Cherevkov are involved. They mention The Wedding Present and My Bloody Valentine as influences in their new band.
Time to look for stuff by Futbol on Youtube. I am lucky. I find a live gig clip of them playing "Звезда" and also "Мне пора". There's another clip for "Звезда". For both cases I don't know where were these gigs played.
There is also some information about Alexey Hevelev on the Russian Wikipedia. There it mentions that aside of being in the band he is also a pianist and a pedagogue. He has won the Governor's Prize for his contribution to the development of culture in the Rostov Region in 2013. He also has a long career as a composer writing numerous piano cycles, string quartets, quintets and more. He even had a composition published in 1989 when he was only 10 years old. And that's not all, at 15 he joined the Rostov State Conservatory becoming the youngest student in the history of this conservatory.
What about the other band members? And how come someone trained in classical music ends up playing the sort of music Futbol played? It is not that common.
I don't know much more about them. It is not very easy to find information with their very simple name. Even harder when it comes that I need to search in Russian. But would be interesting to know what was on "Jeronimo!". Or if their releases were a CD or something else. If they had unreleased songs. Where did they play those four or five songs? How did their previous band Infantil e Cans sounded like? What are they doing now? If they got much attention from abroad? How was that scene in Rostov in the early 2000s?
It seems the band was around up until 2010, and it seems they split quietly. Were their influence important to the new wave of bands that were to appear in Rostov-on-Don afterwards? Maybe our Russian readers could help shed some light!
::::::::::::::::::::::::::::::::::::::::::::::::::::::::::::::::::::::::::::::::::::::::::::::
Listen
Futbol – Звезда