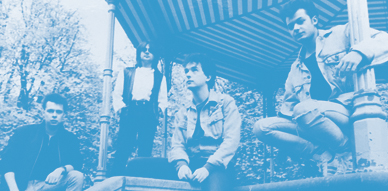 Thanks so much to Russ Hunt and Nick Raybould for this brilliant interview! The Libertines were a Birmingham band in the mid/late 80s and released just one record, the "Smith is a Liar 12" and actually you can still get copies of it through Russ' record store White Rabbit Records. I wrote a blog post about them some months ago trying to find out any information about this obscure band and I was lucky that both Russ and Nick got in touch! Even better they are also still in touch with each other and answered my questions together. Aside from the record they recorded more songs, some which I've heard, and I must tell you, it was really a shame they didn't get to put out another record! Hope you enjoy the interview!
++ Hi Russ and Nick! Thanks a lot for being up for this interview. I hear Russ now runs a record store in Shrewsbury, care telling me a bit more about that? How long have you had the store? What's the name? And what sort of music do you carry?
Nick: I'll leave Russ to answer this one – but will add that I am an occasional patron, having bagged a few goodies on CD and vinyl. He's also carrying the last release I did with my band Glowpeople.
Russ: The shop is called White Rabbit Records (http://whiterabbitrecords.co.uk) and is in the Market Hall in Shrewsbury. We stock mainly 2nd hand/used records and some CD's with a very few new items, mainly by people I know and who want an outlet for their stuff. To be honest I stock anything that sells…you learn very quickly you're running a business not building a record collection.
I've had the shop just over 18 months now. I was made redundant from a job I'd been in for 17 years and honestly couldn't see myself going back into the regular world of work, the very thought of being interviewed by some hot shot graduate straight offof the HR course made me feel ill. I've spent years of my life in record shops all over the world and when the opportunity came up to buy this one (the owner was retiring) my wonderful wife Deb said "well if you don't do it now, you never will".
++ And what about you Nick? What are you up to these days?
Nick: I'm a graphic designer, in real life. In fact, that's what I was doing back in my Libertines days. Sometimes I'd get in at 3am, from a long distance gig in say Newcastle – only to have to be in work for 9am, at the design studio!! Boy, I really don't think i could do that kinda thing these days!!
++ When was the last time you picked up your instruments? Do you have any music projects at the moment?
Russ: I still play, very infrequently, in fact I've just put my guitar down as I'm trying to figure out some new songs for a gig myself and Sally, a good friend who sings with me, have coming up. We're an acoustic duo doing other people's songs for fun, all sorts of stuff from Chuck Berry thru Depeche Mode to The Decemberists.
Nick: Well, as mentioned in my previous answer, I am drumming once again. But, shortly after The Libertines disbanded I moved down to London and gave the drumming a bit of a rest. This haitus in fact lasted FOURTEEN years! It was on moving out to the more rural area of Shropshire that I began drumming once again. Various local bands came and went, until I formed Glowpeople. we were together for something like six years. We soon found ourselves playing the small festival scene in the UK, in which time we also released three albums on CD and, following our final appearance at Kozfest, last Summer released the live recording as a final sign off.
Since then I have been gigging and recording with a variety of UK psychedelic bands. Nothing like the larger capacity venues The Libertines played whilst touring with The Wonder Stuff, but hope springs eternal, eh? Glowpeople were usually somewhere down the bill, but we played with Gong, Jesus Jones, Hawkwind, Big Country, The Crazy World Of Arthur Brown, Here & Now and a bunch of newer bands like Mugstar and Vibravoid.
I'm now playing with bands on the same kinda circuit again. Some of it is recording only – I've played with up and coming space rockers vert:x, with whom we appeared on lovely bright splattery orange vinyl for Dronerock Records. I'm also recording improvised music with the old keys player of Glowpeople and a variety of guest collaborators. I even had a jam in NYC with a fellow head, back in the Autumn! There's talk of a session I recently did with Peyote Guru being released. I'm just not sure who's actually putting that out, as I type!
My main current band are called Black Light Secret and this Summer we're playing festivals like Surplus Fest and Green Gathering – and will be doing indoor gigs in Nottingham and Glastonbury among others.
++ Let's go back in time then, what would you say are your earliest music memories? Like what sort of music did you listen at home while growing up? When and what was your first instrument?
Russ: Earliest musical memories would have been hearing The Move on the radio and then watching stuff on Top Of the Pops (a weekly UK TV pop show) and being captivated by the likes of Slade, T.Rex and eventually Wizzard among whose members was my Uncle Bill (he was the piano player and had been in the The Move during its final days and the early days of ELO).
My parents were big fans of Jazz and Swing music so in the house we heard everything from Charlie Parker, Miles Davis and John Coltrane to the big bands of Duke Ellington and Count Basie plus the great singers like Sinatra and Streisand. They, of course, were fans of The Beatles and Dylan and Dad would venture into things such as Steve Wonder and Bob Marley.
I was obsessed with Slade until hearing "God Save The Queen" by the Sex Pistols at which point, much the same as for many others at that time, everything changed. After that it was Punk Rock…the whole Punk Rock and nothing but Punk Rock. My Dad being a musician (he played drums in bands that toured US Army bases in Europe during the 50's and 60's) and seeing my brother and I inspired/obsessed by Punk our parents bought me a guitar and a small amplifier at the same Xmas as they bought my brother Miles a snare drum. We would then happily wait until our parents went out before bashing thru raucous versions of TRB's "Up Against The Wall" and Angelic Upstarts "Police Oppression"…I'm sure the neighbours loved us !
Nick: Well, I was the eldest member of The Libertines, so I'd seen bands like T.REX and Led Zeppelin! My tastes were continually moving, though. And still are! I think when I auditioned for Russ & Co. I was into Magazine, REM, The Damned, PIL, Motorhead, The Cure and such like.
++ Were you involved in any bands before The Libertines? I know Russ was in Pop Da Freak. How were these bands? Any similarities to The Libertines' sound?
Russ: Following those TRB/Upstarts beginnings we worked our way through loose groupings with mates who had other instruments, memberships constantly changing until we fell into my first band which was called A Moment. Me and Miles found a guy who played bass and saxophone and made our first attempts at writing songs.
The first "real" band I was in was Pop Da Freak. We formed around 1983 and we dressed in leather and frills, wore make up and had vertical haircuts (well most of us did). We made a racket inspired by Joy Division, Magazine, Iggy Pop and the Velvet Underground (or so we thought) and you can hear an example of it here https://soundcloud.com/russh29/pop-da-freak-play-life-for …that's a song I'm still very proud of having written
Nick: Most of my earliest bands were sort of hard rock things. I then had a flirtation with a Birmingham sub Duran Duran outfit called Camille (1982). There was some decent press in Midlands press and initially some minor record company interest. However, we were a bunch of narcissistic pretty boys who fell out! I wanted to get something together that didn't slavishly follow trends though – and before long found myself in a kinda alternative postpunk outfit called Anonymous Bosch in 1985.
++ And when and how did The Libertines start as a band? How was the recruiting process? How did you all know each other?
Russ: The initial idea for The Libertines would have been born following the demise of Pop Da Freak around 1986. Details are a little hazy but as I recall I advertised for a guitarist to put something together inspired by Punk and The Clash/Pistols/Jam holy trinity. I hooked up with Mark Bellamy and we started working on some songs. Mark was a HUUUUUUGE Clash fan and also introduced me to the Screaming Blue Messiahs. I in turn would have introduced Mark to early Pop Will Eat Itself and things like The Mighty Lemon Drops and the Wild Flowers so that's where our heads were at. I'm pretty sure the first song we wrote together was "Train Train".
I'm guessing we advertised for a drummer and bass player when we had a few songs together and Nick and Paul Clifford were who we found ? (Help me out here Nick)
Nick: I lived in Redditch, a market town in Worcestershire, some twenty miles south of Birmingham, at the time. I was in Birmingham shopping one Saturday afternoon in 1987, where I saw an advert on a noticeboard in Oasis, the big Birmingham alternative fashion market. I was then invited along to audition at the High Society rehearsal studios. And… got the gig!
++ You were based in Birmingham, right? How was it back then? What were the bands in town that you liked? What were your usual hangouts? What were the best venues to check out bands?
Russ: Birmingham and The Midland's live music scene was thriving in the early 80's. Venues all over town, The Barrel Organ, The Railway Inn, Peacock's, The C.O.D Club, The Click Club at Burberries, JB's in Dudley…lots of places for bands to play.
The bands that I liked back then would be The Great Outdoors, From Eden (members of who went on to The Wonder Stuff and Pop Will Eat Itself), the Mighty Lemon Drops, The Wild Flowers, Korova Milk Bar, April In The Garden…lots of diverse stuff going on.
Nick: There used to be a good alternative club night at The Powerhouse. It was a midweek thing, so I didn't go very often – but it was full of groovy muzos, all trying to out-pose each other! That venue put on some great bands, too.  Smaller venues about town like The Barrel Organ pub, and Peacocks bar – which was in a city centre hotel (!) and Snobs nightclub were all popular for bands like Russ's Pop Da Freak and my own Anonymous Bosch.
++ Who would you say influenced your sound?
Nick: We all came to the band with our own set of favourite bands and musicians, but I think, as a band The Wonder Stuff were right up there. As were The Mission, That Petrol Emotion, Balaam & The Angel, Pop Will Eat Itself, The Screaming Blue Messiahs and The Replacements.
Russ: from my point of view undoubtedly The Jam and The Clash would be the main points of influence. But I'd also absorbed all that Glam Rock stuff from the 70's and I hope there was a Punk Rock edge to it. I'd also been very into the 1979/80 Mod Revival in the UK so wanted to capture some of the energy of bands like Secret Affair and The Chords, great and very underrated bands.
Comtemporary stuff we were listening to and absorbing would have been the Screaming Blue Messiahs, The Rainmakers, Mighty Lemon Drops, That Petrol Emotion, the Icicle Works, REM, early Waterboys (first 3 albums), The Smithereens, Balaam & The Angel…it was a very fertile time for new music.
++ What's the story behind the name of the band? And what do you feel about the other The Libertines, the ones that became mainstream and all more than a decade ago?
Russ: I recall it was Paul the bass player who came up with the name, that's about as much as I remember.
As for the other lot…when they first broke I had a lot of people saying you should sue them but obviously we didn't. I wish I had now as it may have gone toward shutting the annoying twat and his terrible band up ! (never been one to sit on the fence me)
Nick: I think Paul Clifford put the name forward. We all thought it was perfect!
The Carl Barat & Pete Doherty outfit are… hmmm… a bit of an Emperor's new clothes thing, IMO. I dearly wanted to like them – and loose, lofi music is cool, but these guys are too affected and a bit fake.
++ How did the creative process work for the band?
Nick: Russ and Mark were the main song writers, though I do remember Paul coming along with a few grooves, too. 'Smith Is  A Liar', as I remember it ,was mostly his.
Russ: Most of the time it was myself and Mark coming up with ideas. We would work on them together at home and usually present the band with pretty much an arranged song which we'd then hone in a rehearsal room.
Paul would contribute too, "Smith Is A Liar" being his big one (BTW Smith was Martyn "Mr" Smith, erstwhile Libertines roadie cos he had a van, which we'll get to later, and friend of Paul's. Mr Smith went on to perform the same kind of van driving services for Ned's Atomic Dustbin and ended up working on the crew with me for The Wonder Stuff and later on Sparklehorse. It's Mr Smith's beaming smile on the cover of the record).
We were never really "jammers".
++ Who were Loose Fish Records? Was it your own label?
Russ: It was us and was, I think, Nick's idea for a label name.
Nick: One of the many interpretations of the word Libertine is "a loose fish". We collectively stumped up the cash to get the record made. So sort of named the label after ourselves.
++ You released one record, the "Smith is a Liar" 12″ in 1987. You included 3 songs on it, "Smith is a Liar", "Christina" and "The Big 1-2". If you don't mind, care telling me the story behind these songs?
Russ: "Smith Is A Liar" was inspired by our "roadie" Mr Smith who refused to admit he was in love with a girl but rather was "in like"; "Christina" was one of Mark's songs and is effectively about his 1st wife who we all knew as Tina; "The Big 1-2" was possibly influenced by The Wonder Stuff's "No For the 13th Time" I think we liked that drum pattern and wrote a song around it, no idea what the lyric is about; there was a 4th song on the 12" "Boring" which if you listen to the lyric is pretty self explanatory.
Nick: 'Smith Is A Liar' came out in 1989, didn't it? Our roadie, a good mate of Paul the bass player denied being in love with some girl he clearly had the hots for by saying he wasn't in love with her, but "in like" – hence Paul turned up with the title and lyrics for that one – and took Smithy by surprise when he first heard it sung to a capacity audience at London Astoria!
++ You shared with me many more songs, many worth of a single. I wonder then why didn't you get to release more records? I read that the song "Wolf!" was supposed to be the 2nd single.
Russ: We recorded 'Wolf' during the session where we did 'The Big 1 – 2'. It was debated whether we should perhaps include 'Wolf' on the Smith EP, but we agreed it would be best to hold something back, for a follow up.
++ You shared with me many more songs, many worth of a single. I wonder then why didn't you get to release more records? I read that the song "Wolf!" was supposed to be the 2nd single.
Russ: "Wolf!" was due to be on the 12" but we held it back to use as a 2nd release…and then the bloody singer up and left the band to go off on tour with some band signed to a major label, bloody inconsiderate prima donna !!!
++ Where do those other 9 songs come from? Are they from the same recording session for the 12″?
Russ: We did 2 or 3 other sessions and the other songs come from those sessions. I probably have the dates somewhere but they would all have been through 1987/88.
Nick: We did… I think, three recording sessions. The first was just a few weeks after I'd joined. We recorded four songs; 'Train Train', 'Catherine Wheel', 'Guess Who's Coming To Tea' and 'How Are You?' That would've been late Summer 1987. And, if memory serves the week after the first gig. The next session saw us record 'Safe As Houses', 'Lightening Tree', 'Boring' and Some Kinda Happy. These were all songs from our live set. Nothing was written as we recorded, as we could barely afford to be there, let alone be able to relax and try totally new stuff out. That said, when Miles was with us he got us experimenting with additional guitar parts, backing vocals and overdubbing bits of percussion.
i recently found the reel to reel masters of a couple of sessions in a box in our roofspace!!
++ And what do you remember about the recording session at The Workshop studio for the record? Any anecdotes you could share?
Nick: I seem to remember a replica revolver loaded with a single blank being passed around for a game of Redditch roulette! It didn't really go down well.
Russ: I have a terrible memory for details like that. The Workshop was quite small, underground (?) or at least it felt like it. Dave Morris the owner (who sadly passed away recently) had a blue Rickenbacker 330 12-string under the sofa in the control room which I was very covetous of, it may have made an appearance on "Smith…"
++ Who made the art for the 12″ by the way?
Russ: Over to Nick…
Nick: That was me. The face is a shot I took of Smithy, our driver and hapless roadie. The title song is based on his phrase.
++ On my previous post about you I was wondering about the runoff etchings, "The Triman Cometh" on the A side, while on the B side it says "If You Can'd Do it Just Triman". What does Triman means?
Russ: I was struggling to remember this when a friend posted something on Facebook over the weekend that triggered the memory…Mr Smith was our "roadie" because he had access to a van. The van was owned by his employers, Triman Services Ltd, who were in the business of "Design and installation of Mechanical Service systems (Gas, Oil, Water etc.) and F.O.C and F.M approved fire protection systems". I think Mr Smith's dad owned the company and the run out messages were our little tribute to Triman Services for use of the van….or something like that…
Nick: Smithy used to borrow a Transit van from a firm his father worked for. the company who specialised in fire assessments of buildings were called Triman and had their logo on the van! That's it! Just a silly private joke, I'm afraid. Folks soon knew who the Wonder Stuff's support band would be that night, when they clocked his van parked at the back of the venue!
++ You gigged all over supporting The Wonder Stuff. How was that relationship with them? And what were your favourite moments on those tours and why?
Russ: Whisper it quietly but Wonder Stuff main man Miles Hunt is my younger brother, so the relationship with them was pretty good. They looked after us, as they did all their support acts, and we got to play some big shows thanx to them.
I don't have many favourite moments as I was so busy on those shows. I was working on the Wonder Stuff's backline crew so spending all day getting their show ready, then, when I would usually have a few hours of downtime I was into a Libertines set up and soundcheck, doing the gig and then going straight back into Wonder Stuff mode for their show.
Nick: They were all a lovely, generous bunch of guys. Straight up. Their manager Les was a good laugh, too. We travelled separately, turning up after they'd already sound checked, most of the time. Russ, of course was part of their crew for the later gigs, so we often didn't even see hime tie it was time for us to get our gear onstage.
++ You also played gigs with Jesus Jones in London. What other bands do you remember playing with? And which were your favourite cities to play?
Russ: The Jones' and us shared the bill a few times on Wonder Stuff shows. I'm still in touch with them all these days and they have just finished a UK tour. I hope I'll bump into them at the Shiiiine On Festival in November this year. Good bunch of chaps they are.
Other bands we played with included The Parachute Men from Leeds and I remember being utterly blown away when we opened for Mega City 4, they were phenomenal and I'm still friends with their bass player Gerry Bryant.
Favourite cities to play were always up North, Newcastle, Leeds, Sheffield, Glasgow. There's no pretention up there, people just want a good night out and boy do they know how to do that. They also give a lot back to the band and if you've ever been up there in front of a "cool" London audience you appreciate that.
Nick: Jesus Jones were a very exciting indie band who, like Pop Will Eat Itself, brought in emerging technology in the form of live samplers. Sampling wasn't new at that time but had chiefly been used in the studio only, owing to the value of equipment. We only encountered them when we were both on the support bill for The Wonder Stuff's Newcastle gig on the 'Disco King' tour. I have since shared a bill with them and Russ, in his capacity of guitar tech for the Stuffies, has worked on many a show with them.
++ I read that you preferred going by the name Russ Williams instead of Russ Hunt. Why did you make that decision? And why Williams?
Nick: That's a question for Russ, really. I think it was to try and deflect Miles Hunt associations, if we got any press. Which we didn't.
Russ: I was quite a prominent member of The Wonder Stuff's crew at the time and knew many of the journalists that were active at the time. I chose to use WIlliams on the record so as not to be accused of riding on Miles' coattails….looking back on it, probably a really stupid idea ! We really should have milked that one for all it was worth (see question below).
And why Williams ? It's my middle name, Russell WIlliam Hunt…
++ Did you get much attention from the press? Or radio?
Russ: Mainly local Birmingham radio and press. I had no idea John Peel had played our record until Nick mentioned it recently !
Nick: I understand BBC Radio legend John Peel played us twice! There were also indie rock programmes on local BBC stations and Birmingham's own BRMB commercial station. Very little press for us, sadly. I think our name was mentioned occasionally, when NME or Sounds were reviewing a gig we'd supported at.
++ At that time in the 80s there was an explosion of guitar pop bands. Did you feel part of a scene? Do you mind being defined as a C86 band?
Russ: I think we felt more a part of the Midlands scene, that group of bands like TWS, PWEI, Ned's Atomic Dustbin and that spread and encompassed others from around the country like Jesus Jones and Mega City 4.
I think the C86 thing was more of a music press created label that made it easy to hang bands on a certain hook. I certainly never though of us as a C86 band.
Nick: I don't think we felt a part of anything, really. We all had day jobs or in Paul's case a university course to head home for. The post-gig parties passed me by, at any rate. A lot of opportunities were being squandered.
++ When and why did the band split?
Nick: Again, this is a Russ question. But we'd paid our money and had submitted master tapes and artwork for that 12 inch, when he phoned Mark Bellamy from a call box on some tour with Wolfsbane. He just become a father and was struggling to knit all the elements of his life together. So, the three remaining Libertines, Paul Clifford, mark Bellamy and myself tried to salvage something, just to try and promote this pile of records we found ourselves stuck with. But it wasn't to be. Paul had to commit to his degree course, so he disappeared soon after. He never did finish that degree of course – as The Wonder Stuff recruited him shortly after.
Russ: I ran off to join the circus…I mean work full time for the Wonder Stuff…although the circus wouldn't be a bad analogy ! Deb and I had had our son James and I needed regular money to support a family. The Stuffies were offering me a lot of that and I had to commit or miss out.
++ Looking back in time, what would you say was the biggest highlight for The Libertines?
Russ: releasing the record. It's the one thing I'd always wanted to do, release a record that I was a part of and I did it.
Nick: I was playing in front of big appreciative audiences. that was a very good feeling. I've largely blocked out the humping of drums up three flights of stairs to my flat at 3am. My favourite gig was possibly Keele University, in Staffordshire in 1988. Brunel University on the same tour was also a blast – But going onstage at legendary Marquee Club… well, that takes some beating.
++ And if you were to pick a song of yours as your favourite, which one will it be and why?
Nick: There was a lovely downtempo song called 'Some Kinda Happy'. For me, it showed Russ's voice up for the wonderful range he had. We played it at the Marquee, on Charring Cross Road and the stage was bathed in an eerie blue light… and everything was just perfect.
Russ: Nick will likely slap his forehead and shout "D'OH!" in frustration…but "Wolf!"…it rocks, it rolls, it swings and to this day I'm immensely proud of it.
++ Are you still part of the backline of The Wonder Stuff? How do you enjoy that?
Nick: Russ?
For years after I used to get guest passes to see them at Reading festival or the big London venues, so would catch up with the old times. But that was a previous life.
Russ: I am, in fact we just did 3 shows this past weekend. I do enjoy it but as I get older it gets tougher.
They are a bloody great live band so it's a pleasure to be around them seeing them do their thing. As an addendum to why the Libertines split I've seen at first hand, being around the Wonder Stuff, what it takes to achieve the levels of success they have. It takes a focus and a drive and a sheer bloody minded force of will that I just don't have, Miles must have inherited that trait in full. I'm not sure I could have done it.
++ And aside from music, do you have any other hobbies?
Russ: most people would say owning a record shop is a glorified hobby and doesn't count as a job 😉 I also have 2 dogs (Whippets) who keep me pretty busy the rest of the time. And I do like a pint or several of real ale, fortunately the dogs like visiting the pub too 😉
Nick: I paint. Abstract canvases, mainly – but also more representational life drawing. It's all online, if you know where to look. Oh blow it, here's a link: Abstracts: https://www.flickr.com/photos/kidcalamity/albums/72157625756609731
Life Drawing: https://www.flickr.com/photos/kidcalamity/albums/72157625734263647
++ Nick, are you still in Birmingham or did you also move? Do you go back often Russ? Has Birmingham changed much since those days?
Nick: I never actually lived in Birmingham. I was in Redditch, a town some twenty miles south. I've since lived in Wolverhampton and London, before moving back up to the Midlands.
The Birmingham of the late 80s has all but disappeared. I was standing on the canal bridge we posed for photos on, a few months ago. In those days is was surrounded by deserted and dilapidated warehouses. These days it's in the heart of Brindley Place, a thriving area of bistro bars, restaurants, the huge Barclaycard Arena, the Symphony Hall and Ikon Gallery. A revived and buzzing area!
My wife and I moved out to Shropshire, near the Welsh border in about 1995, after a long spell in north London. We were both employed by a design agency out here and have since set up our own
Russ: Nick's out here in Shropshire. My wife and I moved to Telford in Shropshire 12 years ago expressly to get out of Birmingham. It's 12 miles from Shrewsbury, a "new town" from the 1960's but 5 minutes drive and you're in the beautiful Shropshire countryside. I go back to Birmingham as little as possible, very occasionally to see my mother-in-law who still lives there. I was in the city in December with the Wonder Stuff and it's changed so much it doesn't feel like my hometown any more. I think I'm done with the big city, my ambitions are focussed on the Shropshire Hills and maybe, eventually the coast.
++ Tell me a bit about Shrewsbury then, never been there, what are the traditional things to see, eat or do?
Nick: Shrewsbury is very nice. It's relatively unspoilt my modern development and even has cobbled pavements in the more quaint town centre! A couple of really on the ball promoters are currently trying to establish a little alternative scene, attracting psych bands to play a new theatre venue. But, as ever rubbish tribute bands seem to attract the larger audiences so get the gigs over the more creative bands.
Russ is out in Telford a more modern 'new town'. I rarely venture over that way, except to rehearse and record with my own projects.
Strangely, we've not actually been tempted to arrange a reunion. Hmmm…
Russ: Shrewsbury is a beautiful old Medieval market town contained in a loop in the River Severn in Shropshire for which it is the county town. It has a castle, remains of Medieval town walls, fabulous independent retailers, a lively live music scene and a great theatre.
Shropshire is a large county in the west of England that butts up against the Welsh border, a mainly rural county with some of the most beautiful scenery you'll encounter. But SHHHHHHHH, you can come visit but we don't want the whole place overrun with tourists :-0
There's an old saying back in Birmingham that "relocating to Shropshire is the end of all ambition" and I would guess Nick would agree with me when I say I have no real want to leave the 'shire just yet 😉
::::::::::::::::::::::::::::::::::::::::::::::::::::::::::::::::::::::::::::::::::::::::::::::
Listen
The Libertines – Wolf!