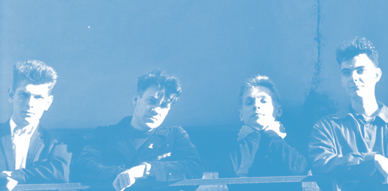 Thanks to Torquil MacLeod for the interview!
++ On Twee.net it lists that you released a 7″ called Arse Parsley Correcto. It even says Stephen Pastel appears on the B side! I've never heard of it or even come across with it. In any other Reserve discography it doesn't appear. Does this really exist?
Mmm, yes, Arse Parsley Correcto.   What can I say?  It may exist, in much the same way as Bigfoot may exist.  Alternatively, it may have its roots in a late-night visit to an internet cafe after one cocktail too many in a small mountain town in Panama in 2000.  I'm afraid that I couldn't possibly say.
++ How did the band meet up? As far as I know Reserve was mainly a solo project when it started, right?
Well I started writing songs in that sort of style, with the idea of putting a band together, in 1985.  I'd been playing in other bands dating back to 1979, but this was my first stab at being principal songwriter and singer.  Johnny Johnson was looking for musicians at the same time to form what would end up being the Siddeleys – I was hanging out with her and helping get her songs down on tape – so I used the same methods to get people for my band: ads in the Rough Trade shop in Notting Hill and approaching people who looked right at gigs.  So Reserve was never meant to be a solo project, although obviously a lot of it involved me sitting at home writing and recording songs.  The first couple of line-ups I assembled were pretty hopeless, but then I bumped into Ian Gregg at a Microdisney gig and Simon Armstrong at a 1000 Violins gig and recruited them on guitar and bass respectively.  I also stumbled across Phil Powell somewhere and persuaded him to hit a couple of drums.  So that was the first line-up to perform in public.

++ The first show was supporting The Wishing Stones in 1986. What memories bring that gig to you?
That was in a room above a pub in King's Cross in London.  I think it was in September.  I remember it as being a bit of a shambles, but a lot of the bands around then were a bit of a shambles – more to do with a lack of talent than a deliberate aesthetic.  I was just singing at this stage, not playing guitar as well, and I remember feeling rather naked without a guitar to hide behind.  The audience seemed quite enthusiastic, but then most of them were our friends.  A tape did exist but its whereabouts now is anybody's guess.

++ After that gig two of the members left Reserve to form The James Dean Driving Experience. Why did this happen? Was it a hard decision to keep playing under the name Reserve?
Well, that's not quite how it happened.  I think that line-up played another couple of gigs before Ian announced that he was leaving to form the James Dean Driving Experience.  This was about two days before we were due to go into the studio to record a demo.  I was a bit pissed off to be honest, but mainly because Ian had come up with a better name for his band than I had for mine.  So Simon, Phil and I went off to the studio and I played guitar instead of Ian.  Phil left to join Ian in the JDDE after I asked him if he could learn to play drums properly.  So Simon brought his multi-talented Bob bandmate Richard Blackborow in to play drums (properly) and that line-up lasted for nearly a year.  As for keeping the name Reserve, it was still me singing my songs, so as far as I was concerned it was still Reserve.  Simon and Richard had their own band which was, naturally, their first priority, but it was great having them along for the ride.
++ Oh yeah, why did you call the band "Reserve"?
Thinking up band names can be such a pain.  I knew I didn't want a name that began with 'The'.  At one point Captain Lust & The Pirate Women was a possibility – I saw that outside a porno cinema at Piccadilly Circus.  But it didn't seem quite right for the indie 'scene'.  I'm not sure where Reserve came from – I think I quite liked the ambiguity of 'reserve' as in holding something back and 'reserve' as in a place where something precious or rare is kept.  To be honest I think it's a bit of a naff name.  Oh well.
++ Back to 1987, the band now counts with Richard from Bob and the flexi "The Sun Slid Down Behind the Tower" is released! That's a fantastic song Torquil! And I have to say that this is my favourite version of it. Even more than the polished version on the 12″. How did you come up with such a good tune, full of ramshackling guitars and and that solo (it's glorious! isn't it?)!!!? Is it the Big Ben tower by the way?
Wow!  Thanks for your enthusiasm – it's much appreciated.  The version on the flexi is from a session recorded at the Bob studio out in the Somerset countryside in April 1987, which is probably my favourite of the five Reserve sessions that exist.  We recorded seven songs – Simon on bass and vocals, Richard on drums and vocals and me on guitar and vocals.  The arrangement of 'The Sun Slid Down Behind The Tower' is pretty much identical to the home demo which I'd recorded either late '86 or early '87, including the guitar solo which I wanted to have that West Coast, Byrds sort of feel.  As regards how I came up with it, it's just that thing of messing around with a guitar at home, coming up with some chords that sound good, humming a tune over the top and suddenly there's the song.  You record it, listen to it and you're not quite sure where it all came from.  I'm singing about the tower of All Saints Church in Notting Hill – I spent several afternoons sitting on a nearby roof in the summer of 1984 in a 'cheap wine and lipstick haze'.
++ Where you a fan of the Sha La La label before releasing the flexi? How did this release happen? What did Matt told to you?
To be honest I'd never heard of Sha La La before the flexi came out.  I was never much of a fan of flexis – they seemed so disposable and always sounded crap.  Having said that, it was obviously great to have something released and we even got a very enthusiastic review in a magazine called Record Mirror  with a picture and everything, just below a piece about the first single by a band called The Stone Roses.  I wonder what happened to them.  I never had any contact with Matt, all the business was conducted by the mighty David Payne of Troutfishing In Leytonstone fame.  From what I gather, Matt didn't like The Siddeleys or Reserve and was very reluctant to release the flexi in the first place which is why there were only 1000 pressed compared to 2000 for all the other Sha La La releases.  Which is great because it means it's rarer and worth more than any of the others.  Thanks Matt.
++ This flexi was released along the "Troutfishing in Leytonstone" fanzine. How involved were you in the fanzine culture?
I loved fanzines.  Troutfishing In Leytonstone was a particularly fine one, but I also have fond memories of Rumbledethump which was written by Sharon from the Hobgoblins and The Legend's fanzine (can't remember what it was called).  There was something genuinely exciting about these little bits of paper which were soaked with love and enthusiasm.  I have to confess that I myself produced a fanzine with Johnny Johnson.  It was called Blah de Blah and was absolute rubbish.  There wasn't a single interview in it, just blasts of ill-informed opinion, a few pictures stolen from kids' magazines and a very poor short story (mine).  In its favour, it was printed in three colours – white, red and green – which was probably the best thing about it.  It was the result of a Faustian pact with the government – we got paid for a year to produce the shoddiest fanzine I've ever seen.  I blame Thatcher.
++ Did it ever go through your mind that 20 years from then, all this music will be almost legendary? Did you feel there was a scene happening at the time?
Yes, there was a real sense of scene.  Certainly in London anyway.  I was going to about three gigs a week and seeing the same people there – it was great.  Much fun was had.  Having said that, I think some people were getting a bit too overexcited about the importance of what was happening and have subsequently mythologised it to a faintly ridiculous degree.  At the time there was this whole 'once every decade' notion – in 1957 rock and roll had exploded, 1967 was the summer of love, 1977 saw punk's bleak winter…  So there was this bunch of badly dressed kids who couldn't dance and thought that Morrissey was some kind of Messiah who decided that a handful of bands who couldn't play very well and no one had heard of were the equivalent in 1987.  Yes, it was a breakthrough year, but in house music, not British indiepop.
++ Two Hearts Beat in a Hole. Your 12″ on Sombrero, that sells for very high prices on eBay! Was this single the biggest highlight of Reserve? Any anecdotes while recording this record?

It's crazy isn't it?  People are paying $100+ for this little piece of vinyl.  There are 2000 of them out there so if you want one you can probably get one.  I lost mine so I had to steal back the one I'd given to my mum.  Obviously it was absolutely thrilling to finally have a proper record released.  I would wander down to the Virgin Megastore in London's Oxford Street and gaze with wonder at the Reserve section, nestling between REO Speedwagon and Revolting Cocks.  What more could a boy want?  As for the record itself – hmmmmmm.  As I said earlier, the best stuff we ever recorded was in the beautiful surroundings of Richard Blackborow's 8 track studio in the picturesque village of Banwell in the weird and wonderful county of Somerset.  Going into a 16 track studio situated in an industrial estate in west London was a bit of a different matter.  By this time the line-up of the band had changed completely – me: guitar and vocals, Jason Ellis: bass and vocals, Michael Harris: guitar and vocals, Jonathan Sim: drums.  Simon and Richard had made it clear that, much as they enjoyed playing music with me, they really had to concentrate all their energies on Bob.  To their great credit they carried on playing in Reserve until I'd found replacements.  Jonathan came in first towards the end of 1987.  At this stage David Payne had temporarily joined the band, playing a rather handsome Hohner semi-acoustic.  It was thanks to Alan Kingdom from the Siddeleys that Jason and Michael came on board.  He was sharing a house with them and suggested that they could be what I was looking for.  They certainly were.  I think that playing with Jonathan, Jason and Michael was the most fun I've ever had playing with other musicians.  Anyway, back to June 1988 and Triple X Studios.  We were recording an EP to be released on David Payne's Sombrero Records label.  Initially 'Cut You Down' was going to be the A side, but after recording some demos in October 1987 I decided that 'Two Hearts Beat In A Hole' sounded stronger.  The record was produced by Steve Parker who I'd known for several years and worked with before.  He'd worked with The Fall, Wire and Microdisney among many others.  He was mixing some songs for the Rolling Stones when we recorded the single and was generous enough to take three days off and lend us his services for free.   So what could possibly go wrong?  Pretty much everything.  I didn't know what I wanted the record to sound like.  Or, at least, not in a way that I could communicate to Steve.  He did the best that he could, but I think that the result sounds puny and antiseptic.  'Two Hearts Beat In A Hole' wasn't a good choice for the A side – it doesn't have a proper chorus or anything resembling a hook.  The vocals are feeble and underpowered throughout the record.  Guitars sound awful – the guitar solo on the A side is a Telecaster going through a Marshall stack but it sounds like a wasp farting in a jar.  Again, I have to say that none of this is Steve's fault – this is the man who produced 'How I Wrote Elastic Man' – I simply didn't have a sufficiently articulate idea of how I wanted the record to sound, or sufficient studio experience to impose any character on the result.  But, hey, it got played by John Peel, so who cares?
++ How did a guitar pop band managed to live in London during those years? Did gigs pay good or did you had to have different jobs?
Without going into a lengthy exposition of British economic policy in the 1980s,  suffice to say that the Thatcher government decided that the best way to spend the once-in-a-lifetime revenue from British oil was to pay a record amount of people not to work.  While this brought real hardship to countless families who had depended on coal, steel and shipbuilding for their livelihoods, for feckless young twats like myself who just wanted to stay in bed till lunchtime and strum a guitar, it meant that  British taxpayers were co-opted into subsidising some very average indie bands for a decade.  Once again, I blame Thatcher.  Gigs paid very badly – the low point of what I laughingly refer to as my musical career occurred downstairs at the Clarendon Ballroom in Hammersmith when I was paid 20 pence (about 30 cents) to split between the four of us.  It would have been marginally less insulting not to have been paid at all.  Needless to say, I pocketed the money and said nothing to the others.
++ What was your favorite spot in London during those years? Were would you see the Reserve gang hanging out a Saturday night?
As I didn't have a job, life was one long weekend and every night was Saturday night.  Bay 63 in Notting Hill had loads of great bands on.  The Enterprise in Camden Town.  The White Horse in Brixton. Some other places which I can't remember the names of.  Essentially I went to loads of gigs.  And when I wasn't at gigs I was up to all sorts of capers with Simon and Richard in Finsbury Park (the area of north London, not the actual park).  I blame the cheap sherry.  And Thatcher.
++ You recorded demos for a second single. Will they ever pop up in some kind of form? Why wasn't that single released? I can't believe that no label was interested back then! Was Butcher's Daughter part of that demo?
Yes, 'Butcher's Daughter' was supposed to be the A side of our second single. If you want to know what it sounds like you can find it on The Sound of Leamington Spa Vol 2.   We recorded the three songs we had lined up for the next record at Grant Lyons's studio in Brighton.  He'd already released a version of 'Last Train Home' on his Hoopla  compilation.  The other two songs were 'What People Say' and 'Postcard From Paradise'.  Sombrero had kind of folded by this stage, so I sent the demo round to some other labels but there wasn't any interest.  In retrospect, I think the band might have been more successful if we'd had a manager because I really hated that side of it – phoning round to get gigs and that sort of thing.  But, y'know, I don't think the destiny of Western cultural history has been too badly derailed by the failure of Reserve to become an over-arching, global force.
++ Then the band split up. What happened? What did Torquil MacLeod do during those years before forming The Atom Miksa Reservation?
OK, so it's 1990.  No one's interested in releasing 'Butcher's Daughter' and I've moved from London down to Brighton so that I can carry on being a drain on the state's  resources while watching the tide go in and out.  I did manage to drag myself back up to London for the occasional rehearsal and gig up until the summer, but then it kind of fizzled out.  It was exactly how I didn't want the band to end, but that's the way things go, I guess.   That same year I started working in radio down in Brighton and by 1993 I was a radio producer at the BBC in London.  And that, dear reader, is what I've been doing ever since.  I won the Sony Gold award for Best Speech Radio Programme of the year in May 2008 – hoorah for me!  Of course, music being like some kind of congenital disease, I carried on making sounds in the back room, like some weird, etiolated plant, in the intervening years.  And then, in the summer of 2007, I treated myself to a 16 track digital workstation and discovered this curious thing on the internet called MySpace and that's how The Atom Miksa Reservation came into being.  Through the wonders of technology it transpires that there are a handful of people around the world who quite like what  I'm doing, which, frankly, makes it all worthwhile.
++ Anything else you'd like to say to the popkids out there?
Ummm…music is a truly wonderful thing.  It's been there for me ever since Bowie,T.Rex, Slade and the Sweet burst upon my consciousness in the early 70s.  It still has the power to move me, to astonish me and to comfort me…and make me dance round the kitchen like someone demented.  The notion that at some point in my life I may have made a piece of music which has made just one person out there feel a little bit better for 3 minutes in their life is a very humbling thought.   Oh, and Roque, I think what you're doing with Cloudberry is fantastic and I'm enormously touched and grateful for your support.  Thanks.
::::::::::::::::::::::::::::::::::::::::::::::::::::::::::::::::::::::::::::::::::::::::::::::
Listen
Reserve – The Sun Slid Down Behind the Tower (flexi version)