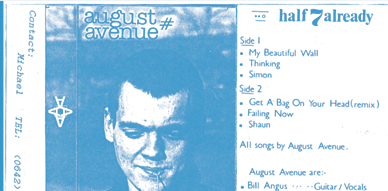 How is it going? I'm freezing today, it's so damn cold in NYC. I've spent Sunday working on a 1000 piece jigsaw with no intention of going out at all. I hope you are enjoying it a bit better. I should have worked on the indiepop-list mixtape/CD swap, but I didn't. It's great that it is back. Funny thing was that the person who I'm trading with is a friend, someone I know, in the UK. So I feel I kind of know what kind of music he's going to like. Still it's always a challenge. Should be my homework for this week.
Aside from that all is up to date in Cloudberry HQ. The fanzines should be arriving from the printer this week. I'm very excited about this number. Have you pre-ordered yet? There's a mix of old and new in the zine and the CD includes a bunch of exclusive songs that are really good. Also, you'll get to know a bunch of release announcements if you read it.
I've been looking for new music too. And there's some stuff to look forward. As I've been doing for the past few months, I'll do a breakdown of what you should be paying attention and buying. And just in case, most of these bands I recommend are not my friends or people I know or by any way associated to the label. I didn't even get a free copy. I just think as no one else is doing it anymore, someone has to keep an eye on indiepop news, right?
– The Would Be's, a favourite Irish band of mine from the 80s, who made a comeback some years ago with a lovely album are releasing a new single this March on the FIFA label from Ireland as well. I don't know much about this release, you can't listen to it yet, but it should be great.  I only it will include the song "Bittersweet". Also the Would Be's will be releasing on 12″ for Record Store Day in April (oh, shame as I do hate this day, such a gimmick) their 1990 Peel Session. I definitely want to get it. But how? This day makes it impossible. Perhaps on eBay for three times the price? Who knows. But if you can get it, get it!
– Starry Eyed Cadet are a band from San Francisco, California, and they are really good. I discovered them some months ago as a friend asked me to give him ideas of American bands for a festival. Then they only had one song on their bandcamp. I remember showing them to Lisle from Fireflies and him liking them too a lot. Anyhow, now they have just released a digital EP with 5 songs. It's brilliant. Hope this gets a physical release and that I get to see them live!
– As you know I'm no fan of tapes but the Leeds band Colour of Spring have just released a tape that includes "Honey" and "Skin" that you can stream from their bandcamp, the latter being my favourite. Much darker than their previous offering, the lovely and jangly "Next Year", they are getting much more shoegazy, much more MBV. For 3 pounds you get the cassette and also a download that includes additional B-sides. Wonder why aren't they on the tape? Decisions they call them. Worth checking out.
– Horsebeach released a top class album not so long ago. Now the Manchester band is back with a 7″ that includes "Disappear" and "Let You Down". It's clear that they are doing well as they have pressed 500 copies and only 31 (at the time of writing this post) are remaining. Wish Cloudberry could pull that! The record will be released in March and pre-orders are now available for 5 pounds plus crazy UK shipping (US shipping is crazy too, I'm not blaming anyone). I'm ordering my copy now. Great stuff!
– Mikael Carlsson is back with The Honeydrips. That is important news definitely for everyone that loves Swedish indiepop. On February 18 he is releasing with Luxury Records an album called "In the City". I pre-ordered it some days ago from Bengans just to get an exclusive fanzine that comes with it. I have no clue what the fanzine is about, it didn't say I don't think, but it doesn't matter. I trust the taste of Mikael. The voice of Dorotea can hardly do anything wrong, right? I found this link where you can preview the album. Seems it's top-secret on the Luxury soundcloud but exclusive on this Wondering Sound site that probably is getting a good bunch of hits now (kidding). Thanks for the comeback Mikael!
Alright, now let's let the musicians make more music and I'll come back next month with some more recommendations 😉
——————————————————————-
I google August Avenue. I find a card company in New Zealand, a kitchen and bath and towels company on Etsy, a Photography company in Chicago,  and of course none of them are what I'm looking for.
I stumbled by luck onto August Avenue. I reckon they must be pretty obscure. I can't find absolutely nothing online aside from two "videos" on Youtube. There's this user called "odash76" who "having been a long time supporter of the North East music scene, he decided to have a trawl through the vaults and see what gems he could unearth".
I looked into all the stuff he has been digitising, and there's a lot of different music styles. The common thread is the geographical location. The one band that caught my attention was August Avenue. But I'll see if I cover some more from the bands he (or she) has made available.
I love hear these guitars I think as soon as I play for the first time August Avenue. There are 6 songs total on this demo tape called "Half Seven Already?". They are classic jangly guitar pop from the late 80s. The uploader thinks this tape was released in 1987, possibly mostly sold at their gigs. I wonder who saw them live. Who did they support. Maybe some bigger indiepop names? I wouldn't be surprised.
Of course the question is always why didn't they release anything proper. It's a shame with strong songs like these, on the A side "My Beautiful Wall", "Thinking" and "Simon" and on the B side, "Get a Bag on Your Head (remix)", "Failing Now" and "Shaun".
I can't recognize the guy on the cover photo. There's a contact telephone number and a name. Michael. They thank Lee and Will. Who are they? August Avenue were Bill Angus on guitar/vocals, Michael Baines keyboard/guitar, Nigel Cope bass and Baz (Belsen) Davies drums. No more personal details about the band.
A Youtube user comments that he is pretty sure that they played at the Dovecot Arts Centre back in the day. He saw posters with their name but can't recall if he saw them live. More mystery.
The user who uploaded the demo is truly a brilliant guy. He has also uploaded a full gig!! You can check it here. This is a live performance from 1987 recorded from the mixing desk at Rumpoles in Middlesbrough. There are a bunch of songs not included in the tape like "Fool's Gold", "Clear Blue Water", "Kangaroo Law", "Strength in Purpose", "Don't Be Sorry", "Any Time Go", "8.46" and "Who Am I?".
Now I play again "Failing" with that nervous and fast guitar and heavy drumming. So good. And then I switch back to "Thinking", my favourite and perhaps the most classic indiepop song of the demo! Though of course you don't want to miss the opening song "My Beautiful Wall"!
Sadly that's all there is about this very obscure band on Youtube (and the web). But maybe someone out there remembers them and can tell me more about them? Thanks, many thanks, in advance!
::::::::::::::::::::::::::::::::::::::::::::::::::::::::::::::::::::::::::::::::::::::::::::::
Listen
August Avenue – Thinking