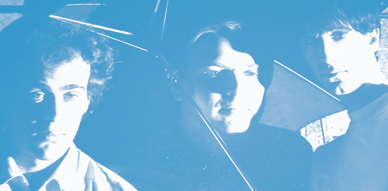 Thanks so much to Todd Shuster for the interview! The Impossible Years were a great band from Philadelphia who released only two singles. First a self-released 7″ and later the first ever release by Dan Treacy's Dreamworld label. And that was a 12″. Great pop songs that if you don't know them yet, it's time for you to discover!
++ Hi Todd! Thanks a lot for being up for the interview. You know, for some reason I thought you were British, because you know, you released on Dreamworld Records. Does that happen often?
No, you were the first.
++ So yeah, let's go back in time. You started as The Jags, right? What made you change your name? And why The Impossible Years?
The Jags were born during the excitement surrounding the CBGB's scene and the English punk bands, both of which inspired  the name and sound.  When our original bass player, Charles Bright, left and Tony Marsico joined us, the sound changed and the name The Jags didn't seem to fit anymore.  Our manager suggested The Impossible Years and it seemed right.
++ Talking about movies (The Impossible Years), care making a top 5 movies by Todd Shuster?
I'd really love to, but it's hard choosing five.  Certainly, A Hard Day's Night and West Side Story would be the two movies that provided a soundtrack to my childhood.  I guess most of the later choices would be predictable:  The Godfather, Goodfellas, Taxi Driver…hmmmm, maybe someone should make a movie about a lovable pop group who commit extreme acts of violence.
++ And what sparked you all to start a band? What bands were you listening and loving at the time?
The Jags started because we were all huge Ramones fans.  We were also listening to a lot of English bands at the time who were also rewriting the rules of pop:  Buzzcocks, Gen X, Jam, etc.   We were also looking back to the early Who;  A Legal Matter was one of our first covers.
++ What about Philadelphia bands? Was there a nice scene in town? Which were the places and venues were you would usually hang out and see other bands? Do they still exist?
When we first played (July 4, 1978), we weren't aware of anyone else playing this music.  At the time, you were really an outcast among musicians/bands who didn't take punk/new wave bands seriously.  After we became involved in the local scene, which at the time was mostly a club called Artemis on Sansom St. in Philadelphia, we still only met a few other bands and each band sounded totally different.  The only thing linking the bands together was the fact that there were only 2 or 3 places to play, so we were all contained.
++ So who were The Impossible Years and how did you all get to know each other?
Seth Schweitzer (drums) and I met in fifth grade when we discovered that we were both hooked on Dark Shadows (the gothic soap opera).  A few years later, we were reintroduced by a mutual friend and in eighth grade we found ourselves in a band together.  We played together again in high school and, this time, the group included a very talented piano player by the name of Charles Bright.  A year or so after we left high school, I heard the Sex Pistols,  took a trip to NY, checked out CBGB's and Max's and was ready to start playing again.  Seth and Charley were listening to the same bands and hot to play again, so in March of 1978, The Jags were formed in Charley's parent's rec. room.
++ You self-released a single, "She's No Fun / Baby Baby", first. I haven't seen this record. Is it hard to find? How many copies were made? And what made you decide to go through the self-release way instead of looking for a label?
The record is pretty hard to find at this point.  We put it out ourselves at a strange time in our history.  We were between bass players again and Charley joined us for a second, short period. Charley recorded the single with us, but by the time the record came out, Howard Luberski replaced Charley and that became our final line up.  We released the single because there weren't really any local labels around and we had almost never traveled outside Philadelphia.  We wanted something out there that could represent us. Looking back, it probably wasn't the best choice for a single or the best decision, but…
++ And then you contributed to two compilations: "I'd Rather Be In Philadelphia" and "Battle Of The Garages V II.". What's the story behind these two records? Do you remember who put this compilations together? And how did you get in touch with them?
We had recorded a three-song cassette at a local 8-track studio.  When we were approached by the people who wanted to release I'd Rather Be In Philadelphia, we gave them Flower Girl from the cassette.  The Battle of the Garages V. II is a longer story.  We were fooling around one night and made an effect-laden over-the-top version of Attraction Gear on our TEAC 3340 reel to reel four-track.  Our manager sent it to Greg Shaw, who we didn't know, but knew of.  He liked it, asked that we rerecord it for the next Battle of the Garages comp.  We did and he included it on V. !!.
++ So how did Dan Treacy got in touch with you? Did you know who he was then?
There was a review in Sounds about the Garages LP and the writer focused mainly on Attraction Gear.  Dan saw the review, contacted us and asked us to be his first release on his upcoming label Dreamworld.  We knew of the TVP's, but we didn't know him.
++ Did you ever meet him? On pre-internet times, how did you work with him? The phone bills must have been very expensive!
True.  Dan paid for all the phone calls, but our manager always had funny stories about calling with special rings, etc.  I guess there were calls Dan DIDN'T want to pay for.
++ What's the meaning behind the EP's title "Scenes We'd Like To See"? Is there any scene you'd still like to see?
We got the title from a regular column featured in Mad Magazine.  We liked the double meaning.
++ "Attraction Gear" is such a beautiful song. What inspired you?
Seth wrote that one;  it fits his abstract style.  It's certainly one of my favorite Seth songs.  He didn't write a lot, but when he brought a song to us, it was usually great.
++ Which would you say is your favourite The Impossible Years song?
Hard to say.  We wrote a lot of songs and, since we didn't record much, we sort of dropped songs every so often for new ones.  I think my best early ones are I Agree and Denise, that date back to the beginnings of the Jags.  I like a lot of the songs on My Report Card.  I still have a special place for our earliest Jags songs.  It's one of my biggest regrets that we never made the Great Lost Jags Album.  That's why I rerecorded a group of them and posted them on YouTube.
++ And what happened after? Why didn't you release more records?
There wasn't any interest from the indie labels.  We decided to buy a four-track cassette machine and I had this idea that we would just record good demos, release our favorites ourselves and not care about the fidelity.  This was before we had heard of GBV and the lo-fi movement.  It was a good idea, but by then we were sort of spent and it didn't happen.  I inherited the four-track, spent a few years making a lot of demos and then released them as a solo CD, My Report Card.
++ What about gigs? Did you play many? Any anecdotes you could share?
We played a lot, mostly around the Philadelphia area.  We played up and down the east coast on the Battles tour after that was released.  It was fun getting to play with a lot of the bands we liked.  Standouts include X, The Cramps, The Mumps, 999, Violent Femmes, The Three O'Clock.
++ When and why did you split?
By 1987, we were sort of finished.  Howie got married, Seth went back to school and I got married and went back to school to become a teacher.
++ Are you all still in touch? What do you all do these days? Still involved with music?
Seth and I have known each other forever and we've always stayed close.  I've run into Howie a few times since, but we're not really in touch. I'm still teaching, Seth got married and became a teacher, Howie works for the IRS and still plays in bar bands. I play for school events with a band I put together there.  We play for fun, mostly cool covers.
++ In 1997 you  put together a CD called "My Report Card". What was included in it? And more importantly, are there copies available?
My Report Card is a home-recorded 20 song CD of songs that would've been the next Impossible Years set.  In fact, two of the songs are from our last live demo and we were already playing a few others live when we quit.  I don't think any of the distributors have any left, but anyone who is interested can contact me at shusters@comcast.net.
++ Aside from music, what other hobbies does Todd Shuster has? Do you collect anything for example?
Aside from music and guitars, I sketch, create videos and I do many things as an extension of my teaching.  I run a guitar club at school and mentor children.  I also do extra technology services for my school district and we run a daily TV news show from a makeshift studio that goes out to all the classrooms.  Teaching is a wonderful career that fosters creativity.  It's the best place I could possibly be post-Impossible Years.
++ I do plan to visit Philadelphia soon as I'm close now! So maybe I can ask you some tips on what to see? Are there any sights or places that you would recommend visiting?
If you're a history buff, we have a lot of things to see and do within walking distance in Olde City.  From Betsy Ross' House to Ben Franklin's Post Office to the Constitution Center, Liberty Bell, etc.  We also have great restaurants and the Rittenhouse Square area.  It's a great city to visit.
++ And what about a Philly Cheese-steak? Where can you find the best?
Ah, I'm a vegetarian, but anyone will tell you that Pat's Steaks in South Philly is the best.  It's easy to find, just ask anyone.
++ So, what are the plans for the future? I heard a rumour that you might be covering a Television Personalities song soon?
I recorded a version of Someone To Share My Life With and it will be included in V. 4 of the TVP tributes released by The Beautiful Music label. I still play and record and my options are always open.
++ One last question, what would you say was The Impossible Years biggest highlight and why?
Just having the opportunity to play our music was a privilege.  Releasing the E.P. with Dan and being included on Bomp's Garages comp were certainly exciting.  Ours was only one of 16 songs, but we heard from a lot of people all over the world.  The late 70's, especially, were an incredible time to be involved in the new music scene.  We saw amazing bands and had incredible fun.  It was like being invited to a private party.  Luckily, we still have the music and it's still great.
++ Thanks again Todd, anything else you'd like to add?
Just thanks to you for keeping the buzz alive.  I really appreciate that there are people who still care and are devoted to the scene.  Be well.
::::::::::::::::::::::::::::::::::::::::::::::::::::::::::::::::::::::::::::::::::::::::::::::