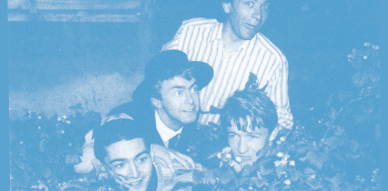 Outpatient: a patient who is not hospitalized overnight but who visits a hospital, clinic, or associated facility for diagnosis or treatment.
It's Cloudberry news week at the blog. Next week I'll tell another indiepop-related story, those that I know at least my friends Jennifer and Cristóbal like. I do enjoy them a lot too, and it feels good to make my memory work putting some of those experiences in writing. Though to tell the truth, I would love to write a novel, add some little fiction here and there. An indiepop novel. Though I must admit I have doubts about my English, if it's cut to impress any publishing imprint out there. But anyways, let's stop elucidating and move on because even though there are not many surprises, I have dates, facts and plenty of exciting facts for the upcoming weeks and months for Cloudberry.
As most of you know The Spook School 7″ is out since October 10th, but maybe many of you don't know that the band put together a fun video for the A side, "Here We Go", pasting together lots of small clips Naomi filmed on her phone during their travels to France and London, as well as images from their time in their homeland Scotland. If you haven't seen it yet, please do so here: http://www.youtube.com/watch?v=0eEVPHnHW7g
The other news has to do with the release date of the Strange Idols retrospective CD. That's coming out on the 25th of October. So yes, next week! I hope you have already read the interview just below this post. I know, it's long, but it's great. One of the best interviews published in this blog for sure. And all members answered. So you get a point of view from all of them. Anyhow, the CDs are already at Cloudberry HQ since yesterday and today I started posting pre-orders.
I've been carrying the CD today on my pre-historic, cambric, cd-player, and it sounds fab. And it looks great as well. I feel I want to build just a shelf for the Cloudberry Cake releases. They look so nice altogether.
Then this week I'm sending to press the Nixon 7″ at last. And it seems the next Cake Kitchen release will be somehow related to Nixon too. But I can't say anymore until it's a bit more concrete. But you can make your own conjectures.
The fanzine is almost done. At last I got all the interviews and they've been nicely placed and styled. It will include interviews with Nixon, Caucus, Alpaca Sports, Bonne Idée, Youngfuck and The Spook School. The only thing I'm missing at the moment is my brainy editorial and a quick check throughout the whole zine if I find any typos. The CD tracklist is ready too and it looks like this:
a1. Go Violets – Runner
a2. The Spook School – Are You Who You Think You Are?
a3. Caucus – Party
b1. Pale Spectres – Better than Love
b2. Youngfuck – Högt
A very international lineup, right? We have Australia, Scotland, Japan, France and Sweden.
And last but not least, you can also preview a new track from an upcoming release! It's a new 7″ by Germany's Tripping the Light Fantastic with artwork by the lovely Karin Soderquist. You can download and enjoy "Heavy Heart" here too.
—————————————————————————–
And now let's try to recover a band from the past. An obscure one like we always like: The Outpatients.
The first time I heard them was through that great blog The Jangle Pop Boutique. Whatever happened to it. I don't know. But plenty of great gems were posted there as Youtube video (sans the video, just sound). It was great as it featured obscure bands, a little description, and no download links. True to my ideals.
The song that was posted on the blog was "Dog Eared Love", a pretty pretty jangle pop gem, that one wonders how the hell you haven't heard it before. And why it wasn't ever properly released?! If the world was just a fair place…
Some time later I found "Pearl" on Youtube. And I was smitten. Another perfect jangly song. Instead of making things easier, it only made me more curious, the mystery of who were The Outpatients grew on me. I noticed that the guitar player had commented on one of the videos and immediately sent a message.  He was nice to reply the first time.  He said:
"Hi and thank you for your message.  Jinkers, 1980's, such a long time ago.  However, yes, I would be delighted to help. I may have toooo much information for you.  I had a habit of recording things like the fella from the Rolling Stones, I belive he had the order they made at the chipper after their first rehearsal! Let me know what kind of stuff you need. "
Sadly after sending my overwhelming amount of questions he never got back to me.
Finglas/Glasnevin, Dublin. Never been there. Never been to Ireland period. But that's where The Outpatients were from. It strikes me a bit as there are not that many Irish indiepop bands. I can think of Hey Paulette from the top of my head.
According to the Irish Rock Discography site, the band was active from 1987 to 1990 and was formed by Ronan, Pat, Greg O'Beirne (who was the one I got in touch with), and Noel.
There's also a small bio there:
Finglas area quartet who recorded some demo tapes in 1987-88 described as "infectious tunes" by Hot Press. They appeared on Danceline's Swimming Out of the Pool compilation in 1988 , had a single on Danceline in 1989 and split in 1990.
Greg O'Beirne later in Film (1991-93), Saltmine (1993-94) and The Ferromones (1994-97). Roadie Paul O'Brien later fromed Groov'in Statues.
They also list a discography:
– First demo tape (1988): there were four songs included: "Pearl", "The Wildest Woman in Glasnevin" and "Rock Steady Freddy".
– Second demo tape (1989): three songs on this one: "Pearl", "Corner Shop" and "Dog Eared Love"
– Two tracks on the "Swimming Out of the Pool" compilation (1988). This was released by Danceline Records (catalog DLP 1001). The songs included were "Pearl" and "The Wildest Woman in Glasnevin"
– And an elusive 7″, that supposedly has "Pearl" on the A side, but no one knows what's on the B side. It might have been released or might have not. If it was, it was on Danceline Records as well, catalog number CLS005 and would have been out on 1989. No idea if there was a picture sleeve for it.
And that's more or less about it. There are some more MP3s to listen and also some comments from the band members on this blog post by the Dublin Opinion. But aside from that, there is no more information about The Outpatients, more importantly, we have no clue if they ever actually released that 7″!
If you know anything else about them, please, leave a comment! And if anyone has a spare copy of the "Swimming out of the Pool" comp, let me know too!
::::::::::::::::::::::::::::::::::::::::::::::::::::::::::::::::::::::::::::::::::::::::::::::
Listen
The Outpatients – Pearl