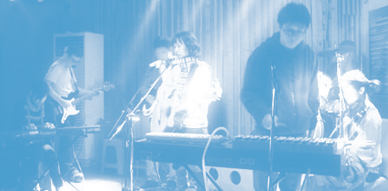 Here again on a Wednesday. Seems this will be a three obscure band posts type of week. I also have an interview to post tomorrow. Things are very productive here at Cloudberry HQ. Hope you are enjoying all the new music!
FogPark: Continuing with Japanese shoegaze bands I found this band that released a CDR single earlier this year with two songs, "Cigarette Punch" and "Free Size". It seems the Japanese know better, why release an annoying cassette when you can put out a CDR? A question I ask to all the bands this side of the world with no clear answer. The two songs are available to stream on SoundCloud as well as a month-old song titled "Sleeping Cat". There are also three songs by a band called HotCake Mansion which I assume was the band the members of FogPark used to be in? You can also watch a video of "Free Size" on Youtube.
The Beths: First time I hear this Auckland, New Zealand, band. Their song "Great No One" is terrific! This is their latest on their Bandcamp, and I hope it gets released as a single, in an EP or in an album. Somewhere. The band is not new though. In 2006 they released a CD EP with 5 songs titled "Warm Blood" which sounds very good too! How come I never heard about them before? I should make up for it and order this CD. I'm going to go poor because I keep finding and finding great music that deserves to be bought! The Beths are Elizabeth Stokes on vocals and guitar, Jonathan Pearce on guitar and vocals, Benjamin Sinclair on bass and vocals and Ivan Luketina-Johnston on drums on vocals. Yup, everyone seems to be on vocals according to the credits. Bad thing though is that they will be playing on November 10th! That same day New Zealand and Peru will be playing a match to see who qualifies to World Cup!! Though I do think the game is at 3pm New Zealand time I think? Or is it already on the 11th? Oh dear it is hard to calculate with the time difference!!
Dan Dan Dero: the Lima, Peru, band has been recommended many times on the blog. The occasion for their mention today is that they have just released a new video for the song "Tangerine" which will be included in their forthcoming album. The video is a collage of clips that tell their adventure while they toured in Bogotá, Colombia, a few months ago.
Jarub: a fantastic song I hear all of a sudden, "Boing de Guayaba". Who is this mysterious Jarub? Definitely he is from Mexico. It says on his bandcamp, Mor., Mexico. Where is Mor? May it be Morelia? I see that there are many, many, songs on his Bandcamp. But "Boing de Guayaba" is the standout. What is Boing de Guayaba? For those who don't know, Boing are sort of these boxed juices that you can find in any supermarket in Mexico. Here in the US you can find them sometimes. I do in the supermarket close to mine. Guayaba is guava. So it is a song about a guava juice? This song is part of a digital album titled "Versiones Diminuidas" which is kind of strange. Song titles are in Spanish but he sings in English.
Soda Fountain Rag: our Cloudberry friend Ragnhild will be releasing a new 7″ in the near future with the Spanish label Kocliko. Because of that one of the songs to be included, "Keep My Headphones On: has been uploaded to the label's Bandcamp! It will be released on December 23rd and I'm very much looking forward to it! How many more songs will it have? I'm guessing three more!
Half Forward Line: Jigsaw Records will be releasing the album "The Black of Mass" by the Half Forward Line, the new band from Brian Kelly of So Cow. The band is formed by Brian, Niall Murphy (Oh Boland) and drummer Ciaran o Maoláin. The CD album includes 12 indiepop songs, some fuzzier than others, with some power pop doses thrown into it. It is a very fine album which I should order soon. It is said that the album was recorded just over two days in the lounge of a derelict rural Irish pub.
—————————————————-
Back to Asia in our world tour! This is our 33rd different country and different band! It seems in the end I'll be able to reach number 4o. I am pretty surprised by that, I thought, even with wishful thinking I was going to find at the most 30 countries that have had interest in producing indiepop, but I'm definitely very very happy to see there are more, that our scene is very international, and this is being proven here little by little! Time then for South Korean and the band Pirigwa or 피리과 in the local alphabet. A band that didn't seem to have made a splash but left more than a handful of lovely sweet songs that are worth rediscovering today!
The band released only one EP which sadly is not listed on Discogs. The label is listed though, which is Beatball Records. The same label that released probably the most known Korean indiepop band, Linus' Blanket. The Seoul label also did releases by BMX Bandits, Mocca or Advantage Lucy. So definitely this wasn't a random thing. They did like their guitar pop! But why no one has taken the time to add Pirigwa's release to Discogs? It would help me track their record and buy it!
Yes, I don't own a copy of it. Which is a shame. The six song EP titled "Butane Gas Mon Cher" was released in 2007 as a CD digipak and it had the catalog number BEAT 36. The songs on the EP were: "Pajama Party", "Superstar", "외투도 입지 않은 채 Without Wearing Coat", "이름모를 귀염둥이 미용실언니 Unknown Hair Shop Girl", "Snowbound" and "감기도 널 죽이진 못해 Even Flu Can't Kill You". As you'll notice I've been kind enough to link to all songs on Youtube for your listening pleasure.
I know that at least the band appeared on two compilations. On the Beatball compilation "Summer Has Gone By…" they had the song "Superstar" and on another Beatball, release, "The Christmas Express", they contributed the song "Snowbound".
I keep looking for more information about them. I finally hit some meaty information. It is not easy as I'm searching for the band in both different ways, as Pirigwa and as 피리과. I find an interview with the band Pigbit5 on a blog which I am not sure what is its name. Here I see that Pigbit5 formed from the ashes of Pirigwa. This is what it says: Pigbit5 was formed by Park Yeol, Koung Heo and Taeok Kim who were the members of Pirigwa in 2008 summer after Pirigwa was disbanded.
Okay now we have some band members names. But that's only three names. I see on the photos of Pirigwa that they were 5 members. We are missing two?
I can't seem to find any more information about the band. There are some Korean online shops that do sell the CD but for me, as I understand nothing of Korean, it seems like a big risk to try to buy the EP from them. Aside from that I can't seem to find any blogs or websites, in Korean or English. Was the band based in Seoul? Pigbit5 are based there, in the neighborhood of Sangam-dong. So I feel like they did. But I can't tell much more, the information is very hard to come by.
Definitely in this world tour this is the band I found the least information. It is a shame as the 6 songs the band put out are lovely. It probably has to do that it seems Beatball Records releases were only aimed to the Korean audience. Which is is surprising having Japan so close. Yeah, I couldn't even find results in Google for Japanese pages. And hey, Japanese indiepop fans love this sort of sound! What happened to Pirigwa? Did they have any more songs?
::::::::::::::::::::::::::::::::::::::::::::::::::::::::::::::::::::::::::::::::::::::::::::::