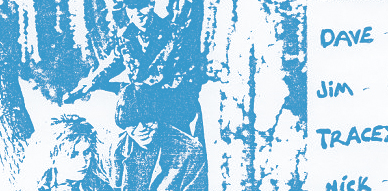 Before I leave to the UK for, what I think, are some deserved vacations and also to avoid Thanksgiving and Black Friday, I want to ask for some help. Not that I don't ask for it often here in the blog when it comes to tracking down bands. I do. Often. Once a week at least. But as I won't be writing anything next week, I thought maybe it's a good time to pick your brains.
I've been trying to track Nine Steps to Ugly for the last couple of months. Phil from Feverfew/The Rileys, was kind enough to ask around his contacts around Reading, but there was no luck. There was the odd comment by Cameron (guitar) on Javi's old, very old, blog "Lost and Found". But there was no email. I looked all over Google, which I'm training on search skills thru their "Google a Day", but no luck. Same on Facebook.
The first time that I heard about Nine Steps to Ugly was thanks to The Sound of Leamington Spa Vol.5 that Firestation Records released in 2005. "Eddie Lopez lives in Slough" opened the CD. It was fresh, it was catchy, it was the kind of pop that I'm a sucker for. On the booklet, they took the center spread, a long list of gigs and a bit of band details were included:
Popstatic Facts and Gigathon
Band formed in January 1987 for Windsor College Rag Stomp held at the Old Trout Windsor on 24th March 1987.
Original line-up 13th January-14th January 1987. Jenny Miell singing, Cameron Smillie guitar, Stuart Scott drums, Nick Elson bass, Jim Turner guitar, Andrew 'Flan' Flannery guitar, Johnny 'Mad Dog' Malibar saxophone (part time).
We write one song 'I'm in Love with the Girl from Tallulah Gosh'. I no longer am and the song was crap. Jenny and Johnny leave.
Jenny as she couldn't sing and Johnny as the sax was on hire and had to go back to the shop.
Tracey is found and off we go. Lots of awful noise created in an effort to get a set together for the Rag Stomp.
Line-up for 24 March 1987. Tracey Owen singing, Paul 'Beany' Bateman singing, Cameron Smillie guitar, Nick Elson bass, Andrew Flannery guitar, Jim Turner guitar, Stuart Scott drums.
24 March 1987 Infamous Rag Stomp. Play 'Purple Haze' and several forgotten covers and are not lynched. Start to have fun and write our own songs.
A few weeks later we inflict them on the public…
Old Pals Club Taplow 22nd May 1987 + Urgh Leave it Out.
The Greyhound Colnbrook.  4th June 1987 + Stir Fried Pop Stars.
Windor Art Centre. July 1987 + The Wallflowers.
The Rose Maidenhead 22nd August 1987 + Stir Fried Pop Stars.
Stuart leaves to continue his studies; Flan leaves to drink more beer. Beany leaves to join the Stir Fried Pop Stars and wear dark glasses on stage.
Line-up 20th September 1987. Tracey vocals, Cameron guitar, Jim guitar, Nick bass, Dave Best drums.
Herschel Park Slough 19th September 1987 (whilst playing we are attacked by madman wielding a scaffolding pole – we run away, did he not like the music?)
Windsor Art Centre 13th October 1987 + The Shrubs
Old Trout Windsor 4th November 1987 + Stir Friend Pop Stars.
Wexham Parish Hall 15th November 1987 + The Wallflowers.
The George Farnham Road 19th November 1987 + Million Dollar Bash
Upton Grammar School 17th December 1987
Windsor Art Centre 9th January 1988 + Magic Mushroom Band.
Baldwin Institute Eton 16th January 1988 + Hello Revolving Horse.
Pontons High Wycombe 19th January 1988 + December.
The George Farnham Road 3rd March 1988 + The Company
Windsor college Rag Stomp 17th Martch 1988
Maidenhead Town Hall 26th March 1988 Battle of the bands competition, we came 2nd (Robbed!!).
ontons High Wycombe 16th April 1988
Windsor Art Centre 29th April 1988 + Bob
Forbury Park Reading 29th May 1988
Reading Town Hall 1st June 1988 + The Darling Buds
The George Farnham Road 9th June 1988 + The Company
Ninos Wine Bar Reading 15th June 1988 + The Jeremiahs
Ninos Wine Bar Reading 26th June 1988 + Feverfew
Windsor Art Centre 16th June 1988 + The Company
Cool Trout London 27th July 1988 + Bob
Paradise Club Reading 5th August 1988 + House of Love
Windsor Art Centre 2nd September 1988 + The Wallflowers
Old Trout Windsor 3rd September 1988 + Johnny Panic
Skindles Maidenhead 4th September 1988
St. Davids Hall Reading 15th October 1988
Mean Fiddler London 1st November 1988 + Metro Trinity
Paradise Club Reading 2nd November 1988 + Spacemen 3
St. Davids Hall reading 9th November 1988 + Falling Trees
Old Trout Windsor 30th November 1988 + Morbific Seeds
Line-up 30th November 1988. Tracey vocals, Cameron guitar, Jim guitar, Nick bass, Bevis Bevis drums.
The Centre Farnham Road 10th December 1988
Old Trout Windsor 21st December 1989 + The Premonitions
Windsor Art Centre 2nd January 1989 + Morbific Seeds
Blast Club Bracknell Art Centre 9th February 1989 + Thrilled Skinny
Garden of Eden Old Trout Windsor 8th March 1989 + The Bachelor Pad
Garden of Eden Old Trout Windsor 29th March 1989 + Bob
Blast Club Bracknell Art Centre 30th March 1989 + Bob
Garden of Eden Old Trout Windsor 26th April 1989 + Savage Opera
Final gig at Windsor Art Centre 23rd June 1989 supported y Thousand Yard Stare.
And that was that.
Bevis and Cameron joined The Morbific Seeds. Nick went to university in Brighton and writes. Tracey sang with Montefury, The Wallflowers, Foam etc and still is in bands in Brighton. Jim became an archaeologist Cameron works in St Pauls Cathedral and s an actor. Bevis became a troubadour.
I probably have missed a few gigs out, I remember one in Slough High Street for a bizarre parade and I ended up in the back of a van converted to look like the Batmobile driven by a member of the Morbific Seeds. Perhas these things are best forgotten.
You can still find this CD. Get it straight from the label for 3 euros. That's much much less than what I paid for it when it came out. It's a bargain, and it's essential.
Since them I've been trying to also track down their flexi single. That one that includes "Eddie Lopez lives in Slough" and "Bobby Charlton's Haircut". The sleeve has a kid playing the triangle, while some other schoolmates (?) are watching him. Wonder if that little boy is one of the band members.
So who was Eddie Lopez? He was the Labour candidate for Slough in the 1987 and 1992 elections, finishing runner up on both occasions to the Conservatives.
About Eddie Lopez and the song I found this comment online:
Eddie Lopez actually came very close to winning Slough in 1992. He lost by 514 votes, but a rogue candidate called Alford who also termed himself The Labour Candidate stood (election law has changed now to prevent this sort of thing) and, because he was top of the ballot paper, took 699 votes. He celebrated on election night with the winning Tories.
"Eddie Lopez Lives in Slough" wasn't taking the piss. Eddie Lopez had been instrumental in the establishment of a recording studio under the Slough Labour Rooms. The song was a Thank You.
You can read more about him here.
While Slough is a borough and unitary authority within the ceremonial county of Royal Berkshire, England. The town straddles the A4 Bath Road (it becomes the Great West Road closer to London) and the Great Western Main Line, 22 miles (35 km) west of central London. At the 2001 census, the population of Slough was 119,070 (est. 122,000 in 2006) and the borough area was the most ethnically diverse local authority area outside London in the United Kingdom.
The first recorded uses of the name occur as Slo in 1196, Sloo in 1336, and Le Slowe, Slowe or Slow in 1437.
Though I guess most of the people have heard about Slough thanks to the tv series The Office.
About Bobby Charlton. Well, I don't think he had much of a haircut. Anyways, I assume many of you don't know anything about footie, but come on. Bobby Charlton is pretty famous. You can read more about him here.
The band also contributed to a couple of compilations. On the  classic "Corrupt Postman" tape compilation they included the song "Vaudeville". This same song will appear some time later on the tape compilation "Hacia la Luz" released by Elefant Records (ER-005) in 1990. But if we go back in time a little, to 1987, "Eddie Lopez Lives in Slough" appears on an obscure compilation called "The Final Teaze" which was released by Final Records (Final 042).
But those three songs I've mentioned weren't the only that they recorded. Fast forward to 2008. I visit Nana and Andreas in Hamburg. Nana is throwing a big birthday party for herself. Many friends have come from different places, and even The Sunny Street are playing a gig. Then there will be a dance party (these days have been already documented on the blog). They day I arrive Andreas burns me two CDs. One that has everything by Grab Grab the Haddock. And a second one by Nine Steps to Ugly. This CD contains:
From the "Eddie Lopez Lives in Slough" flexi
01. Eddie Lopez Lives in Slough
02. Bobby Charlton's Haircut
From demos 1987-1989
03. Apart
04. Vaudville
05. Tobogganing
06. Drink Up, Let's Go!
07. Kevin Loves Sharon
08. Small Pieces of Everything
09. Spencer Says
10. Eddie Lopez lives in Slough (demo)
11. Lemon Badger
From live 29.03.1989 (must be from this gig: Garden of Eden Old Trout Windsor 29th March 1989 + Bob)
12. Glad
13. February Wednesday
14. Vaudville
15. The Friendship
16. Spencer Says
17. Bobby Charlton's Haircut
18. Apart
19. Meadfield
20. Ever Again
See? Quite a bunch of songs recorded as demos. And I'm not sure if they were all that they recorded. Probably they were. But can't say. I also find mind boggling that they never released anything else other than the flexi. It's very odd. And what about that "Im' in Love with the Girl from Talulah Gosh" song? Was that ever recorded? I have so many questions. I wonder if I should just step in to St. Paul's Cathedral and ask if Cameron is still around…
So yes, if anyone knows anything else, has something more to add. Please do! Probably won't answer until I'm back from the UK, but I'll check my email daily. If you have a spare copy of the flexi, that'll be nice too.
And by the way, before I forget the new fanzines are ready. I made some silly mistake while doing the pre-press and there are two pages, the second two pages of the Youngfuck interview, that are in the wrong place. It's not a big deal I think, as they are back to back to the ones that start the Youngfuck interview, and perhaps adds to the DIY spirit of it, but thought it was worth mentioning. So there are no surprises. Also forgot to change the snail mail address of Cloudberry. I've been a bit fluffy-headed as of late it seems. In any case, the fanzine looks great, and I'm very proud with it. I hope you all like it!
::::::::::::::::::::::::::::::::::::::::::::::::::::::::::::::::::::::::::::::::::::::::::::::