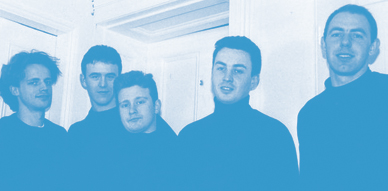 Thanks so much to Jim Shepherd for this fabulous interview! Don't think The Jasmine Minks need any introduction, do they? Though, many of you won't know that they have a new EP out that you can and should order from Oatcake Records!
++ So let's get into interview mode. So there are already a couple of great interviews online to the 'Minks (Caught in the Carousel, Creation Records) , I'm going to try not to repeat any questions, and make you repeat your answers! So let's go. First off, where does the name The Jasmine Minks comes from?

The name Jasmine Minks means a lot to me – the word mink or minker is a poor or ragged person in the north-east of Scotland where I come from. And, although it was never intended from the start, the word Jasmine is a street I used to live in Aberdeen, Jasmine Terrace.
++ The lineup. I'm wondering how did the band came together, how did you all meet? How did you all knew each other? Was this your first time in a band?
The first line up to record was with Martin Keena, who was a London-Irish fella. The rest of the original group, Adam, Tom and I were all from Aberdeen and were in a few bands before, mostly to do with the punk scene and then the post-punk scene. We did audition Harry Howard for bass but Martin was the one for us. Martin was also in a punk band, Premature Ejaculation (great name!) We did go on to use quite a lot of different musicians and have enjoyed the variety of musicians we have been lucky enough to have in the band over the years. There have been many other people too who have been hard working for the Minks over the years, including Mark Allan, Chris Narayan, Kevin Pearce and Nick Jones to name a few.
++ Most of your discography came under McGee's label, but there was this one odd 7″ on Esurient Records. Was Alan McGee okay with it? How was your relationship with Kevin Pearce? How did this 7″ came about?
Cut Me Deep was the impetus for the live ep from Esurient. We had recorded the song for Creation and we went a bit over the top taking two weeks in the studio with the oine song, trying to make it a really big production with synths and drum machines and everything. Alan didn't like it, so although we used an early, more 'live band' type recording for the Another Age album it still had the stigma of the time when we tried to make it a big production. So Kevin Pearce decided to start Esurient and to have an older live version of Cut Me Deep and 3 other songs on it too. The best things about the Esurient ep were mastering it (from a caassette) at Abbey Road studios and also the groovy gold and red picture cover. The recording is quite poor quality.
++ Thinking about the last question, I feel during the 80s most bands stuck to one label, whereas nowadays, bands jump from label to another label. Do you think there are any pros or cons to this?
Maybe groups are more promiscuous nowadays. It was nice to be able to stay with one label for a long time and develop a relationship with people and get to know then well enough that we could take the piss out of each other. I always wanted to stay with Creation but we ran out of fans really and people just stopped coming to see us. If we had moved to another country or maybe just even another record label I'm sure we could have built up a following again. So there may be times when it is an advantage to move to another labe .
++ Dan Treacy  when interviewed on a fanzine, back in the day, when asked about the early Creation bands, once said: "The Jasmine Minks are the only sort of serious band. They're the only ones who'll make it". Sadly you didn't get a true breakthrough, though you did deserve it. You had SONGS!! Why do you think it didn't happen?
We were pretty amateurish really and that probably came through in our sound and in our image. Our songs were good and, with a bit more hard work, could have reached a bigger audience. But we were probably too eager to move on to our next lot of songs and didn't like the amount of time it took to actually get a record released from writing it and rehearsing it to getting it into the shops. Quite often we were fed up of the songs by then and we wouldn't play them live, not a great way to make fans!
++ How was the experience of being managed by Simon Down from the Pink Label? Any anecdotes you could share?
Simon did manage us briefly but we didn't really have a good relationship. He wasn't as sharp as Alan McGee by any stretch of the imagination and perhaps after McGee managing us we expected a lot more. He did well with Pink of course and I'm sure he came skinny-dipping with us once!
++ I'm curious about the name of a couple of songs. Who were Veronica, Johnny Eve and Marcella?
Veronica was a fictional old maid who had grown up being scared of the world and continued to hide away from it as much as possible rather than accept the ugliness (and perhaps the beauty too) around. Johnny Eye was one of Adam's wonderful song titles and I truly believe that he is one of the most overlooked lyric writers of those times. There are only one or two lyric writers I would actually say compare to him and that is saying something!
Marcella is a very special song to me. Marcella was Bobby Sands' pen name when he was in prison and the name he used to wrote poetry and other stuff to the outside world whilst there. I was fascinated by the human side of the troubles in Northern Ireland and he was a particularly interesting character who died for what he believed in.
++ You said that "Ghost Of A Young Man" is your favourite 'Minks song, and indeed, it's such a GREAT song. Can you tell me the story behind it?
Another Adam Sanderson lyric and what an amazing lyric it is too. I can only say I wrote the tune so it's difficult for me assess the words. But they are wonderful nevertheless and tell the story of growing up and coming to terms with changes in life. I often sing this song and did so at a gig last year 25 years after it was written and it still affects me. This song was recorded for a demo for London Records and they had a wonderful organ with a leslie cabinet in the studio there at Denmark Street in London'd West End. McGee famously stole the tape and put it out on Creation, hee hee hee!
++ What about gigs? Did you play outside of the UK? Which were your favourite gigs you played? why?
Jasmine Minks played in Germany, France, Holland, Switzerland and Belgium. We'd have loved to have played the USA too – maybe one day we will! Gigs often were a different experience for the audience as they were for the group. I remember getting an amazing reaction in Greenock at Subterraneans but not really feeling we played any different than normal. Sometimes we did go a bit crazy and make up long jams for an encore but it depended on how we felt. I remember playing at Woods in Plymouth and getting in a few skirmishes with the audience, including me punching a member of the audience and Chris, our roadie, casually returning glass bottles to skinheads at the back of the room. The club owner thought we were great and expected us to be the next Jam!
++ How was your relationship with fanzines back then? What are your take on them? Were the 'Minks showcased a lot on them? And do you believe blogs can capture the magic of the printed fanzine?
I read quite a few fanzines, both musical and political ones, and enjoyed people's individual approaches to writing them. Some fanzines mixed writing on music with an almost philosophical approach. Just like blogs nowadays. They were way ahead of their time!
++ This year you released a new EP on your own label, right? The "Poppy White EP", with songs recorded in 1992. Why did it take 18 years for them to get released? And can you tell me a bit about the songs included?
Creation knocked us back on the songs. I think Dick Green such said it wasn't what he was looking for.(I think he went off us after Scratch The Surface album.) We paid for the recordings ourselves at a studio in West Ham in London. The songs were written around 91/92 and we had many more ready to go if we had the go-ahead for an album. It was very different for me as I had only written one of the four songs, having been used to writing all of the songs for years so I took on more of a production role working on arrangements and sounds much more than I had done for years. Tom and Foosky (a replacement for Tom on one tour when he he broke his leg and, eventually guitarist and singer) wrote three of the songs. They have strong melodies and some nice individual lyrics. But more than anything they remind me of Foosky and Mark (roadie for years) who both passed on recently. It is a good tribute to both of them. They both played big parts in the group!
++ Bob Stanley wrote once "Like far-left factions, groups that had much in common built up petty rivalries. The June Brides and the Jasmine Minks were the biggest names at Alan McGee's Living Room club and couldn't stand the sight of each other." How much of this is true Jim? Were there any other rivalries going on?
I was definitely not interested in many of the bands around at the time. I really liked The Television Personalities and Primal Scream both bands with strong melodies. I had gone off the post-punk scratchy guitar sound heading more towards a rock/pop sound. I had nothing against any of the other guys personally. I had my own agenda and they did not figure in it. There were a few bands that I really did not like around the scene but The June Brides were okay in my books and I particularly liked Phil Wilson's songs when he signed to Creation.
++ What happened after Soul Station? Why didn't you continue releasing music during the nineties?
If we had the audience we would have I'm sure. No one was really interested as far as we could see and the rave scene was not the kind of thing that we could tap into. I did get into a lot of different kinds of music as a result of not being on the indie scene any more so it did open up my eyes to dance/ electronic music and classical music too. I carried on writing and playing occasionally and we never really recorded properly as The Jasmine Minks until 1999 when we did 3 tracks which eventually came out as a CD single called I Heard I Wish It Would Rain for Bus Stop Records in the USA.
++ What do you think of the new Creation movie?
I haven't seen it. I did support the majority of what McGee did with Creation and it was a huge force in the 90's so they deserve a movie! I wonder if there will be any Jasmine Minks mentions on it?
++ If the 'Minks had started this decade, how do you think you would have sounded like?
I think we would have been an alt-folk group just like the one my niece, Hannah, is in (Withered Hand.) I love the mix of folk and pop and it allows for decent lyrics and a few sing-along tunes too. I would sign my own youthful group up to my new label Oatcake Records of Scotland  www.oatcakerecords.co.uk I'm sure!
++ There are reissues of some of the singles on Vollwert, and then the "best of" compilation on Cherry Red, but are there any plans to reissue the albums one day?
Werner in Berlin and Cherry Red have been brilliant at keeping some Jasmine Minks records available. I may release more myself if there is any demand for them. Some of the albums are better as complete albums and could do with being heard that way (1234567 All Good Preachers Go To Heaven, Another Age, Scratch The Surface, Pop Art Glory) even though I think less people actually listen to albums, preferring playlists a bit like the old cassette mixes we used to do – hee hee.
++ What is left to come from the 'Minks? Any plans for the future?
I have hoped for a get-together with Adam as he and I had the best songs together and I don't think either of us wrote as well separately – that would be interesting! We will play again in some form very soon I'm sure – there are a few things coming up which mean that, sooner or later, we will make an appearance or two. I'd like to release a new Jasmine Minks single on vinyl on Oatcake Records. I have loads and loads of songs and a few sound to me like the Minks could do them justice!
++ One last question, what makes an Aberdonian  different to the rest of the Scots? 😉
We can be a forthright bunch with little grace and a very down to earth attitude, maybe that sums up The Jasmine Minks! I have been working with a few Aberdonians, apb, on a new single for Oatcake called Jaguar and that will be out soon and there is a classic rock/pop single called The Fire all ready to go on Oatcake too, a song written by me and the Beat Hotel so there is a lot happening and, for me, these are very exciting times!
++ Thanks Jim! Anything else you'd like to add?
I would like to add to all your readers that I welcome anyone who wants to to get in touch with me if they want any more information about Jasmine Minks news or Oatcake Records of Scotland at info@oatcakerecords.co.uk
::::::::::::::::::::::::::::::::::::::::::::::::::::::::::::::::::::::::::::::::::::::::::::::