30
Mar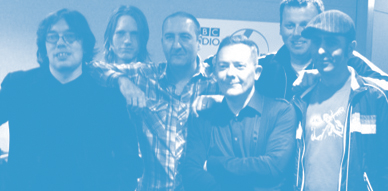 Thanks so much to Phil Wilson for the interview! If you have been living under a rock you must know that Phil made a comeback in 2008 with a couple of releases. Then, the ex leader of the mighty June Brides, surprised us all late last year with one of the best indiepop albums in a while, one that is bound to be a classic "God Bless Jim Kennedy". So I trust you that if you have not bought it yet, head to Slumberland if in America or YesBoyIcecream in Europe to get it. It's great!! And after that, come back, and enjoy the interview.
++ Hello Phil! How are you doing? I hear you live in Buckfastleigh? To be honest, never heard of that place. How do you like it there?
Hey, Roque! All is good, thanks – especially living down here in lovely Buckfastleigh.It's a little, old town on the edge of the Dartmoor National Park in Devon. One of the most beautiful places in the UK. We live in what is officially the new end of town- a much later addition. So our house is quite new, only having been built in 1792 😉 I moved down here from London in 2007 – I couldn't stand the big City life any longer. Best thing I ever did.
The town is mainly famous for producing "Buckfast" tonic wine. It's the preferred tipple of violent drunks in the Glasgow area – just ask any Scottish band about it!
++ I'm going to stick to your new stuff, but we'll have to do a June Brides interview later! I still remember 2002 or so, when I was downloading from you on soulseek all your June Brides videos, before Youtube times! But let's leave it that for later. Now let's focus on this great  album you've released. It's just fantastic and the press reviews say so too. How proud and accomplished you feel with it?
I am terrifically proud and pleased with it! I wasn't even sure I could write any new songs, so coming up with a whole album of pretty decent tunes was just great for me. I'm not sure how many people have actually bought it, but the reviews were fantastic. I was very worried about the possibility of being mocked for trying to come back, so it was a real relief to have the album be so well received.
++ Do you feel any differences between this solo period compared to the one in the late 80s after the Junies split?
Yes! There's no pressure now at all – as nobody really expects anything from me. At the time of the solo stuff on Creation, it felt that I had to compete with the success of the June Brides to prove something. But that feeling has completely gone.
++ "God Bless Jim Kennedy" was released by both Slumberland and YesBoyIcecream. Is there any difference between releases? Why did it happen in two labels?
It was mainly a financial decision! Who knew if the album would sell at all? So it made sense to spread the cost and risk between two labels. The only difference between the releases is that in Europe/The UK, the album is only available on vinyl. But you can get a CD in the US.
++ Tell me about the title of the album…
Jim Kennedy is/was my maternal grandfather. But he died of leukemia at the age of 17 before he and my grandmother had a chance to marry. Disastrous for him, his family, my grandmother and my mother. Everybody's life was somewhat ruined. But me and my family all come from that terrible time. So the title is somehow ironic and truthful at the time – God (if he/she exists) didn't bless Jim much when he was alive, but we all come from him…
++ You recorded the album at Off the Rails Studio, which Andy Fonda, your drummer, runs. Must be very convenient and helpful! I wonder what advantages this gives you? The album sounds so much fun, that I guess recording it must have been a bliss?
It was great to record it in a comfortable place. Cheap, too! It gave us the opportunity to develop the songs slowly, and to amend and re-record when new ideas arose. A far better way to record than to have to rush it all in a swanky studio! And Andy did a fantastic job recording it so well on fairly basic equipment.
++ So yeah, tell me how did the band came together? I know you knew Frank and John since the Junies, but the rest?
Arash Torabi, the bassist, found me on Myspace! He was desperately trying to find anyone within a 50 mile radius who might have heard of the TVPs, and he got me…And Arash then found Andy, too – so I had a little band together without really trying at all.
++ What about the video for "I Own It"? It's so nice! Did you come with the idea? Where did all these Swedish kids come from?!
I wish I could take some credit for it, but it had nothing to do with me! The director, Bo Mikael Hall, had done a video for Suburban Kids With Biblical Names, who have also released stuff on the Yesboyicecream label. Emmet, who runs Yesboy, simply asked him if he'd like to earn very little money by doing one for me!
++ Going back t the album, which is your favourite song on it? And what does the number 32 mean on the song Pop Song #32?
I think "Small Town" is probably my favourite. It's the only old song on there, and was originally due to have been a June Brides single after "This Town". And it's quite a personal song, about my violent stepfather and my wonderful Mum. So it's very personal, indeed…
There's no particular meaning to the number 32! the title is just a slightly ironic dig at myself for writing yet another little pop song that won't set the world on fire. Not that I don't think it's a great song!
++ You've been playing a lot of gigs since you came back in 2008! Some even abroad! Which gigs have been your favourite, and why? Any backstage anecdotes you can share?
Playing abroad is always best! I've really enjoyed the concerts in the US, Germany and Spain. Concerts abroad are always MUCH better than in the UK. The UK is desperately fashion lead when it comes to music. This can, of course, be great and probably has meant the UK gets more than its fair share of important acts. But It also makes it damned hard for an old bugger like me to persuade UK folk to come to the concerts! I seem to get much more respect when out of this country. And there are no mad backstage anecdotes to report – I'm far too sensible these days 🙂
++ By the way, did you get to do any touristy stuff while abroad?
Always, always!! I'm not very happy about just going to a place and doing concerts – I really want some time to appreciate the place I'm in. For that reason, I always try to have days off between concerts to explore…
++ You are playing the next San Francisco Popfest too! What expectations do you have?
I really don't know, to be honest! For the band, I'm just hoping for a decent crowd and that we don't embarrass ourselves too much 😉 But I'm really looking forward to seeing some of the other acts.
++ How do like the indiepop scene these days? Is it by any means more cohesive than during what we consider they heyday of indiepop back in the 80s? Are there any big differences?
I enjoy an awful lot of what I hear, and I love the fact that we are all so connected via the web these days: it makes everything a lot easier, and helps make you feel part of a wider community. What's not to like about that?! The things I'm less keen on are things that have always grated with me – anything over-twee or too precious is always going to stick in my throat. Call me an old rockist if you like 🙂 And I do believe that the interconnectedness can't help but make things a little more homogenized – we all hear what everyone else is doing, so the weird stuff is less likely to be developing in isolation – and I like the weird stuff!
++ Speaking of which, I know you are quite up to date with indiepop bands and releases! What are your latest discoveries? Any recommendations?
Well, I do love a great pop song, so I'm always keen to hear the new bands. I'm sure I won't be surprising anyone here by mentioning Summer Cats, the Tartans, Lets Wrestle, Sexy Kids, Standard Fare, Honeyheads, Tap Tap, Just Joans, Lininanas,Internet Forever and The Starlets. But I think the last year or two has also been a great time for resurgent older guys! Great stuff from Vic Godard, The Sexual Objects, Edwyn Collins, Television Personalities, Sarandon, Factory Star (new album coming very soon) and The Wild Swans (While I'm here, can I also please mention the other band I play in?! The Granite Shore are worthy of a listen if you like pop music big, bold and epic- think Scott Walker and you won't be too far wide of the mark).
++ Back in the 80s the June Brides appeared on hundreds of fanzines. These days fanzines are almost extinct. Do you think the internet and it's blogs can replace fanzines?
I'm not sure how they compare. I think the sheer effort of writing, printing and selling a fanzine meant that relatively few people did it – so those that did were pretty damned dedicated. But it doesn't take anywhere near as much effort to create a blog. How that affects the quality of what's written is probably a topic for an interesting debate! What is undoubtedly true is that few people will be re-reading a music blog in 25 years time, whereas my fanzine collection remains a thing I treasure.
++ I have a question from my friend Jennifer, she thinks you are a snappy dresser! She asks: "What are your fave shops, places, web sites for men's clothing (new or used) in the UK?"
Your friend Jennifer is clearly a person of taste 😉 I really do love good quality clothes. I think a psychiatrist would probably put it down to growing up dirt poor and yearning for the finer things of life! TK Maxx (or TJ Maxx as it's called in the States, I believe!) is brilliant for good clothes. Ignore the well known Designer labels and shop with your hands would be my advice! Just feel for the quality – and only buy design classics. TK Maxx sells a lot of boutique stuff from small European designers – which nobody buys in the UK because the labels aren't famous enough! So you can get classic stuff in high quality materials at a fraction of the normal cost. Free advert over 😉
++ So yeah, why did you leave London? And why so many people think you are Scottish?
I was sick of my job, which had actually made me quite ill with stress. I was sick of commuting. I was sick of the dirt and the noise. And I didn't like having to go through highly armed policemen on my way to work at the Treasury every day! So we got out. Exciting cities like London are, I believe, fantastic places to be young in. But you yearn for something a bit more beautiful and peaceful as you age a bit.
As for being occasionally described as Scottish, I guess that mistake happens because sonically we were often compared with the Postcard bands – until it got to the point where some people believed we must actually be Scottish to sound like that!
++ What is coming next for Phil Wilson? Have you written more songs recently? Is it true that you are planning a country album? :p
I'm not sure where we go next, to be honest. I've never been that great at planning! I tend to write songs when they are needed – so haven't currently got any on the boil. If I decide to do another album, I'll have to get writing again soon!
I am actually planning to do some recording with my dad in a country style! He's a great singer and needs to be properly recorded before it's too late. So I have about 10 backing tracks recorded, including a country style version of "Velocity Girl", ready for when he next comes down to visit me. I'm not sure what will happen to the recordings once they are done…
++ Aside from playing music, what other hobbies do you have?
You know, mainly just the usual…books, walking, nature. The only outlandish thing I do is try (and often fail!) to repair old mechanical watches. I love the beauty and workmanship they involve and the patience they impose on you…
++ I see these photos of Dartmoor, lots of cows, sheep and horses, and I wonder, are you an animal lover? Do you have any pets perhaps?
I think you've probably got an important part of your soul missing if you don't get immense joy from nature – I'm definitely an animal lover! We don't have animals of our own, as our house is small and old and has no garden, but we do spend a lot of time looking after ducks in our local park (here is where I begin to sound like a real weirdo!). We feed them and rescue them and the chicks when the river floods. My wife and I are also part of a rota of people who spend a lot of time trying to keep the local foxes from eating them! I go out every night between 11 and midnight to our park to discourage the foxes. Told you I'd sound weird 😉
++ And what about Phil as a cook? What is that dish you make that everyone has to lick their fingers after tasting it?!
I'm a pretty rubbish cook! But I do make a mean soup – Moroccan style squash and carrot, or curried vegetable being my best…
++ Thanks again Phil! One last question, if you were to give some advice to this indiepop community better, what will it be?
Other than to buy my album?! OK…I wouldn't presume I knew how to make anything better. But I'd just encourage everyone to be mutually supportive – we do need each other. And I'd encourage everyone to have the courage to express themselves – we all have something interesting to give if we put our hearts into it.
::::::::::::::::::::::::::::::::::::::::::::::::::::::::::::::::::::::::::::::::::::::::::::::
Listen
Phil Wilson – I Own It