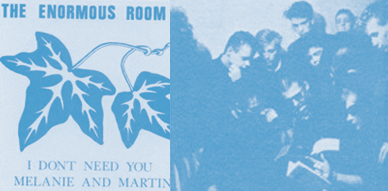 When this post is up it will have already happened. I talk about this LA Indiepop Party I was invited on Facebook. It is happening on January 7th at the Grand Star Jazz Club. But, the good thing about it is that there are two bands playing that I wasn't familiar with, so I checked them out!
Suzie True: there's only one song on their Bandcamp but it is quite a winner! The song is called "Rat Kid" and one kind of melts with the sweet vocals of Lexi, who also plays bass. The band is just not her of course, there is Dustyn Hiett on guitar and Sarah on drums. There is not much more information about the band, just that they are a self proclaimed sad girl 3 piece pop band from Los Angeles.
Fragile Gang: they took their band name from a Pastels song. That says a lot right? The Los Angeles band is formed by Matt Schmitz on drums, Clint Newsom on bass, Arlo Klahr on guitar and vocals and Aisling Cormack on guitar and vocals as well. They have a 9 song album, which is quite varied, you get from introspective melancholic songs to upbeat more punky ones, and is  available on Bandcamp. It is titled "For Esme" and was released back in 2014. A long time ago indeed! What have they been doing since? Would be interesting to know if they have any new songs or releases.
But that is not all, I could find some more discoveries (I'm trying to keep it at 5 per post).
Lilac: I heard from the Stockholm band just before Christmas, but as I was going away I couldn't check out their new EP. Well, time to make amends and have a listen. I loved their previous effort and recommended it, but now there are 4 new shoegazy/dreampop songs available and well, I let myself enjoy them. "Carbines", "Pale", "Fever" and "Slow Shapes" make the new "Slow Shapes EP" that is available at the moment only digitally. My favourite song I think is the opening track, "Carbines", with chiming guitars and an upbeat and catchy melody. Good stuff! Hope to see them release a proper record sometime soon!
The Raft: I've recommended two previous EPs by the Neston, UK, band on the blog. Today I have the chance to recommend the third one that is available on Bandcamp. Titled "Orion EP" and it may as well be my favourite so far. The EP opens with the wonderful "Blue and Blue" which sounds timeless and classic, a brilliant indiepop song. The other three songs are great too, there is "Orion", "Into You" and "My Elusive Friend". Looking forward to the next release by Phil Wilson, the man behind this one man band.
The Still: another fine Tokyo band in the horizon. The Still have a 4 song EP titled "Evergreen" that does sound great. It opens with "Evergreen" and then we get to enjoy "Film", "Slumber" and "(We Used to Spend Time Together at the) Beach". Not much info on the Bandcamp, so can't say much about them aside that their jangly guitars are up my street.
————————————————————-
Time for classic C86, jangly pop, from England. Time for The Enormous Room.
I have to say I don't know much about them, aside that they released a 12″ and a flexi back in the mid 80s. So why don't you come along and join me through my "research" about this obscure band.
I suppose they took their name after The Enormous Room (The Green-Eyed Stores), a 1922 autobiographical novel by the poet and novelist E. E. Cummings about his temporary imprisonment in France during World War I. Cummings served as an ambulance driver during the war. In late August 1917 his friend and colleague, William Slater Brown (known in the book only as B.), was arrested by French authorities as a result of anti-war sentiments B. had expressed in some letters. When questioned, Cummings stood by his friend and was also arrested. While Cummings was in captivity at La Ferté-Macé, his father received an erroneous letter to the effect that his son had been lost at sea. The cable was later rescinded, but the subsequent lack of information on his son's whereabouts left the elder Cummings distraught. Meanwhile, Cummings and B. had the bad luck to be transported to La Ferté only five days after the local commissioners in charge of reviewing cases for trial and pardon had left – and the commissioners were not expected back until November. When they finally did arrive, they agreed to allow Cummings, as an official "suspect", a supervised release in the remote commune of Oloron-Sainte-Marie. B. was ordered to be transferred to a prison in Précigné. Before Cummings was to depart, he was unconditionally released from La Ferté due to U.S. diplomatic intervention. He arrived in New York City on January 1, 1918. Cummings thus spent over four months in the prison. He met a number of interesting characters and had many picaresque adventures, which he compiled into The Enormous Room. The book is written as a mix between Cummings' well-known unconventional grammar and diction and the witty voice of a young Harvard-educated intellectual in an absurd situation. The title of the book refers to the large room where Cummings slept beside thirty or so other prisoners. However, it also serves as an allegory for Cummings' mind and his memories of the prison – such that when he describes the many residents of his shared cell, they still live in the "enormous room" of his mind.
That would make sense, right? What else do we know straight off the bat? We know they released two records, both in 1986. At the moment I don't own any sadly, but I'll try to make sure to get them sometime soon. I'm not sure which one came out first. So let's start with the "100 Different Words" 12″ released by Sharp Records (CAL 5). This label based in Peterborough and the story says that it was owned by Peter Sharp who also ran a supermarket in the 80s. Aside from The Enormous Room, the label also released the brilliant The Passmore Sisters.
The 12″ by The Enormous Room had four songs, two on each side. The A side had the wonderful "100 Different Words" and "Sylvia's Children". While the B side had "Melanie and Martin" and "You Wrote a Book". The record was recorded in London and engineered by Chris Mansbridge. Mansbridge had experience in production working with bands like The Blow Monkeys, The Lurkers, Family Fodder and even the aforementioned The Passmore Sisters.
The cover of the record has a green and black photo of the band. The back cover has the band lineup as well as a few credits. The lineup for this record was Jay Derbyshire on bass guitar, Robbie McCarthy on drums, Duncan Paterson on guitars and Christopher Darke on vocals and rhythm guitar. Dave Annal is credited for playing organ and clavichord. The sleeve was designed by Peter. Yes, just Peter, no last name. Songs are credited t Darke, Paterson, Derbyshire and McCarthy.
The same band lineup recorded their other release, which happened to be a flexi with two songs "I Don't Need You" and "Melanie And Martin". I'm not sure if the second song was a different version of the one that appeared on the 12″ or not. This record also happened to be the first ever release on the Medium Cool label. From the back of the record we learn something very important, the band hailed from Watford, home of the Hornets. Also it is important to notice that Watford is quite close to London, only 24 km away from central London. That must have been convenient for the band to play gigs and possibly to sign for Medium Cool who were based in Brockley, in London. On the back sleeve there are also thanks to Dave Annal again for playing clavichord and to Graham and Chris at Elephant Studios. I suppose that is where the songs were recorded.
Discogs lists two compilation appearances. The first one dates from 1987, a LP compilation released by Food Records (Bite 5) titled "Imminent 5". This was actually the 5th and last compilation of a series that started in 1985 and that were compiled by someone called Andy Hurt. At first I thought he ran the label too but according to Discogs it was David Balfe who ran Food who would later become pretty big releasing Blur. Anyhow, The Enormous Room appeared on this record with a song that wasn't available on any of their releases, "Here Today". That means we know at least of 6 original songs of the band were out there. On this record a bunch of other classic bands appear like The Jack Rubies, Yeah Jazz, The Primitives, the BMX Bandits and more.
Their second compilation appearance is more of a footnote. The song "I Don't Need You" appears last, on the 3rd CD, of the expanded C86 boxset that was released by Cherry Red in 2014. Of course there is no information whatsoever about the band on the booklet and they were probably included on the record because Cherry Red owns all Medium Cool recordings. This is quite a shame for fans like me because that means a retrospective by this band will probably never happen as Cherry Red won't release it as it is not a big band and Cherry Red won't let other labels do it unless they pay unreasonable amounts of money. On top of that, the label sold the rights of the songs without bands knowing so. At least the band's I've talked to in the past told me so.
There's nothing else on Discogs about them, but I can definitely Google and try to find any other details about the band. First thing I find is a mention of them on Krister's old blog "Heaven is Above Your Head". Here I learn that my good friend Mark Freeth from The Mayfields actually failed an audition for The Enormous Room before he joined The Mayfields!
What else? On the Vinyl Destination blog I see a comment mentioning a 1986 gig in Oxford at a venue called Freuds where The Bodines, Miaow and The Enormous Room played. But not much else.
I will try then to look for the band members, maybe they continued playing music? I couldn't find them. Maybe only Dave Annal on Facebook who seems to be a fan of Everton, but then he wasn't part of the band, only credited to clavichord and organ. So yeah, no luck.
What happened to them then? Why only 2 records and both in 1986? What did they do after? Did they make more music? Are there any more recordings by the band? What I've heard I really like. I hope one day there is a proper retrospective album by them. Do you remember them? Did you ever see them play live? Would love to know their story!
::::::::::::::::::::::::::::::::::::::::::::::::::::::::::::::::::::::::::::::::::::::::::::::