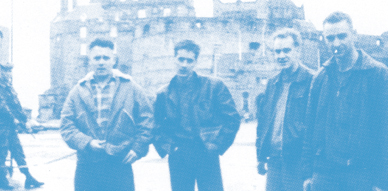 Thanks to Mark 'Sparky' Marrable for the interview!
++ The last gig in London. What do you remember from that day? Why did you take the decision to break up?
The last gig was in London at the now defunct "Powerhouse" in Islington.It was an odd day as we had taken the decision to split about 2 months earlier, so to us it didn't seem so fretful as it was for friends and fans. Grant La-Di-Da's Mum Terri (who was our manager) and his then girlfriend were in tears in the dressing room while we joked around about never having to see each other again. The gig itself was a good one. The only thing I really recall about the actual show is Bob giving a little speech about the crap way we had been treated by the promotor! Never was one to bite his tongue was Bob. After the gig I remember feeling relieved it was over and we'd put on a good show. Other than that nothing really.
++ You had a triumphant tour in Japan just before breaking up. How did you end up playing there? Which cities do you played? What was the best of that trip? Any new food that you tried?

I was sitting at home one evening when Terri rung and said she'd got us 3 gigs but we wouldn't be getting paid. I was pretty annoyed until she said they were going to be in Japan! Apparently a group of rich kids had a thing were they put some money in the kitty each week and once a year they wqould invite their favourite band over to play..and that year it was us. It all happened just as we had taken the decision to split but the chance to go was to great to pass up. We played one gig in Tokyo and two in one day in Osaka. We were told we pulled more people in Tokyo than Primal Scream had a month earlier. The promotors were just brilliant. We didn't have to do a thing for ourselves and anything we wanted they made sure we got it. They used to take us site seeing, which without them would have been almost impossible, imagine being in Oxford Street or Times Square and not being able to read and you'll get the gist. However at night after we'd been dropped at our hotel we would sneak out and wonder round back street bars on our own. We were taken to Kyoto on a day off which was special, very old and traditional. The things that amused us most were the beer vending machines in the street (there was even one in the bank!), ashtrays at pedestrian crossings in Tokyo and the site of a Southampton Corperation bus in Osaka. That was really weird as Bill the drummer is from Southampton and theis bus used to run on the route passed his house! In the 8 days we were there we ate nothing but Japanese food, lots of sushi and saki. I can't remember what it was but at the farewell meal Bob ate something that turned out to be part of the table display and no one told him until he swallowed it.
++ How different are popkids in Japan to the ones in UK?
Japanese pop kids were very western looking. Very c-86ish with a touch of fifties clothing. We were warned that they don't clap after every song but go mad at the end of the gig. This we found to be untrue. They aren't to self consious to dance (unlike the ultra cool crowds we were used to in Brighton in particular). They were really appreciative of us being there and mixing with them and asking them questions about Japan. Thats advice I would give anyone,in a band or not, is show interest and they can't do enough for you!
++ Going back in time, 1986, how did the band start? Did the C86 of that year was a huge influence on you?
The band really has its origins in London and Ipswich. Bob and I used to play as a duo dubiously called "I Don't Go With Girls" in London playing music that sounded like a cross between kids tunes and lift muzak. I moved to Ipswich and formed a band with old school friends, Simon Spittle and Adam Harvey, taught myself to play guitar in about 4 weeks and we were off! After not achieving anything in two years Adam left and Simon and I played a couple of gigs as a duet. At the last one Bob come and played with us, we did some of his new songs and he played on some of mine. It was here that the idea of putting a traditional 4 peice band first came up. But within two weeks Bob and I had decided to move to Brighton and Simon,because of his career decided to stay put. When we first got to Brighton we were living in a tent and supporting ourselves by busking outside a cafe in Brighton's famous Lanes area. It was here that we were befriended by two waitresses (Kate and Alison, yes THE Alison).Not long after I had gone back to Ipswich to collect some belongings one weekend and when I got back we'd got a drummer! The girls had introduced Bob to Bill who they were at University with and he joined straight away. Jon joined after we had done 3 gigs and again while I was away visiting family. C-86 didn't really have that big an influence on us apart from it creating a thriving music scene in Brighton for us to get gigs in. Bob's musical tastes were towards Dylan,Van Morrison and Robert Johnson while mine were taken from the postcard bands of 6 years earlier and poppier new wave bands such as the Buzzcocks.
++ Which bands were the ones you enjoyed to play the most during those three years? How was the scene of Brighton back then?
The bands I personally enjoyed playing with were The Wishing Stones and Colorblind James Experience. Both brilliant live. Its a shame The Wishing Stones split so soon, I think they were one of the best bands I've ever seen live. If you've a copy of "Dead mans Look" drink half a bottle of whisky and close your eyes and you'll get the idea. Lovely guys to boot.
++ Any memories of playing at Grant La Di Da's kitchen or garden?
Grant's kitchen! Ha! Yes we did that. Well the others did. I was so pissed off my face i couldn't remember any of the songs and at the last moment Jason Smart (also on La-Di-Da) took my place. He was pretty good considering. I sat in the hallway chatting with Suzanne before Grants dad hauled her off the toilet alledging she had graffittied the wall (wrongly as it turns out) So pretty messy and unprofessional night out really!
++ Everything you recorded was compiled on the hard to find One Last Look compilation but one song, right? How did this record end up being released in King Record in Japan? How is that that you never got a copy of this edition, only touched one?
I have no idea how the CD got released on King Records. Must have been a licensing thing. I touched one once in La-Di-Da's office but was told it was Terri's and they had only been sent one copy! Doesn't it have pink and blue all over it? Grant recently told me he has got me a copy so fingers crossed.
++ Have you tought about having a Myspace for the band? There's so many bands from that time that have jumped to the Myspace bandwagon
Yeah have thought about about Myspace. But until recently neither Bob or I realised there was still an interest!
++ What was your favourite HMBM5 song?
Favourite song? Bloody hell! Its changes. But it would be one of the following..Simon, Sweet Torture, I could well believe that, Courting Disaster or The Incredible Percy Mayfield. The Brighton fans particularly liked Blue in the Face and Courting Disaster. I once saw The Popguns do a brilliant cover of The latter.
++ Most (or all?) the songs were penned between you and Bob Lucas. What was the creative process of the band?
Bob and I wrote all the songs. We only wrote two together, Lets get this thing finished and Simon. The former named because we weren't going to the pub until we had finished it! and it fitted with the subject matter. Bob wrote very slowly whilst I wrote incredibly quickly. For every song we actually played there's probably a dozen that I/we rejected. When I had written something I would play it to Bob and then we'd take it to rehearsals for the others to help arrange.Because Bob had so many bits of lyric that had no song he would often add some lyrics to my songs. Sometimes I didn't even notice this until we recorded them!
++ Just out of curiosity, who are Simon, Suzanne and Alison? I guess Percy Mayfield is the American musician right?
Simon was the singer that got away! Bob and I had known him since we were 9 years old (Bob and I have been friends since we were 3) Simon sadly died of Sudden Adult Death Syndrome 12 years ago.Alison was the waitress from a previous answer who I had a turbulant relationship with. Suzanne was a girl who I shared a flat with. I can't remember exactly what she'd done to piss me off but we're still friends. She was the drummer in Liquid Faeries. Which brings me to your last question.
++ Bob, Bill and Jon left to America after the band split. You stayed in the UK playing in another La Di Da band, the Liquid Faeries. I have the 12″, it's quite different from HMBM5! Tell me a bit more about that band?
Liquid Faeries originally started as a four piece all girl band. They then got a boy bass player and guitarist. I was asked to join as a stop gap originally, playing just the one gig where they supported the Beans. Kate the singer then asked me to join full-time to add,as she put it "a commercial element to the song writing". As it came at a time when HMBM5 were thinking of splitting ,and I lived with the other guitarist I said yes. The Milkstar E.P. isn't anywhere near our best stuff..the demo's done after that were great. The band split when Ann (Suzanne) left and we replaced her with a over trained jazz drummer who couldn't get the hang of it and the two couples in the band also split! Very messy.
++ Do you still make music today?
Do I still play? For my own and my girlfriends amusement yes. I write occasionally because its a good way of venting things. When I play any Beans stuff its normally Bob's songs,which I am still trying to work out (to much use of E flat!
::::::::::::::::::::::::::::::::::::::::::::::::::::::::::::::::::::::::::::::::::::::::::::::