27
Apr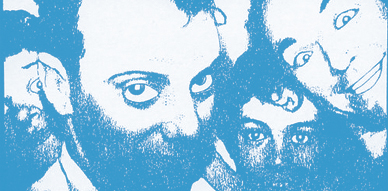 Well vacations are over. Back to the drill. To the routine of work, Netflix, indiepop, subway rides and take-out dinners. On the bright side around the corner there's NYC Popfest and we all know how brilliant it is. And now it's even more exciting as the The Hidden Cameras have been replaced by one of the best bands from the C86 period, The Popguns. At least for me, this is a step up for the festival! But then of course this makes my trip to Indietracks not as worthy as The Popguns were the main draw for me at the Derbyshire festival. It's almost the same lineup! Don't know exactly WHY this has happened, but it has. Usually some bands were repeated in both festivals but not in the same quantity as this year.
Sure of course some bitter people have commented before that they can't afford going to both festivals and so it's great for them to see the bands. And that's totally fair. But really it isn't fantastic news for me! I want to spend my vacations at Indietracks, a festival I love, and I will do so this year. But if the trend continues perhaps I should skip next year. The whole beauty for me, aside from seeing friends and the warm beer (not), was to get to see bands that I wouldn't have a chance to see her in the US. Like when I saw The Brilliant Corners, or Helen Love. Those were fabulous treats! I feel at least this year this is really not the case. BUT of course I can keep positive as there are 20 or so more announcements to be made by team Indietracks and hopefully a handful of proper electric guitar indiepop bands will be booked! Enough of the hippie folky stuff! Come on, it's an indiepop festival!
Also upon my return I was attacked on some comments by an English person calling me racist and prejudiced. Sometimes I don't understand people and their ignorance. Just because I don't agree with them, or because they have some sort of guilt trip, they assume I'm the same as them. I'm not a saint but thinking and believing hip hop is a culture that doesn't add anything to our civilization doesn't make me racist. That's damn stupid. I believe surfer culture doesn't add anything either, or what about the candy kids culture. What makes me then if I don't like these things? A monster? Come on. That's just plain stupidity, to insult me just because I have a strong personal view about these things. But forgiveness and turning the page, right?
So yeah, I'm in a good mood. Just received the new The Haywains 7″ sleeves. Now just waiting for the vinyl records that should be arriving next week. Then cutting the inserts, putting them in the sleeves and then the sleeves in the polybags. Right when all of this is done all pre-orders will be mailed. So luckily you'll have your Haywains 7″ just before the official release date by the end of the month when the play NYC Popfest.
On more Cloudberry news the fanzine is shaping nicely. Crossing fingers that it will be ready by Indietracks time.
Also the My Favorite reissue for Love at Absolute Zero should be ready by NYC Popfest time. So keep your eyes peeled for that one.
So that's what NYC had awaiting for me. Also of course a bit colder here than Spain, Norway or Sweden. I know I promised the post about the Salon article about the Twee book. I'll get on that next week. I will also like to go through about my vacation, but in due honesty there was very little indiepop so it might not be of much interest. I only got to catch one gig, and it was a very small one. It was free and at a bookshop in Seville. The band that was playing was The Royal Landscaping Society, a fantastic and jangly new band formed by Cristóbal (Shizuka, La Chufa Lisérgica, Sundae), Fran (Papel Pintado), David (Los Catarros) and Maria (Wasabi Monster) joins them too, though she didnt at the gig at the bookshop. I think this was their second ever gig, and right now they should have already played Birmingham Popfest this weekend, making it their 3rd ever gig!
I would definitely like to seem them play at a bigger stage, the sound and the setting aside from being cozy, was not the best for them. But even like that they managed to sound really nice, with bright and luminous guitars, full of arpeggios, bringing to mind Harper Lee, Brighter, The Field Mice. That kind of very Sarah Records kind of sound. Just precious little songs. I really hope I get to see them grow more known and also to release their first proper record. I know right now they are selling their demo, and I wish I get my hands on it soon. So far they only had one song released on a compilation on Little Treasure Records. What about them being part of those 20 bands that still need to be announced at Indietracks? I think it would make sense. Just a tip if you haven't heard them!
————————————————————
And now let's move to some obscure indiepop from 1989, the Gordon Jackson Five.
Gordon Cameron Jackson, OBE (19 December 1923 – 15 January 1990) was a Scottish Emmy Award-winning actor best remembered for his roles as the butler Angus Hudson in Upstairs, Downstairs and as George Cowley, the head of CI5, in The Professionals.
So that might be the Gordon Jackson they named the band after. And of course I think we all know who the Jackson Five were, right?
Don't know how rare their one and only 7″ is. It seems if you look in the right places you might find it. I still don't have it though, and I'm kind of in saving mode now, trying not to spend too much money on records. But if you see it, buy it. Especially for the A side, the well-titled "Beers". The b side is alright too, and it's called "Look at Me!".
The record was released by Flatbat Yahoo, catalogue number FBY 1. Safe to think that this was a self-release.
Luckily for all of us, indiepop detectives and researches (ha!), there's a small bio on Last.fm. It reads:
Wood Green, London, United Kingdon (1987 – 1990)
The Gordon Jackson 5 was an alternative, indie pop four piece band that formed in Wood Green, London, United Kingdon in 1986 under the original name The Backwater Squares, but decided to changed it to The Gordon Jackson 5 in 1987. The band released their 7" single Beers in 1989, but split not long after, in late 1990.
Members were: Paul (George) on Guitar, vocals, songwriter; Mick (Baurice) on Bass and b. vocals; Beamish (Roy) on drums and b. vocals; and Chris Alletson (Ira) on keyboards and b. vocals.
From there I could find out that Chris Alletson has been involved with other bands as there is also a small bio about him:
Chris is a musician from Leicester, United Kingdom. A keyboard player, he has collaborated with various artists since the early '80's, (for example: The Attitude in 1981) until his move to London in 1985, where he took part in verious music projects, notably the Progressive Soul Program, The Gordon Jackson 5 and the Worry Dolls, which earned some 'John Peel' time. He relocated to West Yorkshire and was involved in an experimental/synth/drum and bass outfit called JumpCut.
He has performed with Kelvin Cartwright (Kelv), Dave Brown (Dan) of Likemind fame, whom Chris teamed up with to be keyboardist with The Attitude in 1981. Chris and Dan were part of a motown/Stax/70's/rock cover band Friday Street in and around the East Midlands until 2011.
Cool to see he had been part of the Worry Dolls, a band that I've mentioned in the blog before. Sadly though the link to the Soundcloud that also appears on the last.fm page of him doesn't seem to be working anymore. But you can listen to some of his own recordings here.
That's more or less all I could find about them or related to them. But maybe someone out there can help? I'm sure someone in London or Leicester has seen them play? Or what about more recordings? I mean, it can't be that they only left us with two songs, right?!  Use the comment box wisely 😉
::::::::::::::::::::::::::::::::::::::::::::::::::::::::::::::::::::::::::::::::::::::::::::::
Listen
Gordon Jackson Five – Beers