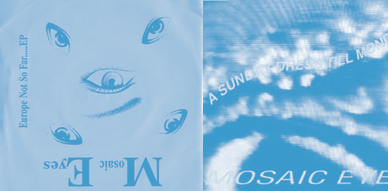 Moved. Settles. But not unpacked. Little by little I'll have to organize my record collection and the Cloudberry stock. But now things are a bit more organized and I can send to press the My Light Shines for You 7″ at last! Damn! It got delayed and delayed, but now finally, after I finish writing this post, I'll fill the paperwork for the pressing plant.
And then focus on the next Cloudberry releases of course. That is a good plan I think. But now it is time to review some new indiepop I've found on the web!
Definitely one of the most exciting discoveries as of late is Okama Flannel Boy from Mexico City. What a sound!! If you like Orange Juice you are going to cry of happiness, because this is very good. Fernando Torres is behind this one-man band who have two songs on their Bandcamp, the fantastic "Carolina St." and a cover of Biff Rose's "Fill Your Heart". Jangly, chiming, upbeat, catchy, what is not to like about these songs? Top stuff!!
We have already recommended Glass Arcades on the blog but it is no crime to do it again. The Cardiff band has three new songs available to stream on their Bandcamp, "Nothingism", "Lune" and "Second Violins" and they have the trademark sound of Anton Salmine who has been creating dreamy pop for some time now!
Our friends from Boring Productions, the fantastic Chinese indiepop label based in Shenzhen, have a new release out by Butterbeer. It is an album and it is coming in tape, CD and vinyl LP format! The album is available to order now and it is titled "Obliviate". It has 8 songs and I've seen already many friends on Facebook sharing the song "Listening to Another Sunny Day Makes Me Forget You". Butterbeer is an indiepop duo formed by Jovi (from Atta Girl) and Rye (from Chestnut Bakery) and this album was actually recorded two years ago and only now it is being released. Well, I need to get in touch with Jovi and see if I can get the new record!!
It came to my attention that one of my favourite bands to ever come from the US, I mean the band Holiday, has uploaded a gig to Matt Snow's SoundCloud account. This is an important gig, from when they played live at The Fez in New York City on January 17, 1997. This was Holiday's final show and it was part of the New York City Popfest, 1997 edition. I wish I had been there! Also if you check Calvin Chin's SoundCloud account there are live recordings from an unknown Chicago gig.
Another fantastic find is that of Jakarta's Secret Meadow. They have just uploaded a new song called "I Am You" and I'm liking it a lot. I don't think I was aware of this band prior though I notice they have a few more songs on their Bandcamp. See, it is not true as many of you say that I'm on top of things. That's impossible. Secreat Meadow formed in early 2016 and is formed by Ricardo Taufano on guitars, vocals and synth, Jaro Petang on guitar and synth, Arief Wijaya on bass and Mulyana Viqry on drums.
And my last recommendation for this week is not a new one, it dates from May 2016, but I discovered the band Sound and Fury from Chengdu, China, only this week. There is no Facebook or any link on their Bandcamp so I don't know much about their background but from the photo that is uploaded I assume it is a four-piece with a girl vocalist. There are 6 superb sweet dreampop/shoegaze sounding songs on their page and I'm really impressed by them! First time I hear and like a band from Chengdu!
———————————————–
Continuing with this revision of indiepop bands from the most prominent countries around the world it is time to feature a Belgian band. It is definitely it won't be the first time a band from Belgium will be showcased, I remember having at least written about Peter and the Lions before, but it is going to be interesting as I have to be honest, I couldn't remember Mosaic Eyes were Belgian. For some reason I always thought they hailed from the UK!
In genetics, a mosaic (or mosaicism) means the presence of two different genotypes in an individual which developed from a single fertilized egg. As a result, the individual has two or more genetically different cell lines derived from a single zygote. This is easiest to see with eye colours. When eye colours vary between the two eyes, or within one or both eyes, the condition is called heterochromia iridis (= 'different coloured iris'). It can have many different causes, both genetic and accidental. For example, David Bowie had the appearance of different eye colours due to an injury that caused one pupil to be permanently dilated.
I'm assuming then that their name comes from this sort of mosaic and not from the art/images creating by assembling small pieces of glass, stones or whatever. I do know I own one of their records, their 7″ that was released in 1992 on Sunday Records titled "Europe Not So Far… EP". But did they release anything else? I don't know. But it is time to do our investigation, find out any details about the band.
On Discogs I see 3 releases, including the 7″ I own. I do notice that the band hailed from Nivelles in Belgium.
Nivelles is a Walloon city and municipality located in the Belgian province of Walloon Brabant. The Nivelles municipality includes the old communes of Baulers, Bornival, Thines, and Monstreux. The Nivelles district includes all the municipalities in Walloon Brabant. The Collegiate Church of Saint Gertrude has been classified as a heritage site of Wallonia.
So I check out the "Europe Not So Far… EP". It was released in 1992 on the US label Sunday Records (catalog Sunday 019). A very fine label if you ask me. There were three songs in it, "There is No End To This" and "Vicious Games" on the A side and "Moody Morning" on the B side.
The other release listed dating from 1992 was a CD EP titled "A Sunday Dress Till Monday" that came out on the Distorsion label (catalog DISTO 001). Distorsion was a French label that I'm not familiar with, other bands they released were Prohibition and Colm. On the CD there were four songs, "Let's Party", "Moody Morning", "Mother" and "Sweet Cuddle". All songs were recorded at Flight Case Studio, which happened to be in Brussels. Here I find that the band was formed by Ener on vocals, David and Miguel on guitar, Laurant on bass and Valentine on drums. The design for the artwork is credited to Laurent, Sophie and Debil'mac.
The other release that is listed is a cassette. It has no date so I couldn't say when it was released. It is titled "There Is No End To This" and included six songs. On the A side there's "Mother", "Happy World" and "Vicious Games", while on the B side there's "There is No End to This", "Klaus' Eyes" and "Exctasy". Here we see that Ener is the vocalist, Valentine is drumming and David playing guitar. The bass though has a different name, Arthur. The art for the tape was created by someone named Véronique.
There are many compilation appearances too. In 1992 they were to appear on a label across the southern border. On the tape compilation "Garden Party" on the French label Aliénor Records they had the song "Klaus' Eyes". This seems to have been a very fine compilation with bands like The Bedflowers, Bulldozer Crash and The Spinning Wheels among others. This was the first release on the label, and has the catalog ALIEN α [Alpha].
In 1993 they had the song "Exactas" on the cassette compilation "Polythene Star" released by Flaming Katy (FK001). We've mentioned this label before in this indiepop tour when we featured the Welsh band Southville.
"Klaus' Eyes" was to appear on another compilation. This time it was on the "Try Another Flavour" CD released by the German label Heaven Sent Records (catalog HS004). This compilation also had a bunch of fantastic bands like The Suncharms, 14 Iced Bears and Jane Pow to name a few!
It seems 1993 was the band's year, they had "Vicious Games" on the CD compilation "The Noise and The Melodies – The Pearl Compilation" (PERLE 1) that came along the Pearl Fanzine. This was a Germany fanzine and the compilation had a bunch of classic bands like Acid House Kings, Eva Luna or Red Letter Day. The compilation included a booklet. Did it had any details about Mosaic Eyes?
The song "There is No End to This" was to appear in that same year, 1993, on the tape comp "Astral Plane" that was released by Glidge Records (Glidge 002). This was a UK label that released a couple of indiepop cassette compilations. On this, their second comp, there were bands from many countries. I could see La Sintesis from Spain, All About Chad from the US, The Cat's Miaow from Australia, clearly the compiler knew already in 1993 how international indiepop is!
The Belgian label Contrast was to include them on a compilation 7″ that included three bands in 1993 as well. It was part of their Split Single Club and this was their first release (CT 001). The other bands that shared the 7″ were Antiseptic Beauty and Les Autres. Mosaic Eyes contributed the song "Silver Flower"
In 1996 the band was to appear on the revisionist compilation that Sunday Records put out tracking their history as a label. The songs "Vicious Game" and "There's No End to This" appeared on the classic "Songs About Our Past (Part 1) 'The Other Side of Sunday'" (catalog SUNDAY 800).
There is another compilation appearance listed but has no date. The song "Klaus' Eyes" appeared on yet another Pearl fanzine compilation: "Nachtsonne – The Noise and the Melodies". A bunch of fantastic bands appear on this compilation too like The Cudgels, The Ammonites, The Waiting List and more.
Time to explore the seas of Google, see what there's to find about Mosaic Eyes. My first stop is a post from 2014 on the PyrolyseBred blog. Here he mentions the story about Nivelles that appears on the liner notes of the classic Sarah compilation"There and Back Again Lane". The story is about a poorly organized Heavenly gig in this town: "December 28th 1991. We're in Brussels, or what we were promised would be Brussels but is actually this nameless and drab little dormitory town a few miles outside the ring-road and of course no-one's done any publicity. We're given meals in the pizza restaurant a few doors down the road, Heavenly at one table, the TVPs  at the next… we eat, drink, play to an empty room and then spend the night on a cold hard floor fifteen miles south in Nivelles (…)"
I find on ISSUU the whole issue number 7 of the French fanzine Hyacinth. This fanzine was around from 1989 to 1994 and was based in Paris. I believe it might be scanned because there's an exclusive Nirvana interview. But there is a mention of Mosaic Eyes. There's a review of a gig they played alongside Purple Hands, Earwig, Sunflowers and Gallon Drunk at the V.K. in Brussells on September 20th, 1991. They are compared to Spacemen 3.
On a Geocities page I found that Mosaic Eyes supported My Bloody Valentine on April 30th, 1992, at the Ancienne Belgique in Brussels.
I could find that David, one of the guitarists, was involved in a band called The Album around 2008-2010. As far as I know there was an EP released. I could find an old Myspace with the songs, "Go Ahead Cry", "Vicious Eyes", "Surrender", "Wash My Hands" and "Never Felt So Good".
There's not much more on the web about them. Can't find if the band members were involved in any other bands and I still need to get their CD EP. I wonder what happened to them. Why didn't they get to release an album? If they left unreleased songs? Why did they split? What other gigs did they play and which other indiepop bands did they support? Many questions, little answers, but some very good songs they left behind.
::::::::::::::::::::::::::::::::::::::::::::::::::::::::::::::::::::::::::::::::::::::::::::::