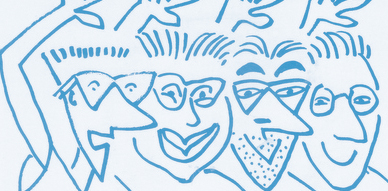 The Suncharms CDs arrived!! So exciting! The pressing plant delivered them before I expected. I assumed they were going to arrive by mid March, while I was away on vacations, but they arrived last Friday. So we've set an official release date for March 5th but all pre-orders will be shipped this week.
They will also be shipped to your favourite indiepop mailorders this week so if you prefer buying the CDs from them you can do so too, especially now that the postage prices have become even higher in the US.
There's even other great news today, Monday. The Mai 68s who released one 3″CD long time ago on the label, who we hoped to release a 7″ also just before they broke up are now putting out a compilation with all of their recordings. I think this is amazing news! They have posted this message on Facebook and I think you should all get it!
As many of you on here are probably aware myself, Jeremy Wiltshire, Katie April Perfect and Julie Fairgrieve used to be members of a band called the Mai 68s – Its been nigh on 5 years since we last played and 10 years since we started out on a road to indiepop hell. Now the long talked about comp is happening which will be on 180gm Vinyl with a booklet/fanzine and sleeve notes by none other than Roque Ruiz.
Pre-orders can be made here –
https://www.indiegogo.com/projects/the-mai-68s-compilation-album#/
and the record should be released within the next 3 months (things like RSD permitting).
There is also a slightly cheaper vinyl option which includes UK shipping (the biggest pain we have is the shipping costs) so message me if interested or if you want to pick up the record from me or Jeremy.
Even if you cant contribute then any help in sharing would be amazing
And yes, I did write the liner notes, but trust me, I'm not biased, their songs are amazing and they are one of the few bands I get very sad that I never saw live. (I cross my fingers that with this compilation, MAYBE, they do play some reunion shows to promote it here in the US!).
The last week I tried to catch up with some CDs as well, and have been enjoying these:
– Lothar – Montgolfier (Quince Records 2008)
– Postal Blue – Of Love & Other Affections (Jigsaw 2015)
– Able Tasmans – A Cuppa Tea and a Lie (Flying Nun 2015)
– Postiljonen – Skyer (Hybris 2013)
All very recommendable, so just putting them in your radar…
There's also a new video by one of my favourite bands, one I would love to have on Cloudberry one day. Major Leagues has just announced they will release a new EP and they are promoting it with the song Better Off which is a corker. Amazing really.
That's all I have this week about news. But I want to give you the heads up that I will be heading to France on March 15th. If you are in Paris, or somewhere in France, and want some records, let me know. I'm sure we could meet up or I could post you some records and save some postage. Ideally this idea could also work for any European countries too, but I need to see what are the postage costs of the French Postal Service before I offer anything! I'll let you know more about this next week, when I have a better idea, but I'm going to try to help as much as possible to get our releases to you!
And so let's move onto an obscure band!
———————————————-
Again digging and picking records from my own record collection. Many years ago, maybe 2008 or so I was obsessed with The Chefs. I even wanted to put out a compilation by them on the Plastilina label. Damaged Goods would eventually do that compilation right, but it's totally ok! Someone had to do it! In any case, I remember reading somewhere about Russell Greenwood, The Chefs drummer who sadly died on 25 June 1999, leaving the band to join The Popticians in 1982. I had never ever heard about this band back then, so I decided to explore, and would find that they released 2 records: a 7″ and a 12″. Both of them I happily own.
Their first release was in 1984 on the Off the Kerb Records label (catalog DAD1). This seems to have been the only release on this label. It was a 7″ and included two songs. On the A side the song was "Mobile Home" and on the B side we had "Spare Pear". The record was produced by Roger Pusey and the band thanks The John Peel Show on the sleeve. The vinyl was a Porky Prime Cut and the label has a London address.
On Discogs both of the records are tagged as Comedy. Yes they have their funny side. But I appreciate them too for the lyrics, for the catchyness, for it's true pop feeling. They are punk and a lot of fun.
Four years would pass for their next release, a 12″ titled "I Saw My Dinner on TV". Released on Glass Fish Records (OOZE 2 T) in 1988, it included 3 songs: "I Saw My Dinner on the TV", "Grandad's Glasses" and "Amoeba". This label had released so many records by Robyn Hitchcock, so it's no surprise that Robyn plays bass and piano on the record as well as producing! On the credits it's said that Robyn appears courtesy of A&M Records.
On this record the band is not The Popticians anymore but John Hegley and The Popticians. Russ Greenwood is no more in the band either. Now we have:
Morris Windsor on drums and percussion
John Hegley on guitar, mandolin and vocals
Sue Norton on flute, saxophone and vocals
Keith Moore on tuba and saxophone
The engineer was Jessica Corcoran and Pat Collier (a name I see quite a lot, he was once was part of The Vibrators too).
So who is John Hegley? I suppose he is much more known in the UK. He even has a Wikipedia page. We know he was born in London in 1953 and that he is a poet, comedian, musician and songwriter. Here on the Wikipedia page we learn he recorded two Peel Sessions with the Popticians, in 1983 and 1984.
Both Peel Sessions are availabel in Youtube. The 1983 includes the songs "Hello Everybody", "He's in Love With a Brown Paper Bag", "Song About Losing Your Glasses" and "Mobile Home". The lineup for this session was: John Hegley (guitar, vocals), Russell Greenwood (drums, vocals), Susan Norton (saxophone, vocals) and Keith Moore (clarinet, vocals).  You can listen to it here.
The second Peel Session is from the 4th of November of 1984. The songs included were "Song About the Misery of Human Existence", "Red Ken", "The Old Scout Master", "Somehow You Look Different Tonight" and "Song About My Brother's Glasses". You can listen to this one here.
So many songs about glasses!!
It was easy to track John Hegley's website. It looks a bit dated though, but maybe that's his style. Looks very early 2000s. He has released a lot of books, wonder if anyone would care recommending their favourite on the comments section?
He has also been on TV, presenting the series Word of Mouth on Border Television. He has appeared on Wogan and Never Mind the Buzzcocks on tv as well. On radio he had the BBC series Hearing with Hegley. So there's a lot about him. But what about the other members of The Popticians?
I find that Keith Moore has helped with soundtracks for the Vamos Theathre in London. This is a professional full mask theatre company. He also runs the Jelly Rollers, a company that has produces performances and music on wheels (on a bus really).
Couldn't find anything about Sue Norton sadly.
I found though an interesting interview to the Popticians on the No Class fanzine website. You can read it here. On this interview we learn that Off the Kerb, the label that put out their first record, was actually a package of four performers, Roy Hutchings, John Hegley, Podomofski and The Popticians. It seems it was more of a performance band/group of people than an actual proper indie band. Though I'm not 100% sure. I wonder how their gigs were.
They also mention on this interview that they appeared on TV. Sadly those TV appearances are not yet on the web.
So were there more recordings by this strange and original band? Did any of you attend their gigs? What happened with Sue Norton? What is John Hegley doing these days? Did they have any songs on compilations? Would be interesting to know a bit more about this cool fun band from the 80s.
::::::::::::::::::::::::::::::::::::::::::::::::::::::::::::::::::::::::::::::::::::::::::::::
Listen
The Popticians – Amoeba