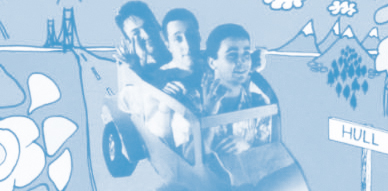 Happy to say that this has been another prolific week. But not only on the blog, for the label it has been too. I will have news next week for our new 7″ releases I think! Very exciting! So keep your eyes peeled!
Today I bring you more indiepop news, more indiepop findings!
The Understudies: one of my favourite British bands is back! The Understudies have released a new digital single titled "Travelling Companion" with its "b side" "Everybody's Got To Go" and both songs are great. They are a bit different to the style they had us all used to. According to the band, they are going to be a more piano based band than a guitar based band. So we'll see how that works out for them. In the meantime I can say these two songs are really nice and they should be part of their upcoming second album which is due for this year. Looking forward to it!
Lake Ruth: "Birds of America" is the name of the new album by this very fine New York band. It is being released by the UK label Feral Child Recordings and it even comes with a lyric sheet insert. The album will be released on February 16th and now you can pre-order on BandCamp. The album has 10 songs and if you want to have a taster you can hear two songs, "Julia's Call" and "One of Your Own". A very promising release indeed!
My Raining Stars: I still don't have their first release. Shame, I was told a CD was going to be sent to me. It never ever arrived. Still waiting. Sometimes I'm unlucky about that. It happens. But it is kind of sad as I really loved the songs My Raining Stars make. And it is true that the French band has been so quiet as of late. So it was quite a surprise when I saw the song "Lost in the Wild" uploaded to Youtube. Wow, really wow. Will this be part of a single? an EP, an album? Something? I hope this time I do get their release!
The BVs: Damn. It looks like their latest EP, "Interpunktion" is already sold out. I didn't get a copy! I hope they saved copies for Madrid Popfest as I need one! If not I'll be terribly sad!  This EP has 5 brand new songs that were recorded in Cologne at Bear Cave Studio. The story says that the band went to record 2 songs but ended up recording 5 songs in one take! The EP actually hasn't been released yet, it is supposed to be out on February 9th. But it is already sold out. Incredible! The songs on the record are "Be Enough", "Dazed Hair", "»»»»»»»»»", "`´`´`´`´`´" and "B../". Some strange song titled in there, right?
The Poetry Book: and let's end this review with this terrific finding from Osaka, Japan. Actually it seems there's a connection with Madrid according to their Facebook. And only one band member is listed, Chris W. So that is quite mysterious. But where there is no mystery is in their 3 latest songs that are on Bandcamp: "Out of Love", "青いドレス [Instrumental]" and "Forever". They are really really good! How come I haven't heard about them before? Their fist EP dates from 2015!!
——————————————————
Returning to England for this post. I kept looking at the videos uploaded by stoneeyedkiller on Youtube for inspiration. There are many bands there I'd like to feature. There are plenty too that I have already covered in the blog, some of which I've even interviewed. I'm curious about many, but I'm normally more curious about those bands I don't own any of their records or haven't really looked for them on the web. And so, I decide to investigate one of them, see what I can find in the depths of the world wide web, let's see what's the story behind 3-Action!
As it has become a routine, I start with Discogs. That is always a good first stop to find out about the band. Even if there is no details about the bands we can at least find out what they have released. In the case of 3-Action! I notice, making their name proud, 3 releases. All of them released by Ediesta Records between 1986 and 1987.
"On the Journey of a Lifetime" was their first release and came out in 1986 on both 7″ and 12″ formats on Ediesta (CALC 3). The songs were "What You Gonna Do When Your Lifeline Snaps?" on the A side and "Matter Batter" on the flip. The 12″ included two more songs on the B side: "Snail With a Gold-Plated Plastic Shell" and "One Track Mind". It is said that there was actually a video for "Snail With a Gold-Plated Plastic Shell" but sadly it is not available on Youtube. The record was engineered by Andy Tillison at Lion Studios in Leeds. He also provided keyboards on "What You Gonna Do When Your Lifeline Snaps?" .
"(Don't Lose That) Stealin' Feelin'" was their second record. Again on Ediesta (CALC23) though this time it was only available as a 12″. There were four songs on this record, "If Only I Had the Guts", "My Personal Feelings About Love in General", "Storming Warning" and "It's a Good Laugh".
Their last release was yet another 12″ on Ediesta. "A Breath of Fresh Air-Gency" was released in 1987 (CALC35) and included just three songs, "I Get Around", "Laughing in a Funny Way" and "Stay With Me".
They also have appeared on a few compilations. In 1986 they contributed the song "Batter Matter" to the LP+Cassette compilation "Hits $ Corruption". This record includes many well known bands like Sonic Youth, Stump or Pigbros, but I don't see any indiepop bands on it. Wonder how they ended up there?
The year after, in 1987, they did appear on a well-known indiepop compilation, "Let's Try Another Ideal Guest House" that was released by Backs Records (Shelter 2). Here they contribute the song "If Only I Had the Guts" and they are in very good company, you see The Close Lobsters, The Television Personalities, The Bats and many more! Graeme Sinclair is credited for compiling this comp which all of its profits were donated to Shelter: National Campaign for the Homeless.
That same year, there was another Shelter compilation called "Gimme Shelter" that was released by the Melody Maker magazine. This was actually a VHS with videos and included was a live video for the song "I Get Around" by 3-Action! which you can see here. I check the comments for this video and I see that the drummer used to live in Ryde St. in Hull while The Housemartins used to name check all the time according to a Youtube user.
In 2008 they were to contribute the song "I Get Around" to the double CD compilation + book "One Man and His Big – 20 Years on the Toilet Tour". Discogs tells me that this was a Limited Edition book (180 pages) of 2000 copies to celebrate the 20th anniversary of The Adelphi Club in Hull, UK. The book comes with 2 cd's and written contributions by bands such as Radiohead, Pulp, Carter USM, The La's and many others. There is no bar code or ISBN number, the book just has 'Made In Hull' on the spine. Many fine bands are included, The Housemartins, The La's, The Gargoyles, Pink Noise and more!
Their last compilation appearance dates of 2016 and it is another sort of retrospective comp. On the double CD compilation titled "A Perfect Combination: Fairview Studios 1973-1993" the band appears with the song "Ballad for Flo". This compilation tells the story of the studio's first twenty years and the musicians from Hull & East Yorkshire who passed through its legendary doors. You can see many important bands from Hull on it like The Gargoyles, The Beautiful South or International Rescue.
I keep looking, and now I start investigating some comments I see on Youtube. I see someone mentions that according to someone at the NME 3-Action! were the best three piece guitar band since The Jam. Then I find a video Nick Clay from Pink Noise has uploaded of 3-Action! playing "Matter Batter" at The Adelphi in Hull on 12th June of 1987.
I notice that there is an account for vladtheimpaler999 which has the "I Get Around" video I mentioned before but also many more songs by the band. Is this user perhaps one of the band members? He has also uploaded the songs, "I Get Around (Live)", "Stay With Me", "Laughing in a Funny Way", "Matter Batter", "I Get Around", "One Track Mind", "Snail With a Gold Plated Plastic Shell", "What You Gonna Do When Your Lifeline Snaps?", "Its a Good Laugh", "Storming Warning", "If Only I Had the Guts", "My Personal Feelings About Love in General" and "Shock Me Sharply". I listen song after another and I'm hooked. Catchy, and with trumpets!! Why aren't they more known?? And how come there hasn't been some sort of retrospective compilation for them? Are there any more recordings other than the ones on the record? It seems like yes, "Shock Me Sharply" wasn't on the records!
I found a blog post on the Maggot Caviar blog. Here I was going to learn some  important details about the band. First of all the band was formed in 1984 under the name Reaction. Did they release anything under that name? That's a good question. They were a trio. Perhaps that's why they have that name, 3-Action! They were Gary Action on bass and vocals, Graham Grasshopper on guitar and Artful Dodger on drums. Sometimes Swift Nick, a promoter and editor of the New Youth fanzine, would make some poetic contributions. They hailed from Hull, more specifically from Grafton Street. It also mentions that when their first single was released by Ediesta the band embarked on a lengthy tour around the UK supporting The Housemartins. Even more exciting is that the author mentions that there was a song called "Mile Apartheid (From South Africa We're Not So)" in an early demo tape. Oh! Would love to hear that!
My next stop is the Hull Music Archive website. There I find that Gary Action was also called Gareeoch but his real name was Gary Hock. But that's not all, there's a proper biography! So at last, some proper details about 3-Action!
The bastard sons of East Hull, radical noise in Hawaiian shirts, trailed a blaze, appealing to all subject to a glue induced haze – from Jimmy Reckitt to Bev Road, through the mid to late '80s. Apprenticeship served at the Trades & Labour Club, supporting such class acts as The Redskins, Newtown Neurotics, The Membranes… and the afternoon bingo caller. The band became a fixture at the all New Adelphi Club, one of the original three bands "better than the Housemartins" – officially (despite what some misinformed bloke wrote whilst sat on the Adelphi toilet, rewriting history – knob). Memorable gigs include playing with Pulp, The Farm, Brilliant Corners, Soup Dragons and bestest of all, The La's. 3-Action toured with The Housemartins on the Happy Tour (1986) before releasing their first recording "…On the Journey of a Lifeline" [released on 7 and 12 inch vinyl]. Quickly followed up by another 12″ release, "(Don't Lose that) Stealin' Feelin'". During a publicity trip for "Stealin' Feelin'" to London, the three intrepid and all-too-innocent boys were abused in the back of Gary Davies' red sports car – him in the middle together with that poison midget Bruno Brookes (who had been hiding in the glove compartment) made for an uncomfortable ride for the lads. What they did for their art and Hull that day remains largely unspoken but it all proved to be worthwhile… [we didn't dare ask – HMA Ed] Janice Long rescued them and took them under her wing, with "Stealin' Feelin'" receiving regular air time on her Radio 1 evening show. "A Breath of Fresh Air-gency", their final vinyl offering was released in 1987 with an enthusiastic response from a couple of their best mates… and that's no exaggeration – they thought it was dead good! A couple of further recording sessions at Fairview Studios took place in 1988, kindly sponsored by ex-Housemartin Stan Cullimore, featuring such seminal tracks as Shock Me Sharply and Ballad for Flo.
So this confirms what I was suspecting, "Shock Me Sharply" was from another recording session. And aside from "Ballad for Flo", were there more songs recorded then? Or not?
And that's more or less what I could find about them. They seem to have been written off from indiepop history for some reason. It is quite surprising, because they had some fantastic tunes, with trumpets and ramshackling guitars. What else could a popkid want really! Top songs, great artwork, but for some reason they seem to be forgotten. But maybe, some of you remember them and can shed some light? Whatever happened to Gary Action, Graham Grasshopper and Artful Dodger? Did they continue making music?!
::::::::::::::::::::::::::::::::::::::::::::::::::::::::::::::::::::::::::::::::::::::::::::::