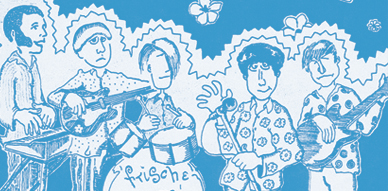 I have to start the post with the two most important discoveries of the month, two McCarthy 1988 videos that were done for the French TV. They haven't been seen by anyone since those days, they have just been uploaded to Youtube. I want to thank again Rich Farnell from The Suncharms for pointing them in my direction, Please enjoy the best band EVER in "Should The Bible Be Banned" and "This Nelson Rockefeller".
I think it has been a year since the time I recommended Anton Salmine's project Glass Arcades on the blog. It was just this week that I noticed he had new songs on Bandcamp, "Linoburns" and "Teletext", and I thought why has this one-man band hasn't released anything properly? Is it really that there are no indiepop labels in the world anymore? The first song, "Linoburns", is really good, people must notice that. At least I see that he has updated his page since last time, and now I know where he is from, Cardiff in Wales. I was there once, and I really liked it. Hope to go back someday.
The Indonesian band Aggi, who I recommended early in 2015, is no more. Their label HeyHo! Records doesn't exit either. So what's the point of talking about them again? The Indonesian punk/pop label Rizkan Records from Tangerang in Indonesia has uploaded to Bandcamp a compilation of all Aggi recordings, taken from their split with Saturday Night Karaoke and from singles and EPs on HeyHo! and Dismantled Records. This compilation is titled "Buy This Discography Make Me Rich!!" and the physical copies seem to be very limited, 50 copies and only available in stores in that country. For the rest, we can just stream it.
Exploration Team hail from Madison, Wisconsin. When was the last time you heard an indiepop band from there? I can't even remember myself. There must have been some, right? I know about nothing about the band. I know the two songs on their Bandcamp are brand new. I especially like the second song, I think it is brilliant. It is titled "Stuck-up Sensitive". The first song is titled "Ten Things". This is proper jangly pop and that makes me happy. I need more people making this sort of music! The band is formed by Ross Adam on guitar and backing vocals, Allison Geyer on vocals and bass, Etan Heller on drums and Luis Perez on guitars. Both songs were written by Perez. Yes, that makes me happy, a latino in indiepop. We need more of that too.
Cloudberry friend Lisa Bouvier has a new song too. Lisa, who some years ago was touring with The Flatmates as a vocalist, has just uploaded to her Bandcamp the song "Out of Daydreams". If you are familiar with her previous releases this won't be a surprise. You will find her energy intact in this punky pop song. Upbeat and effervescent, this is a good comeback to the solo Lisa. Looking forward to any new recordings she posts.
Lastly, this week the indiepop supergroup Cinema Red and Blue (I'm linking to the blog Austin Town Hall as it seems it is the only place where you can stream this) and their label Fortuna Pop unveiled a new song on Soundcloud, "Come Back to the City, Babyface" and it sounds fantastic. Of course, how else would it sound if it has David Feck from Comet Gain and our NYC pal Phil Sutton in it? This song is going to be released on a 7″ with "The Captain's Song" on the B side. If you like your songs filled with "pa, pa, pas", this one you can't miss!!
———————————————————
I did say I had to do some archaeology on a German band on my last post. I'm trying to spice it up a bit now, challenging somehow my detective work when it comes to long lost indiepop bands. The comfort zone has always been English bands but it is time to vary it a bit more often. Hopefully the next post will be by an Australian band or a Welsh band or… who knows. I'm not saying I won't look into the story of English bands, I will, but it won't be English band after English band after English band if you know what I'm saying.
When it comes to Die Blinzelbeeren I must say that this time I do own their two 7″s. How many times I could feel proud of owning the discography? If that counts as a full discography  too. I don't have all their compilation appearances, to be honest. I do have to say that a long time ago I tried to interview Bernd Kabs, founder of Die Blinzelbeeren and their label, Blam-A-Bit. The interview was going to be about the label, and I was hoping, as it has happened in a few cases, that after he answered my questions I was going to ask about his other indiepop related projects like Die Blinzebeeren or Mondfähre. Sadly I never got his answers.
I'll start this dig with this blog as there has been a couple of mentions about Die Blinzelbeeren already.
When I interviewed the band The Sheets:
++ Your 1991 release, the "Candyman" 7″ came out in Blue Records. I heard Michael's (Blue Records) story of how he approached you to release the record. Now I'd love to hear your side! How did this record came about? I think I met Michael on all good concerts around Frankfurt. He saw us playing at the "Batschkapp", so I thought the man has to have an incredible good taste! There were also some friends of him, "Die Blinzelbeeren" recording a single, at my first eighttrack recordingstudio. That was at my grandparents garage in maybe 1989. We had a nice chat here and there, so the idea came up to remaster some Sheets material and cut this record.
And when I interviewed Olaf from the band Milchblumen FC:
++ Do you think Milchblumen FC would have fit just fine with the lineup of this festival? Were there any festivals along these lines going on back when you were playing? I think so. We had been pure Indie-Pop. Yes, there have been a couple of small festivals, but for German bands only and mostly just for one or two days. I like to remember the Marsh Marigold Weekender in Dresden, truly funny days with little sleep with the complete Hamburg popgang. Great was also a festival in Darmstadt, where I witnessed the only gig of Wind In Den Weiden and met personally pen pals (for the younger readers: that had been something like Facebook) like Andreas Knauf, Olaf Grossigk or Frischluft-Krischan. We played at the Harmony Beat Festival in the Dresden Starclub together with Fünf Freunde, Blinzelbeeren, Ein Warmer Sommermorgen (both Blam-a-Bit) and the Noise-Poppers Honeyloops from Worms. This festival had been organised by our friends from Dresden Trixi and Susi, real Indie-Pop pioneers in Eastern Germany. Memories come up on Rock `N Roll Lifestyle including stage invasion, bloody hands from excessive tambourine playing and Frank Kabs – singer of Twee-Pop-Punks Ein Warmer Sommermorgen – who had fallen asleep amongst beer, potatoe chips and I-do-not-want-to-know-what-else.
So it is clear that Die Blinzelbeeren were an active part of the German indiepop scene. They were well connected and were friends with many of the bands at the time. So what else can we find out about them? Let's turn our heads to Discogs and check out their discography.
The first thing that Discogs gives us is the band members, Bernd Kabs, Frank Kabs, Jens Remmer, Jörg Zimmermann and Olaf Heinrichsen. Then their first release, the 1991 7″ "Frische Beeren" on Blam-A-Bit (catalog BLAM 004). This EP had four songs, on the A side there was "Entschuldigung" and "Netter Besuch" while on the B side there was "Das Idol" and "Mein Weg Zu Dir". "Das Idols" was a cover of the BMX Bandits' "The Day Before Tomorrow". All songs were recorded at Tanneburger Schafskeller and it says during the summer of 1986. I don't know if the date is right, that would place these songs 5 years before than the release date. Maybe they were just playing with the wonderful year that was 1986? The cool artwork on the sleeve was done by Felix Bringmann.
Where were they based? According to Discogs Blam-A-Bit was based in Seeheim in Germany. Never been there. Where is Seeheim?
Seeheim-Jugenheim is a municipality in the Darmstadt-Dieburg district in Hesse, Germany. It has a population of approximately 17,000. Seeheim-Jugenheim consists of seven villages: Balkhausen, Jugenheim, Malchen, Ober-Beerbach, Seeheim, Steigerts and Stettbach. The municipality was formed on January 1, 1977 through the unification of the previously separate municipalities of Seeheim and Jugenheim. Until January 1, 1978 the municipality was known as Seeheim; after that it became known as Seeheim-Jugenheim. It is famous for its mountain bike trails to the nearby mountain Melibokus. Seeheim-Jugenheim has been home to several notable residents throughout history, including Tsar Nicholas II of Russia as well as writers Georg Kaiser and Helene Christaller.
Their second single came just a year after. In 1992 saw the light the "Erinnerungen EP" and it also included 4 songs that were recorded in November 1991. On the A side there is "Erinnerungen" and "1..2..3…". The B side has "Sturheit" and "Schöner Abend". There are cool runout etches on this record. On the A side it says "Kick a ball or play a guitar!" and on the B side "I really love cheese and onions for breakfast!". This was Blam-A-Bit 011.
Aside from these two singles the band was to appear on a number of compilations. I'll try to do it chronologically.
1990: They contribute the song "Keine Hoffnung Mehr" to the Heol Daou cassette compilation released by Katiho Records (Katiho 002). This compilation was released in France and it includes mostly French bands including big names like Katerine or Dominique A. That same year they also have a song on their own Blam-A-Bit Records compilation "Hat Das Schaf Die Blume Gefressen Oder Nicht?" (BLAM 003). The song to appear on this tape compilation was "Picknick "Frühlingswiesen Version".
1991: The band has the song "Verlassen & Vergessen" on the cassette compilation "It's All About Love" (SMUF 003) that was released by the pre-Firestation Records label Smuf. They also include "Frühling" on the brilliant 7″ EP compilation "Pfadfindertreffen Auf Immenhof!" that was co-released by Frischluft Tonträger (FRL 005) and Blam-A-Bit (BLAM 005).
1992: They have three songs on the tape compilation "Tonite Let's All Make Love in Seeheim …Plus" released by Roman Cabbage (GREY 30/X). The songs were "Muh (Remix by The Notorious Buss Brothers)", "Muh (Reprise)" and "Picknick". Also they contribute the song "Sonntag (Live)" on the compilation tape "Wegweiser Durch's Eiswürfelland" released by Eiswürfel Tonträger (EIS-2) and the song "Sturheit (Jezús Mix)" on the compilation CD "He Didn't Even Draw A Fish on My Shower Curtain" released by Mermaid Records (MIRABELL 001). That same song, "Sturheit (Jezús Mix)", appears on another Mermaid compilation that same year, "Mermaid Employee of the Month: Gustav Sackmüller" (MIRABELL 665).
1993: "Psych-Out" appears on the compilation LP "Hier Super 12 – Bitte Melden!" that was released by Viel Leicht, Viel Leicht (Propeller 005).
What else can we know through Discogs? We could see other bands the band members were involved with. For example Bernd Kabs was in Mondfähre, The Monochords and The Mazy Fields. Jens Remmer, Olaf Heinrichsen and Jörg Zimmermann were also on Mondfähre. Zimmermann played saxophone in the Gruppe Topos release "Auf, Werde Lebending" while Olaf Heinrichsen was involved in many other bands like Ease Up Ltd, Echonomics and Ska Trek.
I dig for more information on the web. I notice my good friend Alex wrote a piece about their first 7″ on his blog Siete Pulgadas back in 2010. He likes the record all right. He says the name of the band is impossible to translate, that it has to do with berries and he loves the artwork for the single.
I couldn't find much more on the web about them. I felt that they were a well-regarded band by the German indiepop fans but I might be wrong as I didn't see much on them written now. Maybe back in the day in fanzines and such. They appeared on many compilations, so they must have been very involved in the scene. They even run Blam-A-Bit. Maybe I get back in touch with Bernd after this post and he answers many of my questions about his label and the band. Do you remember them? Did they play much live? Any anecdotes you could share?
::::::::::::::::::::::::::::::::::::::::::::::::::::::::::::::::::::::::::::::::::::::::::::::