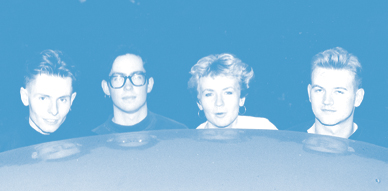 Thanks to Jo Bartlett for the interview!
++ Hello! Though Danny wrote some great liner notes for the Some Greater Love CD, I still want to know more about the mighty Bluetrain! The band started when Kevin Moorey replaced Mike Auton on drums and Go!Service changed it's name to Bluetrain, right? Why didn't you keep the name? And why did you choose calling it Bluetrain?
We started writing a batch of new songs when Kevin joined the band. His influences were different to Mike's which mean the music took on a slighty new sound. Kevin was listening to A Certain Ratio, The Pale Fountains etc which we all got into. We were also listening to a lot of jazz / blue note at this time. Blue Train by John Coltrane was a particular favourite, so we re named the band in his honour. It made sense to have a new band name to go with this fresh new music we were making.
++ Something that I find curious and really lovely is that all of you went to the same primary school. Were you friends back then? Would you have expected that all of you were going to make music and more over, together?
Myself and Rudy are both the youngest of six children – all his siblings were in the same classes as all my siblings! His older brother Tom was in the same class as my brother (also called Tom!) Danny and Kevin were also in this class. So the two Toms, Danny and Kevin were friends at school. Rudy was actually in the year below me. We all knew each other and would all be at the same parties etc. It was only a while later we actually started playing music together. I guess I would have been pretty suprised to know we'd still be making music together so many years later! Rudy plays in The Yellow Moon Band with myself and Danny now and our debut album is released next week, so yeah, it's all quite strange really!
++ You had already released the Go!Service 12″ on Dreamworld before releasing, on the same label, the "Land of Gold" 12″. How did Dan Treacy react to the name change? Was it easy to work with him? Any particular anecdote about such an influencing figure?
Dan was fine about the name change, he understood. We were very young so had no experience of working with anyone before Dan. Looking back he was pretty eccentric. This was before e mails or mobile 'phones so the only way we would get in touch was really when Dan would 'phone on my parent's land line. He would disappear for weeks at a time and then my Mum would call up the stairs ' Dan's on the 'phone' and I would run down, really happy to hear from him. It took about a year from recording the Go! Service single before it actually came out. He was great to work with and helped organise us loads of gigs at his Room At The Top club in Camden. We supported bands like The June Brides, That Petrol Emotion, The Mekons (it was a room above a pub and it was so full for that gig that we all nearly crashed through the floor – the landlord kept coming up the stairs looking terrified as the ceiling below was shaking!), 1,000 Violins, The Housemartins and of corse The TV Personalities. We also went on tour round Europe with the TV Ps – that was an incredible experience. Rudy had his 16th birthday on tour!
++ The single nowadays is such a sought after item for collectors. It can go for over 150 GBP! How do you feel about this? Do you know how limited is this single? 1000 copies?
I think it was 1,000 copies. I'm chuffed to bits to think that it has become a collector's item. We were all so proud when both singles came out. I worked in a record shop when the Bluetrain one came out and I would get a real thrill when someone I didn't know would come in and buy it. Someone once actually said 'I'm friends with the band, I know Jo' when they bought it, that made me giggle as she obvioulsy didn't know me at all!
++ Just a curious question, why the opening track on the Land of Gold 12″ is 'Wheels Go Round' and not 'Land of Gold'?
A mistake at the pressing plant!
++ You made a lovely video for Land of Gold too. Was this your idea or the label's? Where was it recorded and how much fun was doing it?
Dan was friends with a film student who made the video as part of his course. We were really lucky. It was great fun making it – that area is the docklands in London and is now full of very exclusive apartments.
++ You ran a club in Surrey called The Buzz Club. You had quite a lot of initiative! What was the best of running this club? I bet you booked all of your favourite bands, right? Who were some of those bands that brought their talent to your town?
Well, we were inspired by Dan and his club in London. Again we were really young and didn't know what we were doing, but we learned by picking up a phone and as you say, booking all our favourite bands. We ran the club once a month and the list of bands is pretty impressive, again this is something we're really proud of: The June Brides, That Petrol Emotion, The Mighty Lemon Drops, Primal Scream, The Stone Roses, The Charlatans, The Manic Street Preachers, Suede, Elastica…..that's just off the top of my head, many more played there.
++ On Parade, one of my favourite songs, there's a guest appearance by Jon from The June Brides playing his trumpet. How did it happen? Did you find that it was easy to cooperate between bands? Most people I've interviewed from the time say that there wasn't really a scene, that everyone was doing their own thing.
We had played with The June Brides a few times and thought Jon's trumpet would sound great on that track – he kindly agreed and I think it worked a treat. There was a scene, we were based just outside of London and so were on the fringes of that scene. I think each city had it's own thing going on, usually with a cool label to go with it. So maybe lots of small scenes? If there had been a festival everyone could have played back in those days, you could have brought all those cities together and it would have been an awesome line up!
++ Rudy leaves the band and Frank arrives from America, right? How did you find him? Do you remember what that Melody Maker advert said?
I remember him 'phoning up for the first time after he saw the advert, but no, I'm afraid I can't remeber exactly what the ad said. I asked him what guitar he played and when he said a Rickenbacker – he was pretty much in straight away!
++ With this new lineup you recorded three new tracks "Some Greater Love", "Decline" and "You Bring Me Back to Life". Only Some Greater Love was released on two tape compilations: Abigail's Birthday Party and the Uncle Arthur's Pop Parlour. Do you remember who made this compilations? I believe they even came with fanzines, right? I only know the tracklists…
Abigail's Birthday Party was made by Dave Driscoll. He was a Buzz Club regular. I forgot about Uncle Arthur's Pop Parlour, now you mention it, was it Scottish? I wonder if it was something to do with The Soup Dragons – we were friendly with Sushil from the band and he had a fanzine. Umm, I'm not sure about that one.
++ After that you recorded two more songs, with a new line-up change, "Twenty Years" and "Reason to Be". Why weren't these, or the previous three, part of a proper release, a second single? It would have been so great
I don't know. Frank went back to America and Danny and I knew we wanted to go there too, so I think those last two recordings never got played to anyone really. I can't remeber why the three with Frank on guitar didn't come out. We never fell out with Dan / Dreamworld, maybe we just driffted apart or something. That was actually a fairly busy time, when Frank was in the band. We toured Scotland and played with The Pastels and The Mighty Lemon Drops (who had got pretty big by then) and were getting offered gigs in Paris and other European cities.
++ Going back to fanzines, was Bluetrain involved in the fanzine culture of the time?
Danny and myself had a go at doing one. I can't remember what it was going to be called. We got a far as interviewing Peter Hooton from Liverpool band, The Farm but I don't think we ever actually finished the first issue. There was alway at least one skinny kid selling fanzines at the gigs we played, especially London. The Legend AKA Everette True used to always be at the gigs at The Room at the Top with a plasitc bag full of fanzines for sale. We were interviewed by a fair few too. I used to love those fanzines.
++Something that is quite interesting is that Bluetrain sounds totally different from most of the bands in UK during those late 80s. You were still a guitar pop band, but your sound was closer to the early 80s, that of Lotus Eaters or Pale Fountains, to the neo-acoustic sound, than that of the jangly C86 sound. What were the bands that you'd say influenced your sound?
We all had slightly different tastes. Danny and I were probably the most classic indie kids in the band – we loved The Loft, The June Brides, Lloyd Cole (me especially when it comes to Lloyd), Orange Juice, all the Postcard stuff, Kevin introduced us to The Pale Fountains and funk music, Rudy was listening to jazz. We all enjoyed the music we played to each other and knew it was great to stretch our horizons.
++ Why did you decide to call it a day?
Danny and I went to America for six months – we hooked up with Frank and played with a friend of his on drums. We played a few gigs as Bluetrain. When Danny and I returned to the UK we moved from our parent's houses in Surrey to London and got caught up in that whole world. We always had a band on the go though. Jump Rope, J.D. and Bob until finally we recorded as It's Jo and Danny and had our most success with our self released album 'Lank Haired Girl To Bearded Boy'
++ Thanks so much. Anything you'd like to add?
Thanks very much Roque, I've really enjoyed the memories your questions have inspired.
::::::::::::::::::::::::::::::::::::::::::::::::::::::::::::::::::::::::::::::::::::::::::::::