31
Dec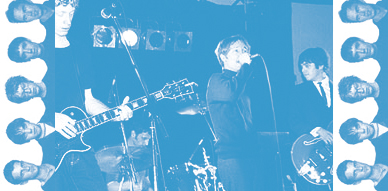 Thanks a thousand to the Scott Stevens for this amazing interview! I know Scott for some years now thanks to the Summer Cats (his last band) who worked with Cloudberry on a couple of singles, but years before he was in a fantastic band called The Earthmen, true legends of the Melbourne indie scene of the 90s. Shame on me that it didn't occur to me to ask him for this interview before, but sooner later than never, right? Two important things, one is that next year there will be The Earthmen compilation on Popboomerang (with many unreleased songs!) and also the MP3 that Scott has kindly shared, a cover of The Sugargliders' "YR Jacket". So if you missed them the first time around, please discover this great band that left us a bunch of singles (mostly on Summershine)  and an LP (on Warner even!).  Sit down, enjoy!
++ Hi Scott! Thanks so much for being up for this interview! I believe this is the second interview we did. Some years ago I interviewed you for my Cloudberry fanzine, but about the Summer Cats. I'm curious then, in between the Earthmen and Summer Cats, were you involved with any other bands? What was going on in your music-life during that period?
There was actually nothing (creatively that is). Music has always been an obsession for me but I guess I wasn't sure what to focus on musically post The Earthmen & wasn't sure of my worth in terms of contributing. When I started doing Summer Cats I had made a conscious decision (along with printmaking) to begin expressing again…just took me longer than I thought.
++ I don't know if I can say I'm equally familiar with the story of The Earthmen and Summer Cats, though I believe that I've listened to all released songs by both bands. So maybe. But I would love to know according to you, how different were both bands, and not just sound-wise, the whole dynamic of both of them.
That's a surprisingly hard question to answer! The Earthmen were around for about eight years and had quite specific phases musically where as Summer Cats were a far shorter musical journey.  I certainly wanted Summer Cats to be a much more egalitarian & consensus driven project where as The Earthmen were more driven by Nick, during a period Aaron, and me.
It's also fair to say Summer Cats were a tad more ramshackle the whole time and with a specific aesthetic manifesto (the crash pop thing) and a specific set of goals of things we wanted to achieve.
The Earthmen started in just as ramshackle a fashion but influenced in equal measure by shoegaze bands and loud & noisy US bands, then later drifting through phases that were influencing us personally and we ended up being quite musically tight.
A big set of things that separates the bands was that The Earthmen were a bunch of early twenty year olds who played a lot and perhaps wanted everything where as Summer Cats played less and despite our pop fizz were not driven by that early twenties manic energy and only desired certain things.  Funny how it leads to the same result though.
++ Let's go back in time then. Was The Earthmen your first band? Or had you been involved with other bands before?
Yes, yes they were and nope I never had! I was just the typical 7" buying obsessed music fan.
++ And how did you end up being a vocalist? Do you play any instruments?
When we started the band Aaron played guitar and I figured I could possibly do the singing.
I don't play any instruments but was one of the songwriters in most of the tracks and had some very talented & patient friends I got to write with.
I sometimes hear whole songs in my head…figure everyone does! I did consider way back learning but decided to concentrate on my voice as I love the process of contributing.  Maybe not sensible I guess retrospectively
++ When and how did The Earthmen start? How was the recruiting process?
We started as an idea at a gig at a hotel called The Tote. It was at a particularly rock show and I was energised to start a band in opposition to the prevailing rock-est Melbourne scene which didn't represent the music I wanted to hear (as a reason I guess it seems kinda silly as we were hardly a pop revolutionaries).  I've often thought that we do things in life sometimes after affirming things we don't like whether it's food, politics or music.
It just seemed like a thing that could be done, you know start a band without any discernible talent or identified musical skill: ha! A lot of the bands I'd been influenced by were from that indie/fanzine culture of 'get out and do it' and that was quite empowering.
I don't know whether recruiting would be the right word as I was 19-20 and had no idea how these things work…we asked Glenn one of my best friends to play drums & kinda went from there.
We were surprisingly clueless & guileless on how all this music thing worked both in terms of making it and how the machinery works. Our first manager Mary I'd known from arguing about Died Pretty at Uni & we asked her if she'd want to manage us…I think you can see how this was all working…
Down the track we did more of the 'put up a flyer' with our influences kinda thing, a process that is can be fraught & a bit demeaning for all involved I think but sometimes does pay dividends.
++ And who came up with the name? What's the story behind it?
Yeah that was me. It was from a trashy 60's pulp novel chapter title of a book I cannot remember. I've always loved the classic sixties type band names and was at the time quite into Spacemen 3 so we hoped it echoed that kind of vibe and I'm guessing it didn't annoy any of us!
++ What would you say were the influences of The Earthmen? Which bands were you loving at that time? Any Australian bands?
Around inception a lot of the early Slumberland, Sarah, Bus Stop & Creation releases were huge for me especially the singles.  Somehow the 7" always seemed to be so romantic, obsessional and affordable! Especially as you may not have known much about the band like say The Nightblooms with Crystal Eyes and out of the blue they'd appear with this singular moment. I'd also grown up listening to all those Rough Trade & Factory records and obsessing over the NME Independent charts which channelled my taste to a degree.
My Bloody Valentine, The Pastels, Yo La Tengo, Sonic Youth, Ride, Dinosaur Jr, Moose, Velvet Crush, The Velvet Underground and the Boo Radleys (especially that first mini LP) were on high rotation but I'm probably forgetting heaps.
The overriding aesthetic was melody with some noise early on and to be really loud. I wanted a band that was emphasising pop melodies but would do so with dissonant edges, whether that was ever achieved I'm not sure but we were definitely loud live for a couple of years.  Isn't Anything, Bug & Psychocandy really got into my head and Aaron was really into a lot of the US noisy bands as well and it was him that introduced me to Yo La Tengo for which I'm forever grateful.
Later on things changed and bands like The Byrds, Left Banke, Uncle Tupelo & Crosby Stills etc as influences became more focused and listening back the different phases are more evident. It's funny as things move quite fast and band members changed over time so from start to finish there's a different sound and the song writing is more textural at the end.
Locally when we started there was some really interesting stuff, Summershine Records had started and bands like Ripe, Afterglow, Autohaze, Jupiter, Sugargliders, Cannanes, Cats Miaow were out & about. You'd try and set up like minded shows (as you do) and it did seem like if you weren't doing a show you'd be seeing somebody doing something. Australia is, despite it's geographic size, quite small and there are big distances between the capital cities but luckily Melbourne has always had vibrant public radio stations that supported and spoke about younger bands and still do.
++ Talking about Australian bands, you did a cover of the Go-Betweens' "The House Jack Kerouac Built". Why did you choose this song? And how important do you think are the Go-Betweens in general for the Australian indie scene?
We got asked to contribute a song for the comp and that song has always been one of my favourite tracks, luckily it hadn't been chosen by anyone else. As a song it's so wry, sexy and desperate.
Oh, they were and are so important. When they initially split back in the 80's they were loved but it's hard in Australia if you're not a rocking, blokey band and in those days alternative bands were a world apart.
They were a literate, funny, obtuse and beautiful band which proved to me that these were expressions that could be valued in music by Australian artists. I grew up in the outer suburbs where those types of affirmations were hard to come by and pre internet a suburb could feel like an island. I often think for me that's also a big part of their influence (well, apart from those amazing songs…).
++ Tell me about gigs. Did you play many? Which were the best? Any anecdotes you could share?
My goodness: so many shows! The first and last still mean a lot to me though we were playing virtually every week & later were doing longer national tours so it does all tend to merge & smudge. I do get a little reticent with anecdotes as sometimes they only seem funny to people in the bands but…
Playing with Teenage Fanclub, the Sugargliders last show and INXS stand out for very different reasons (ace, tender & ridiculous in that order).  I do remember the drummer of the Fanclub didn't seem impressed when I asked him about the Soup Dragons: stoney faced…and I wasn't being cheeky as I was hoping for a chat about Hang Ten…
Also our shows in the US that Mike from Slumberland helped to arrange with Velocity Girl and just frankly playing in the US and the UK; it seemed so crazy that we were able to make them happen as this little indie band. One of the fellas who started Rough Trade was organising our shows in the UK gave me a white label Smiths Panic 12" which to this day strikes me as a bit of a 'wow' moment…
++ I've seen on Youtube a TV appearance. I'm not sure if the program is called Recovery, but this is the link. How was that experience? How did you end up there? And did you ever appear on TV again?
Really novel and funny being on TV. We did Recovery about three times and a fair few daytime shows.  I felt like we were outsiders intruding on another's world but gosh it was fun as an experience.  The best bit may have been Jonathan Richman being on at the same time & I ended up getting a 7" signed: one of musical heroes close up!
++ On that same TV appearance, there's an interview when you said that you would never release the recordings prior to the "Loved Walked" album. So I ask again, will you let people listen to them someday soon?
Sounds like something we'd say… Turns out we might! The Earthmen have a compilation slated to come out in the first half of 2014 in Australia on Popboomerang Records. We figured around the same time we'd plonk a bunch of different stuff on a bandcamp for anyone interested.  Listening back to them I can hear why we didn't release it as an LP but the recording was memorable as it was in this ace art deco house studio owned by Tim Finn from Split Enz with a pianola that played Split Enz songs.  I have a soft spot for those songs for sure despite their failings.
++ You also made a video for one of your most well known singles, "Figure 8". You had a totally different haircut then! Who recorded it? Where was it recorded at? And what was the idea behind it?
Ah, that was the splendid Dave Harris's doing and released on the Munch video from Season Records! Certainly wasn't a set video by any means was from a live performance at The Evelyn Hotel in Fitzroy.  Dave used to record a bunch of amazing overseas bands that he & his girlfriend saw (Heavenly, The Pastels etc) and would sometimes record local acts like us & The Sugargliders.
He'd turn up after having been overseas and would have these amazing video collections.  I'm pretty sure there was a fantastic Field Mice gig too from memory. It was all quite romantic at the time seeing his videos from overseas.
My hair is distinctly early 90's: very funny indeed & how bad does it look! It's like it momentarily escaped from my Stephen Pastel haircut that I was usually sporting…
++ Most of your records were released by Summershine Records. How did you sign to them and how was your relationship with them?
Jason from Summershine used to own, in my opinion, the best record store in Melbourne called Exposure Records.  I used to travel the 3 hour round trip to buy records from him.  His store was just the best! That's where I picked up the first and all the early Slumberland stuff, Sarah, Creation and Bus Stop records among others.  You'd turn up & there would be a Pooh Sticks t-shirt on the wall, the latest Sarah 7", Springfields 7" and say The Rainyard tape: good times indeed! And his was the store that had in the Lazy era MBV. Really influential.
He also used to have the best radio program on 3RRR so you'd hear a song, call him during the song asking if he had it in and then you'd travel to get it! I worked in a record store in high school and was able to order stuff like Talulah Gosh, Pastels & The Chesterfields etc but his store was another world…I've never seen anything since like it.
At one point in one of my hang around and ask him to play the new 7"s I said to him I'd started a band and later we won some free recordings through a JJJ contest.  I then asked him if he'd like to hear them, he did, he heard them (I do remember he was surprised they didn't completely suck…) and the next thing we knew was our first 7" coming out on my favourite Australian label: so exciting!  Jason was great as he was a lovely person, keen, tenacious and had connected to people and labels overseas.
His label is so overlooked as he released a truckload of amazing bands: I still am bemused we were on the label. Kind of boggling! Nick also had his other band Blindside release some ace stuff also! He was also the one that helped us get overseas and overseas releases, so he was a huge influence and advocate.
++ Your last release, "Love Walks In", had the support of EastWest. How did that work?
That was kooky being on Warner. We got signed after we'd recorded an LP's worth of material that acted as demos to them.  I think the majors at the time were looking for British influenced pop bands (it being 1995 and all) and on many levels we were but perhaps not the same bands they were thinking… Retrospectively I guess we were not the right type of thing for such a big label locally as a pop band that's not particularly mainstream is eventually not really going to gel with the whole thing of making money and boy did we not make them any money!
We did get to make the big studio pop LP we wanted to make at that point and being heavily influenced by those symphonic sixties bands it was a bit of a dream and I feel quite fortunate we were able to think up some stuff and get to do it. It was recorded in the same studio as Sixteen Lovers Lane (though we didn't set up candles on the roof like they did!) which I thought was neat.  The machinery and scale of the 1990's major label was pretty crazy having come from an indie background I must say.
They were certainly supportive and lots of things almost happened (being almost signed by Seymour Stein the biggest almost) but by the lead up to the aborted second LP perhaps the way a major works vs our contrary personalities was more evident.
++ There are so many Earthmen releases, so it might be hard to go one by one. But if you were to pick one record you put out that was your favourite musically what would it be?
It's either between 'The Fall and Rise…' EP or the LP but I'll go for the LP as I think by that point the songwriting was more formed.
++ And what about your favourite song by The Earthmen?
Nick, Matt & I recently had been listening to all the old stuff for the first time, in some instances since say 1998, and there were some unreleased demos, which I had completely forgotten, for the second LP and it's a song from that called Blue Sky.  I can remember where I was when I wrote the lyrics and vocal melody it's a light lilting hum for me.
++ And one last one about releases, who was in charge of the artwork? Which of the cover sleeves you made is your favourite and why?
Mostly me and Nick. I'm unfortunately responsible for the not so good LP sleeve…sigh…
My favourite was Nick's sleeve for 'Whoever's Been…' as it's this neat line of pantone # and colours with the title replacing one of the #. I found it really evocative when he did it, I guess it's the same reason I ended up liking that Magnetic Fields song so much too as for most of the time during the band I was studying fine art and colour and music seemed to make sense.
Next to that would have been the 'Hug Me Tighter ' sleeve which I did this circular painting for. Think we should have stayed with colours!
++ Question, what's the 59 from "Cool Chick #59"?
There wasn't one! More a loose idea of how we number and categorise women as men.
++ And who's the Stacy from "Stacy's Cupboard"?
There was no Stacy! Glenn named the song as it didn't have a title…not a great story but true. And I don't know what a cupboard has to do with it at all…
++ Then what happened? When and why did you decide to split?
We were getting ready to record the second LP with Victor Van Vugt and Nick advised us he didn't want to do it anymore. I'm sure having to put up with me has something to do with it but I think (though really you'd have to ask him) it perhaps was a bit of the major label experience (as they slow everything down to this odd organised grind) and his desire to do his own thing. I didn't think to continue on but it was a bit of a shock at the time even though doing a band full time was something I always thought was not possible into old age.
++ Did you leave many unreleased songs?
Goodness yes. We've been listening back to the old stuff for the comp and I had forgotten how many songs we wrote, how we demoed everything (often multiple times across years) and how many demos there were. And each of the four phases of the band sounded quite different which has been a funny memory lane. It's like looking through photos of night's out you forgot happened…and then collectively have to remember and with sometimes no one remembering.
++ And after the split, what did the rest of The Earthmen do? Are you still all in touch?
Most everyone I can think of has on one level or other done some music.  For example Nick just released an LP earlier in 2013 on Popboomerang and Matt is always playing either his own stuff or playing with somebody ace (Steinbecks & Lovetones), Robert Cooper went on with Pencil Tin back in the day etc.
A lot of us are in touch (especially the last 'version' of the band) and on good terms which I think after so many years have passed is kinda neat.
++ Will there ever be some sort of reunion gig perhaps? Have you thought about it at least?
We hadn't ever broached it until earlier this year when Scotty from Popboomerang Records at the Sugargliders record launch put the idea out there. If it hadn't been for his prompting it would have never come up and he's quite a passionate advocate for Australian bands. So hopefully yes!
The idea is for one show and a comp, the track listing is, I think, done so now it's about all the other stuff. I figure it's a lovely chance to catch up both physically and musically with a bunch of people I think a great deal of. All pretty low key as it's hardly like we were a big or mid sized band but if you know anyone who wants to release it OS with Scotty let us know!
++ And let's start wrapping it here, tells us a bit more about yourself, like aside from music, what else do you do? any other hobbies?
Well I don't know if my pass times of music listening, video games and occasionally remembering my love of art are that interesting! I also seem to spend a lot of time on my bike looking for a beer I haven't drunk before…it's a complicated life…
++ Thanks a lot Scott, sorry for so many questions, and believe me there are many more I  have, anything that you'd like to add?
Pop down to Melbourne if the show happens & I'll hopefully see you for NYC popfest!
::::::::::::::::::::::::::::::::::::::::::::::::::::::::::::::::::::::::::::::::::::::::::::::