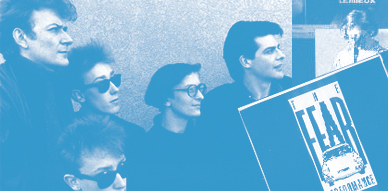 Thanks so much to Pascal for the interview! Some time ago I wrote about The Fear Performance in the blog, a fantastic 80s band from France, that released only one 7″ that I believe more people should know about. Now it seems The Fear Performance is back, playing some shows in their home country this 2014! That's great news. Pascal tells here a bit about that and more! Oh! and check their Facebook page!
++ Hello Pascal! Thanks so much for being up for the interview! How are you doing these days? I hear you have a band now called Strange Pepper? Care to tell me a bit about it?
Hi Roque, I'm very fine, new projects, music, guitars building … and a reunion tour
You know, I start a new guitar brand in France www.desert-dust-guitars.com
I have a new band called Strange Pepper, it's more a duet than a real band, we play with different musicians, different projects … but for the moment I'm very busy with the guitars …
++ How different would you say is Strange Pepper compared to Fear Performance?
Fear Performance was a real band, Strange Pepper is more a personal project, me behind a name.
++ So let's talk about Fear Performance alright? How did the band start? Who were the members and how did you all knew each other?
I think that I can't remember how we met, we were friends when we were 20 and we started to play in a first band called "Sabotage" with Thierry Thomas and Laurent Piquot and then  4 years later The Fear Performance was born with Thierry Thomas on bass and Dominique Bélier on Rhythm Machine, one year later Laurent Piquot join us on guitar and then my 2 brothers Michel and Gilles Carreau on bass and drums, Thierry wanted to play with Bruges La Morte and Dominique played keyboards instead of Rhythm Machine.
++ Was it your first band? Why the name?
The first band was Sabotage, I think that both names (sabotage and Fear Performance) were relating to John cale's albums Sabotage Live and Fear (is the man's best friend)
++ Fear Performance started in Caen, correct? Was there any kind of scene there? What were your favourite places to hang out then or to play gigs? Any other bands in town that you liked?
Yes we started in Caen, our town. Caen is between Rouen, at these time a British Pub Rock scene with bands like Little Bob Story or Les Dogs and Rennes with a more "intellectual" scene with bands like Marquis de Sade or Marc Seberg … We were more Rennes than Rouen.
My favourite band in Caen and the area was Bruges La Morte.
++ And what about France in general? I don't know that many bands that sounded like you guys did in the mid-80s!
Marc Seberg was an incredible French band during the 80's
Orchestre Rouge, Passion Fodder and of course Kat Onoma were my favourite bands.
And of course Alain Bashung
++ Your only release then was the Funambule 7″, a fabulous slab of vinyl and guitar pop! It was released on the MSR label, right? Who were they and how did this release came to be, from start to finish?
It was a strange story, Funambule was not my personal choice for the single, I wanted "Nightwalker" and "Indifférent" for the B side. So I decided to sign for only one single. We recorded it in one day including the mix. MSR was a strange label … I think they were just money makers. End of the story.
++ Care to tell me a bit about this song? What is it about?
Funambule is about life, when you try to do things, you take risks and other people are looking at you, maybe waiting for you to fall, just like the funambulist … But the funambulist is a great looking woman in a cat suit (laugh)
++ Also this single has a very cool artwork, did you design it? What was the idea behind the car? Are you a car lover maybe?!
We are all car lovers in the band, all the design and photographs were done by Philippe Jaffré a very talentuous designer and photographer, he took many photographs of French bands in the 80's
++ And then what happened? Why did the albums you recorded didn't get released then?
We were at the end of the 80's and it was very difficult to find recording companies in France, no money for self-production, no time …
++ I was checking on the CD artwork of Le Indifferent and it says it was released 2001 even though the songs are from many years ago. Anyhow, it is such a great treat of an album! I'm really enjoying it. Which of the songs on it are your favourite and why?
My favourite song was and is "Nightwalker", it sounds very "80's" and I really love this song, my second best is "Yesterday's Papers" because it's my personal vision of NYC (something like a painting of Lou Reed's first album cover … but in blue)
++ So what happened in between 1989 when you finished recording "My Dreams and Your Shadow" and 2001 when you played live for the last time?
We used to have our personal projects, Laurent and Michel with "Les Alter Ego", me with different bands in Rouen, Valence. Gilles stopped playing drums for ten years I think.
++ Something I really enjoy is that you mix songs in English with songs in French. How difficult is it to write lyrics in another language for you?
I began to write in English, lately I started to write in French but you know, it was really hard for me because of Verlaine, Rimbaud and Baudelaire. My first inspiration was Lou Reed and the Velvet Underground
++ What about gigs, did you play lots? Any in particular that you remember?
We played, I think 100 gigs and my greatest souvenir is playing with Alan Vega from Suicide on the stage during our performance … a very peculiar moment for me, great moment !!!
++ When and why did you call it a day?
In 1992, we were just 3, Laurent and Dominique have left the band and I was living 200 km from Caen, it was very complicated for the rehearsals and gigs.
++ What was the biggest highlight of Fear Performance you think?
Playing with Suicide, and the after show of course with Alan Vega and Martin Rev
++ And how supportive was the press back then in the pre-internet times? Any anecdotes you could share?
I think that the guys at the local TV liked us, it was very useful but the press was very very far from rock music
++ I'm a big fan of French cinema and cuisine, so of course I have to ask what is your favourite French movie and dish!
My favourite movie is "Les tontons flingueurs" and anything with Jean-Pierre Bacri .
I live in south west of France now … so my favourite dishes are, magret de canard, confit de canard and of course Foie Gras !!!  (Sorry for that, laugh)
++ Alright, let's wrap it here, thanks so much Pascal! Anything else you'd like to add?
YES !!! Very important , The Fear Performance will do a few show in 2014 with Laurent Piquot, Giles Carreau, Michel Carreau, and myself.
Thank you very much Roque
::::::::::::::::::::::::::::::::::::::::::::::::::::::::::::::::::::::::::::::::::::::::::::::
Listen
The Fear Performance – Funambule