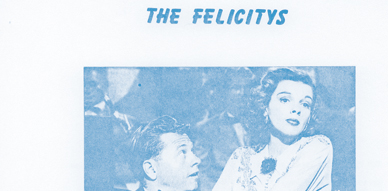 The most important news last week was that of the first announcements for the Indietracks festival. I was crossing my fingers for a dreamlike lineup, but that didn't happen. I won't be going then to the UK around those days in the summer, and that is a shame, would have loved to be surrounded by indiepop and friends BUT there might be a slight chance then that I could visit London during the first weekend of September. We'll see.
On Facebook there was an interesting discussion on my personal page about the news of Indietracks. First off we all agreed that it is a good, honest thing, to say that they are a DIY festival. If you remember it always said on the logo "Indiepop Festival". As things have been changing for the festival, catering probably to a different crowd, the taste of the new organizers being different, I think it is fair not to promote the festival as an indiepop one as it isn't anymore. That's clear.
There are still a few indiepop bands in the announced lineup. All of them seem to be repeats though and that is kind of sad, defeats the purpose a bit. Not that enticing for regular festival goers I think. We have among the few indiepop bands left The Wedding Present, The Orchids, Cola Jet Set, Milky Wimpshake, The Perfect English Weather, Evripidis and his Tragedies, Joanna Gruesome and Chorusgirl.
The rest of the lineup, sadly for me and for the rest of popkids, is mostly dominated for folkie, punk, garage and even some rock n' roll sounding bands. Nothing really interesting. I went through the whole list of bands playing, checking their Bandcamps or Soundclouds and found no new important discoveries.
In the end it seems the festival will be losing its international crowd. Fewer non-UK people seem excited to spend much money to get to the festival. The bands seem to be catered to the local taste. And maybe that's understandable, not taking risks.
This change towards a festival that is more diverse seem to be championed by UK goers. I don't agree with this, I think that within indiepop you can be very varied.
Now that Fortuna Pop is no more, there is no leading indiepop label in the UK. Indietracks the past few years gravitated and seemed to have been influenced by this label to book bands. Today things seem different. Who will Indietracks gravitate too? It all seems to point to Oddbox Records and its mixed bag of all sort of genres in its catalogue.
I'm disappointed, I won't lie. Every year one hoped things will get better. I think by now all hope is gone. I don't think I will attend Indietracks again until a new generation of organizers take it over. There is still Madrid Popfest which seem to have been a success this past weekend. Maybe smaller festivals will spring out of nowhere all around the world. And I will make an effort to go. I remember the days when in the UK that there was Indietracks AND London Popfest. There  was excitement then. The people behind these festivals curated such beautiful lineups. Those days are gone. It is difficult to understand how people can say that NOW is better.
I know people in the UK reading this might feel uncomfortable. From experience a lot of British people don't like criticism and opinions different to theirs. They take it personal. But this is just what a popkid feels, that's all. I had the best times ever and I feel sad to see such a fantastic indiepop festival crumble before my eyes.
Maybe for you these are the best bands ever. That you know by heart the songs of Gracie petrie or The Hearing. Well, have fun. Just bear in mind that there are many festivals and opportunities for these sort of bands. Indiepop though have no space anywhere and these changes will definitely continue to affect our tiny scene.
Remember the days when the organizers would ask Elefant or Slumberland to help curate the festival? Or when classic bands would reform just to play the festival? There was an intention to support and celebrate indiepop. That's gone, so gone. Now it is anything but an indiepop festival.
———————————————————–
Finally tracked The Felicitys /The Family split flexi. I know it is not that rare but I never got around buying it.
I don't know much about the bands on it. I do remember listening to The Felicitys on classic tape compilations and liking their Shop Assistants influenced songs. So I had to have it. And now that I do I want to know more about this band. Who were they? Where are they? Let's see if I can find anything about them in the world wide web.
The Felicitys at least released one demo tape according to Discogs. There are four songs on it, "Half a Man", "Queen of Art", "Mrs Smith" and "Paul". I have listened to the four songs and they are fantastic. They remind me a lot of another favourite band of mine, The Wilderness Children. Such great pop songs!! How come they didn't release many more singles, an album? Life can be so unfair.
In 1990 they released the flexi, shared with the band The Family. The Felicitys have the first on on the flexi and it is the perfectly poppy "Irresistible". And it is of course irresistible, what's not to like? The flexi was released by Fabulous Records (catalog FAB002). This label had already released in 1989 a 7″ by the band The Becketts. The Family appear on the flexi with the song "Polanskis Dream".
We know some stuff about The Felicitys from the back cover of the flexi. The song was written and performed by The Felicitys in 1990. There was going to be a 12″ to be released in November 1990 by Fabulous Records. Whatever happened to that record? I guess it never was released. Maybe the band split before, or the label went bust.
There is contact information for a Jon Mates in Somerset. If you wanted to book a gig with The Felicitys he was your man. With this name in hand I could start digging a bit more. First stop, my blog (!). Yes to the Tony Head Experience post. This is what I got:
The Tony Head Experience were formed in Street, Somerset in early 1991 by Elisa Young. Within days she had roped in her ex-Felicitys band mates Nik Dalgarno, James Merry and Rob Buckley to record a four song demo at Nik's Giant Recording Studios in Compton Dundon. Along for the ride and to produce this meisterwork came Jon Mates (Basinger/ex-Felicitys) and Nick Osbourne (The Becketts) who also helped out on guitar and tambourine respectively. Recorded in a day and featuring the songs 'Lighthouse', 'Sleeper', 'Let Her Drive' and 'Go' the recording was deemed a triumph in low-fi barn recording and hi-fi lager drinking.
Now I wonder why I didn't get to do an interview with The Tony Head Experience. I see Jon Mates commented on my blog post. He says that the band was going to start playing again. Did they? He also mentioned that they were going to release an anthology. I think that never happened, no? I should try to contact him, learn about his two bands now, not only The Tony Head Experience but about The Felicitys!
There's on that post of mine a trove of information about what happened after The Tony Head Experience. Sadly there's not much about their time before they were involved with that band, the time when they were in The Felicitys!
Somerset is a county in South West England which borders Gloucestershire and Bristol to the north, Wiltshire to the east, Dorset to the south-east and Devon to the south-west. It is bounded to the north and west by the Severn Estuary and the Bristol Channel, its coastline facing southeastern Wales. Its traditional border with Gloucestershire is the River Avon. Somerset's county town is Taunton. Somerset is a rural county of rolling hills such as the Blackdown Hills, Mendip Hills, Quantock Hills and Exmoor National Park, and large flat expanses of land including the Somerset Levels. There is evidence of human occupation from Paleolithic times, and of subsequent settlement in the Roman and Anglo-Saxon periods. The county played a significant part in the consolidation of power and rise of King Alfred the Great, and later in the English Civil War and the Monmouth Rebellion. The city of Bath is famous for its substantial Georgian architecture and is a UNESCO World Heritage Site.
Also, where in Somerset where they based?
I do know though that they appeared on at least two tape compilations in that golden age of indiepop. On the legendary "Corrupt Postman" released by Windmill Records in 1988 they contributed "Irresistible (live)" and then in 1990, on Dolphin Records' classic "Positively Teenage" they contributed the song "Why Don't You Come Round".
That was it. All in all 3 songs released, one of them them a live version of the other. Then 4 songs on the demo tape. And that was it. I'm very sure they had more songs, if they had a 12″ planned. They must have.
I hope to find out more about them, I really like The Felicitys, they have the sort of sound that I go nuts for, girl fronted upbeat indiepop, jangly and fuzz guitars thrown in the mix, hook after hook, and a lo-fi down to earth sound. Just perfection!
EDIT: Paul from The Haywains just pointed me out some details about The Felicitys:
– Jon Mates used to put a regular club night called "The Terribly Good Club" at the Glastonbury Football Club where he would book not only local bands but also bands from the other end of the country as well.
– The Felicitys hailed from Street which is a large village and civil parish in the county of Somerset, England. The 2011 census recorded the parish as having a population of 11,805. It is situated on a dry spot in the Somerset Levels, at the end of the Polden Hills, 3.2 km south-west of Glastonbury. There is evidence of Roman occupation. Much of the history of the village is dominated by Glastonbury Abbey until the Dissolution of the Monasteries, and indeed its name comes from a 12th-century causeway from Glastonbury which was built to transport local Blue Lias stone from what is now Street to rebuild the Abbey, although it had previously been known as Lantokay and Lega.
::::::::::::::::::::::::::::::::::::::::::::::::::::::::::::::::::::::::::::::::::::::::::::::
Listen
The Felicitys – Half a Man