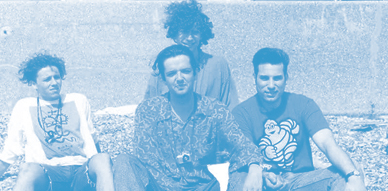 Thanks so much to Steve Jenkins for the interview! Just a couple of weeks ago I wrote about the Chalk Garden and Steve was kind enough to get in touch and be up for the interview. It's so great to read and know the story of this obscure band from London. I recommend everyone also to head to Steve's soundcloud where you can stream more Chalk Garden songs as well as songs by his other projects Bel-Air-Lip-Bombs and Spinning Belinda. So discover one of the best kept secrets of the UK's late 80s!
++ Hi Steve! Thanks so much for getting in touch! Are you still  living in Lewisham? Do you feel your town has changed for better or worse since the heyday of the Chalk Garden?
Actually I do still live in Lewisham but the CG's were never really a Lewisham band, that was another of my bad jokes. The main 4 band members were from all over the UK, Tim (singer) grew up in Chichester on the South coast of England, Carlo (bass) grew up in the Midlands, Ken (drums) is from, Leicester and I grew up in the West Country, a village just outside the trashy seaside resort, Weston-Super-Mare. When the band first got together most of them lived in West London; later Tim & I got a flat together in Lewisham, because it was cheap and Carl ended up living there too. For a while we were practically the Monkees (minus the television programme, recording contract and Californian sunshine).
++ There's very little information online about the band, but there's the mention that you were the fifth best band in Lewisham. You say that's a joke, but I wonder if there were any other good bands in Lewisham that you enjoyed?
As mentioned above we weren't really from Lewisham, we just live(d) here. If there was a Lewisham scene then we knew very little about it. By the time we moved here we were gigging all over London and the bands that we knew were one's that we ran into at the various venues or at the rehearsal studios. If pressed I would have to say that the other great Lewisham bands were Spinning Belinda & the Bel-Air Lip-Bombs but, since these were my other bands I may not be the best judge. One other band of note was Yellow Bird. They were the band of another room mate, Tim Groves and mainly consisted of Tim & his crazy talented girlfriend. I played bass for them for about a month and Tim played drums in the CG's for a similarly short period. I don't think Yellow Bird played more than 2 or 3 gigs before Suzie (the singer) went off to art school and was never seen again. Tim has posted some songs on SoundCloud which are definitely worth a listen. On the wider London scene we rubbed shoulders with a lot of bands who were up & coming. We played gigs with Suede, Senseless Things The Blue Aeroplanes, Jesus Jones and an early version of Elastica amongst others. None of them really impressed although I later became a big fan of Elastica. In all the time gigging around London only 2 bands really stood out for me, a Bristol band called Nautical William who were excellent live but disappointing on vinyl, except for their debut single 'Love House' which is great and can be found on YouTube. The other band that I loved were the Murrumbidgee Whalers; we shared the same rehearsal space, bonded during drink breaks and played a number of gigs together. It was a great arrangement, we all got on well and even shared some fans, unfortunately we had to stop playing with them because they were so good they made Carl feel insecure; he even left the band for a while claiming that we were wasting our time because we'd never be as good as the Whalers. Just one example of the bizarre self-harming which marked our career and pretty much guaranteed that we would never get a record deal.
++ What about in the rest of London? Did you follow any bands in the late 80s? And where did the Chalk Garden band liked hanging out? What were your favourite venues?
I think I would be right in saying that the main thing that drew us together and held us together was our similar musical tastes mainly Echo & The Bunnymen, early REM, Sonic Youth, the usual indie fair but we were also big fans of the late 70's British punk scene – for me it was all about the Ruts & Crass, for everybody else The Jam and Wire. By the late eighties, predictably enough we were all carried away first by the Happy Mondays and Stone Roses and later by Nirvana, Dinosaur Jr, Pixies, anything loud & brash. My own favourite record from that time was an album called 'Boing' by a British band called Airhead. I thought I may have been about the only person to buy it but my wife was as big a fan as me and it was re-released on i-tunes just last year so must have been more popular than I imagined. Our favourite place for hanging out in the late 80's / early 90's was a large venue & club in nearby New Cross called 'The Venue'. Every Friday & Saturday night they would have live music followed by a huge retro nightclub and a separate sweaty room where there was an indie-disco. It was located next to Goldsmiths College so was always filled with bright young things and was a 10 minute walk home even when drunk. Every time I hear Ride's 'Like A Daydream' I am transported back there. As for performing, the best venues were the Bull & Gate, Kentish Town (for hard-core indie credibility), The Powerhaus, Islington (great stage & proper sound system), The Amersham Arms, New Cross (for being close to home so some of us could actually drink) and The Marquee (for all round rock credibility).
++ Tell me about the early days. Were any of you involved with other bands prior to the Chalk Garden?
I only bought my first guitar about 6 months before joining the band so had no previous history, Tim had been playing a lot longer but it was his first band too. Carl had played in bands at school and had some idea what he was doing, which was useful at the start. Ken, the drummer was the best musician by far. While playing in the Chalk Garden he also drummed for a band called The Keetons who were talented and wrote some great stuff but were difficult to like personally. Ken later played in Spinning Belinda & Bel-Air Lip-Bombs and was last seen playing in an excellent band called The Free French who contained other members of The Keetons.
++ How was the recruiting process? How did you all knew each other? And what was the lineup of the band?
Tim & I answered the same ad in NME (New Musical Express). In truth neither of us knew what we were doing but they took us on because we looked the part, liked the right music and were, to some extent, able to compensate for our respective lack of ability. Carl had left the band, which was originally a collection of West London friends who met once a week and did only cover versions, the week before and was persuaded to return on the mis-guided notion that we had some ability. Over the next year the original singer, drummer and saxophone player dropped out, Ken was found through NME and Tim was promoted to lead singer. The line-up stayed like that, apart from a brief experiment with Tim's brother on keyboards (didn't work he couldn't compete with my thrashing) and a short period when Ken left and then came back until its final demise in 1992.
++ Where does the name of the band come from?
It was stolen from the title of a 1964 British black & white film. For a short time we were called Wasp Factory (from the book) but ditched that name when we discovered that we were not the only ones to have that idea.
++ And who would you say were the main influences of the band? Were you into the C86 bands at all?
We were certainly into the C86 bands, we actually first met in 1986 so that was the main thing going on at the time. I particularly liked the Mighty Lemon Drops, The Bodines and, rather obviously, Primal Scream (I was also really into the early Jesus & Mary Chain stuff but I thought they became too boring, I know it's probably considered sacrilegious to say this, but they started to sound too much like the Ramones who I have always considered to be massively over-rated). BMX bandits had a brilliant name which was not matched by their songs.
++ From what I gather there were no proper releases but that appearance on a compilation 7″. Do you remember how you ended up on the House of Dolls 7″?
I sent them a tape and the magazine editor quite liked it. It was as simple as that. If only record companies had been that easy to convince!
++ That song included, "Drunk Among the Trees", is really great! Care telling me the story behind it?
I don't think there are any stories behind the writing of the song. Like most CG's songs, it originated from Tim and just emerged after couple of months of thrashing around in rehearsals. The version on the single was savagely edited by Tim & the studio engineer and has always sounded mutilated to me. I recently searched for a copy of the original full-length version and came up blank. Around the time that we wrote this my younger brother went touring round Europe with a friend. They had both bought guitars and intended to learn to play them and busk their way from city to city. I showed them how to play DATT and they claim that it fed them for at least 2 months until they managed to learn something else to play. He (my brother) is now a superb blues guitarist, far better than me, and claims that he once came second to Chris Martin (Coldplay) in a pub talent contest.
++ On Youtube there's a promo video for "Flags". How did this video come about?
A friend of mine worked for a broadcast hire company and arranged for us to 'borrow' a load of equipment for a weekend to film it. One of his colleagues had studied film and was keen to direct, seeing it as a good portfolio opportunity. The Flags recording session was the first one that we had ever felt good about and we really wanted to capitalise on it and make a big push with all the record companies that had been showing some interest. It did generate a lot of interest but the regular A&R mantra of, "I like it but I think you need another six months to mature" continued un-abated. Somehow the video got a few plays on a programme hosted by Boy George on an obscure satellite TV channel but failed to provide us with the platform we were hoping for – it was fun to make though.
++ On the Soundcloud page there are many more Chalk Garden recordings. Why didn't you get to release any proper records? Was there any label interest?
It was a different world back then. Recording demos was expensive and we were always broke. The Whalers funded their own single which was not uncommon but, aside from the cost we always thought that a record just wouldn't be authentic unless we could actually convince an real record label to put it out. I gather we got pretty close. A couple of old friends from my home town were in a band called Claytown Troupe who got a deal and put out an album on Island Records in 1989. Some years later they told me that Chalk Garden demo tapes were on practically every record company desk that they saw and they had been convinced at the time that we would be signed soon. We were blissfully unaware, had we known I guess we may have done a bit more to try to get noticed!
++ How many songs did you end up recording? Did you use to sell them as demo tapes?
We recorded quite a lot of demos over the years but were nearly always tremendously disappointed with the results. Some are practically un-listenable. There was a predictable pattern, we'd go into the studio thinking we'd got some great songs, spend one or two days locked in the studio thinking that it all sounded awesome and the minute we left the studio and stuck the tape into the car stereo all the awesomeness would evaporate into thin air. Apparently it is incredibly difficult for a low paid engineer in a cheap studio to transfer a half-decent guitar sound onto tape. In many ways the best recordings I have are a live session recorded in our rehearsal studio. I found it recently and, whilst the sound quality is a bit rough, it is very tight and all the energy that is absent from most of the demos is there in spades.
++ And which song of your repertoire is your favourite? And why?!
As a narcissistic musician, I find it hard to listen to any of my music without obsessing over my own parts so inevitably have a tendency to judge the songs on whether I think I did a good or bad job. 'Slow' was always my favourite CG's song, it's probably about the only song where the guitars sound almost exactly as intended and my backing vocals are more or less in tune. I also rather like 'Back To Words' (the first time my guitar playing actually sounded competent) 'Complete' & 'How To Get There' (from the last recording session, by that time I was confident and not half bad, though the 3rd song from that session was not a great success).
++ Tell me about gigs. I hear you played a lot in many of the classic London venues. Which were the best Chalk Garden gigs? Any anecdotes you could share?
We really played just about everywhere that an un-signed band could play in London, frequently to extremely small audiences. The best gigs were always the ones where there was a decent sized crowd, the venue doesn't count for shit if no one turns up. The high points were playing with the Senseless Things at the Marquee, head-lining at the Limelight club in front of at least 1,000 people, and playing at a huge bank holiday indie festival at Dingwalls in Camden Town. Better than all that though was the first Bel-Air Lip-Bombs gig. I had been working in my bedroom writing music and preparing tapes full of sampled & sequenced backing tracks which would be supplemented with live drums, bass & guitar when playing live. I had no idea whether it would work and feared that it might end in immense embarrassment. As it turned out it was amazing, we got a better crowd reaction than I had ever experienced before with the CG's. The second BALB gig resulted in a call from EMI records, apparently we made an immediate impact. Unfortunately, as always, the recording sessions were unsuccessful, too dense and devoid of any of that live energy. When the singer that I was working with got fed up that instant acclaim was not forthcoming it fizzelled out quickly. My worst experience at a gig was watching the CG's play without me after I got knocked of my bike and broke my left hand & right wrist (about the worst possible combination for a right-handed guitarist). The second worst experience was my 'comeback' gig. Tim managed to break strings on his guitar, his backup and my backup and I then had to give him my guitar so that the set could be completed with me watching, again, from the audience.
++ And then what happened? When and why did you split?
We split in 1992. Everybody else thought it was time to pack it in and had given up hope of ever being 'discovered'. At the time we had Food records (Blur, Jesus Jones) showing some interest and asking for more material, we were tight, well rehearsed and, at last, confident but without the belief there was nowhere to go. By that time I was so heavily involved with my BALB project that I didn't shed a tear, even though I thought it was a terrible time to quit. Now I'm frustrated that I could not persuade the rest to invest in one last demo – there were some great songs that never got recorded and may have made the difference – 'Milk Tooth', 'Headstands In The Sand', Don't Change', 'I Know', 'Here We Go Again'…
++ Thanks to Soundcloud I notice that you had many other band projects after. Can you tell me a bit about each of these projects?
I auditioned as a drummer for Spinning Belinda. I wanted to learn to play the drums mainly to make me a better drum programmer, but also because I thought it would be cool to have played guitar, bass and drums in different bands. At the audition I was blown away by the quality of the songs, suggested that they deserved a better drummer than me and asked if they would allow me to audition as a guitarist. I got the gig and roped Ken in to play drums and later persuaded Tim, the other old CG's drummer to take over from Ken. At the time I thought the songs were great but the sound was a bit staid and boring and would struggle to get noticed. I started writing my own songs with Ali, the singer and formed Bel-Air Lip-Bombs out of that. Initially Paul, the song writer behind Spinning Belinda was persuaded to throw his lot in with us and we performed a mixture of my songs and his songs which I re-arranged and tried to make a bit more interesting musically. Nobody understood what I was trying to do, including me, but it worked well live in spite of this and we did a number of really successful gigs. Unfortunately we struggled to make things work in the studio and by 1993 Paul had decided to return to Ireland and Ali became disillusioned and quit. I briefly had a 2-piece band called Palm. Initially I intended to carry on with the BALB material and let things evolve naturally but the singer, another Architect, insisted on replacing Ali's lyrics with her own which I hated the idea of so I wrote half a dozen new pieces of music in the space of about 2 months so that Claire could do her own thing. We performed one gig which went down very well, even receiving rare praise from Ken. A few weeks later we recorded a demo. It was the first time that I was actually able to hear what Claire was doing with some clarity and I absolutely hated it. We never performed again.
++ What happened to the other members of the band? What did they do after? Are you all still in touch?
Tim & Carl both live about 5 miles from me and we still see each other on a regular basis. Tim teaches and now occasionally plays in a staff band. After the CG's Carl formed a mod band with his brother called The Direction. They got some instant success riding a mod revival wave and released a couple of singles. He sold all of his guitars and moved to Italy for a few years but is now back in South London. He is currently recovering from a, thankfully, mild form of Leukaemia. Ken is elusive, we haven't seen him for at least 5 years and I'm not really sure what he is doing now. I am an Architect and now run my own small design practice.
++ Tell me, when was the last time you picked up an instrument? And how many guitars do you actually own?!
After a long gap I have just put a band together to play at a party in September. Our set list will include at least one Chalk Garden song, 'Headstands In The Sand' but is otherwise a crowd-pleasing rock selection from T-Rex, The Cure, Blink 182, The Fratellis and a few others. I still have the same Fender Stratocaster and Fender Lead 2 guitars that I used all those years ago along with a couple of acoustic guitars and a cheap Japanese semi-acoustic with a snapped neck. I also still have every other bit of equipment that I have ever bought, amps (one Fender, one Peavey), sampler, sequencers, drum machines, keyboards, synth modules, I am apparently, incapable of ever getting rid of anything!
++ Aside from music, do you have any other hobbies that you enjoy on the day to day?
My work is pretty all-consuming and fortunately I am lucky enough to do something I largely enjoy. I have been taking piano lessons which has been hard work yet rewarding but the most important thing is my 8 year old daughter; whatever she wants to do is what I want to do.
++ Let's wrap it here! Thanks a lot. I'm really enjoying everything I've heard by your bands. I wonder how they've been so under the radar. Anything else you'd like to add?
Thanks Roque I really appreciate your interest. It was all a long time ago now but every single bit of music that I contributed to means an enormous amount to me, even the ones that are patently a bit crap, and you probably can't imagine how pleased I am that you like some of it. I am planning to go into a studio soon to complete the recording of a few BALB songs that I think deserve completing. If you are interested, and if they are worthy, I will send you copies for review.
:::::::::::::::::::::::::::::::::::::::::::::::::::::::::::::::::::::::::::::::::::::::::::::