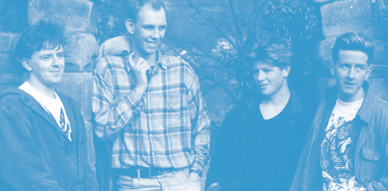 Thanks so much to Matt Bolton and Eddie Taylor for the great interview! Check The Apple Moths on myspace!
++ You say you sounded like Richard and Matthews mums favourite band of all time: Cliff Richards. That can't be true! But, I do wonder, how supportive were your parents in you having a band? Were they very supportive or did they give you a hard time?
Eddie: That'll been Richard, he probably thought it was funny at the time! It's obviously nt true but it goes back to Matt and Richard mum coming into the lounge when they had an Apple moths demo tape playing. After a few moments she turned to Matt and said 'Oh is this the Apple Moths? I quite like it, it sounds a bit like Cliff Richard' heaven knows which track it was? I never did ask.it.
Matt: True that my mum was a Cliff fan, but neither Eddie or myself can claim any responsibility for that comment, the Myspace was set up by Richard, we didn't have any involvment with it. I think that comment was supposed to be humourous. But since you ask, both sets of parents were supportive, especially Eddie's, who were quite happy to let us jangle and bang in their garage every weekend. My Dad took us to the studio in York where the single tracks were recorded, and he can be heard on the song 'Kymri', uttering the words 'As of mighty waters falling', just before the chorus. So yes, they were very supportive.
++ Another funny thing I read on your profile is that Roger, who drummed like a robot with no joints in his arms, said you sounded like a load of faggots! Who is Roger and why would he say such a thing?
Eddie: I have no idea? It's probably said with his tongue firmly in his cheek, a bit of friendly banter. Roger I recall was a chap in the year below Matt and I. The was part of a band called 'sheepskin children' who were truly noisy and I'd go so far as to say pre-shoegazer which was to me in my naïve teenage years completely opposite to the beloved indie pop bands I worshiped. If you like it was a bit of friendly band rivalry.
We played a gig with them in Low Moor, Bradford. around 1988. That was where Richard and I lived at the time, charging 50 pence entry. It was packed with the entire 6th form that had not seen either of us live. We had them on saying we'd got a dancer which was actually one of those plastic marigold flowers that danced when it heard noise. Anyway they turned up and had recruited some mates to dance on stage and at one point laid down it their heads in the bass drum which must have really hurt. It was funny to see their faces when we introduced our dancer.
Matt: He he, again that was supposed to be humourous, although he did make that comment. Roger is a chap Eddie and I went to school with, and quite a character. Also a musician, but he took a darker path, listening to the likes of Joy Division and the Sisters of Mercy etc, hence the comment, but that was just Roger. I'm still in touch with him, he's a successful photographer in Newcastle now, he's photographed the likes of The Libertines, Babyshambles, and The Futureheads. Roger used to believe that if you got too proficient at an instrument, you should stop playing it and take up another. Eddie and I were kind of isolated in our love of Indie Pop living in Bradford, the only contact we had with like-minded spirits was usually through the post, we wrote to bands and people who wrote fanzines.
++ You and Matthew have been friends since school. What was the name of school, and do you remember how you met? Were you the noisy kind of student or the shy ones? Did you get good grades? Favourite class?
Eddie: We went to the same middle school – 9 to 12 years Priestman Middle School and then the same Upper School 13-16 years Buttershaw Upper which interestingly was the school where the film 'Rita, Sue and Bob too' was shot. I was an extra in one of the classroom scenes!!
Whilst at middle school Matt was into the jam and Frankie goes to Hollywood whilst I was into the Police and Adam & the Ants very main stream. Neither of us were musically inclined at that time. Just lads who enjoyed long summer days, messing about and having a laugh!
It wasn't until Upper School that we started listening to alternative bands. The B-52's, R.E.M. The Smiths still main stream. Then discovering John Peel changed everything. One of the first real indie bands that I got really excited about were the farmers Boys.
I enjoyed maths and sciences and art where now I prefer languages trying to learn Spanish at night school. I did ok with my grades enough to get into higher education and train to become a radiographer.
Matt: We certainly have, though we lost touch for a long while after the collapse of The Apple Moths. We've only been back in touch for a couple of years, and it's difficult to try and get together as we both work all hours god sends, and we both have young children, Eddie was the clever one, I was too much of dreamer to pay much attention at school. We had a small circle of friends, and we liked it that way, as we didn't really identify with the majority of our fellow pupils.
My favourite subjects were Art and English.
++ How did the other two members come on board? Was it easy to convince them to play with you?
Matt: I suppose we came to a point where we felt we weren't progressing. We had a good repetoire of tunes, but neither Eddie or myself had the confidence to write lyrics and sing at the time.
So we recruited my older brother Richard for that task, and my cousin Steven on Keyboards. It all happened quite swiftly, considering we had the songs arranged ready for lyrics and melody to be added, and Richard did a fine job. Steven didn't even need to try, his keyboard parts just flowed out of him, very talented chap. Everything gelled into place quite quickly, we didn't know at the time that something that had taken so long in the making would come to an end quite abruptly with the addition of our new members.
Eddie: It was a bit of a family affair really for them but we all knew each other well and that helped. Yes, Steve was a really great keyboard player and Richard basically had the balls to get up and sing as he was a bit older and mature he had the self confidence being in bands before. I can't sing despite recording vocals on 'Everything' and Matt could hold a tune but couldn't play bass and sing at the same time.
++ Why the name The Apple Moths?
Eddie: We struggled to find a name for the band, it probably took over 12 months. A few examples were 'The forevermores' from St.Christophers 'Forevermore starts here' and Big Red Bus long before 'Big red bus' came into the fray. I took A Level Mathemetics which was broken down into 'pure maths' and 'applied maths'. I had a file I had decorated with rather groovy wavy looking text. Matt and I were walking home and Matt asked who that band the Apple Moths was on my file? I laughed and explained it was an applied maths folder. A few days later Matt said hey you know that name 'apple moths' how about that for a name? The rest is history.
Matt: He he, that's easy, it was simply a misreading of the words 'Applied Maths' on folder that Eddie was carrying home from school one day. I remember it quite vividly.
++ I was wondering, why did you have a drum machine and not a drummer? Was there any reason behind that?
Eddie: That's easy… I would write the music [guitars, melody and drums] then I'd go up to Matts house and we'd jam the rest. Matt always came up with amazing bass lines. They're really hard to hear on the tracks as he was very self conscious and always turned them down when I was saying no, no turn them up. I wanted a more Close Lobsters in your face bass line sound. In retrospect it was probably the right thing to do what we did.
My early influences at the time were the B-52's, Thomson Twins [Albums 'Set', 'A product of..'] the Farmers boys and the Field mice, all used electronic drums at some stage. Plus we didn't know any drummers or at least anyone who had a drum kit and could keep a beat.
Interestingly we did initially have another friend of ours called Steve Clegg who did a bit of drumming for us with just a floor tom and snare but it just didn't sound right, consequently I bought a Roland TR707 for £200.00 which was mega expensive in those days but was one of the most realistic and affordable drum machines at the time and intuitive to program. You should see how much they fetch on ebay these days. I was having a look to try and get one. Unfortunately they are much sought after by the old skool dance brigade.
Matt: Initially, it was simply because of a lack of musicians, we used to play with a floor Tom and tambourine, but we liked it being just the two of us anyway, and Eddie was really good at programming his drum machine. It worked for us and made things a lot simpler. Drummers are a strange breed, as we found out later

++ How did you end up releasing a record on German label A Turntable Friend? Did you send a demo to them? How come you didn't release in the UK?
Matt: This one's for you Eddie
Eddie: Gosh it was so long ago if I vaguely recall I think Ullrich contacted me after hearing the one of the compliation tapes we appeared on 'Somethings Burning in Paradise' tape I think. He wrote and asked if we'd be interested. That resulted in me asking a good friend of mine called Mike Norton who played bass in a Hull outfit called 'The Pressure Group' who I thought were a brilliant band to produce a few tracks for the record. We recorded Kymri, Fred Astaire, Life's No fairytale and Miserable Town in two days.
++ Your 7″ is a favourite of mine, of course it is, I really enjoy playing it on the turntable whenever I have a chance. I was wondering why did you dedicate a song to Fred Astaire, and I was wondering if there is any cool anecdotes you could share from the recording sessions?
Matt: Thank you very much, it's gratifying to know that our songs moved people, as it was always our intention to make music that sounded like the bands that moved us. It was our first experience of going into a studio, Eddie arranged it all, it was all a bit awe inspiring for me, so understandably was very nervous when it came to recording my basslines, but I muddled through. By stark contrast though, Steven got his keyboard parts down in one take, playing two at once! I think we all did a grand job though, there are some sublime guitar parts in the songs, good job Eddie! The studio was great, it was built in the engineer Mike's garden. I forget the name, but it was in a quaint little village near York.
Eddie: It was Tollerton, near York
Matt: It was really great to have an ex member of the wonderful St. Christopher producing it too.
Eddie: Fred Astaire? I have no idea again! Richard was now writing the lyrics and singing to music Matt and I had written ages ago I suppose it just rhymed. Matt and I sang on 'Everything' but neither of us could sing and play simultaneously then!!
Anecdotes. Sort of… we used the same recording studio as St. Christopher in Tollerton, York. The reason being Nic Robson who used to play bass for St Christopher had moved to Bradford. We wrote initially as his was the contact address on the record sleeves for the 1st three St Christopher releaseses on blue grass records. Then later we met a few times and I was keen to get him involved with his experience before he emigrated to Australia. He suggested the studio they used as he got on well with the sound engineer, so we went. I didn't know any other studios without digging out a yellow pages. [Ah, those pre Internet days where it took ages to find things. You can just google these days and a million replies come back]. Anyway, we were recording Kymri and unknown to me Richard and Matt had been trying out some harmonies so when it came to laying the backing vocals Matt tried to harmonise the word 'sandals' which just sounded so wrong, it was so camp in a 'Jullian Cleary' sort of way, we could not stop laughing for ages.
++ How many demos did you record? Do you remember the tracklist of these tapes? Will there be a retrospective album someday?
Eddie: We recorded lots and lots of demos in a portacabin over the road from Richards house, so they sounded pretty raw but you could tell that the songs were there in essence [ I'm kicking myself now] I threw them away when we had a loft conversion about 5 years ago. I always hoped Matt or Richard had a copy but alas they did not. I was getting into orange juice and had started getting better on the guitar so was playing more confidently.
Matt and Richard had very little memorabilia to be honest I seemed to have the majority. Payment for the fred astaire single was something like 50ncopies to sell ourselves. We gave most away recently I listed about 10 copies on ebay. Some power sellers are selling for about £75.00 wow!
Matt: Sadly, The Apple Moths output was very limited, however I recently rediscovered a tape containing a tune Eddie and I recorded on one of those Amstrad Midi Hifi/4 Track Recorders.
Eddie: Probably in your bedroom??
Matt: There were no vocals unfortunately, but it sounds gloriously Lo-Fi and wobbly, I'll get it converted hopefully, but Richard disappeared with the tape, might never see it again

We do have a video recording of our first gig at The Raw Nook Community Centre near to where Eddie lived, maybe that might get converted too one some day.
Eddie: That will be truly awful looking back now and should remain unseen!
++ What about the song Kymri? It's one of your best, could have been a single with that fantastic keyboard!! Is it about Cymri maybe? How did you all came up with such a great track?
Eddie: Kymri yeah I liked that track but 'miserable town' was my favourite. I asked Uwe to put that on the Leamington Spa CD but he insisted on 'Everything'.
Kymri was another title-less track just music until Richard got his haqnds n it and came up with the lyrics at home. He then sang them to us at rehearsal. They obviously stuck but never did work out about what they meant, if at all anything.
Matt: Yeah, it was a lovely song, I think it pretty much came out of nowhere too, very spontaneous song, Steven's keyboards really made that song, I think the lyrics were inspired by a Science Fiction novel Richard was reading at the time. Like I say, that song almost wrote itself as far as I remember.
++ Did the Apple Moths gig a lot? Any particular gigs you remember?
Eddie: I think we did just two or three gigs in all that time. Just as we were actually getting a bit better and with Stephen coming on board meant the live sound was a lot fuller it sadly started to fall apart.
Matt: No, we only did a handful of gigs, we were something of an oddity as indie pop was a genre of music not commonly know of in our neck of the woods, as a result, we never went down too well playing live. Maybe a contributing factor to our untimely demise.
++ Your biggest highlight?
Eddie: Playing a battle of the bands competition in Bermuda shorts and pink pineapple t-shirts [designer brand from Bradford] during winter in a night club in Bradford called 'Rios' and finishing last. Running in a close second has to be releasing a 7" single whilst still at school, it was worth it for the kudos alone.
Matt: Definitely receiving our copies of the single, it was indescribable

++ Why and when did you call it a day?
Eddie: Humm…. I actually remember that day very well. I wish it hadn't to be fair but we had reach a time when Matt and I who were extensively the core of the band started to drift apart with different interests. I was still in college training to be a radiographer and Matt had left sixth form and got a job. He had lots of spare money and started dating those weird creatures called girls. Richard was becoming more of a driving force behind the band and was taking us in another direction. The jangly indie scene I identified with was changing those bands were dying and the 'Madchester' scene ie Stone Roses, Charlatans, Inspiral carpets etc were arriving along with the floppy fringe shoe gazer brigade.
Matt: This subject is a cause of great sadness for me, it was all about musical differences as is usually the case, it was the early 90's and I was very much into the Shoegaze movement. Bands like Slowdive I was obsessed with, so obviously I was keen for the band to move in a similar direction, Richard and Steven I think were on board with this, but Eddie was very much an indie pop purist, so naturally conflict arose. In retrospect I think I was to blame for the split, but at the time, I had no idea that the single was being enjoyed as much as it was around the world, I heard reports that the single had been recieved well in France, Germany, Spain and Japan, but I didn't really believe it, I was convinced it had just faded into obscurity. It was much much later that I discovered that the single was indeed quite highly regarded. So, Eddie left under a cloud one evening during rehearsals, and we continued under the name Windy Miller.
Eddie: I don't recall any arguments or fights I think I just thought this doesn't feel right for me anymore so turned my back and walked away.
++ Care to tell me a bit about the band Windy Miller that was formed from the ashes of Apple Moths? Was there any recordings? Were you involved in any other bands?
Eddie: Over to Mr Bolton………….I had nothing to do with windy Miller or the other incarnations but they did make some good tunes.
Matt: The Windy Millers evolved quite rapidly with the addition of a drummer, Dann, and later a second guitarist, Russ. I went on to play guitar and Richard, already an accomplished bass player, took up bass duties. So Windy Miller was a far cry from what we were doing in The Apple Moths. However, two tunes 'Win by Miles' and 'The River' have recently re-emerged that we recorded soon after Eddie quit, listening to them now, they're not a million miles away from The Apple Moths sound, and can be heard on the Apple Moths myspace.
++ What are the Apple Moths doing nowadays?
Eddie: I now play bass guitar in a Bradford based covers band called 53/12 in between working full time and trying to get out on my bike as much as physically possible without upsetting the missus! I have two little boys who are absolutely brilliant and enjoy coming home to play with them after work.
Matt: We're busy being old, working, raising families, and looking wistfully back on our youth.
++ Anything else you'd like to add?
Matt: Yes, thanks you very much for showing an interest in The Apple Moths and asking us these questions, also I'd like to give thanks for running such an excellent record label.
Eddie: Me too, yes many thanks for the trip down memory lane……oh and yes everyone must buy a copy of the Hepburns 'Trojan Hearse' CD its truly wonderful and very under rated in my opinion.
::::::::::::::::::::::::::::::::::::::::::::::::::::::::::::::::::::::::::::::::::::::::::::::
Listen
The Apple Moths – Kymri