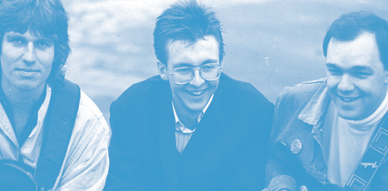 Thanks to Darrell Mitchell for the great interview.
++ How did the band came together? Were you friends in high school? neighbours? football fans?
The band started up with Baz the drummer and me. We went to the same school in Wallingford near Oxford, but I was a few years older (still am!). After I'd left school, Baz's dad asked if Baz could play the drums with me and a bass player called David Tomlinson who I'm now playing with again. Baz was a spotty fourteen year old, with thick glasses and his Dad thought it would be good for him to have something constructive to do, as he wasn't doing very well at school. A few years later the band morphed into Home and Abroad after bass player Ian Norrington joined. We put an ad in the local paper and he auditioned and we went from strength to strength. Ian lied about his age as he was a few years older than me and thought we would mind.
++ What football teams you support then?
Ian supported Ipswich Town, as he was from Suffolk. I supported Swindon Town (someone's got to!) and Baz went to watch Reading, but always secretly supported Liverpool.
++ Alison is one of my favourite songs ever. Who is this Alison girl? Or maybe it's not a true story?
Alison does exist, but I changed the name. Partly because no one would have bought a song called Sharon, and partly because I didn't want her to know. Sharon was really gorgeous, but couldn't help falling for horrible men who treated her badly.
++ It was released in a label called Zebra Records. I will be honest to say I never heard about that label, can you tell me a little bit more about it?
Zebra/Zebre records were based in High Wycombe and run by my friend Sid. It sort of ended up being our own label in the end.

++ After that release, a flexi came out on Lovely Records. It was a split with the marvelous Rileys (god I love that band!). You also released many tracks on tape compilations, maybe you can help me keep the count? How did all these happen?
I've lost count of the different compilations too I'm afraid! Our manager Barry promoted us in a wide variety of countries and quite often there was a different compilation for different countries. Also we had more material than most bands and wanted as much as possible to be recorded and released, which is great now as there is so much to remember us by.
++ Which bands were your favourite at that time?
Baz and me were inspired by punk and new wave music above all else, British and American, including the Clash, The Jam, Talking Heads, Magazine, Elvis Costello…….. After that we really liked anything poppy with real instruments. Our songs always had a hook. I've grown up loving the Beatles. Ian liked complete crap, so it's best not to go there!
++ How involved were you in the fanzine culture during those C86 years? Do you see any advantages between them over today blogs?
We did end up being part of the fanzine culture, but didn't really notice at the time. I'm a bit scared of computers, so I rarely read blogs, but it's the same thing really. I love people being moved enough by the music to write about it. I liked fanzines because they were so disposable and that fitted in really well with whatHome and Abroad was about. Three minutes of pop and throw it away. We were always straight on with the next thing. We didn't worry about perfection, we embraced our flaws. We wanted to be out there doing it. There were so many fanzines at the time that often the floor was littered with them after gigs.
++ How did the Elefant / Home and Abroad relationship start? I've heard there is a tape Luis released?
Our manager Barry made the contact with Luis and he was really in tune with what we were trying to do. There is an Elefant tape, called In Search of the Obvious.
++ Smoky Town is the first vinyl release of Elefant, this is legendary! What memories you have of that record? Any anecdotes you'd like to share?
Smoky Town was one of the songs I'd written that we didn't quite know what to do with. It didn't really fit in with our set of noisy electric pop. We recorded it in a scrap of studio time with Pippa Hall guesting on backing vocals. She works in film now I understand. The song is about two untidy lives getting together and starting a relationship and was about my wife at the time. She never found it too complimentary and I guess it isn't a conventional love song!
++ There is an unreleased album by Home and Abroad that you will make available on the web. Care telling a bit more about it?
Baz had to leave the band due to a problem with his wrist. Kenny Stone replaced him and we started to lose our throw away image. Luis asked us to do a new album, but it was never released. I really wish we had. I'm still really proud of it after all these years and I'm so pleased that some people are still interested in hearing it.
++ Home and Abroad silently left the indiepop league…. what have you been doing through all these years?
Sadly and still quite unelievably Ian died in a motorbike accident. It's still hard to believe. I carried on in bands called the Simpletons who recorded an album called 'Men Who Wear Pyjamas' and later with Edna who released an album with Holier Than Thou records called 'Beekeping for Beginners'. I had a break for a few years to have some babies and I'm now back with Baz and Barry (The Occasional Orchestra) again doing songs under my own name and with Stumble on the Valves with Barry. Check us out!
++ Anything else you'd like to say to the popkids out there?
Stay pop and do it for the music popkids!
::::::::::::::::::::::::::::::::::::::::::::::::::::::::::::::::::::::::::::::::::::::::::::::