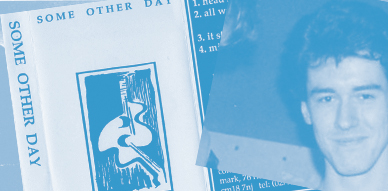 Thanks so much to Mark Walshe for this interview! Some time ago I wrote about Some Other Day in the blog, I was in love with their songs and hoped to get in touch with the members of the band just to know a little bit more about them. Happily Mark got in touch not too long ago and was keen to answer all my questions! Hope you enjoy it!
++ Hi Mark! Thanks so much for getting in touch! I think you are living in the US these days, isn't that right? How come you ended up here?
I moved to the U.S in 1993. I had been living in various parts of London and working seven days a week on a clothes stall in Camden Town. The Tender Trap had just come to an end and I was in need of a break. My older brother Ed lived in San Francisco so I thought I'd pay him a visit. It was only supposed to be for two months but that plan got slightly extended thanks to Ed's invitation for me to use his couch for as long I wanted. Staying for a while seemed to be a very attractive proposition. Now it's 23 years later.
++ Have you been involved a lot with music in the US?
When I first arrived it was just about me playing my acoustic in people's living rooms. I wrote a lot back then. It must have been the effect of a new environment. I met a guy called Lonnie Lazar from Texas and we'd play gigs together in a cafe/bar called Simple Pleasures. He would play his bluesy, country gig and I follow him with my Essex chops. Quite a varied evening!
I also got involved in a ramshackle nightclub called Nickie's where Ed and myself would host a weekly Irish night. We knew a fair bit about Irish music because of our parents. I would book some amazing artists and we became friends with most of them. That night became a platform for me to play my songs too. We called the night "An Choirm Cheoil". I suppose you could say they were the golden years in SF.
In 1998 I slaved over an eight-song demo (imaginatively entitled "8 Songs") that I recorded on an old four-tack Tascam studio in my bedroom. I upgraded to a digital Boss BR-8 but it was all still pretty lo-fi. Around then I started playing regularly in a bar called The Edinburgh Castle. It was a really bohemian joint full of musicians and writers. Irvine Welsh was a friend of the manager and a frequent contributor to the reading nights. I also met Patrick McCabe and James Kelman in there. I got together with a great gang of musicians from that bar and we've been in cover bands together ever since. All great musicians from Scotland, New York, and Ireland. It was a very fortunate meeting.
++ So I wrote many years ago about Some Other Day on my blog, as all the songs I had heard from your band were excellent. There was very little information about the band online, so I hope you can help me fill in the blanks. Let's start by the obvious, who were Some Other Day and how did you all meet?
The band started with Suzy Allen and myself. She had moved to Harlow from Brighton (originally) and we met in The Square around 1985. A friend of Suzy's had given us this ancient reel-to-reel machine that we somehow managed to breath life into. It was like a prop from a Science Fiction film. We both had some songs so we started to record. Richard Martin came along with some much needed bass lines and we entered ourselves into the Harlow Rock Contest. There seemed to be endless rock contests in the town back then. We had intended to play without a drummer but with just weeks to go before the gig, Billy Dawkins turned up with his big drum sound and the band was complete. After our first rehearsal I remember thinking, "How were we going to do this without those drums?"
++ I know you were involved with many bands back in the day like Dark Horse, The Clinic, and Tender Trap. What would be the order chronologically for them, and if you can in a line or two tell me what sort of sound, or what influences, did each band had. Were they very different to Some Other Day?
That's a big question but one I'm pleased to answer. You may need to heavily edit here because there's no short way of telling this.

Dark Horse was first. The germ of an idea that started back in 1977 when I met my best mate Paul Howard in school. We bonded over a mutual interest in all things punk rock. After making a lovely racket throughout our school years we finally got serious about the band around 1982. Keith Brown was like a child prodigy drummer who we met through school friends. He was about three years younger than us and we'd never let him forget it, "Don't worry Keith, rock and roll is a big bad world but we'll look after you. We're old hands at this". We would rehearse in a local church near my house. The priest gave me the keys and just told us not to break anything. Father Lubey, what a hero. There was a metal work training shop directly opposite with the constant clang of hammer against anvil. In the summertime, when we had to open the church doors the metalwork training shop complained to the priest about our noise. I always love telling that story.
Our influences at that time were bands like The Cure, The Stranglers, U2 and The Bunnymen. Also Scott Walker, Marc & The Mamba's and Bowie were very big for Paul especially. We wrote individually and the songs were called things like, "What It Is To Be Young", "Now And Forever", "Better Off Dead", "Live Another Day", "The Question" and "The Underground". Quite advanced for schoolboys! Paul was very quiet about his talents back then. He insisted that he would never sing even backing vocals. Funny, considering what a great vocalist he became.

The Clinic was another band formed with schoolmates. I handed my friend Paul Carolan a tape of "Faith" by The Cure when we were in the fifth form. He kept going on about Earth Wind and Fire but I knew he couldn't possibly be that cheerful. After Dark Horse split up I got together with Paul, his brother James on bass and Joe Quill on drums. Every Saturday, Joe and myself would take the bus from Harlow to Loughton and rehearse in the Carolan's front living room. A petition was set up in the area to get us to stop. I think it just made us turn up a notch. Paul sang and wrote all the songs and they were dark, ethereal and lovely. "Our Day Out" was our anthem. Well, so was, "Spinning Room" and "Hero" actually. Paul clearly had the anthem thing down. I loved his songs. I discovered the Boss Chorus pedal around about then and I used it like an oxygen mask. The Cure were a big influence but so too were Theatre Of Hate, Joy Division and The Cocteau Twins. We were Goth Casual! We had mates in a band called Under Two Flags and they were really making it so I think they were on our minds a fair bit.
We played The Tom Allen Centre in Stratford one night supporting The Jazz Butcher. He came into our dressing room and asked us to go on tour with them right there and then. He was very insistent but I had to turn him down because James was moving to Sheffield. He told me to get a new bass player but I told him we were family. That was our last gig.
Some Other Day I was able to get back to writing songs in Some Other Day. I wrote most of them but Suzy wrote some crackers for the band too. I wrote loads of songs in SOD. I think it had something to do with that naivety of youth where you think you can't go wrong. Actually, you can. I wrote some real stinkers too but because I was writing so much, hopefully the pro's outweighed the cons.
The Tender Trap Around 1985 Paul Howard suddenly announced that his band The Tender Trap were going to play in the Harlow Rock Contest and that he was going to be the lead singer. This was a surprise to everyone because, as active as he was with music, nobody had heard so much as a peep out of the man on a microphone. I'll never forget that gig. It was just four songs but it was the first time even I'd heard that incredible voice. Me, his brother in Punk! The next year he reformed The Tender Trap with Simon Lomond from The Neurotics on drums and Andy McDonald from The Pressure on bass. I was flattered to be asked to join as the lead guitarist but I wasn't confident. I never really saw myself in that role but in The Trap, like in The Clinic I suppose, I could hear what my friends wanted in their songs. The Tender Trap proper was formed and we lived somewhere in between The Clash, The Waterboys, Dexy's and Little Richard. We supported The Pogues, Hazel O'Connor, Geno Washington, The Blow Monkey's, The Energy Orchard, The Liberty Cage, Sam Brown and even did a gig at Glastonbury. We were a giddy gang of pirates (The Libertines would've blushed) and we should've gone much further than we did. It was just another classic "bastard record company" story. I'll leave it at that.
++ Where does the name Some Other Day come from?
I saw a 4AD advert in the NME. It listed all their coming releases and underneath, in a typically understated 4AD way it read "some other day…" in tiny italics. I thought it was poetic, like how we all live our lives. Some other day I'll be happy, fulfill that ambition. Some other day I'll fall in love.
++ How was the creative process for the band?
I remember it as very democratic. We'd rehearse every Thursday night in a place called Parndon Mill on the outskirts of Harlow. It was an actual Mill, an ancient drafty thing but also strangely comfortable. We'd play like crazy for about two hours suggesting politely to each other "Do it a bit more like this". Then I'd give Billy the nod and we'd all go to the pub for a break or, "to write the set-list" as we'd sell it. When we got back Billy would start up some mad drumbeat and we'd usually have the bare bones of a song to go home with. I remember a jam like that ending up as a song called "Joy". Billy was bashing the blazes out of his kit and I played a kind of a Will Sergeant riff to Richard's plodding JJ Burnell bass line. The tape machine was running and I was really excited with the results. I wrote the song very quickly around that. It just made me understand that not all songs have to begin in your bedroom with an acoustic guitar.
++ And at that time, which bands did you follow? What were you into?
A big album at our inception was "Swoon" by Prefab Sprout. Now I'm not saying we reached anything like their texture and intensity but we definitely loved that record. I remember thinking Del Amitri's self-titled first album was unmatchable and very different form their second incarnation. It's hard to escape The Smiths in all this. That band had more of an influence on me than I'd like to admit. It was a big time for those chimey guitars ala Johnny Marr and I embraced it to say the very least. Ben Watt's "North Marine Drive" was my bible back then. Richard was a huge Prince fan. Billy would rave about Talk Talk. Suzy was brought up with a great Folk mentality. I'm from an Irish family so I was very into those gorgeous, melancholic melodies. Christy Moore changed me considerably. There was a band called The Woodentops who we stumbled upon at Brighton's 'Zap Club' and collectively fell for. They married great tunes and big beats. I heard Nicky Wire say something to the effect recently that if you were lucky enough to have been brought up on bands like Buzzcocks and The Clash, then they will always inform your music in some way. I think that's very true. In that way, Echo and The Bunnymen were ever present for me. "Heaven Up Here" is still one of my favourite albums.
++ You didn't have a proper release. Why's that? Was there any interest from labels? It's surprising as your songs are so good!
We had a few visits up to London to talk to record companies but it was all a bit "Hmm, nice, see you in a year". There's a funny story about how we drew attention to our tape but I'll save that for later.
++ You did appear on two compilations. "Bury Your Sins" appeared on the "Not Just Mandela" comp with a bunch of well known bands like Housemartins or Billy Bragg. This compilation had a political background. Who asked you to contribute? And was there a gig to promote it? What do you remember about this episode of Some Other Day?
Davy Lamp Records was the brainchild of Graham Bell and Steve Lamacq. It was originally set up to help the miners with the fall-out from the strike of '84-5. The "Not Just Mandela" album was an ambitious project to bring together loads of Harlow bands and release a record to help the Anti Apartheid Movement in South Africa. Billy Bragg was well known to The Neurotics and Attila The Stockbroker as they'd all toured extensively in Eastern Europe. I'm not too sure how The Housemartins were reached. Probably Attila. The man was and is a gigging machine. The album was about to be pressed and we weren't on it. All my mates were there but we weren't on the list! We played a gig at Harlow Town Park one summer and Graham walked up to me when I got off stage and asked me if I wanted to contribute. I was chuffed. I wrote "Bury Your Sins" especially for that I think.
++ The other appearance was with the song "Sad But True" on the compilation"Uncle Arthur's Pop Parlour" were a bunch of indie guitar bands appeared. How did you end up in this compilation? And did you feel at the time that there was a like-minded scene with all these guitar pop bands?
I didn't know much about this compilation at the time. Gareth Stevens was a good friend of ours. He was a local journalist and champion of the band. I think that compilation was his baby. I suppose there was a like-minded scene. What was nice about it though, in those days, there was no one band copying another. There was a bit of borrowing but individuality won the day.
++ Then I was lucky to hear more songs on the Harlow Archive. 4 songs that are just so good. My first question of course is, are there any more recordings?
We recorded three demos. One was recorded in Hertford and two others at an amazing studio in South London called RMS. It was directly opposite Selhurst Park Football ground. The studio owner Andy was so clued into what we were trying to achieve. He really liked our band and I felt we were in great hands. We recorded "Bury Your Sins" and "One Man's Words" in there and then went back to record a four-track session intended for vinyl release. We just ran out of cash and it became a tape. That had "Head Still Full Of You", "All Water Under The Bridge", "It Stays With Me Always" and "Midnight" on it. I saw the posting from our bassist Richard on your site where he says he still has everything we recorded in a shoebox. I'd say there's a lot of music in that there box.
++ It's hard to pick one song to be my favourite, but perhaps "Head Still Full of You" might be mine, if you don't mind, care telling me the story behind this song?
I don't mind telling you at all. It's a song about my first "proper" girlfriend. That classic tale of letting someone go only to realise you've made a mistake…but you're too late sunshine. The line, "If the light should flicker on the landing there" still gives me a giggle. My girlfriend's Mum was in full support of us having a little privacy upstairs but her Dad was completely against it. When he began threatening to go up and investigate, her Mum would secretly run out into the hallway and flash the hallway light three times. "The warning signs beneath the stairs" was the sound of my girlfriend's dad racing up to catch us red-handed. By the time he got to the room he was greeted with the sight of two happy teenagers playing Scrabble.
++ Which of all your songs would you call your favourite and why?
I like "Head Still Full Of You" a lot. Other songs like "Coming Up Roses", "Change Your Mind", "It Stays With Me Always" and "One Man's Words" were up there too. Above all of them though, my most favourite song is "Midnight". We kind of formed around that song. When I wrote it, I was inspired to keep going so it really did kick everything off. We would always end our set with it. Suzy's brother played a lovely cello part for the recording. If I had my time again I'd give it three more key changes at the end. With a choir and whales song 😉
++ Because your songs are in the Harlow archive, I guess it's safe to assume you were based in Harlow? If so, how was it back in the day? What were other bands in your area that you liked? What were the places you used to hang out?
The music scene in Harlow back then was rampant. All my friends were in bands. GOOD bands. The Sullivans, This Happy Breed, The Pressure, The Internationalists, Real By Reel, The Pharoes, The Gamekeepers, Howard & Clack, Attila The Stockbroker, Austin's Shirts, The Hermit Crabs, Blind Testament, Blue Summer, On The Pulsebeat, Respect, Heartland, Midnight Panic, The Neurotics (of course) etc. If you weren't in a band you were doing sound for those bands, taking pictures for them, making videos, writing about them or just being there and enjoying it all. We played loads of benefit gigs to help people. There was a great community, a belonging attached to the whole thing. Well, these were the Thatcher years after all. Bleak times.
Paul Howard and Simon Lomond created the full day benefit festivals called "Ego Problems" to help the miners and the Anti Apartheid Movement. It was ironic name because nobody really had an ego problem at all. Steve Lamacq was chronicling everything with his monthly fanzine release "Pack Of Lies". Coaches were being ordered every week to take people up to London venues to give folk a chance to see the bands somewhere else other than The Square. No disrespect intended though. That was our HQ and we played the hell out of it. There were other venues like The AUEW Hall, The Football Club Bar, Victoria Hall in the Old Town and even The Golden Swift.
The Hare Pub tended to be a big hangout for everyone. That had a lot to do with its proximity to The Square…and the hospital. Harlow wasn't the friendliest of towns to wander around back then. I often think that the thuggish element to the place gave us a stronger resolve to create our own world out of New Town drabness.
++ Did you gig much with Some Other Day? What were your best gigs? Any anecdotes you can share?
The London gigs were always full of some kind of drama. We played The Mean Fiddler in Harlesden and found ourselves going on after The Mega City Four. They were full of their Les Paul swagger in the sound check and when they hit their first power chord Richard just let out an involuntary "Oh noooo!" so they glared hatefully at us. Neither band was the least bit suited but that's how things were in those days. The venues liked to cram in bands without much thought. Anyway, when it came for our time to play I meant to make a comment about how rocking MCF were and how different we are to them. For some reason I articulated that as, "Fuck, but that lot were loud weren't they?" During the next song I felt some weird contact on my head. At the end of the gig I reached up to discover some well-aimed globs of chewing gum permanently intertwined in my hair. I went to look for the Mega's to "discuss" this (they'd been above us in the balcony so they were banged to rights) but they'd taken their crimped loveliness out of harm's way.
This is not a gig story but one I'd promised earlier. During an interview on Radio Essex I was asked, "What would you call your music?" and by way of a protest to such a crap question I blurted out "Trouser Music". The bemused radio guy pressed me for an explanation but I just retorted with "Well isn't it obvious?" Richard picked up on this and decided that what we played was indeed "Trouser Music" and we hatched a plot to use this moniker to our benefit. We decided that we'd announce the release of our newly christened demo "Inside Leg Measurement" (geddit?) to every record company by first sending them a pair of trousers with the message "Trouser Music Is Coming" stapled to the fly. We obtained the trousers by offering free admission to a Square gig around that time. By the end of that night there were pairs of slacks hanging from every beam and rafter. We took hundreds of pairs of trousers to the Post Office and sent the message to every record company in existence. We then waited a full month and sent the tape declaring "Trouser Music Is Here!" One reply came back as, "I like your music but I can't use it on my label. Your campaign to gain my attention is already a legend in our office though. Thanks".
++ Tell me about the 1985 Rock Contest? How was that?
Our first gig? It went quite well if I remember. It just so good to be able to take it onto a stage and have Billy's drums blazing away behind us. We did a song called "Restless" which didn't make the distance but I always loved that song. Also, we had an actual Irish reel that I'd decided to throw in. No joking. I don't know what made me think we'd get away with that. I'm certainly no Arty McGlynn! More folly of youth right there. We didn't get to the final of any of those contests. I was just happy to play.
++ You were managed by BBC Radio's Steve Lamacq. How was that experience?
That was really interesting. Steve had come to Harlow to study journalism at the college. His music interests got him a job reviewing bands for the local paper. He took a shine to us and would come over to Parndon Mill almost every Thursday for rehearsals. We'd have the big band discussion in The Shark pub and plan how to find 150 pairs of trousers and then write the set list. Steve's enthusiasm was really encouraging. We get a mention in his bio "Going Deaf For A Living" but it wasn't very favourable. He said something like, "I thought they were the most original band ever but then realised they sounded like everyone else". Not the end of the world but if you're only going to get one mention…
We went out to celebrate when Steve got a paste-up job for the NME. I told him he'd be the editor there in six months. I think it took him three. Then I came to the States and would get these letters from Paul saying "Steve is on the radio every night, he's having a chin-wag with Peel all week!" I met Steve recently at a Neurotics gig at The 100 Club. Myself, Paul Howard and Steve back chatting like it was still 1989. What a great night that was.
++ And how long did the band last? When did you call it a day?
I would say we lasted for about two years. I suppose we were just one of those bands where, if you lose one member, it just doesn't fit back together again in the same way. Like we lost the instruction manual. Billy was experimenting with different ideas for drums. There was a move for him to make our songs a lot more rhythmic, almost like dance music. I felt it was too busy and didn't leave enough space for the songs to breath. There was a little bit of a disagreement and I think we went off in search of a more traditional drum sound. In hindsight the man had a good plan. It might've moved us somewhere more interesting. We tried out a few people but it just made us realize how good Billy had been.
++ Are you all still in touch? What happened afterwards?
I have contact with Billy and we've bumped into each other on the odd occasion when I'm back in England. I haven't talked to either Suzy or Richard since 1993. There was no bad feeling. I don't know really, people just drift away.
++ Today, what are you up to? What other hobbies aside from music do you have?
Music keeps me nice and busy with my duo Walshey & Westy. My new wave/punk cover band The Shakespearo's are reforming with some new ideas. Apart from that I have my full time job working in a day centre for developmentally disabled adults. I hike a lot here and walk my feet off myself in general.
++ Looking back though, what would you say was the biggest highlight of the band?
I loved going to record at RMS Studios. There was a real feeling of creativity in there and I was encouraged to dream a little about what might be. It didn't happen for us, but there you go!
++ One last question, being in the US, what is it that you miss the most from the UK?
The people. When I go home I notice things that many of my friends probably take for granted. The communal spirit and the deep companionship I have with my friends and family in England makes leaving each time a really heartbreaking experience. I often wonder what would've happened if I'd have stuck to that two month plan. I shouldn't complain though. I've had a good life here and met some wonderful folk along the way.
++ Let's wrap it here, thanks so much for the interview. Anything else you'd like to add?
I just want to thank you so much for showing an interest in the band and helping me remember so many great times.
::::::::::::::::::::::::::::::::::::::::::::::::::::::::::::::::::::::::::::::::::::::::::::::