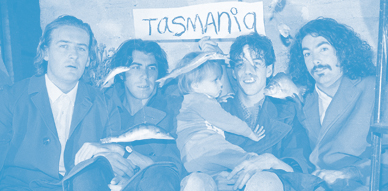 Thanks so much to Mark Narkowicz for the interview! The Fish John West Reject were a fantastic band in Australia during the 80s! They started first in Tasmania and then moved to Melbourne to make a splash releasing a couple of albums and many singles. Before reading the interview I will point you all to visit their Facebook page where you can order by messaging the band the reissued "SWIM" album. Also you better become a fan of them there! Now that you've done that, sit back, read and enjoy!
++ Hi Mark! Thanks so much for being up for this interview. I guess the first question is pretty obvious, where does the name of the band come from? I've always been curious!
You're welcome Roque. Very pleased to be on board. When we started, we were members of a Pentecostal church in Launceston, and our performances were very much (what was called) an 'outreach'. We were trying to play a part in converting people to Christianity. So, when we were rehearsing as a 2-piece one afternoon in Mark Adams' flat we were desperate to find a name because we had a gig coming up very soon, and we didn't want to be called "Mark Adams and Mark Narkowicz". Mark's girlfriend Lisa was hanging out with us and she suggested the name "The Fish John West Reject" when a John West ad came on the telly. We were gobsmacked.
++ You have just reissued the "Swim" album. It was released in 1989 as LP and cassette and it's not even listed on Discogs. Why the decision to reissue this particular album? o What's Discogs?
Well, the SWIM album was truly an independent release and definitely what we were about in 1988. We had a collection of songs we wanted to release and we didn't know where it fitted into what was happening in Australian music in 1988. 'Acoustic Pop Thrashabilly was our guiding principle. We knew no one would put it out and we knew people would love it because we had a whole lot of people attending our gigs. When we recorded the album we were about to reach a peak and were definitely on a roll… it was a significant time in music. Recordings were being released on (1) vinyl (2) vinyl and cassette (3) vinyl, cassette and this new thing called CD – very exclusive to bands on major labels. So – we released our album on vinyl and cassette. We also made the good decision to purchase the multi-track tapes on which the album was recorded. A lot of moolah at the time for an indie band. So, it had never been released digitally…and the opportunity arose when an old friend (Marshall Cullen) suggested a digital re-issue.
++ There's a pretty extensive biography on your Facebook page, so I'll try to fill in the gaps with my questions. Before being in FJWR you were in a band called The Deaf Lepers. Who were they? Did you record or release anything with this band?
The Lepers were my first ever band. A cover band who wrote the occasional original number. We were testing the waters…we played in Hobart and were hooking into the voodoo psychobilly thing…doing covers by The Cramps, The Scientists, Hoodoo Gurus, Buddy Holly. All the brainchild of Tom Loncar, an old school chum who went on to do great things in the Sydney Garage scene with the Intercontinental Playboys – look them up! We made a few desk recordings which were put out on cassette. Our set included the first song I ever wrote, 'Swampman' which I play to my students now (I'm a Primary School Music Teacher). I left The Lepers because I moved from Hobart to Launceston to study. The Lepers were also part of an underground thing in Hobart…I remember it being exciting but scary. Goths and punks – y'know? But also Tom would say to me "Come and see this Andy Warhol movie called Flesh for Frankenstein" and he would introduce me to early 1950's garage music. This was a huge influence on the Fish…
++ Then you met the other Mark, Mark Adams. How was that encounter? And did the band happened immediately after?
At this stage I had moved to Launceston – the second largest city in Tasmania. With Mark (aka 'Warky') I remember setting eyes upon him at a church I started to attend. I'd just been converted to Christianity in a Pentecostal sense. Mark was part of the same church – he was a youth worker and very mysterious. He had corkscrew hair like Marc Bolan and had a beautiful Maton acoustic guitar. When I heard him play harmonica I was captivated. I had never heard live harmonica before and Warky played it like he was speaking. Wark was older than me by a few years, so he was more mature in relationships and outlooks on life. He was very comfortable with relating to younger people and had a fearless approach to life. We hooked up on a number of levels including environmental / political issues which were significant in Tasmania at the time. Musically Wark had a background in the folk / troubadour tradition and I had been influenced by New Wave, Punk, Ska, Psychobilly. Through him, I was introduced to the music of Pete Seeger, Woody Guthrie, Sonny & Brownie and vice versa.
++ The band started in Tasmania and then moved to Melbourne. I know of many bands that crossed the strait as you. Definitely Melbourne had the bigger scene, but was there anything good at all about playing in Hobart?
Hobart is the capital city of Tasmania, so you always aspire to playing in the capital. Hobart had more venues to play in and definitely had a more eclectic, open-minded audience. Hobart had a vibrant university scene and this certainly helped us build our audience. It was much easier to get a gig in Hobart. We followed the lead of The Odolites and Wild Pumpkins at Midnight in deciding to move to Melbourne. It was an 'all or nothing' approach. We gave ourselves a time-frame and thought 'let's have a crack – see how it goes'.
++ This might be a strange question, but in your Facebook biography you mention the church and it's connection helping you. It's not that common to hear an indie band involved with the church. How was that relationship?
That is how we started. Tim (our first drummer) and Andrew (our bass player) were connected to us through Christian circles. Graham (our drummer) joined us through the same connections. Christian folk music was a huge part of what we were about. We wanted to play songs with a gospel message but we had an intense dislike for modern Christian music. We actively sought out folk / acoustic songs to play with a gospel / humanitarian message, so we were drawn to American folk music by Woody Guthrie, Johnny Cash, Sonny Terry & Brownie McGhee, The Weavers, Pete Seeger. Later on we were introduced to Violent Femmes and T-Bone Burnett…didn't look back after that. The relationship with the church was difficult. We were advised to listen to music that was the Christian 'equivalent' to the bands we knew and loved. We had people in our ears all the time advising us to play this or that. We naturally separated ourselves from the church and did our own thing, because we never wanted to be part of the Christian' Music scene. After the band broke up, I returned to Launceston to complete my studies. The very afternoon I returned, I was accosted in the Launceston Mall by a young girl who proceeded to tell me I'd made a wrong move and was going to hell, along with my buddies. Wrote a song about that later on!
++ You describe yourselves as Acoustic-Pop-Thrashabilly. Care to tell me more about this description? Who were the main influences for you guys?
'APT' was a term Andrew came up with and it was pretty honest and accurate because there was simply no other music like ours at the time. We took a blend of American folk, Australian folk, psychobilly, Blues, rockabilly, post-punk English pop and played it all in a busking style with acoustic instruments. Many of our songs were covers of old traditional songs but we also wrote a number of songs in this style. I guess the main influences were: Woody Guthrie, The Incredible String Band, Sonny Terry & Brownie McGhee, Violent Femmes, The Housemartins, The Cramps, Jonathan Richman and Orange Juice
++ Tell me about the recruiting process for the rest of the band? How did the original lineup of the FJWR happened?
In a nutshell…Tim joined on drums in the early days to make a 3-piece. Andrew joined on acoustic bass and introduced us to The Femmes and The Housemartins. After a break, we moved to Melbourne and Graham (The Odolites) joined us on drums. That became the classic line-up. Wark left and was replace by Martin. Andrew left to be replaced by Michael – hence the shift to power pop. Graham left to be replaced by Stan. I'm thinking "They all hate me" and then we split up. Of course, that is not the case…Wark, Andrew and Graham all love me and I love them.
++ You played a bunch of gigs, but I wonder, for you, what were the best and why? Best crowd? best venue? best supporting band?
So many gigs Roque…so many venues etc. But I guess the best for me all occurred on one night in Perth (Western Australia). We'd travelled for 2 or 3 days to get to Perth, the played at this joint called The Stoned Crow. Supporting us were 'Something's Come A Gutsa', a 3-piece featuring the original AC/DC bass player, an electric guitarist playing killer licks and an outrageous singer who played a snare drum strapped around his neck. They played all original songs and were a bit like Talking Heads and Timbuk 3. The crowd was perfect – there were beautiful young women, lots of dancing, mulled wine…a beautiful welcome to The West. We returned many times to Perth and it was our favourite spot to tour. We reached #1 in Perth!
++ In 1986 you record "Canned". This was released as a tape only. Any plans to reissue this one? As I'm not familiar with it, how was your experience recording it, and which songs were included?
Wonderful recording experience! Certainly my and Wark's first experience. It was done in Boat Harbour on the NW coast of Tasmania, in a country cottage over a weekend…overlooking the pastures and the sea. My family goes there for holidays every year. All recorded on Tascam cassette 4-track. It was a full album of material, with mostly original songs and covers which included Dustbowl Refugee (Woody Guthrie) Muleskinner Blues (Jimmy Rogers) and Resting in Your Love (Iva Twydell, once a member of After The Fire) Definitely no plans to re-issue this one. There is a major cringe factor, but if anyone would like to release one of these songs on a comp, we would be happy to oblige because one or two songs actually scrub up OK. With this tape we made around 100 copies and did a re-press!
++ I read that during a festival in Canberra you met an Andrew that fed you with mixtapes songs by Aztec Camera, Orange Juice and more. Who is this mysterious character with great taste? 
This man of mystery is our bass player, Andrew Viney who is also familiar to you through his work with Tender Engines. He put us on a diet of Orange Juice, Aztec Camera, Housemartins, Violent Femmes, Jazz Butcher and Bluebells. Very sexy.
++ In 88 you record another tape, "Shy But Wild". How was the process of making these cassettes? Where you copying them one by one? What about the artwork? And how many copies were you doing at that time?
The Fish were well and truly a full-time kick-ass concern at this time. We recorded a bunch of songs live during a stint in Adelaide at the Fringe Festival. We played 21 shows in 28 days and became pretty tight. We recorded Shy But Wild at the New Century Hotel on a Tascam 4-track. We put a few songs on Side B recorded as demos for the SWIM album.
++ Next year, in 1989, you release the Swim album. 5,000 copies are sold. For today's standards for an indie band, that's quite big! Who released this album? I assume you got good distribution, right? And how auspicious were the reviews? Were you happy with the end result?
The SWIM album was released on Vinyl and Cassette. It was a purely independent release. We funded it and the distributor was Musicland. Andrew Lethborg (The Odolites) worked for Musicland and he did a great job in getting our album into shops. We also sold a lot of albums at gigs. But the indie stores really did get our album out to the public. When the band split up, there were some pop connections in Japan (via Sweden) who picked up the SWIM album – kind of kept the fire burning. Kei Nakamura and Lars Wenker. BIG UP to those guys. I remember the reviews of SWIM being positive, fair, but not glowing. We were very pleased with the result because we did the whole thing in 3 days and it captured what we were about. We made the decision to spend money on a good studio and a good engineer. But it also meant we were exposed warts and all with our songs, our playing and our naivety. We also made the good decision to purchase the multi-track recording tapes – the wonderful thing about being independent. So, having the opportunity to remix after so many years has meant the album has been improved.
++ Same year the "Left" 7″ is released with it's hand-drawn artwork. Who made the cover art?
Mark Adams did the cover art for Left / Childless Mother. We then organised an evening where friends of the band came around to Wark's 'cave' to colour in the artwork with crayons and water colours. So, every single was individually coloured in…that happened as well with the re-pressing.
++ After this release you end up signing to a bigger label in Australia. Shock. How did that happen? Was it just a phone call or what?
Well, by this stage the band had changed line-up. Wark had left the band and went on to form Hurdy Gurdy / Slurper. Martin Witheford joined on guitar and Michael (brother of Martin) joined soon after when Andrew left the band. Shock was making a big impact in Australia with their links to Creation, Beggars Banquet, 4AD. They were in a good position to sign local artists and were willing to take a punt. They were champions of promoting new Australian music and we were lucky enough to be on their radar. Shock allowed us to release our 2nd album on 3 formats – CD, Vinyl and cassette…not to mention doing a 12" vinyl release. Doesn't happen for an indie band these days! It wasn't just a phone call – there was a mutual respect. Shock knew us in a local sense because there was a nice little bit of fuss about The Fish locally, and Shock was very much about supporting and nurturing local artists. We came to a nice arrangement – punky and very respectful.
++ With them as far as I know you released 2 7″s and the Fin album. How do you remember this period? Would you say that your sound has changed a lot from the first recordings? I read many fans weren't pleased of a sudden chance to power pop
The change in line-up certainly meant a change in our fan base – but it brought new fans in, and we still managed to get amazing exposure through doing some really big support shows. Our album FIN was well-reviewed by the Australian and English music press. Now, the sound of the album is quite dated, but the songs are still really cool. The period was exciting and new, but also sad because Warky, Andrew and eventually Graham had left. The line-up completely changed. With the second line-up, we were very focused on melody and current sounds. Primal Scream, The Wonderstuff, Pop Will Eat Itself, Ride, Jesus & Mary Chain, Jesus Jones, The Pixies were all big influences
++ And all in all, with such a vast discography, what would you say were your favourite songs that you penned? And why?
Thankyou for asking this question about my songwriting. My favourite songs overall would have to come from the songwriting period with The Dunaways…who are also TFJWR as we speak. From the FISH period, as a young songwriter, I would say The Orchard – a 12/8 timing with diminished chords which managed to get us on to the telly. I liked this because it was heart-felt and written in a moment of desperation. Very quickly penned …then She's In France which was a very Nikki Sudden (Jacobites) inspired thing. Nikki was a revelation because of his distinctive voice and his minimalistic approach. Terrible News on the FIN album was enjoyable because it was truly a songwriting collaboration with Michael Witheford in a Power Pop style. Lights Out Over Launceston was special because it mentioned our town. It also summed up our fast, pop, acoustic style. The lyric has a slight cringe factor but it is also a watershed moment for me where the lyric had a bit of ambiguity.
++ While on the Fish, you were also making music with the band The Outstanding Amount. Tell me a bit more about this project? What happened to it?
TOA happened with Michael Witheford (bass) and Rod Fulton (drums). It was an 'hiatus' thing where Michael was taking a break, and the (early) Fish were taking a break, Michael was a huge influence on me as a young feller because he had his own bands that I would go & see. He introduced me to countless songs, bands and styles. We formed a 3-piece that focused on very simple songs to please a student / alternative audience in a conservative Tasmanian town. It was a way to keep playing, experimenting and work with new collaborators, We played songs by The Femmes, the Beatles, The Cramps, The Box Tops, The Kinks…lots of "THE" bands. We also worked on revolutionising the gig…charging no particular amount on the door – rather, a donation depending on circumstances…"The Outstanding Amount" – I LOVE you have asked a question about this group!
++ But these days, looking back at the late 80s, how do you think your songs have aged? And what would you say were the biggest highlights for the band?
Well, I think the SWIM songs have aged pretty well, after having been through the re-mixing process. The songs were naïve then and they still are now. The remixing has allowed the acoustic charm to come through. Bottom line is, they are very listenable. The songs from the FIN album are fantastic – tuneful and well performed. However they suffer because of the dodgy production and we will never be able to fix that. Bummer…they are unlistenable!
Some of the biggest highlights for us were playing the opening support for some of our heroes – Violent Femmes and The Chills for example. We also opened for UB40 in stadiums – that was mind-blowing (but they were never our heroes – we got kicked off the tour!) Other highlights included the favourable press we received, good reviews in the English Press (Melody Maker & Sounds) launching JJJ radio in Hobart, reaching #1 in Perth (album and single at the same time) and the generous drinks rider at The Shenton Park Hotel in Perth. There are so many others.
Not to mention appearing on Countdown!!!
++ And so, when and why did you decided to split? And what happened after to the members of the band?
We decided to split because we had our lives to go on with. We decided to split in 1991. Interest from major labels had dried up and we always wanted to sign with a major. Plus, we had been through too many line-up changes…we were confused, our fans were confused and we had lives to go on with. Plus we were in debt and we'd had enough.
++ Then in 2007 you decided to make a comeback and play some gigs. What spurred this decision? And how was having all the guys back on stage?
Around that time we all found ourselves in the same city (Melbourne) again. We still liked writing songs, we were still friends and we liked playing together. We called ourselves The Dunaways and we did some lo-fi alt-country things. We became involved with a lovely local independent record label (Croxton Records) who were all about songs and tunes. Being back on stage was great and we felt a bit more grown up…but no pressure to succeed or impress. It was a far more organic venture. We all got along well too. Weirdly, there is a Christian band called The Dunaways in USA. So we get many mis-directed messages from people saying how much we have blessed their lives. With songs like 'Country Drink Song"? No blessings there – only curses.
++ I feel I've asked too many questions! But there's so much to cover, but two more, I promise! So you made a promo video for "Left", how did you enjoy recording? and if you were to choose a song that didn't get the video treatment, which one would that be?
You haven't asked enough questions Roque!!! The vid for LEFT was awesome because it was our first clip, plus it was done on proper film – B&W super 8. Very grainy and in the editing was properly spliced with a splicing machine…it also captures Melbourne in the mid 1980's – the cars, the streetscapes, the fashion. This video was literally' lost' for many years because in the days before digital trickery things were very different…we relied on some guy to perform the 'film meets the music' editing job, and he didn't come through. Years later we were able to easily match the film to the music through digital means. The little girl (Bree) in the video clip was one of my students at a local primary school in 1988. She recently saw the video on Youtube for the first time and got in touch with us. She's now 33 years old! If there's a song that would benefit from video treatment? Geez mate…probably 'Sick Inside' from the FIN album…a well-produced Jesus and Mary Chain-esque ballad. We would have loved the big hair treatment, the eyeliner, the posing…Martin would have loved showing off his Gretsch White Falcon and the girls would have swooned over mysterious Graham with his leathers and locks and Michael's pout.
++ And the last question is how was the experience of appearing on national TV on Countdown Revolution?? Was it how you expected it to be?
It really was superb and tinged with controversy! On this particular day the two presenters were taking industrial action against the ABC – they asked us to boycott our spot on National TV – we had a quick pow–wow and decided against it. We loved the effort that was put into our performance…the set that had been constructed, the video footage that had been shot. It was all very exciting indeed. The band was in an interesting stage then. Mark had left, Martin had joined, we'd just supported UB40 on a national tour and were about to support Violent Femmes. Andrew had left the band but he appeared in the video miming the harmonica and looking fantastic…a show of support from him. It was unforgettable Roque, and a moment to treasure. Thankyou for reminding us!
++ Thanks a lot Mark! Anything else you'd like to ask?
Well, there is a rock trivia quiz show in Australia called 'Rock Wiz'…does your name 'Roque Ruiz' have any connection?
::::::::::::::::::::::::::::::::::::::::::::::::::::::::::::::::::::::::::::::::::::::::::::::