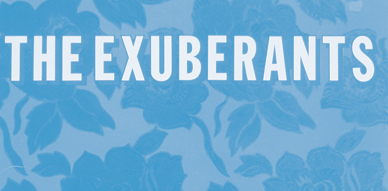 Last post of my four-part Popfest adventure special. Hope it was a bit interesting.
So what did I do throughout the Sunday of Popfest? I remember waking up very tired but not too late. The plan was meeting around 2pm the guys from Wallflower at the Ethiopian restaurant, Ghenet, that is a couple of blocks away from Littlefield, the venue for the day. This has kind of become a tradition for me, I always have lunch here before heading to the Popfest. Love, love, love Ethiopian food. No surprise that the Wallflower guys also loved it even though it was a novelty for them eating with their hands, picking the meat and vegetables with the injera.
I think we arrived a bit early to Littlefield anyways. Think we were too hungry and ate so fast. So we hanged, very tired and quietly, in the front area of the venue. Then it started to rain. Lucky we were to be inside. Kind of annoyed that I had forgotten my umbrella. I usually check the weather forecast before leaving home, but I didn't that day.
Friends started arriving and with the help of Chris Jigsaw some Cloudberry records were set up in the merch table.
The first band was Sapphire Mansions. I'm not into them, but my good friend Hampus is drumming for them now. It made me happy to get to see him again. He is a busy father now. My excitement was waiting for Cold Beat. I had discovered this band some months ago and really liked their tunes. I had already bought all their releases beforehand too.
The San Francisco band was really thrilling, great guitar pop. I expected a hipster kind of look, but they seemed down to Earth, a bit of a miss match look between the members that made me like them more, they were natural you know. Pete Bee was telling me he was loving them. That he had never heard of them before. And so, many more people started bobbing their heads. "Rain", "Mirror", "Worms"…. simple titles for great songs. The set felt so short, but it was so good. They were to play some more dates after Popfest. I wanted to go, but for a reason or another, I ended up missing them. Hope they come back to NYC again.
Next up was another band that I was looking forward so very much: Starry Eyed Cadet. Their songs on bandcamp, if you haven't heard them yet, are true pop candy. And with that strength they introduced their classy and elegant sound to Popfesters. I think this was the best gig for any up and coming band that came to Popfest. They are a newish band and they already sound this good! I thought. Sweet vocals, and the right influences when you hear the guitars and keyboards, made this band a delicate and perfect gig. I bought their EP, on CD-R, and brought me so many good memories of the mid 2000s when every band was releasing in this format their first songs. I just felt, this is such a right band. I hope they get the attention they deserve.
Eventually on the way to the bar, after the gig, I met with one of the members, Ron. He was talking to Wallflower in Japanese! Very cool I thought. Anyhow, we talked for some good time and eventually it was time to get food! There was a new pierogi place around the venue, like three weeks. After being introduced to the whole Starry Eyed Cadet band, them, plus Wallflower, me, Victoria and my friend Alex, headed to this pierogi restaurant under the light rain.
It took a bit to get the food. The restaurant was new, and it seems they haven't figured out so many things. They had even ran out of some of the pierogi fillings. Anyhow, the food was excellent. But it had already gotten pretty late and so we had to get going because we wanted to see, and couldn't miss, Club 8!
Upon arriving to the venue I spot Johan from Club 8 with his girl (wife?). I said hello and told him I was very much looking forward to the gig. It was just a short introduction, but I was being very honest. I think Club 8 is my favourite band of his, and I've raved about them for long, even defended their last record here on the blog when so many people were bashing it (I still can't believe people did that).
The gig was going to be perfect. The full band was ready to get everyone dancing and singing along. I was once again a pop fan. I felt like being a kid again, watching a favourite band playing so many favourite songs. Having a pop crush with Karolina was only normal I thought. Such a voice! It was probably the happiest gig for me at Popfest.
They started with "Western Hospitality", but perhaps the coolest moment was when Johan said they were going to cover, but cover another band of his. They played "Call it Ours" by The Legends and everyone went nuts. Same happened with "Saturday Night Engine". And I was so thrilled with "Whatever You Want", "Cold Hearts", "I'm Not Gonna Grow Old"…. well, all of their songs really!
I waited after the gig to get a photo with them, but well, I didn't see them haha. I got the setlist though, and that was nice enough.
And then what always happens at the last day of Popfest. The sadness of farewell. Saying bye to so many friends that I won't see until next Popfest, or until who knows when. That's how it is.
Now, looking forward to Popfest 2016!
—————————————————————
Exuberant: filled with or characterized by a lively energy and excitement.
I have a 12″ by The Exuberants. I like it. I can't remember why I bought it. It was many years ago. I think it was because it was released on Play Hard Records. Could that be the only reason?
The EP is called "Yeah and Yeah and Yeah and Yeah". It was released in 1990 on the aforementioned label (DEC 3312) and included three songs:
A – Yeah and Yeah and Yeah and Yeah
B1 – Delicate Call
B2 – Have You Tried White Trousers
The engineer and producer for the record was Nick Garside. It was recorded at Out of The Blue, Manchester. All songs written by Spencer/Walker. The sleeve design was by Muffin and Peek Design. That's all the information on the back of the dark blue flowered sleeve.
You can find this record for a good price on Discogs. I guess not many people know about it.
On Discogs I find they released a CD mini-album on Native Records. This label is pretty well known to indiepop people as they have released the Raintree Country, Treebound Story and even The Darlin Buds among others. The mini-album was titled "Led The Way" (Native 073) and seems it was going to be released also on a 12″ but only white labels seem to exist.
I haven't heard the six songs included in this 1992 release. The tracks are:
1. Who Knows How Many Tonight
2. You Awful Thing
3. Unnatural Too
4. Led The Way
5. Honey, I Recant
6. We Were Born to Conquer
On a Facebook page called Morrissey-solo I found a post saying:
This is an answer to a post by someone asking if anyone knew anything about The Exuberants, a band Morrissey listed in his top ten bands. They were made up of Muffin Spencer, vocals; Dave Walker, guitar; Stefan Gordon, bass; Jonny Barrington, drums. They had minor success releasing a flexing disc free with debris magazine, appred on the playhard compilation hand To Mouth a single Yeah, Yeah, Yeah and Yeah and a mini lp, Led The Way. They later went on to become Brassy without Dave Walker, Stefan Gordon moved onto guitar, a new bass player, Karen Foster and went in the direction of hip hop.
From there I end up in Wikipedia, where the band Brassy has an entry. From that we know that Muffin Spencer was American, from New Hampshire actually, and that The Exuberants were all based in Manchester.
I found this article too talking about Muffin and the band Brassy.
Someone says on Youtube, on a Waltones video actually, that they remember The Exuberants as a three guys and a dog audience kind of band. Seems they never made a splash then. Shame really. I wonder what are they doing now and if they left unreleased Exuberants recordings. Now, I will get into listening to Brassy, I'm kind of curious.
::::::::::::::::::::::::::::::::::::::::::::::::::::::::::::::::::::::::::::::::::::::::::::::