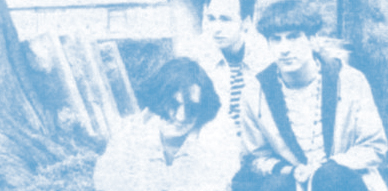 Thanks so much to Richard Farnell for getting in touch and for the interview! I blogged just some weeks ago about them and you can read that here and also make sure to check the comments as the Peel Session plus some demos are available to download thanks to the band. In this interview Richard clears up some questions and mistakes on the write-up I did. Enjoy!
++ Hi Richard! Thanks so much for getting in touch! So you were telling me you were from Stocksbridge and not from Huddersfield. Do you still live there? Was there any kind of scene there back then?
Stocksbridge is actually part of Sheffield but it's out on a limb from the rest of the city – there's not much there except a large steelworks, some pubs and various housing estates but it was a good place to grow up as there's loads of wild countryside to go wandering in.  I left there in 1989 to live in other areas of Sheffield, before moving to Manchester back in 1995 where I still live today.
There wasn't really at all.  Back in the mid-80's my older brother played in a band called Flexible Penguins who played many gigs at the Leadmill and the Limit – (the best known indie clubs in Sheffield at the time). There were some lads from my school in a thrash metal band called Amnesia (ironically they've been forgotten!) who played in local pubs and in Sheffield..they were actually quite good if you like that sort of thing.
Many years later I was surprised to read that some members of Arctic Monkeys were from Stocksbridge as are a recent alternative/grindcore band called Rolo Tomassi – both have been given much more attention than we ever got!..mind you I don't think these youngsters were even born when we were around!.
++ And two of the other Suncharms lived in different cities, right? Which makes me wonder, how did you get to meet each other? And was it easy for you all to practice?
Marcus and myself were in Stocksbridge. The other members lived in other districts of Sheffield whilst John the guitarist was based in Bamford which is a small village just outside Sheffield-a mere 30 minute drive out of town-in the peak district national park. We mostly practiced in his attic – but early on in Marcus' garage.
++ So the band started under the name The Eunuchs. Was this your first band? And how do you remember that chance encounter with David Gedge when he told you to change the name?
Yes – this was our first band..we chose the name partly as a response to the 'cock rock' posturing of a lot of the bands around in the eighties and Marcus and me were big fans of The Dead Kennedys and McCarthy who promoted a strong left wing/pro feminist political stance. I suppose looking back it was a 'punk' name but punk was one of our early influences…Pistols / Buzzcocks / D.K's / Husker Du in particular.  It was Marcus and Matt who met with David Gedge…I'm pretty sure they just gave him a copy of our first demo tape and he said something like – 'You might need to change that name lads!" – maybe Marcus will remember but I wasn't there myself.
++ Did you record or release anything under that name? I do know you released a song under the name Charming Seed, why didn't you stick to that name?
We released nothing as the Eunuchs. The reason we used 'Charming Seed' was that the bloke who released a Sheffield bands compilation called 'Rubberoid' took so long about it that by the time this early song appeared we felt like we'd moved on. We changed the name to hint that it was The Suncharms but that it was a 'secret' track almost. I actually like the song now but at the time it felt like old news.
++ I've never tasted the Sun Charm soda, how does it taste? Is it your favourite soda?
It's well over 20 years since I tasted it but I recall it being pretty cheap and nasty!..a bit like 'Panda Pops' which your British readers will probably know!.
++ You were around in the early 90s, just after the big wave of guitar pop bands in the UK, the so called C86. How much did that influence you?
We were hugely influenced by C86 – that compilation turned us on to loads of favourites. Marcus and myself in particular bonded over the sounds of such bands as The Pastels, Sea Urchins, Field Mice, Wolfhounds, McCarthy etc whilst newer bands such as Pale Saints and My Bloody Valentine were coming through and exciting us. Many hours were spent in Marcus' bedroom listening to indie-pop records – he was also a big collector of Sarah records too.
++ So how did you end up signing with Wilde Club Records? Was there interest from other labels as well? Any majors?
We were hugely naive in this respect – a thing common to most indie bands of the 80's/90's We sent out several copies of our first demo tape and kept our fingers crossed! – a good friend from Stocksbridge called Daniel had recently bought the first Catherine Wheel single and noted the address on the sleeve-he was tasked with the job of sending out the tapes and to be honest Wilde Club were the first to ring up!. They wanted to release our demo as it was-with no re-recording or overdubs so we just thought – "great – we'll be able to have a 12″ EP out without much effort".  There was no major label interest but we were so fiercely indie that we'd probably not have signed with a major anyway. Major labels had a terrible reputation and I do remember being shocked when The Wedding Present signed to RCA.
In around 1992 Slumberland records from the U.S wrote to ask if we had a track they could release but due to our own disorganisation it never happened – we still regret this as it would have been great to get a record out in the States.
++ You recorded a Peel Session. I always wondered how the process for it worked. Did they call you on the phone or what? And then what happened? Any anecdotes you could share?
To be honest doing the Peel session was both a thrill and a disappointment-here's why:-
I think a BBC researcher phoned us up to say they wanted us to do a session – obviously we were thrilled and began to rehearse for the recording-I think we got a couple of weeks notice. On the way down the motorway our van broke down for a couple of hours so we had a real panic that we would miss our session – however thanks to Matt's driving skills and Chris's map reading we made it to the famous Maida Vale studios. I'd been listening to the John Peel show for years and I always assumed that he was in the studio whilst the bands played live but I was disappointed to find that the tracks were recorded live in the afternoon and mixed by an engineer for broadcast the following week!.  I do have fond memories of the studio itself – a large room with a grand piano in the corner and wires, amps, mics and headphones everywhere. It was great to be recorded live but it was a shame we couldn't meet the great man himself.
In the Peel Sessions books we are annoyingly listed as The "Sunchalms" and my name is mis-spelt too so our brush with broadcasting fame was rather frustrating in some ways!
++ First release included the fabulous Sparkle. This song is big! Care to tell me how this song came about? What's the story behind it?
I don't remember too much about the writing process of this one but I think it was a catchy riff that Matt came up with that we then fleshed out in rehearsals.
++ And what about the creative process for The Suncharms? How did it usually work?
Usually Matt or John would write the initial riff or basic tune then me and Chris would work out the rhythm section. We were never precious about who wrote which parts – I can remember Matt showing me a bass line he had in mind on more than one occasion and I was happy to play that if it worked for the song.
Marcus would scribble away with his note pad and craft the lyrics whilst we worked out the tune…we often only heard the full words at a much later date as his vocals were often buried in the mix as was the style of the day I suppose.
++ Then there was another EP, the one that included Space Ship. For this song you even recorded a promo video. How was that experience? Why did you choose this song?
I suspect we chose to do the video for "Spaceship" as I think we felt it a stronger song than "Tranquil Day". I do know that Matt was studying film at college in Batley – (near Leeds and Bradford)-so we filmed it at the student house he was renting and any visual effects were added later..he would tell you more I'm sure but I think it was a case of him learning camera techniques for his course and making a pop video was a good way to learn whilst being a good experience for the band. He directed it himself and had a friend on camera duty.
++ You also played many gigs, especially after the first EP. Which were your favourite gigs and why?
Early favourites (as The Eunuchs) were supporting The Brilliant Corners as I was a big fan and also a support slot on a Sarah records acts night with The Orchids and St.Christopher.
One gig which I remember with both joy and horror was when we supported the mighty Television Personalities at Nottingham Kool Kat club-which was a thrill as me and Marcus are big fans. The TVP's wanted to borrow our drumkit which we were more than happy with but we hadn't bargained on them playing an inspired but sprawling set which lasted about 2 hours! – the problem was we'd organised a bus load of our Sheffield fans to come down and everyone had to wait with us whilst we waited for the drums…that in itself was fine but my girlfriend at the time was drinking all night and proceeded to throw up all over the walls of the venue and then collapsed!…by about 1am I just wanted to go home.
++ And how was the Sound City festival gig? Did you play any other festivals?
I can barely remember this festival except that we played the Leadmill – (where I worked on the bar) and PULP played it too-though possibly the next night. We were also featured in the NME in a souvenir pull out page to promote the festival.  This might have been the gig when our lead guitarist John nearly died on stage with a serious kidney complaint and as soon as he played the last note of the gig he was taken to the hospital by ambulance. I'd been so concerned before the gig as he looked so ill that I got blind drunk and walked on stage to promptly fall backwards over my amp – it made a great noise though!.
++ In 1993 you started recording tracks for an album. Was it for Wilde Club? Why didn't it get released?
The recordings were to be for an album but our relationship with Wilde Club had ended by this point.  The only tracks I can now recall were those featured on the Peel Session.."Magic Carpet" etc. We started to record some tracks in a studio near Bramhall Lane (the Sheffield UTD football ground) but I honestly don't know if we did more than two or three rough sketches of songs.
it was never released because it barely even got started!.
++ And what happened to those songs? Are there many unreleased tracks? Have you ever thought putting together some sort of retrospective release?
I don't know of any unreleased tracks – there was a live video of a full gig at Sheffield's Library theatre -(some of which formed the basis for the Sparkle video now on you-tube) but sadly none of us have seen it since and as far as I know no copies have survived. I'd love to see a retrospective compilation but I don't know if there's enough interest out there..hello Cherry Red?!
++ So what happened with The Suncharms? Why did you split? Were you all involved with music after?
I sadly can't recall why it all came to an end – I think it just fizzled out during 1993 with band members moving town, changing careers, getting married etc and maybe we all started hanging round with different groups of friends not connected to the band. I suppose with no record label and no-one but ourselves to push us along we just gave up the ghost.
The good news is Marcus and myself remain best friends and we see Matt and Chris occasionally for birthdays or whatever-so we're mostly all in touch. but I've not seen John since we had a reuinion in a pub 10 years ago…so if you read this John – hope you are well and do try to get in touch!.
++ What are you doing these days? Do you still pick up your bass?
In 1995 I moved to Manchester to work in Vinyl Exchange records which I now co-own
In 1998 I joined Screen Prints after answering an advert on the shop notice board which mentioned my all time favourite band FELT…one mention of them and I just had to join the band.  We released several 7″ singles but then around 2001 this band too seemed to call it a day – though happily we too are all still good friends. I do still pick up my bass but not often enough – I tend to play along to old 80's indie videos on You-tube..this is terribly sad isn't it?
++ Looking back in time, what was the best moment of being part of The Suncharms? Will you do it all the same way again?
The best part was the comeraderie of being in a band with close friends and playing gigs with some of our favourite groups…if I could go back in time I'd rehearse more, play more gigs and hold out for Creation records to sign us!!
++ One last question. I've never been to Sheffield, so I was wondering, when I go, what would you recommend seeing or doing there?
Go up the arts tower, drink in the Washington pub and put some Henderson's relish on your fish n' chips!…(Anyone from Sheffield will relate to that)
++ Thanks again Richard! Anything else you'd like to add?
Just thanks for the opportunity to ramble on and if you want any more info don't hesitate to ask.
::::::::::::::::::::::::::::::::::::::::::::::::::::::::::::::::::::::::::::::::::::::::::::::
Listen
The Suncharms – Sparkle