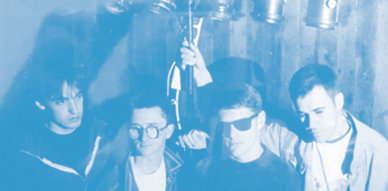 This week a short post, but a true mystery to solve!
I heard the Candy Ranch for the first time on on the CD Rupert Cook gave me two Indietracks ago. From that CD, full of obscure goodies, I was able to track a few bands and get to hear their stories. The Candy Ranch, whose "Screaming Nutter" was on the compilation, was one of the few I was struggling to find until I found that Kev was then playing in the Style Selektors. I contacted them on Facebook and Kev was kind enough to be up for an interview. Sadly he only replied the first half of it. And that's what I'm sharing with you today. These answers are from April 2014.
And after reading them, I totally suggest checking a bunch of their songs on Youtube, they are really catchy and fun!
EDIT 13/06/2017 – Kev McGuire from Candy Ranch has sent the answers for the remaining questions. Here is the complete interview now! 
———————————————
++ Hi Kev! Thanks so much for being up for the interview! I see you are still making music with The Style Selektors. Tell me a bit about this new project of yours? How different is it to the Candy Ranch?
Yeah The Style Selektors is a totally new project for me. It's a very loose collective of great musicians and one of the best things is that there are no deadlines or pressures.
With The Candy Ranch because we were signed up to a management deal we had to write songs, rehearse every day then gig 3 times per week and then recording on top of that, then touring all over the UK
It took us away from home for weeks at a time sometimes and although it was a great laugh and we played with some great bands in some legendary venues I ended up totally burned out
It's different because with TCR we wrote all our own stuff and there were 5 of us and we all had huge egos and we were so fullof enthusiasm (which is good) so there was all kinds of ideas richocheting round the room and after a while (for me anyway) our stuff became a mishmash of too many influences as far as im concerned and it just didn't do it for me anymore i guess..
++ So let's get back in time. When did Candy Ranch start as a band? Was it your first band ever?
TCR started in 89′ (i think) We actually got together from the embers of 2 Hartlepool bands (Taste of Freshness and Eat The Beat) and we joined forces to enter The Cleveland Music Festival and we won it…
All the bands at that time were trying to be Joy Division (which isn't a bad thing) but it got monotonous. We were all brought up on The Specials, The Beat (who i played for last year) The Jam, Madness, Selecter, Secret Affair etc…so i guess influences were apparent in our songs and no bands were playing that stuff anymore as it was classed as passe, but we liked to go against the grain and it pissed a lot of other bands off coz we weren't into The Smiths (yawn) although Jonny Marr is a brilliant guitarist I just couldn't gel with Morrisey's words y'know? Didn't do anything for me.
It has to hit you somewhere doesn't it? Like when i first heard The Jam i thought "fucking hell man, how the fuck do 3 people make that huge sound"
++ How did the recruiting process work for the Candy Ranch? How did you all knew each other? Who were the members of the band and what instrument did each of you play?
Like I  said we formed from 2 different bands
Kev McGuire – guitar, vocals
Neil Forcer – guitar, vocals
Gav Bell-  bass, vocals
Terry Ashley –  drums
Dave Willingham – keyboard
We also had Ste Ryan on vocals for a few months in the early days and after Neil Forcer left Ian Holdforth came in on guitar and vocals.
++ Where does the name Candy Ranch comes from?
The name is actually from a porno film ha ha
++ And who were the main influences of the band would you say? Did you like any other Hartlepool bands at that time?
Main influences were The Small Faces, The Who, The Jam, Kinks, Beatles, The Specials, The Beatles, Madness, Secret Affair, Lambrettas (who im playing guitar with in June) The Chords (who i played guitar with last year), Robin Hitchcock, Prefab Sprout, Aztec Camera, Haircut 100 (Les Nemes their bass player is a friend of mine) Lloyd Cole, Dr Feelgood, Squeeze, Sex Pistols
I can't remember liking any other Hartlepool bands at that time, although the best Hartlepool band I ever heard was Victims of Circumstance with Ste Shadforth, great guitarist and front man. I was too driven and too focused on TCR to take notice to be honest and they all wanted to either be New Order or The Smiths
and I was so fucking bored by it all to be honest. New Order and The SMiths were still going back then so I couldn't see the point in emulating a band that was still active !!! i much prefered trying to bring something back to life from years previous
i wanted to get a whole new bunch of people to like the Mod, Ska, 60s scene you know?
++ Tell me about Hartlepool. Where would you usually hang out? Was it a fun town then? What are the sights of town?
Hartlepool was a very busy port in the 19th and 20th centuries, it had to sides Old Hartlepool and West Hartlepool, it was the people from Old Hartlepool who legend has it hing a monkey they thought was a french spy and so Hartlepudlians have since been known as Monkeyhangers
Quite how you could get a fucking 2 foot hairy monkey mixed up with a person i'll never know but thereagain there are some very hairy women in Hartlepool so i suppose it's easy to get confused ha ha (imjoking but i bet i get some stick for that)
I went to english martyrs school and we used to hang out at the youth clubs all over town, justy getting up to mischief really ha ha.. you know, trying to get off with girls, showing off my new 2 Tone suits and Loafer shoes with red socks,
When I left school and got my Vespa that was it, totally infatuated with everything Mod, 60s, scotters, girls, drugs, lost weekends, trips to London sleeping near these big heaters in Mayfair coz we couldnt afford digs haha
Hartlepool has a great Marina, lots of new projects springing up, new college, new estates, new schools, lots of businesses are attracted to Hartlepool now and for me its thriving..
It has a high crime rate but hey what town doesnt huh?
I don't live their anymore but my children do so I still go there a few times a week.
++ I read you gigged a lot, even with big names like Blur or Radiohead. Which were your favourite gigs and why? Did you prefer these kind of big gigs or smaller ones? Any fun anecdotes you can share?
We gigged all over the UK , yeah we gigged with some great bands and had a laugh. The best band we ever played with was Dr Feelgood at Hartlepool Town Hall we took Lee Brilleux for a drink before the gig.
We all got smashed and just before he went onstage we locked him in a broom cupboard ha ha. Hae kicked the door down, tripped me up, took my shoes off me and took them onstage with him, totally pissed and sang every note and performed like a true pro. It's very sad he is no longer with us and also its very sad that Wilko Johnson has got terminal cancer, such a great talented huiman being something needs to be done about cancer you know? and soon as well they can send a man to fucking Mars or somewhere or they can blow up a village in Iraq from a mile underground in the USA and you are fucking telling me they can't find the funds to research the biggest killer of mankind than any weapons? Bullshit, total bullshit, they are all pirates the lot of them.
With Blur we were in a big posh hotel in glasgow and we were pissed (again) so The Candy Ranch offered Blur to a game of tiggy off ground (this is a game we play where you had to tag someone, but they were only out if they were on the ground but they had to keep moving as well or they were out) we used the tables and reception desk in this hotel and the chairs. We won coz Blur were all unfit but we all got told off by the hotel manager so we took all the lightbulbs out of all the lights we could find and hid them. Very grown up.
++ You had two managers and they turned out to be quite successful. What do you remember about them?
One manager was Mick Donnelly, he was sax player for Spear of Destiny in the 80s, they were huge, he is an amazing sax player, he played with Madness, 5 Star, Sammy Davis Junior, Whitney Houston… he is currently on tour with Lisa Stansfield all over Europe. In the 90s he played for Swing Out Sister and he went to the Philippines with them (I think) We put a load of dirty movies in his suitcase before he left and the customs people at the airport in Manila made him open his case and all these films fell out haha…
————————————–
There were 13 more questions I asked. Sadly I never heard back from Kev. I just checked back at the messages we exchanged on Facebook, through the account of his band The Style Selektors but it seems that facebook page of the band is no more. It's a shame really. Last time I heard from him was in June when he mentioned that he didn't had time yet to answer the rest of questions. I didn't insist.
These were the rest of my questions that remain unanswered. If anyone could help fill in the blanks that'd be great:
++ Tell me about your releases. You had three singles, right? Who put them out?
3 Singles
Screaming Nutter on Tumak & Sons
Flowergirl via Codhead Productions
Up & Away via ourselves
++ My favourite song of yours might be "Screaming Nutter" and that was your first single too. What's the story behind this song?
Screaming Nutter is basically saying that although we all may be from different creeds and cultures we are all essentially the same ..we can all be jealous, all be nice, all be nasty and all be corrupt … the chords are distinctly similar to Happy Hour ?
++ And is it true that this record is sought after mostly because of the photo on the cover?
The front cover photo was taken by our bass player Gav, it is of the legendary Steetley Shunter (Steetley was a factory in Hartlepool) and the Shunter was one of a kind that train enthusiasts would kill to have photos off (train doggers I call them)
++ And what would be your favourite song? And why?
My fave is Flowergirl, the melody is great and for me captures that early 90's summer vibe and the Middle 8 is a cracker …of course Ians guitar solo takes it to a different orbit altogether.
++ How did the creative process work for you?
In all honesty we all used to meet at Gav's or at The Touchdown where we were based and just bounce ideas off each other, all contributing music and vocals …sometimes it worked, other times it became a total mish mash.
++ Was there any big label interest for you guys?
We had a few labels like Polydor interested ..Feargal Sharkey of The Undertones was working for Polydor at that time a day came to see us at the Borderline in London ..he was very nice and loved our stuff, but with us sounding like The Jam, Blur, Housemartins, Madness etc he said they wouldn't take the risk of investing in us for the public to say "heard it all before" which is fair enough really … I wouldn't care really,,but we were really trying to sound like Inspiral Carpets and not Blur ha ha ..I've since told Tom (Hingley) that I blatantly magpied a lot of the Inspirals songs and he laughed his head off ..he rang me up a while ago to chat about my daughter, very nice guy.
Other record companies were interested but we had missed the boat by about a year.
++ And are there many more unreleased songs? Have you ever thought putting out some sort of retrospective release?
We recorded quite a lot of songs, I've got them somewhere .. would be nice to have them on a CD at some point I guess.
++ I read on a Youtube description that you were the only unsigned band to ever perform at BBC TV's Grandstand in 1993. How did that happen? And for us that are not familiar with Grandstand, what is it? 🙂
Grandstand was a very popular sports programme on BBC1 at the time and they only used to lay songs like FA Cup final songs etc so it was a big moment for us when they played Up & Away on there and my Dad was very proud …how ironic that Brian Honour  (one of Pools all time greats) is now a mate and he came to see us at The Cavern in Liverpool a few weeks ago and is coming to see my new band The Extra Specials on July 21st at THE Studio in Hartlepool (shameless plug) ?
++ On Youtube there's this performance of yours on TV performing "Section 58". Care to tell me what was this about?
Section 58 in the noise abatement clause .. we were based at The Touchdown pub in Hartlepool that Mick Donnelly from Spear Of Destiny owned and a few locals (minority as all the locals round there are the best people on the earth) claimed about the noise coming from the pub on a Friday night from the bands so we invited the noise pollution ppl down…they arrived on a Friday afternoon when we rehearsed and they basically stayed for the day and came to the gig on the night, got pissed and had people of the best nights they'd ever had ha ha .. I think the decibels were reported as being slightly lower than they really were and they became fans ..one of those officers still comes to our gigs now
++ And there's a comment there on another video of yours asking about a footy tape circa 1991 that celebrates promotion to Division 3 of Hartlepool United I guess? Will that tape ever come out on the internet?
Yeah we released a song called Up & Away that charted (low) and it was for Hartlepool United FC back in 93′ .. Pools had beaten Crystal Palace in the FA Cup that ks to a penalty from Andy Savage so they moved on to play Sheffield Utd and we were invited down to the Blades ground and the Pools players came on the pitch wearing Candy Ranch t-shirts to the sound of the single via the ground PA and the crowd all singing along, was a great moment although me and Gav felt a bit embarrassed in the crowd as they were looking at us whilst signing …
++ I saw also on a Youtube video that there are many more contemporary photos of you guys performing. Do you still play the odd gig with the Candy Ranch or what?
We don't see each other these days, I was with Dave and Gav for our friend Gary's funeral about 2 years ago ..very sad, Gary loved the band, he really loved a song we had done in 87′ called Heavens Open Up and a few months before the passed away he had mentioned it when I seen him…last message he sent me was that he had voted for The Style Selektors in a best Mod band in the UK competition and we won it …I like to think Gary's vote swung it for us ..I was singing Heavens Open Up for him in my head at his funeral..I owed him that.
I'd gig again with them as a one off, it would be good to do those great songs again, they were our songs, simple observations of life and created by all of us, not everyone can do that, not everyone wants to, but when you do create something whether it's a massive world wide hit or one of ours then you get a sense of pride that you contributed.
++ So what happened, when and why did you split? What did you all do after?
We split as it had just ran it's course basically, I'd fallen out of love with music totally and buggered off and joined the Royal Marines as a reservist, I was having a bad time mentally, lots of anxiety attacks and stuff from my childhood getting in the way of me enjoying myself and I was horrible to be around at that time, I hated the world, do a deal everyone it so the best thing for everyone was for me to bugger off and sort myself out and the Royal Marines certainly helped. I now work as a Resuscitation Officer for the NHS in a hospital in Northern England, I think Gav is a designer and he also played bass at my wedding in 2012 with a band called The Passion Killers (great name for a wedding band) and Ian runs a studio in York (I think) ..Dave went on to run a training company and I'd heard Terry worked with adults with learning disabilities
++ And aside from music, what other interests or hobbies do you have? And I might ask, who has been the best player ever at Hartlepool United?
Hobbies … up until Millie was born i used to like going up mountains in the Lakes and Scotland with my wife Marcia a day I now front a Specials tribute band called The Extra Specials …we are employing at a few festivals and large scooter rallies this year.
The best ever r player for Pools was Brian Honour (Jacky) ..I have to say that or he will throw tomatoes at our next gig …
++ One last question then, what would you say was the biggest highlight of the Candy Ranch?++ Thanks again for everything, anything else you'd like to add?
One highlight for me was playing with Blur at The Barrowlands in Glasgow
Can i tell a joke?
2 budgies sat on a perch and one turned to the other and said …."can you smell fish"?
I'll get me coat, … Keep The Faith x
::::::::::::::::::::::::::::::::::::::::::::::::::::::::::::::::::::::::::::::::::::::::::::::
Listen
Candy Ranch – Up and Away