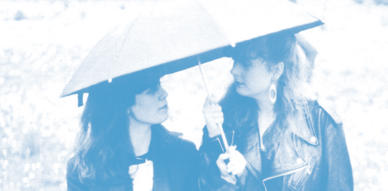 Should have started shipping today the Stephen's Shore 7″ but a delay on the pressing plant will probably make me start shipping them either next week or in worst case scenario the week after. I'm very sorry about this, to all of you who have pre-ordered, but sadly this is out of my hands. I'm sure though that the wait will be worth it as the record is a cracker, all four songs are pure beauty.
Speaking of releases I heard from a little bird that at long last the mastering for the Pale Spectres 7″ will be ready very soon. This means that finally we will be able to release this record that is already a modern classic.
And if that is not enough next week I should be sending to the pressing plant the masters for The Seashells new 7″. Damn! It is getting busy here at Cloudberry at the end of 2016.
That's the news on my side. What about you? What have you been up to? Watching the Olympics perhaps? Capturing Pokémon on your mobile? What's going on? Here in New York we've been suffering a heat wave and I swear that this past weekend going out felt like hell.
I've been listening to a bunch of new-ish bands and also old bands. I'll start with some old band links that are worth checking out if you haven't already.
On this Mixcloud setlist you'll find a bunch of nuggets from Ireland dating 1985-1987 thanks to the blog Irish Nuggets. There are classic bands like Microdisney or The Stars of Heaven but there are also many bands that you probably haven't heard before. Some songs are not great mind you, and you can't skip them, but I'm sure you'll make a discovery or two.
Also, before I forget this is very important. You can hear on the Friends Again website all the demos the band recorded in 1981. Of course, you can also listen here to all their other songs, released and not (like the 1985 demos). But as we are all familiar with the songs included in the 1981 demos, this is such a treat!
Post-punk with a nice indiepop feel comes from Moscow band Commis Voyauger on their Bandcamp. This new EP "16.1" is really nice. Perhaps I'd like the volume of the vocals turned up a bit higher, but these are quite good songs.
The new band by Liam Coffey from the mythic Perth, Australia, band The Rainyard has a new band called The Lazybirds. They have an EP you can listen online on their Bandcamp titled "Drumbalow Sessions".
Los Polares are part of a new crop of Chilean bands influenced by late 80s and early 90s indiepop, and a lot of it what we call twee. They sing in English and Spanish. They have their new EP on Bandcamp and it is called "Sobre El Inicio de los Polares". There are three nice songs, "Oregon, 1959", "La Época Migratoria" and "Cherry Red". I look forward to hearing more from them.
Our friends from Fantastic Day also have a new release titled "Kaleidoscope" and it sounds AMAZING. The Hong Kong band who released a 3″ with us back in the day have put out a limited edition CD and also on LP format that includes 11 songs that is not to be missed.
And finally my favourite new release comes from Barcelona. Catalan C86 band Univers has put out their new album "Límit Constant" and it is REALLY good. I'm loving it. 10 songs of great guitar playing and classic melodies. I only see it now as a digital release on their Bandcamp, but I hope there will be a physical release.
————————————-
I am surprised to see that All Over the Place's sole release can be bought from Discogs for cheap. I think I paid $10 plus postage many years back through eBay. Anyhow, it is good news for anyone that doesn't own this record yet.
All Over the Place were a girl duo, formed by Tracey and Vanessa. They were around 20 years old when the record came out in 1990 on the venerable La-Di-Da Productions label (catalog La-Di-Da 014) that the great Grant Lyons ran in Brighton back in the day.
From the press release that some of these 12″s included, we know a bit of the story. All Over the Place first caught Grant's attention thanks to their demo "Turn it Up" being played in BBC Radio Sussex. From that moment on they will be part of the La-Di-Da family, first contributing on compilations and later releasing their 12″.
Their first compilation appearance was in the classic 1990 compilation Borobudur (La-Di-Da 009) with the song "Sandstorm". This same compilation was to be re-released on CD two years later thanks to King Records (KICP-272) with the only difference that the Flipper's Guitar track wasn't included in this version as it was a Japanese release already and I'm guessing they didn't have the rights (?). It is important to notice that it is in this compilation that I learn the last names of Tracey and Vanessa: Fields and Elphick.
Their second compilation appearance was also in 1990. This time the song "Strange" appeared on yet another classic indiepop compilation, "Becket House". It was released by the enigmatic Porritt's Hill Records (Phew 002) who also put out a very rare tape titled "Spare a Thought" that included All Over the Place's "Scattered" and among other things included a demo version of "Crush the Flowers" by The Wake. I don't know when this tape was released by it is listed as Phew 001.
Also on 1990, All Over the Place was to appear with the song "Tired of Being Alone" on the "You Can't Be Loved Forever No.3" tape that our good friend Phil Ball used to put out. I wonder if he was already familiar with the band or not before appearing in the charity compilation "Becket House" with his own band Are You Mr Riley.
Now it was time for them to put out their sole EP, their 12″. With a psychedelic kind of artwork, and the whole jacket printed in purple and white, the record included four songs. One A side, and three B sides. On the A side the fantastic "Scattered". On the B side we find "Think Back On Me", "Strange (Remix)" and "Back to Square One". This EP was recorded with the help from Mark of the Liquid Faeries and Bill from How Many Beans Make Five. The press sheet says: "One can only describe Vanessa's voice as beautiful, blending perfectly with Tracey's haunting melodies".
All songs were indeed written by both of them. We know that Vanessa sang and wrote the lyrics while Tracey played guitars and all instruments in "Back to Square One". Mark helped with bass and Bill with drums. The record was produced by Grant Lyons and the band while the artwork is credited to Linette.
They would continue appearing on some more compilations. I actually discovered the band through the compilation "La-Di-Da… So Far" (La-Di-Da 018) that came out in 1991 and included three of their songs: "Sandstorm", "Strange" and "Scattered". What a fantastic compilation this is if you haven't heard it. There are classic songs by Dead Famous People, Bobby Scarlet, How Many Beans Make Five and more.
In 1994 when I'm guessing the band wasn't around anymore a song called "Half Life" appeared on a compilation titled "La-Di-Bloody-Da" released by who else, La-Di-Da (La-Di-Da 035). I haven't heard this song though, or the compilation, so I better try to track it down!
I couldn't find neither Tracey or Vanessa. I wonder if they continued making music after All Over the Place. Where are they now? What about that first demo "Turn it Up"? Were there more songs in that tape? Are there more unreleased songs?Do you remember them? Would be so interesting to find out!
::::::::::::::::::::::::::::::::::::::::::::::::::::::::::::::::::::::::::::::::::::::::::::::