30
Aug
author: Roque category:
rants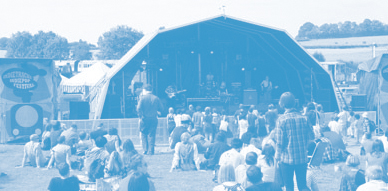 It's Sunday already. Indietracks' last day. How should I feel? Honestly I feel gutted. I wake up with a sort of melancholy and nostalgia for previous years when the partying lasted much longer. Yesterday was a 'fail'. There was no dancing. There was rain. It's true, last year it was raining but the situation was different. I was a very happy man when nothing would ruin my vacations at Indietracks and then later at Wales. This year I was much more my usual self.
At least I'll have free breakfast I thought. Make it before 11am again. I woke up late but I managed to be around 10:30am at the pub within the hotel. To my luck Cristóbal and the rest of my Spanish friends were there still.
After enjoying my necessary proteins and brown sauce for the day we headed towards the hotel entrance were Camera Obscura were getting ready to leave Derbyshire. They were all leaving, along with Francis McDonald on a big gray van. The only member of the gang that was staying for one last day of Indietracks was Lee. Andreas from Alpaca wasn't shy at all and in the meantime, while they were waiting talked with Tracyanne and gave her a very nice present, the latest Alpaca Sports 7″. It made me grin of happiness, I know how big of a fan he is, I remember the day here in NYC when he played me twice the whole new album from a NPR stream. I thought there were some good songs on it, but he thought it was all so perfect!
To our surprise, to us who were around 10 people at the entrance waiting for our cabs, we received a present from Camera Obscura. A big box full of alcoholic treats! Wine bottles, beer cans, cider. Even water. Are we lucky or what? At that moment we decided that after Indietracks we would all meet at night, at the tables outside the pub of the hotel for our Indietracks after-party. We had now all that we needed.
Olaf and me got a free ride on Sam's, from the Cosines, car. Jordan from Flowers rode shotgun. After a stop at a supermarket for some cash, and were I saw one of those low-life English men all beaten up after a drunken night that I only thought you see at the movies, we went all the way past Golden Valley campsite and to Indietracks grounds!
I remember Sunday to be very quiet at first. I met with Astrid, John and Amanda while they had very late breakfast by the vegetarian cafe. There were still no bands playing. Then I saw Kajsa and she was buying these long candies. Then to check the merch table where Michael from Pebble Records was giving me a hand. The Secret History records all were sold out. Same as the Flowers 7″s. I should have brought more of those, less of the t-shirts I thought.
The bar, the beer. The warm beer. There were owls too. Pet owls. Or exhibition owls. I don't know. But there were some by the entrance. There were some by the bar too. I touched one of them on the head, and the belly. Carefully. I was afraid to being pecked and bleed out. I was just curious. I don't think I've touch a bird since I had parakeets when I was six or so. And these were huge.
The first show I managed to see were Alpaca Sports at 3pm. The fifth time I see them within a year. Sometimes it goes like that doesn't it? There are bands that you think you'll never see and then boom, all of the time. I knew what to expect then. A flawless set of indiepop bliss. This time though there were some differences. Like their New York shows they would get help from friends. They got Miguel from The Felt Tips to play guitar and two of the Understudies to play bass and drums. Andreas always ambitious looking for a bigger sound. And why not? If it sounds better. I get goosebumps everytime I hear a song played live that I've released. I don't think it's because of self-importance, or a big ego. Sure there's pride. But I've listened to these songs on repeat so many times that I feel they are almost my own. I know the lyrics by heart, especially when they are sung so clearly by a band. And that's what happens to me with Alpaca Sports. But here there's an exception, there's the song "He Doesn't Even Like You", that I also feel like mine. When in NYC we listened to this song so many times. I would have loved to release it of course. I accompanied the band to record a video around the city. Times Square and places. I think I was supposed to appear on the video, but I'm glad I was cut off the final version. I would have looked so silly and unglamorous on it. Anyhow, that song is amazing and great to dance to it. Anyhow, the gig. It went too fast! I was standing next to Emma and her starcrushed eyes for Andreas. I was filming the whole thing. A few steps from me the Italians were singing all the songs, chanting them like tifosi. Everyone having a fantastic time. Dancing even. The French crowd was also at the front row. Jennifer was also filming but mainly Miguel. The intricacy of Miguel's guitar playing was like always awing. Such a talent! And of course a great addition to Alpaca Sports sound this time. First time they all played together and again they managed a tight show, a fun show, and I can never say I've ever seen Alpaca Sports under-perform. They've always been the stars of every festival I've been.
So at the main stage we had to run for Flowers. Funny that Flowers always tell me they have the chance to see Alpaca Sports but for a reason or another, being at the same place at the same time, they can't see them. This time because they were immediately after them and they had to set up their stuff. Though, now at Berlin Popfest I'm sure they'll all see each other. Anyhow. Flowers. I've seen many nice reviews written about their gigs, the future that awaits for them, their growing popularity, and all. The surprising thing is, they are as lovely and as humble as I first talked to them. Like if they were still just a CDR band, giving their songs for free on bandcamp. Which they do of course. But they are so down to Earth that is surprising. No egos whatsoever. And perhaps that's their secret for being so powerful on stage and for connecting with the crowd. A crowd that relates to their noisy guitars and Rachel's inspired vocals. Powerful like always, they charmed us all. Friends of mine at the festival would come up to me later and tell me this was the best concert at Indietracks. I found Jordan just after and got their latest 7″ on Fortuna Pop, a record that continues to build the myth around the band. This is when I meet Remi, a Japanese fan. Perhaps the only Japanese fan at Indietracks this year. I introduce her to Jordan and we take photos. She happens to know Cloudberry too. I'm grateful. It made my day. I love her last name, it's almost tsunami.
Church now. The Soulboy Collective are doing their sound check. The church is packed. When I turn around, because I took the front row seats I notice that everyone is either German or Spanish. You can't ask for a noisier crowd! They play 6 songs. According to Olaf this is the longest set they've ever played. Last time he saw them in Germany they only played 3 songs. A shame indeed. Because their songs are truly beautiful, with great girl/boy vocals and classy arrangements. A very unique band, that sounds much different to any of the bands in the indiepop scene today. I guess at this time most people were watching Another Sunny Day on the train. The fact is, they missed one of the best gigs at Indietracks. Jürgen almost hiding behind the mixing desk and singing there shyly, and then in front a friendly and bubbly Lex, charming us with her big smile, and why not mention the guitar player with his thin mustache and Fred Perry wardrobe that was having the time of his life jangling along! I believe it was when they announced that they were playing "It's All Because of You" that all the Spanish went nuts. Or was it with the last song? I can't remember. Anyhow, it was pure beauty and because I was so charmed by it I left my shyness away, said hello to them and asked them to join me in a bunch of photos. Things a fan does.
Indoor stage. Making Marks. I believe they have only just arrived do Indietracks. I haven't seen them around. When I got to the shed they were already on stage prepping up their instruments. From far away I said hello to Ola and then to Nina. I didn't see them after the gig after. I wonder if they enjoyed themselves at Indietracks. I guess they did. The one thing that struck me about this show was the in-between songs, Ola telling the best stories and jokes this festival. After their show, I wouldn't have been surprised that the stock Fika Records had brought of their 7″ sold out. A lot of people now were telling me this was the best show at the festival. For me, it was the moments when they played My Little Pony songs, that one song Ola loves telling it was a hit on MTV in Norway, that's the best one. But don't get me wrong, Making Marks, albeit a bit different, also have great songs. This "Barcodes" one is a true hit! And the crowd noticed, and the crowd loved it.
7:20pm. Getting a bit tired by now? Not at all. Back to the church. I have a mission in life. And that is to see The Fireworks. I had met already Shaun earlier on the day and had a bit of an incident with my Wedding Present t-shirt. But now it was time for watching Matthew's band. A band that now counts with Emma and Isabel! Last time I saw them at Indietracks was a different lineup. I think I like this lineup much better I must say. In any case the show was a blast of throwback pop. It sounded like I was transported back to 87, listening to demo tapes of obscure bands. The Fireworks could have been one of them. Wearing anoraks and Pastels badges. Noisy, ringing guitars, bouncy basses, catchy songs, all the ingredients you need to make yourself a good band. I know Matthew for some time now, and we always have a good laugh, but whenever I see him singing, with a guitar, it is just so strange. I can't never picture him. In fact I have forgotten the image of him playing already. I do know he is wearing a hat. And that must be it. I need to see photos. I just can't picture him. And who cares, if they are so good live and I forget their looks or their dances or their mannerisms.  What I care is that I want to see them live again. They were really fantastic! You all better get their debut 7″ on Shelflife if you haven't!
Time for dinner. I think I'm getting the last pieces of chicken the burrito place has. From the hill I see the main stage, The Wake are playing. I find Jennifer and we go and sit in a quiet place. We munch away, catching up. I have barely talked to her during Indietracks. I think she has been spending too much time at the stationary train.
Walking back towards the shed. On the way there Liz from The School stops me. "Do you want to be on stage with Helen Love?" she asks me. I had met Helen Love a bit ago, I stopped her and told her I was a big fan and took a photo, etc etc etc. Things I do. And now I can be on stage? Seriously? I am all up for it I say. Shooing glitter guns? Of course, even better. Let's do it. She says to meet by the left entrance to the stage. To stand there and that she might need more people. I see Viktor around. He is a big fan too. I tell him about it, and he is up for it. And then by the front row there's Joanny, Clemence and Amanda. They are up for it too. Kajsa is also up for it. Isabel starts putting glitter in our faces. I've never felt so manly in my life.
Helen Love is on and it's being so MUCH fun. We are all jumping, up and down like atomic beat boys. Singing the songs. More like shouting the songs. It feels everyone knows them by heart here! This is an apotheosis already. We are all having the best time, dancing, almost pogoing. She plays all the classics, from "Girl About Town" to "Happy Hardcore". It's like she knows what we all want. It's one of the gigs I'm going to treasure the most. And then suddenly they tell us is time for us to go in. So people start going in. And then suddenly the bouncer says that's it. Stop. No more. And Joanny, Victor, Clemence, Amanda and me are like 'what's going on?'. We were asked to do it. It seems other people cut in line! Some unknown indiepop fans. Kajsa and Isabel got in. Marianthi too. Tim and Liz. What's going to happen to us. We talk to the bouncer, and suddenly they say 4 more people or so can come in. Sadly Amanda is left out. But the rest of us go in. And then when "Does Your Heart Go Booooooom?" is about to start we all join Helen Love on stage, we shoot glitter guns and we dance like possessed people. This is all so well documented on Youtube mind you. We have the time of our lives. I remember this moment still vividly. I never expected I would do such a thing. Will I blame it on the beer or on my love for Helen Love? I dont know. Then the gig is over, I run and pick up a setlist and give Helen Love a BIG hug. For me, Indietracks has ended. I don't want to watch any other bands. This is the memory I want to keep.
Now it was time for dancing. And I don't know but there were no indie discos this year. I saw a post by Dennis on Anorak forum stating the same. I wasn't alone in this. But what can I say. If I complain I get the whole British crowd against me like that one time at London Popfest when a club night didn't care about us the indiepop people. Anyhow, at least this year they played some cheesy pop songs, and well, I'm into that too, especially when I want to just dance and be foolish. So sure, I can handle Madonna then. That's when they played that song that I talked it was Magneto's "Vuela Vuela" but in French. But no, it was Desireless' "Voyage Voyage" the original. This is when we all did the train dance to some tropical sounding song. This is when I showed off some dancing skills without falling to the floor. Carl, Amanda, Amanda 2, Amanda 3, Joanny, Astrid, and more were all putting the dancefloor on fire!!!
Funny fact here. I see a guy on the dancefloor wearing a t-shirt that says Peru, with a llama. Guess what? I introduce myself and take a photo with him. Yeah, things a drunk person does.
Then by midnight of course they tell us we have to go. Hugs, kisses, time to say goodbye. Take the last train. Some making out happens in front of me. I get to talk to Graeme for a little bit, tell him to play another show! And then the ride is over. Long wait for a taxi. Pierre and me take the last one to show up almost at 1:30am. At the hotel people are bringing the box out that Camera Obscura gave us as a gift. We are all at the table, maybe around 20 of us. We are happysad. We talk for many more hours. We are leaving Derbyshire very soon, as soon as we wake up possibly. It's all going to be so sad. But hopefully there's next year to get our spirits high again. Be back at Swanwick Junction, because as they say in thee modern times, Indietracks I <3 you.
::::::::::::::::::::::::::::::::::::::::::::::::::::::::::::::::::::::::::::::::::::::::::::::