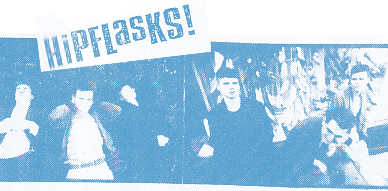 Hip flask: A hip flask is a thin flask for holding a distilled beverage; its size and shape are suited to a trouser pocket. Last time I saw one, was Leonardo's at the Comet Gain gig a couple of weeks ago. Smart man, the beer at the venue was so expensive and bringing some vodka and juice makes so much sense. That's my friend!
Hi there! Back from Indietracks and of course as everyone that attended I've been having the post-indietracks blues. That means that I'll try to recover this week and next weekend have an extensive post about Indietracks and more. At this moment I can't write much as everything in my head is quite messy! On top of it all I've been trying to catch up with emails, orders, and work, after being out of town for a week and a half.
But don't think I'm moody, just tired. I was hoping that tropical storm Emily would hit us this weekend so I had the perfect excuse to stay in. Well, it didn't happen, though we had some heavy rain today. I did go out and did groceries and some other errands. I should have rested. It's hard to rest when you have a pile of stuff to do. Anyhow, the fanzine is out and the Very Truly Yours 7″ is out. This week I start working on the next release, the Youngfuck 7″. Keep your eyes peeled for that. Also this weekend I booked a ticket to Toronto to spend the long weekend of Thanksgiving. I will probably freeze. I would love to go see Niagara Falls.
I did want to blog again starting this week, after two weekends without obscure bands. I will skip the "CDs I've been listening to" section this week though as I really haven't had time to listen anything really. So I'll save that for next week. This week I want to introduce a band that the great Graeme Elston introduced me some days ago: Hipflasks.
It was such a pleasure to meet Graeme in London first and then at Indietracks. His set on the train, playing many of his classic songs, from Pure to Love Parade, was among my highlights. I will definitely cover that on my blog soon. We'll actually make some interviews I believe! But for now, let's review this fantastic band from his hometown, Newcastle.
Just after arriving from UK back to Miami, Graeme sent me a very nice email, linking me to many songs from this enigmatic band. "They were one of my favourites at the time, but as far as I know they never had anything released.. maybe a track or two on a compilation. Of all the bands from that period who've been reissued, none of them have songs as good as Hipflasks in my opinion. Witty. Clearly there's a lot of Edwyn in his delivery, but I love his doleful voice too." He told me. He also mentioned me that they were featured on the first Woosh fanzine. So I ran into my fanzine box, unearthed that fantastic piece of indiepop that is that fanzine and this is what I found out:
"Following a recent Sonata at Newcastle's 'Riverside', I managed to pin down the enigmatic Hipflasks, for brief exchange:
Woosh: There seems to have been quite a few changes to the band over the last couple of months, Tom, what are you up to?
Hipflasks: Well we've introduced the accordion playing skills of Miss Zoe Lambert, things were getting in a rut, and the one guitar wasn't always enough to keep a full sound. Not that we're sounding anything like the Chieftains….
Woosh: Indeed not, the accordion sounds great and gives the band something extra live and recorded, that most of the hoards of guitar bands lack.
If you've yet to hear anything of, or by the Hipflasks (which is likely, due to their deliberately 'low profile' approach. The band says "We want o either come from nowhere, or never have existed at all…") then you have something to look forward to. Some classic songs, with melodies more instant than Birds Dreamtopping, with lyrics of subtle irony/humour on the 'general dirt under the fingernails of life'.
Apart from some serious record label interest, meetings with A&R persons and the usual gigging, what's happening Phil? "We've been working on new songs, they're getting shorter, tighter and even better, in fact we've  about 40 or so to choose from live now".
And how have the gigs been going? "Apart from one or two, very well, although we're having a break to record a few more songs. We'll keep you posted. Oh! and please come to our gigs".
It also lists the band members: Tom Partridge (guitar, vocals), Andy Huscroft (bass), Phil Hayes (drums), and Zoe Lambert (accordion). Husky, the bassist went on to be in The Gravy Train (who released couple of 7″s on A Turntable Friend, Dolphin, Elefant and who hopefully we'll cover in the blog) and Zoe was part of Friends of Harry and later became an Emmerdale Farm actress.
Their headlining appearance at the Riverside was on October 28th 1987. Graeme tells me: "The Riverside was a pretty big venue so if they headlined they must have had some kind of following." I wouldn't be surprised as all the songs I got are really nice! These are the songs that I've got the chance to listen: "All the Time in the World", "Goodbye You Bastard", "Let's Pretend", "A Year and a Day", "Dorothy", "Jellyfish", "No One Should Live Here" and "Lovely Scar". Great jangly pop! Because of the quality of these tracks one can only wonder why the hell there were no proper releases by this great Newcastle-Upon-Tyne band. From what we gather from the Woosh text, there was interest…
So why did they split? What happened to the other members? Were there more songs? It would be interesting to know the whole story of Hipflasks. If you know anything else about this great band, please share. Would love to hear more from them!
:::::::::::::::::::::::::::::::::::::::::::::::::::::::::::::::::::::::::::::::::::::::::::::
Listen
Hipflasks – Jellyfish