30
Nov
author: Roque category:
rants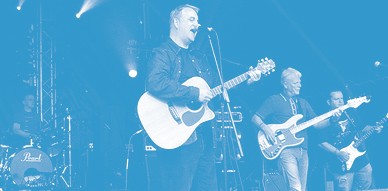 It's only obvious that at 19:40 I was going to be on the front row at the main stage of Indietracks. Me, the fence, the stage, in that order. On top of the stage five great gentlemen: Ronnie, Chris, James, John and Keith. The atmosphere was perfect. The day was dawning, there was a cool bliss blowing, and our normal nap time was over, we were quite awake. This was the first time I got this close to the main stage, this was the first time a band really deserved to be there. As soon as the first chords of Apologies chimed, it all was like a kind of eden.
The first time I saw The Orchids was back in 2008, at the NYC Popfest. It was a rainy Saturday in Brooklyn and took us hours to get to the Music Hall of Williamsburg. I wasn't that impressed by The Orchids that time. I wonder why. I do have a couple of theories. The first being that I wasn't as wise as I am today, meaning my taste wasn't that good and I couldn't acknowledge their brilliance. I did have their reissues on LTM and thought they were good. Nowadays I think they are among the finest songs ever written. It could be that, that The Orchids grew on me after the years. My second theory involves the amount of beer I was having with Joe Pinefox. Plastic cup after plastic cup, beer dripping to the floor, and talking loudly. Paying attention to anything aside from any cute girls walking around the venue was impossible. My third, and last theory, was that I was kept afar from the stage because some bands playing that night, especially Mahogany and Ladybug Transistor, had been so bad and I was afraid to be close and be disappointed by these Glasgow legends. Perhaps it was a combination of the three theories. Thing is that I didn't really appreciate the gig. I can't remember which songs they played at all and I have a very good memory. Marianthi, who was in NYC making everyone happy, was so thrilled after it and told me it was one of the best gigs ever. She might have been right. Actually, she must have been right. I missed it.
NYC Popfest 2010. The Wake just played at The Bellhouse. Ronnie and Chris have joined Caesar and Carolyn to support them live. It's only been months since I've seen The Wake at the London Popfest. That evening at the Lexington, The Wake were astounding, and I was hypnotized by Ronnie's pounding bass. One of the best gigs ever even though I wished The Wake played some songs were Carolyn sings. It was again a Saturday, not a rainy one though. It was again in May and NYC was warm. It was again in Brooklyn and again the bands playing that evening weren't that good. But The Wake were great again. After the gig, Victoria who used to lead The Concretes was up for DJing, and well, she emptied the whole room playing moody music. Then the dance party was moved to the front room were the new DJ wasn't any better. It really gets on my nerves when at a Popfest I get to listen any other sort of music other than pop. For god's sake, it's a Popfest, not an Indiefest. Sean convinced me to stay longer when I wanted to leave.
Anyways, before The Wake gig I went in to the backstage room were lots of canned beer sat on a metal bucket full of ice. I saw Chris and Ronnie there.  I also saw Drew getting his Factory era Wake records signed. I grabbed a beer, even though I shouldn't have, and asked Chris and Ronnie to save me a setlist of the gig. You know me, I like saving these little things. It's important memorabilia. After the gig I approached them again, for the setlist. They had given the setlist to that second DJ who barely knows who The Wake are. But that's how life works, nothing is fair. Chris and Ronnie promised me that next time I was going to get my setlist, two setlists. Next time was coming up soon, at Indietracks, when The Orchids were playing. Sounded fair, so I totally agreed. After that it was a succession of  jokes in thick Scottish accent and thick Peruvian accent. It was lots of fun to properly talk to two of the nicest and humblest people in indiepop. And also talented!! It was dark already and we were there, against the brick wall of the Bell House, surrounded by yellow cabs. Sean joining us and throwing some more jokes. How I like these guys!
July 2010. It's only obvious that Chris and Ronnie gave me two setlists after the Indietracks gig. They played in this order: "Apologies", "It's Only Obvious", "Me & the Black & White Dream", "Sadness of Sex", "A Kind of Eden", "Bemused, Confused & Bedraggled", "She's My Girl", "Beautiful Liar", "Something for the Longing", "Another Saturday Night", "Caveman" and "Frank de Salvo". Okay, now that you've read this, won't you agree that it is a dream set? They couldn't have chosen a better list of songs, maybe "Tiny Words" or "I've Got a Habit" is missing, but, hey, this is fabulous enough!! What can I tell you, The Orchids delivered. I can't get out of my head the picture of Marianthi and Pete Green dancing to every single song, even not all of the songs are danceable! Or Pierre climbed on the fence awe-struck with his mouth wide open. Jennifer next to me taking photos, liking James's classy jacket. Or my Spanish friends behind me, all of us singing like a choir "who needs tomorrow…".  Something happened that evening that made the world a better place. For 45 minutes, or whatever it lasted, we were transported and nothing mattered anymore. The Orchids bewitched us.
I do wonder what was Chris doing with a handy-cam recording the whole crowd. Did any notice that? He just stopped playing drums. sat down next to the drum-set and started filming from back there. I wonder if we'll ever get to see that. Must be a great document. I'm sure the whole crowd was spellbind. Oh! and that moment when Ronnie made the whole Indietracks trip worth for me? Ah! He reached for an Orchids t-shirt he had up there behind his bass case, and threw it to me, from the stage to the crowd! I've never seen anything like that. Is it not true that usually brassieres are the ones that fly from the crowd towards the stage? Anyhow, this made my day, my week, my month. It was such a nice gesture, I'm eternally grateful. Funny enough, I turned around, with my new white and light blue logo t-shirt, and I see two girls wearing the same exact The Orchids t-shirts! They were his daughters! Of course, they must be so proud! Only one thing I'm curious of, how did Ronnie know what size of t-shirt I wear? It fits perfect!
What else can I say, it was life affirming. That show in NYC 2008 is a blur now. My biggest Orchids treasure is already the Indietracks experience. I love their records, but this gig I was lucky to attend is bigger than that. It made me believe in friendship, in love for pop music, in talent, in creativity, in so many things. Seeing the whole Orchids gang hanging around the whole Indietracks weekend, all of them camping together having fun, after so many years together was inspiring. On top of that. they put on the best gig of the whole festival. They are immense. And still, they are humble. If I was there I would only headline festivals. They have the songs to do that. And they have the musicianship to do that. And the passion. Yes, that's what it is all about, the passion. If any of the bands that are so hyped today had a third of the passion of The Orchids… if only…a fifth…
Today I'm listening to their new album "The Lost Star" for the eight time in a row. You should all order it from Pebble Records or your favourite mailorder. The passion is still here, on their fifth album on the span of more than 2o years. Sounds as fresh and smart as Lyceum. It is classy and elegant as Striving for the Lazy Perfection. It's a little piece of art, that perhaps will not get the recognition it deserves, because most bloggers and critics are really ungrateful. We should not throw pearls before swine. But if you want to grab one of the album's that matters, one of the best this year, grab this one. It won't disappoint. The Orchids always deliver.
"Who needs tomorrow/ when all I need/ all I need was you". The memory of all the train passengers chanting these lines upon arriving to Butterley station later that night just proves how impacting this gig was for all of us. Those who missed it should be dead jealous. It wasn't just Another Saturday Night!
::::::::::::::::::::::::::::::::::::::::::::::::::::::::::::::::::::::::::::::::::::::::::::::