26
Sep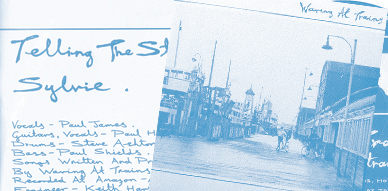 When there's no news, well there's no news!! Last week I managed to go through 2 posts and maybe I could have waited, saved one for this week, but then I don't get to enjoy this routine I have of figuring out what is going on in the indiepopworld and more importantly get to dig some obscure pop treasures!
There are a few interesting indiepop sightings that are definitely worth mentioning. The first is that Papa Topo from Barcelona, a true favourites here in Cloudberry HQ, have a new video out for the song "Akelarre en mi Salón" that is included in their debut album released this year. It is a lot of fun, like all of their previous videos,a and the song is such brilliant homage to the Spanish pop of the 80s, I especially hear so many nods to Alaska y los Pegamoides. You can watch it here.
Then another Barcelona band has a video out. I wasn't aware of this band, totally new for me, but their video started to pop up on my Facebook wall and it was an ace song. The band is called Yumi Yumi Hip Hop and seems to be an all-girl band. The song is called "Enamorats" and it is sung in Catalan. They are on the label Snap! Clap! Club who are to release this song as part of a 7″ that will start shipping on October 1st. You can watch the video here.
For all of you that like reading about the bands and the music we love there is also a new book about the early days/years of Primal Scream. I still haven't ordered it yet, but will order it soon and I think you should too. It is titled "The Psychedelic Confessions of a Primal Screamer: The Tambourine Years 1984-87" written by Martin St. John, who used to play the tambourine in the band before the band would appear on Top of the Pops, play Glastonbury, and become a big name.
Then there's also another book that I've been meaning to read that will be published next month. "Dig: Australian Rock and Pop Music 1960-1985" by David Nichols is also on my list. David Nichols wrote the Go-Betweens biography and he has been part of a couple of indiepop bands like The Cannanes or Huon. Of course I'm mostly interested in the 80s part of the book as you might suspect, but even if that is just a tiny chapter, I want to learn about it. So many great Australian bands in the 80s, don't you agree?
And last but not least there is a petition by the classic band The Wolfhounds asking Warner/Chappell to return their copyrights & reinstate their songwriting credits. If you have some time you can read more about it and sign the petition here.
Yup, that's all for this week. Maybe some will point me out that I'm missing some stuff like last week. Sometimes it is true, I avoid mentioning stuff I don't like or not too excited about, I can't like everything, but if you have some exciting news or recommendations worth checking out please let me know!
---
The name Sylvie comes from sylvan, as in the forest, the woods.
I keep going back to the Leamington Spa compilations for inspiration. Look for bands and records I'm missing and that I should try to track down. Learn their story, their discography. Whatever happened to them. I know that perhaps it's not the best of ideas of being fixated with the 80s, there are plenty of obscure bands in the 90s, even in the 00s. I feel I should mix decades a little in the blog, but there's something with 80s bands that I return to them. This time I opened the booklet for the Leamington Spa Volume 3 and ended up in the mystery of the band Waving at Trains. The booklet reads:
Originally formed in late 1984 in Liverpool. There were to be short-lived incarnations before the first stable line-up in 1985. At this stage the band was:
Paul Hobday – guitars and backing vocals
Paul Gill – keyboards and lead vocals
Gary Gillmurray – drums
Trevor Roganski – bass
Changing to:
Paul Hobday – guitars and backing vocals
Paul Gill – lead vocals
Steve Ashton – drums
Chris Ashley – bass
Paul Shields – drums
In 1986 the final lineup saw Chris leave, Gary back on drums and Paul Shields move to bass. The band were part of a vibrant live music scene in Liverpool during the mid eighties. Gigs at The Venue, State Ballroom and rehearsal at The Ministry and Vulcan Street studios often had bands like The Bunnymen, OMD, The Las, The Farm, Thomas Lang, China Crisis, Afraid of Mice in neighbouring rooms. Demos and tracks were recorded at Amazon Studios (OMD, Christians, etc.) later to be renamed Parr Street as it moved near to Paul McCartney's Music Institute. Only one single was released (Telling the Stranger/Sylvie) and an album was in pre-production at the time the band folded in 1988.
I miss so much these compilations. I wonder if I should try to put one together in the same fashion. Perhaps it could be a fun idea when I'm not involved with a label? It is an idea, but will people buy them? Cherry Red has been putting out some sort of compilations but they are of much more known bands, bands that perhaps can sell a little more than these obscurities. Firestation called it quits on the Leamington Spa compilations after volume 7, actually volume 6 as 7 ended up being a bit of an afterthought included in Firestation's 100th release. Quite a shame. These were the most influential compilations for me, for my love of indiepop.
Liverpool has been such a place for guitar pop bands. So many have been born there. It is no surprise Waving at Trains hails from there. We know they released one record, one 7″ with 2 songs, and so I wonder about that line on the booklet when it says that demos and tracks were recorded at Amazon Studios. Would that mean there are many more songs than the 2? Hopefully someone could shed some light.
The 7″ came out in 1988 on the Gash label. The catalog was GASH 111. Even though that is kind of a high number for a catalog, I couldn't find any other release on this label.
The two songs on the record are "Telling the Stranger" on the A side and the song that appears on the Leamington Spa compilation, "Sylvie", as the B side.  Four last names appear as composers, Gill, Ashton, Shields, Hobday. For producer, the band, Waving at Trains, is listed.
On the back cover we see the name of Paul James on vocals. I'm assuming that is Paul Gill. The artwork was done by the drummer, Paul Shields and the cover photograph by Ken Hewitt. I'm not sure which city is the one depicted in the photo on the cover. Does anyone know?
I keep digging. For some reason I end up on the Link2Wales website, were a lot of bands are listed with a small little blurb. From there I know that Paul Hobday had been involved in other bands like Collective, India (Lost Weekend) and Association. From there we also learn that the band had another song released, "Parade". It appeared on a tape compilation titled "Merseyside Musicians Bureau" in 1987. I would love to listen to this song (and also Telling the Stranger!) and even the whole compilation. Does anyone know anything else about it? The only other band on it that sounds quite familiar to me is The DaVincis, but never heard Sudden Norway or Go For Soda for example. Were they guitar pop as well?
I keep digging and I find a Paul Hobday, musician, might he be the same Paul Hobday? I'm not sure. He is a guitarist. And he seems to be involved in a duo with Steve Payne since 2010. They have a Bandcamp and they seem to have toured extensively through Europe and Ontario in Canada. I tried connecting this project with Liverpool just to be sure it is the same Paul Hobday but couldn't find a mention to Liverpool in their Bandcamp or Facebook page.
What about Paul Gill? I found that he was involved playing keyboards and piano in another band called Bluenose B who released two 2″ singles with three songs on Blues Records (1985 & 1986). He only was part of the second single though where they included the brilliant song "My Diary"! I'm glad that I found this band through this detective work. Maybe they deserve a blog post at some point. I will also try to track this record for my collection. It is really good!
I couldn't find more information on Steve Ashton and Paul Shields.
I found a 2009 movie titled "Waving at Trains", but that is past the time of the band. There is also a collection of poems titled "Waving at Trains" by Roger McGough published in 1982. That might be were they took their name I think.
And that's where I lose the trail on Waving on Trains. Do any of you remember them? What happened to them after they split? Were they involved in other bands? Why didn't they release any more records? What happened to their other recordings? And who is this Sylvie they dedicate their song to? Anyone know anything else about Waving at Trains?
::::::::::::::::::::::::::::::::::::::::::::::::::::::::::::::::::::::::::::::::::::::::::::::
Listen
Waving at Trains – Sylvie