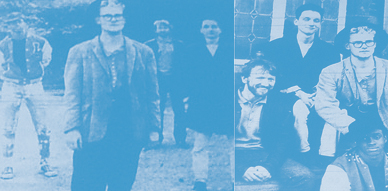 Back now from France, from vacations, from castles and bakeries, from boulevards and gorgeous cathedrals, from museums filled by impressionists and  supermarkets with quality wine. Back to the Big Apple then since yesterday night. With jet lag. Tired. Exhausted but having having had such a good experience in France that I can't wait to return.
I didn't get around to see any indiepop bands. I did see many of my good friends living there, the Pale Spectres, Alpaca Sports, Cristina Quesada, Carlos from Eva & John, Yves from Hands and Arms, Jennifer and Miguel who came from England, and Joanny from Another Sunny Night. I bought two 7″s by Les Autres almost before leaving. I got the new CD from Pale Spectres that they have made for their tour around Paris, Nantes and Rennes this week. But that was it. I only visited one record store and it was just a chance encounter. I didn't even plan to go record shopping. Quite terrible from an indiepop lover, but I was already so thrilled by all the castles, the châteaus, I saw.
Now it's time then to start working on the label again, on the new releases. I'm still hopeful that any day now I'll receive the Pale Spectres masters from Spain. There is also a 7″ by a Swedish band that I will announce very soon. We are just trying to figure out the artwork and then we are go. It should be a 4 song EP of pure jangle bliss.
I should start working on the new fanzine. I know, I've been saying that for some time. But I should do now. There's many things I want to do and so little time! But at least I try to blog once a week. I actually missed blogging last week.
The Twee.net poll seems to be still open. I guess Peter is busy traveling and haven't had the chance to count the votes.
Some good news I saw today was that My Light Shines For You have published their first video ever. It's for the song "Why?". I had a lot of fun watching it. It's very "Heavenly".
Also do listen the latest from Lost Tapes. "Girls", it's a beautiful slice of indiepop. I have received all their new recordings their other day, for the album they will be putting out on Mushroom Pillow later this year, but I haven't had the chance yet to listen to it. But if it's anything like this, then it's definitely a cracker.
Maybe I'm missing some other news! Did I mention that Sunny Summer Day from Indonesia, our Cloudberry friends, will be playing NYC Popfest this year too? Maybe I did! I feel like being away two weeks I have lost track of most of the news! But next week I think I'll be up to date with everything that's going on. Hopefully do a review too of all the new unknown bands I've seen on the Indietracks lineup. Maybe there's a surprise there!
———————————————–
I arrived around 9pm yesterday at home. From Charles de Gaulle airport, a stop in Keflavik airport. Then the line of immigration, the airtrain, and then the subway on the E, to the street and then to the N. Waiting for me at my mailbox at home was a record I've been hunting for a long time. And when I finally saw it at a decent price on eBay, I bidded right away. I never thought though that I was going to be lucky enough that I ended up being the only bidder!
Released on their own Sticky Label (Sticky 001), Fetch Eddie's one and only 7" included two songs: on the A side we had "He'll Love You Till You're Pregnant" and on the B side "Too Much to Ask For". It was 1987 and indiepop was in perhaps it's best moment ever.
From the back sleeve we know that Fetch Eddie was Pod on vocals, Aaron James on lead guitar and vocals, Lucy Lloyd on bass, guitar and vocals and Johnny Rimshot on drums.
The 7″ was produced at TVM by Mike and the band. The design and the cool drawings on the artwork were done by mini cine. That's what we find on the back sleeve, but on the labels the production credits are for Good Fortune. From the labels we find out that Pod  was actually a P. O'Donnell. Not sure what his first name is.
This is definitely a great single if you can find it. Upbeat, a bit punky even, but all so catchy! If you ever see it, get it. I see there's a copy available now on Discogs (though a bit pricey!).
I keep digging and I end up in a website I've visited many times before: Tamworth Bands.
It was on that page that I found out about so many bands like Bash Out the Odd, Space Seeds, Great Express or Emma Gibbs Loves Badges. What I find though there is that the band, after releasing this single changed their name to Fetch Eddie The Baby's Gone Blue. Or was this their real long name since the start?
The photo on the Tamworth band would suggest they changed their name as I can't see a girl, a Lucy in it. Also only two band members seem to be listed. Pod and Aaron. But then, a clip from the Tamworth Herald says:
Plumbing Eddie's Depths
A NEW BAND, sporting the name 'Fetch Eddie The Baby's Gone Blue' made their first demo on Saturday and we hope to look at them in more detail shortly. Among their tasteful numbers is one called "He'll Love You 'Til You're Pregnant". Lovely.
So I am almost 100% sure the long name was their original name now.
There's a gig list too, and it seems they played many many times with Emma Gibbs Loves Badges. The only other band I know they played with were The Wonderstuff.
Other songs listed from Tamworth clippings are "Memories", "Disguises", "Mean Tin O Beans", "Keep on Running", "No Good For Love", "It's Your Turn", "Teachers Lemonette" and "Steamroller".
We also learn that they worked on a demo for CBS. Don't know what happened with it. I believe it's the one called "Mean Tin O' Beans" and there's a review from Tamworth Herald:
It's took a very long time for this new demo to finally surface but all the wait seems worthwhile. This new four tracker will further convince those of us that are committed to the band and should hopefully win over many that are not. Best of the four are the two tracks in the middle – 'Teachers Lemonette' and 'I Think That I Love You'. The former is an unexpected joy, a bubbling 50s rockabilly jaunt with some stylish rhythm work, the usual amazing vocal and a surprise burst of harmonica at the end, 'I think That I love You' is let down slightly by a lack-lustre muffled production but still retains its basic high-energy, high-jinks sound and remains to my ears the nearest thing any local band has come to a piece of pure pop. The tape is completed by the punchy title track and a splendid acoustic version of 'Mar. Sharp'. All in all a perfect introduction into the multi-faceted talent of a multi-faceted band. The business.
Then in August of 1990 it seems Aaron left the band and with that the band split. It was said that they were going to carry on, but it seems that didn't happen.
I don't have much more information, but definitely check out the Tamworth bands page were there's a lot of information from the Tamworth Herald.
::::::::::::::::::::::::::::::::::::::::::::::::::::::::::::::::::::::::::::::::::::::::::::::