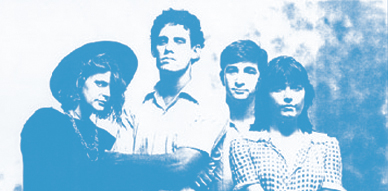 A week and a half ago Jennifer wrote me about some bands and tracks from a mix CD she got years ago. It included bands like Small Factory, Gangway and Dislocation Dance. But there were three songs that I didn't have much of a clue. One of them was Zeitgeist's "Freight Train Rain". Until… I got to listen the track.
"I have heard this one before!". The question was, "where?". After a bit of searching, I found this same song, the exact same song, but this time being credited to The Reivers. Yeah, the fantastic jangle pop band from Austin, Texas. So what had happened? Why did two bands released the same song? A quick search showed me that it was again fault of the nonsense of major labels and careerist bands, that want to brand a name…
"As Zeitgeist, the quartet had built up a good following through an indie album and touring, but on the eve of releasing their first major label album, Capitol Records did a name search and found that the German word had already been trademarked by a New Age ensemble. Front man John Croslin recalls that the crystal-wearers "weren't flexible at all" and so the band ended up with the new name, leaving their fan base baffled. "We could've changed it to `Zeitghost' or something, but we didn't," says Croslin.
Who has ever heard about this Zeigeist new age band? no one! Why were they such suckers with their names? Aren't New Age people generous, sharing and peaceful? And they can't share a name? Huh! New Age is pure stupidity. That's what it is. The power of crystals and all that neo-pagan nonsense, the universal truth, their spiritual bonding and so on, does that help our society? No. It's a non-challenging way of life, it's not reactionary, it's not rebellious. It severely damages your brain. It's going back to medieval times, to the alchemy, to faeries and even extraterrestrials. But let's get back to our Zeitgeist.
Zeitgeist, originated in Austin, TX with a lineup that included: John Croslin- main songwriter, vocalist, guitars; Kim Longacre- vocals, guitars; Kelly Bell- bass; and Joey Shuffield- drums. Shuffield left the band during rehearsals and was replaced by Garrett Williams. By the time their first self-titled E.P. was released on db Records in 1984, Cindy Toth had replaced Bell as bass player. This new lineup would remain consistent throughout the remainder of the Reivers' existence. Releasing the full-length album "Translate Slowly" the next year, they began to build a sizeable audience.
That little bio appears on The Reivers website which I recommend checking out. That same "Translate Slowly" is the one album I've heard from them. What has happened was that the CD version came out in 1987 when the band had already changed the name. Right! So that's what created all these misunderstandings.
About the "Freight Train Rain" song. It was released as a 7″ single, not only in the US, but also in UK! In the US it appeared on the DB label from Atlanta, the same one that released The B-52's "Rock Lobster" (?!) and many Pylon records. On the UK it appeared on Stiff Records, Kirsty McColl fans know this one. The B Side was "Hill Country Theme" (which appears in the album too). This 7″ appeared in 1985. But, let's rewind a year, and we find out that Zeitgeist released the Zeitgeist EP, a 12″ record that included "Freight Train Rain", "Wherehaus Jam" and "Electra".
During 1985 they put out a couple more records. A 12″ including "Araby", "Freight Train Rain" and "Things Don't Change" was released. All of the songs were alternate versions. Also they contributed to a couple of local Austin compilations. Their biggest surprise that year was the fabulous Translate Slowly album. A great jangly pop album that includes many standout tracks like my favourite "Blue Eyes" and old favourites "Araby" and "Freight Train Rain"! This song is everywhere you'd say! But it's a brilliant one, so why not have it all over the place? How does it sound? Jennifer told me: "The song I have is called 'Freight Train Rain' and has a really cool combination of guy and girl vocals. The guy sounds a lot like him from Even As We Speak. Someone is really pounding on an acoustic guitar making it sound really percussive. A girl is wailing in the background while the guy sort of sing-speaks. It sounds odd written down but it's a fab song!" Don't think there's a better description than that!
1986 would see their last release under the Zeitgeist name, the 12″ promo-only single "Atlantic City", which was released by Rhino. A cover of a Bruce Springsteen song. And then the name change happened. The Reivers kept releasing records and even appeared on nationwide TV. But that's another story.
::::::::::::::::::::::::::::::::::::::::::::::::::::::::::::::::::::::::::::::::::::::::::::::