29
Apr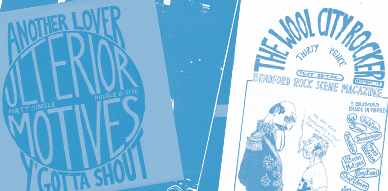 ulterior motive (plural ulterior motives): An alternative or extrinsic reason for doing something, especially when concealed or when differing from the stated or apparent reason.
Still quite busy working on freelance which means I haven't had any time to write more interviews. I'm kind of missing doing that. I hope in a couple of weeks my schedule returns to normal. The good news is that I have purchased a plane ticket to attend Indietracks this year. I am all set. And excited! I feel a bit sad that I had to turn down an offer to DJ there this year as when I was asked I wasn't sure that I was attending. I would have loved to do so. Now it is too late and even today the DJs for this year were announced. I do know Big Pink Cake, and I know Matthew and Heater play great stuff, so that's the one I will definitely assist to.  Shame it's in the marquee though, because there it's more like evading all the stones on the ground than dancing. It makes me grin to see who gets a spot on the shed, the London politics. Anyhow, I'm still waiting for the band announcements that are coming up next week. I feel they have something great in store. May it be the Acid House Kings?
I've kept listening to the mix CDs my friend Satomi sent me from Japan. As I said before there are many great songs that I have never heard before. One of them is by a band called Ulterior Motives. The song is called "Heart Won't Let You Go". The sound of it tells me it's definitely pre-indiepop times. It's much more power pop and mod than jangle pop. My first research stop happens to be at Discogs. There I find that this song was released on a compilation LP called "Spit 'N Finish". This slab of red 12″ vinyl was released by Toucan Records in 1983. It's catalog number 002. All of the bands on the record are unknown to me, names like Red Flag, The Dodgers, Dark Harvest or Perfect People don't ring a bell at all. Wonder if they are as good as this tune by Ulterior Motives. But was this all they ever released?
I keep digging and I go back in time, to 1979. This year the band released their one and only proper record, a 7″ with two tracks: "Another Lover" and "Y' Gotta Shout". It was released on the Motive Music Records label, being the first release on their catalog. It's not a wild guess to say this must have been the band's own record label, meaning it was self-released. I see that in March the record sold for a pound on eBay. I feel kind of defeated. Why didn't I knew about it then? Some stores do have it on "Buy it Now" for 12 dollars. I'm never too keen to spend that much on a 7″, even more if I haven't ever listened to the songs in it, like in this case. They might be as good as the ones on the "Spit 'N Finish" compilation, but they might not. Does anyone know?
Now I find a name on google: Nick Toczek. I found some sort of resume of him, it seems he is a poet/writer. Among books written there are poetry tapes he has released. One of them is called "Nick Toczek Ulterior Motives"(1985). I keep on searching and I find this piece of info that reveals a second member:
Susan Fassbender (1959 – 1991) was an English singer, songwriter and musician, best remembered for the single "Twilight Café" which reached #21 in the UK Singles Chart in February 1981.
Born Susan Whincup in Wibsey, Bradford, West Yorkshire in 1959, Fassbender began studying classical piano, clarinet and timpani (later also playing synthesizer) at age 13. Eventually, she met up with guitarist Kay Russell who would become her songwriting partner throughout her career. Both girls wrote lyrics and melodies together. Prior to their collaboration, Russell was with poet Nick Toczek in a Bradford based New Wave outfit called Ulterior Motives.
Soon signed to independent record label Criminal Records after impressing their future manager Alan Brown at a musical instrument shop, Fassbender and Russell wrote "Twilight Café" which was released in early 1981. Two appearances on BBC Television's Top of the Pops followed in January 1981, with a band also consisting of drummer Gary Walsh and bassist Mike Close. By this point ownership of the single had passed from Criminal to CBS Records owing to popular demand. In March 1981 Fassbender appeared on German television programme, Disco.
Two other singles followed soon after; "Stay" and "Merry-Go-Round". "Stay", the second single, was promoted by an appearance on Cheggers Plays Pop, a children's programme. Both tracks were collaborations between Fassbender and Russell. In January 1982, Fassbender and Russell appeared on another British TV show, Multi-Coloured Swap Shop, to promote "Merry-Go-Round".
After the release of the latter singles, Susan Fassbender and Kay Russell both retired temporarily from the music industry, to marry and have children. Further songs were written, separately and together, by both women, but unfortunately no further interest was shown by the music industry in releasing the new material.
So we've got Nick Toczek and Kay Russell so far. And we know what happened with both after, one went to continue his writing career and the other to be on Top of the Pops! I keep digging around. I find some biography of a band called The Negatives written by Toczek. It says:
The Negatives, Bradford's first punk band, was formed in the summer of 1978, practising at Coda Music on Church Bank.  Pete Stobbs played guitar, Tino Palmer drummed, Bob Robinson played bass and Dave sang.  After two try-out gigs, one at The Royal Standard, the other in a marquee on Horsforth Playing Fields as part of Metro '78, they did their first proper publicised gig at Chicago Express. Singer-guitarist Kay Russell played support, with me on congas and doing some poems/vocals during her set. Soon after this, Kay and I formed our own band, Ulterior Motives, and did our first gig, again supporting The Negatives, at a Rock Against Racism gig at Queens Hall on 25th May 1979.
So 1979 the band formed, same year as their first and only releases. My search continues. I suddenly find a blog post about a fanzine called "Wool City Rocker" made in Bradford by both Nick and Kay. It's a super interesting text that I recommend having a read. There are lot of great scans of this zine and many MP3s from unknown bands waiting to be discovered. It even links to a an MP3 to "Another Lover". First impression? It's a fun tune, but I still think "Heart Won't Let You Go" it's their best so far. "Another Lover" actually kind of sounds like a different band. Maybe it is? But also keep in mind "Heart Won't Let You Go" was released 4 years after, which could mean in a more tight band which seems to be the case. But still the doubts are there, the mystery is there. Maybe there were two Ulterior Motives incarnations?
Luckily in this fantastic blog post there is a link to download the first Wool City Rocker fanzine where there is a band profile of Ulterior Motives. And this mainly solves the whole "who are the Ulterior Motives?" question. I'll transcribe:
Ulterior Motives
Voc + Gtr = Kay Russell
Voc+ Perc = Nick Toczek
Bass + Voc = Rick Green
Dms = a Roland 77 Rhythm Unit
—————————————–
A case of self-writeousness (!) with both Kay and myself in this group. The two of us have been in various mixed-media groups (notably 'Stereo Graffiti Show' with which we did about 250 performances between '75 & '77). We moved to Birmingham (Kay's hometown) to Bradford (my hometown) in summer '78. Kay did solo gigs around the area for about 8 months & we then ask Rick (a friend of my brother) to join us in a new band. We wanted to try using the drum machine from the start.
The Motives' first set was 5th on the bill to The Negatives at the Queen's Hall on 25th May '79 – a Rock Against Racism benefit.
In August we set up Motive Music as a recording co. jointly owned by the 3 of us and went into The Communication Centre on Chapel Street, using their 4-track studio to record 11 titles – from which we selected 2 numbers to go on our first single. "Another Lover" c/w "Y' Gotta Shout" was released in mid-November on Motive Music Records. As we had set up a distribution deal with Red Rhino of York (& through them, other small label distributors) we were able to increase the number of copies pressed from 1,000 to 2,500. We're now lining up gigs round Yorkshire to promote the record. We're also auditioning drummers – though not to completely replace the drum machine which we'll still use on some numbers. If this single goes well, we've already got a follow-up in mind.
Lots of info there, right? But as always, this indiepop detective needs some help clarifying and confirming all the facts. Any sort of help, facts, information, recordings, will be greatly appreciated. Oh! and if possible a copy of the 7″! For a pound!
::::::::::::::::::::::::::::::::::::::::::::::::::::::::::::::::::::::::::::::::::::::::::::::