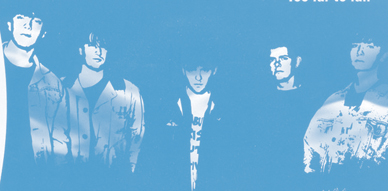 This week, as it is quiet in indiepopnews, I have a long review of many bands I've heard for the first time in the past weeks. Hope you like some of them.
Astragal: they released a tape (yet another release I won't get because of the format, shame) on Banana Tapes out of Nashville, TN, last September. I arrived to their Bandcamp thanks to the CD16 compilation. For that comp the band had contributed probably the best song out of the 3 on their tape EP, "Notations". A lovely jangly and dreamy song. My second favourite song being the closing one, "Scenery". The band is formed by Sam, David and Jimmy and they hail from Houston.
Traveling with Monika: yet another band I discovered thanks to the CD16 compilation. Now this one is quite a surprise as they hail from Bangkok! I haven't heard of Thai indiepop bands in ages, in more than a decade. I was in Bangkok just some months ago, if only I had known, maybe I could have seen them live. They have 3 songs out and they are really nice. The band is formed by Nisarat, Thanapat and Samart. I think my favourite thing about the band are the vocals especially on the song "Traveling With Me". Really cool!
The Whistling Possum: Only one song on their Bandcamp, the same as the one that they contributed to CD16: "Some Popkids are Even Worse". In any case this is a very cool song coming all the way from Jakarta, Indonesia. The band is formed by Adi, Kaneko, Tio and Yenezkiel and they also seem to have a blog but I can't understand a thing!
The Newsletters: from Melbourne comes this cool band that had a 7″ single out in 2015 and a three track digital single in March last year. I'm really enjoying the songs from this last digital effort. On CD16 the A side from the 7″ single, "Lucky Country", was the one that was included. This 7″ was released by Butter Cup Records and seems to be still available.
Horsebeach: they have now "Beauty & Sadness", the song that gives title to their new album streaming on Bandcamp. Sounds fantastic as everything they have put out. You can now pre-order the digipak album.
The Cottons: I think Kaneko and Yenezkiel from The Whistling Possum are involved in this band. I found two of their songs, "Yesterday's Gone" and "It's Only a Day" on the Dismantled label Bandcamp. They sound really promising! Lots of superb-sounding bands still coming from Indonesia!
Her's: two digital singles for this band that will be debuting in Madrid Popfest very soon. The band is based in Liverpool and it is just a duo, Audun and Stephen. My favourite song being "Dorothy" out of their first single.
Pan Total: a fantastic discovery thanks to Madrid Popfest booking them. I feel very sad to have missed their limited edition CD that included 9 fab songs. I don't know much about this band. They hail from Logroño and they seem to have been around at least since 2012! Where was I? How come I've only heard about them just a few days ago? It is embarrassing! Hopefully they re-release it? One can only hope.
———————————
Was very surprised when I saw the song "Closer" opening the 4th CD in the "Still in a Dream: A Story of Shoegaze: 1988-1985" released by Cherry Red last year. I don't know how obscure the band was back in the day, but these days it is not a band that I feel everyone remembers. There is very little on the internet about them. I wonder if the label got in touch with the band, the small bio on the booklet says very little, almost uninteresting information:
"This Tynemouth band were initially touted as Newcastle's answer to the Stone Roses. Their first release "Bubble Bus". shared a Whoosh flexi free with fanzine Two Pint Take Home. Further singles followed on Sympathy For the Record Industry ("Teenage Death") and Tea Time ("Daydream") before they settled in 1991 on Clawfist for "It's Only Everything" and "Closer", an anthemic, swirling guitar-fest produced by That Petrol Emotion's Steve Mack. Their final release was a split single that coupled up The Sunflowers version of Smashing Orange's "Collide" with Smashing Orange's rendition of The Sunflowers "Something You Said."
Nothing new there. Of course it gets a bit on my nerve the misspelling of Woosh Records.
But yes, they did release their first song "Bubble Bus" on Woosh's eight release (catalog WOOSH 008), a flexi they shared with St. James Infirmary (a band I've written about here before and waiting now for their interview to be completed). The Sunflowers song was the second song on this fold-over paper picture sleeve, with a photo of two eyes printed in green and blue. The flexi was not only available with the Two Pint Take Home (vol. 4 by the way) but also with the Waterbomb vol. 4 fanzine.
Their second single, from 1990, came out on Sympathy For The Record Industry (catalog SFTRI 64). This is quite interesting for me as this label was based in Olympia, Washington in the US. It wasn't that common for these sort of British bands to end up on American labels. It seems the label had high hopes for the band, releasing the 7″ in a variety of different colour vinyl records: yellow, tangerine, orange transparent, dark blue and turquoise. The songs included were "Teenage Death" (a favourite of mine) on the A side, and "Twenty Fifteen (live)" on the B side. The A side was recorded in Chamber Studios in Edinburgh on February 1990. The B side was recorded live at Newcastle Riverside on January 31, 1990.  The photography on this record is credited to J.R. Hughes. He is also credited for recording the B side.
Their third single was to come out that same year, 1990, on the very well-regarded indiepop label Tea Time Records. "Daydream" (catalog TEA 08) was actually the B side even though it was the song giving the single its name. "Twenty Fifteen" was the A side. Artwork for this record is credited to P. Mann. Photography to  J.R. Hughes again. The producer for this record was Jamie Watson who was the one that set up Chamber Studios in Edinburgh in 1986. It is no surprise then that the band recorded this single there.
Then they were to move to Clawfist Records. It was 1991 and they released the "Closer" 7″. On the B side we got "Day Into Day". This was the fifth Clawfist release (HUNKA 005). This label was set up by the Vinyl Solution record shop on Portobello Road in London. The record was mastered at The Exchange, a Camden based mastering studio. Other credits on the sleeve include Design by Jocky, Mastered by Mike, Photography by J.R. Hughes and Produced by Steve Mack.
The same label was to release another single the same year. On Clawfist's 7th release (catalog HUNKA 007) The Sunflowers put out "It's Only Everything" on the A side and "Too Far to Fall" on the B side. Credits are similar as the previous record, Design by Jocky, Photography by J.R. Hughes and Steve Mack as producer.
Their last release was part of the Clawfist Singles Club (this was number 18). As mentioned before The Sunflowers covered "Collide", original by Smashing Orange, whereas "Smashing Orange was to cover "Something You Said", a Sunflowers original. I wonder if The Sunflowers released anywhere "Something You Said".
They were to appear on a legendary compilation in 1990. On the Positively Teenage tape they contributed two songs, "Sunflower Babies" and "Sunflowers Mum". About this tape I believe I've covered many bands that appeared on it on the blog like The Lavender Faction, Love Parade, The Penny Candles or The Mayfields.
"Bubble Bus" also appeared two years ago, 2014, on the "Ten Little Records: The Woosh Collection" that Jigsaw Records put out that included most of the Woosh flexis.
Time to leave Discogs and 45cat. Time to dig online for more information. I reach the Cud website. The Sunflowers are mentioned on their gig diary, for October 6th 1992:
Newcastle University.Pals, the Sunflowers turn up to quaff all our rider. The gig's a sell-out but we're put in the smaller hall with a precarious stage where we fear the lights may topple onto Steve. The Dunphy clan turn up and we put on our best show so far.
Perhaps the best find on the web is this one, live footage of The Sunflowers. Here I could find them performing "Closer" at Newcastle's The Broken Doll sometime in 1990. From this video's small description we know The Sunflowers played high-profile supports with acts like That Petrol Emotion, Pale Saints and Slowdive. This is truly amazing! Wish I had been there! The music soars!
I read the video comments, maybe someone remembers anything about them. Someone named Mark Wilson says that the band fell out with their bassist and they never got over it. Was that the reason the band split?
From the Feral interview I did many months ago, there is a Sunflowers mention from Arlo:
Not long after the Feral single we became a 3 piece briefly. We then recruited Ian Nagel from The Acrylic Tones on guitar. He was a real 60s aficionado and Feral took on a more psych / jangly sound for a year or so. We then disbanded for a few weeks, Ian continued with the Acrylic Tones, and we recruited Paul Schofield from The Sunflowers on vocals and renamed the band Camp Freddie. Camp Freddie was a good little band. We holed-up in a barn in Felix's auntie's house near Morpeth in Northumberland.
This is the first name associated to The Sunflowers I can find, Paul Schofield!
Another mention of The Sunflowers on the blog comes from The Lavender Faction interview. When I ask about Stephen from Woosh, I'm told:
I think he said he was living with his partner, the girl from out of the Sunflowers and they have a child or children, and he works as a full time guitar tech, touring, ect, with major acts although I know he used to roady for My Bloody Valentine. I don't know if he toured with them when they recently reformed.
I couldn't find more information about the band.
It seems that during the last few weeks I've covered a lot of bands of the Newcastle area, I hope someone there remembers The Sunflowers, what happened with them? Why they never released an album? Why did they split? If they continued making music? If they were involved in any other bands? If they had more recordings?
::::::::::::::::::::::::::::::::::::::::::::::::::::::::::::::::::::::::::::::::::::::::::::::
Listen
The Sunflowers – Closer