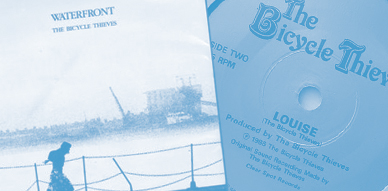 Thanks so much to Chris Lewington for the interview! I had written about the amazing Bicycle Thieves on the blog some months ago and I was lucky that some days ago Chris got in touch and filled in the gaps! Ghostdance is one of the best songs I've discovered this year, and now after reading this interview, I like it much more. Enjoy!
++ So The Bicycle Thieves… was it your first band? How did the band start? How did the recruiting process work?
The band was my third proper band. There's a sort of thin line of progression of band members through my other bands. I was first with The Silence a sort of new Psychedellic band around 1981/2. There was a bit of a scene in London then of bands doing late 60's psychedellic influenced stuff and we drew quite a lot from American 60's bands like Love and the Byrds. Theres a compilation album called Splash of Colour of bands of that time that The Silence have a track on. The Silence morphed into The Habit, a bit more Gothie type of thing and that in turn became the Bicycle Thieves around 1985 with myself, Steve Penfold the drummer from the Habit and Graham Robson bass and Alisdair Nelson guitar recruited from adverts in the music press.This was the line up that recorded Louise/Ghostdance. Later on Dave Goode replaced Graham and Mark Burdett replaced Alisdair when he went back to New Zealand. Plus a sax player Ian Derbyshire and this line up recorded Waterfront.
++ Where were you based? And why the name?
We were based around south east London Deptford area as that's where most of us were living at the time and its always been one of those areas in London that has a vibrant music scene going. I've always been a bit of a film buff, in fact I came to London to college at film school at the LCP.So I fancied the name of the Italian film as quite a poetic name for a band. So have several other groups through the years it would seem.
++ Did you gig a lot? Are there any particular gigs you remember?
We gigged mostly around London. Later on we went further afield and did gigs up and down England. Only ever gigged once abroad at a festival in Po in France which was one of the more memorable gigs. Gigs at the Marquee in London were always special because of the places association with all the classic bands that have played there.
++ Were there any bands that you enjoyed the most to play with at gigs? And how close did you feel to the guitar pop scene, the so called c86, that had just exploded in the UK?
I can't say I was particularly aware of any c86 scene at the time. I was mostly influenced by American west coast bands from the 60's and more singer songwriter stuff and then when people like REM, Lloyd Cole, maybe the Postcard bands came along they had something in common. Alasdair the guitarist was a fan of early REM and added that essential jangly guitar sound. Later on Alisdair left and his replacement Mark Burdett was a fan of the Australian band The Church so later stuff like Waterfront has that sort of feel to it. We played with all sorts of other bands from Stiff Little Fingers to Captain Sensible.
++ Who were behind the Sun Zoom Spark label? Was there any major label interest?
Sun Zoom Spark and Clearspot were both our own labels. Both had a Cpt Beefheart link in the name. That came from Steve the drummer. Waterfront gained a lot of major label interest because we were getting it played on daytime BBC radio 1 and in those days there wasn't the huge variety of radio stations that you have now. Apart from Capitol if you were listening to pop or rock radio it was going to be Radio 1. So for a brief point in time it created a stir because we were basically an indie band that had gatecrashed the majors party. We did a distribution deal and got a management company with the idea of keeping control over what we recorded and put out but now having the finance to do it on the back of this. But we were basically overtaken by events. It was 1989 and the Manchester Stone Roses/Happy Mondays thing started to happen. We kind of quickly became yesterdays news as everyone's attention was focused on bands up north with more dance cross over rhythms.
++ Let's talk about the releases! I've only got the Waterfront 12″ which is really nice. Care to tell me about the recording process for this one? And what about the photo on the cover? I find it very evoking!
Waterfront was recorded over a couple of days at Greyhound studios in Fulham. I'd written the song about all the redevelopment over in the docklands area of east London where I was living. The photo was one we found when we went to the docklands archive. As you say it was a very evocative photo. Don't know who it is or who took it but it was taken in the past when the area was still dockyards and kind of evoked that sense of loss that the song was about.
++ I do have to say I enjoy the Ghostdance 7″ even though I still haven't had the chance to find it. I find "Ghostdance" to be an underrated guitar pop classic! I was wondering if you could tell me the story behind the song? What's the Ghostdance? 😉
Ghostdance started off with some guitar ideas that Alisdair had and we kind of worked on them and I came up with a top line melody and we fashioned it into the song. We didn't write a lot of songs together and that was a shame because when we did get down to co writing we came up with some good stuff. I know on your blog you've mentioned about the Native Americans story of the Ghostdance and I was aware of that at the time but really I was using the phrase more in terms of memory. It was a song about evoking and reminiscing so its the sort of dance of the ghosts of your memories type of thing.
++ And what about "Louise"? Was it based on a real Louise?
Louise was kind of inspired by a couple of relationships neither called Louise though. I kind of think of it as Bruce Springsteen meets Wuthering Hights.
++ So that was your whole discography? 2 releases? or maybe there were compilation tracks? Are there unreleased songs maybe?
There were just the two single releases Ghostdance/Louise in 86 and Waterfront in 89. The large gap between the two due to the collapse of the original band and getting the right people on board again for Bicycle Thieves mark 2. Dave and Ian who joined the band in about 88 saw us play our last gig at Queen Marys with the old line up. Mark the next guitarist was again a music press advert. Yeah there's lots of unreleased songs. We had more than an albums worth of demos from around Waterfront time most of which are probably better quality recordings. We also re recorded Louise with Tony Visconti producing around that time.
++ I read that both your records received a good amount of National Radio airplay. Maybe you got played even by John Peel? How hard was it back then to get your music heard? In pre-internet times?
Getting you music heard was hard back then because there were few radio stations and the only one that really counted was radio 1. We were very in house. I was ringing up the radio producers and doing all the plugging. Ghostdance got plays with Janice Long on evening radio 1 and Waterfont got much more extensive radio play on Capitol and daytime radio 1. Mike Read of all people really like it and picked up on it and Tommy Vance played it a lot. John Peel was not a fan unfortunately.
++ Looking back in time, what would you say was the biggest highlight of The Bicycle Thieves?
The biggest high ight for me was definitely hearing Waterfront played for the first time on afternoon radio 1. I'd managed to get through to the producer of the show who said they might play it and then hearing it was just a great release of years of pent up hopes and frustration trying to get your music heard. There it was and you knew that another 20 million odd people up and down the country were hearing it too.
++ So what happened, why did you split up?
We split up in 1990 for the simple reason that we couldn't get a record deal. We'd done a lot off our own back but in the end you need the finance to keep making records and at that time you needed a major record label. There's been times in pops history where I think you could do it truly independently like in 76/77 but 89/90 wasn't one of them and any " indie " labels at that time were usually backed by major money.
++ Have you been involved with music since?
My next band after the Bicycle Thieves was a folk type set up "The Famous Blue Raincoats" but we never ended up putting any singles out. After that I just did songwriting. I currently play live with a covers band still with the old Bicycle Thieves drummer Steve. We're called Kings of Oblivion – another name used by umpteen other different bands.
++ What did The Bicycle Thieves consider themselves? Indiepop? Pop? Punk? Rock?
I guess I'd call the Bicycle Thieves indie. Indie is kind of as much about how you do things and put your music out and for the most part we were truly indie in that sense. As a sound we might have strayed a bit to much into mainstream rock maybe. I don't know. People like the NME and John Peel ignored us maybe because our sound wasn't indie enough but you know you make the music that you make. Others tell you what niche you fit into or don't fit into.
++ One last question, well, two, as Im always curious about this with British people. Do you like Marmite? And, do you prefer a lager or a British ale?
I do like marmite. Better than vegemite. I usually use it in cooking to enhance the flavour of spinach with pasta. I drink beer and no its not warm its just not served ice cold like American beer. Lager is what they drink in Europe. Nothing beats a nice cool pint of foaming Old weassels testicle
::::::::::::::::::::::::::::::::::::::::::::::::::::::::::::::::::::::::::::::::::::::::::::::